~ August Newsletter

May your month be bountiful! In this newsletter you'll find poetry and news, and you'll hear from Katurah and from Danielle about the one-month retreat at Dharmaloca. As ever, much thanks to Julia for helping to keep the news coming. Please enjoy.
In this newsletter
~ News
~ A Poem from Jaya.
~ On Living Dharmaloca, by Katurah.
~ Dharmaloca Spring, by Danielle.
~ Upcoming Events
~ News

Interviews

Jaya will do one-to-one interviews of 10-15 minutes each via skype on
Sunday, 7 August
, between 10:30-11:30am, and from 4:30-6:00pm her time (in Western Europe).
If you would like to schedule a time for an interview, please email Lizzie: interviews (at) opendharma.org
Radio Dharma
Jaya will give her third radio dharma talk, and deliver some Open Dharma news, over the free internet radio site blogtalkradio.com on
Saturday, 6 August
at 4:00pm, in Western Europe. (The site lists the start time as 10:00am, as it's based in the Eastern US.)
Please join in by following this link.
You can call with questions during the show at +1-626-226-1427. (For those outside the US Ernest recommends using localphone.com, as you can use it to make calls for 2 cents/minute.)
Ajaya Yoga
"Ajaya" Yoga has gone through a major transformation. The new instructions for movements can be found on the Open Dharma website,
or through this link
, with a simple video coming in the near future to help understand and practice the text.
---
~ A Poem from Holland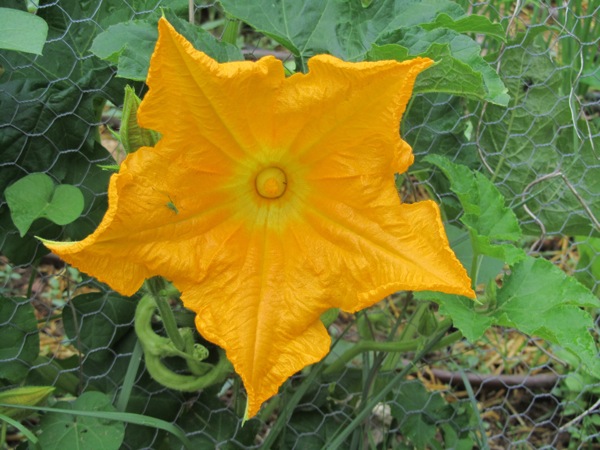 Jaya wrote this little poem while on retreat in Holland in July.
gentle back...
why bother
thinking?

the whole of creation rises up shining
like a mantle of joy
to follow

(Photo: Big bloom at Dharmaloca.)
---
~ On Living Dharmaloca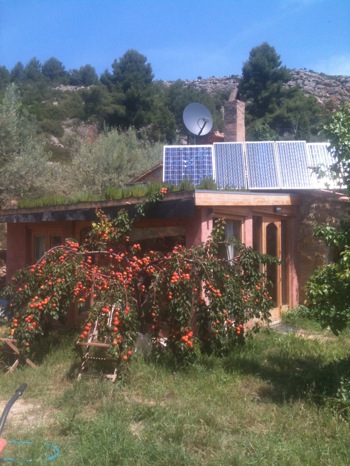 Katurah writes about her month at Dharmaloca.

It is 8 am here in New York -- sirens blare, jackhammers hammer, and hundreds of people share this one city block I live on. Like every morning I think about what was happening at dharmaloca last month at the same time during the one-month retreat. The sun would be coming up over the mountain, porridge on the stove, and flocks of birds would be singing for twelve people on thousands of holy acres.

More than anything, the news that I want to bring from this historic first month-long retreat at dharmaloca is that the seed you have planted is growing. In your practice, by showing up for your life, or with dana.

It is a remarkable thing to come home to dharmaloca -- place of dharma / crazy dharma -- and be held in the literal 'nature' of the teaching. To feel it under your feet and in the pores of your skin. To tend it -- watering, digging, hammering, washing, painting, anchoring, building, clearing -- sing to it, be in it.

And more than anything, what I want to convey here is tremendous gratitude to Gemmaji and Jayaji for offering their home as ground for our growth, for this experiment in life. That bountiful gift is something you will really have to experience firsthand by coming to dharmaloca one day. We have all been deeply moved on retreat by the way we are loved in the teaching. It is quite another thing to see and experience the generous, full on work of that ongoing love. It is never still. I picture Gemmaji delivering truckloads of recyclables, building a shed almost single handedly, feeding Gayatri, and then seamlessly moving into deep dharma talk two seconds later. And Jayaji, making gallons of apricot jam from the prodigious tree that became emblematic of dana during our retreat (pictured here), endlessly laundering, planting, harvesting, composting, mothering, and the global-radio broadcasting a perfect jewel of a dharma talk from a blanket under a tree.

Theirs is the work of authentic love, and being part of the the working garden of dharmaloca is a huge invitation into that kind of sweat on the brow -- where we can see that real love asks us to be fully human and in the mix, and is not keeping count. Is loving to love. Really. Sweet blessings on dharmaloca and all of us sincere seekers.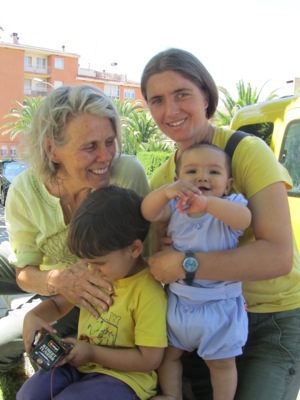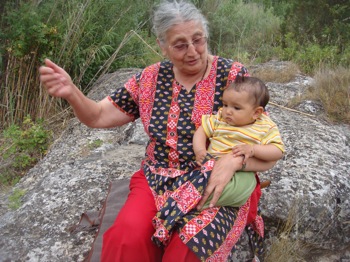 by Katurah
(Photo: The apricot tree at Dharmaloca, top, and images from the one-month retreat in June. )


---
~ Dharmaloca Spring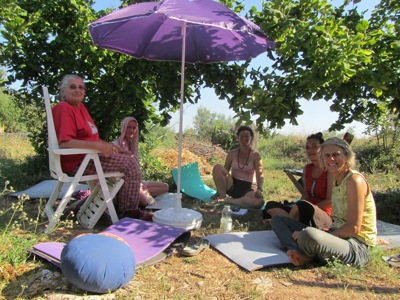 Danielle writes about the one-month retreat this June at Dharmaloca.

It was unexpected, to leave England warm and sunny and arrive in Spain to cold and rain. The earth around Dharmaloca is a red clay that in the wet coats itself around tires making them slippery. So the drive to Dharmaloca up the narrow mountain road was something of an adventure. Gemma drove the bright yellow van, chatted to us retreatants and every now and then sang songs to Gayatri who sat gurgling and smiling in the back. I clung to my rucksack for dear life and shouted to Gemma, 'I told everyone that retreats were relaxing.'
Swerving around a hair-pin bend she laughed and said, 'If you arrive relaxed it will be a miracle.'
A month passed in it's timeless way and one of the many gifts I gained was a deep appreciation for water. After the first days of rain the water evaporated and the earth was transformed so that where it had stuck to us as mud it now travelled instead with the breeze as a fine dust.
All the water at Dharmaloca comes from a natural spring. In the first few days Jaya took us for a walk to a spring at the head of the valley. There, amongst great craggy overhanging rocks, we heard the water gurgling from the ground and bent to dip our hands in its coolness. All through the month I'd return there and lay amongst the wild mint, watching the dragonflies darting about. I'd consciously practice metta but really there was no need, the metta was there anyway, bubbling up and up. I can't recall many other places that so engender feelings of joy and abundance.
Then there was the water on site. Jaya would talk about how basic the facilities were but it didn't feel that way to me. Perhaps after a few yatras my standards have been lowered so that presence of a toilet seat is luxury enough. The water certainly tasted luxurious, cold clean spring water running down my throat.
Another highlight was washing-up after supper when the sun was just setting, the orange burning orb stretching and warping with my movements, blinding me in the nicest possible way, as I turned my face, like a cat, to the last of the days heat, my fingers in warm soapy water. And afterwards emptying the dishwater at the base of a tree. Jaya pointing out which tree was nourished by the waste water pipe from the shower, which from the sinks...
The shower, the only thing I would have changed. A solar shower but despite the sunshine it was a lottery whether it would be warm or not. Lovely though, to be out in the open air, shaded off by a curtain, under the blue sky. Jaya suggested that we experiment with night-time showers, amazingly some people did. 'It's great,' Gaby said, 'because it's only 3am and you've already done something crazy.' Maybe next time.
Then there were the hot-hot afternoons when the only sensible thing to do was to cool off in the paddling pool. There I became an insect lifeguard, using olive leaves to scoop drowning wasps out of the water. I would sit in the spring water and idly watch the mountain and the butterflies drifting past like flowers taken flight.
I had all these thoughts about water and came to love it but in a way that felt aware of its awesome power. I came to love its willingness to move, to be splashed about or to move in the most magical and unlikely ways. I thought about the water that had soaked the earth when we arrived and how it had evaporated, vanished, turned into sky. I thought of the way water, given time, carves the most immovable rock. I thought of the way it freezes, becoming a whole continent that feeds our imagination. I thought of the water inside me and the water I grew in inside my mother and how I still love that now, to be in warm water. All this love, a super-abundance of it, passing through Dharmaloca.
One morning Jaya gave a talk about how we find ourselves in the middle of an ocean and we panic and struggle and fight. Until one day we realize that we are made to float.
I leave warm and sunny Spain and arrive in England to rain.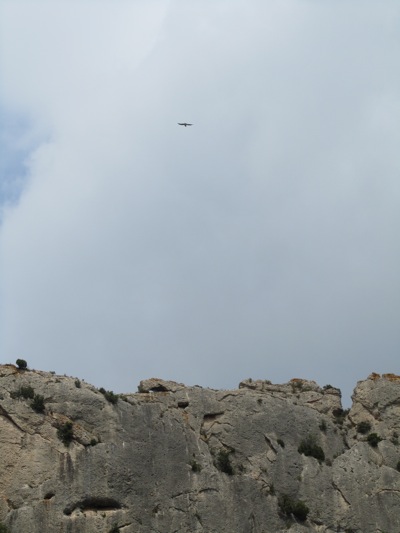 (Photo: The second radio talk, on the air live from Dharmaloca, top, and a bird soaring over the Dharmaloca cliffs.)
---
~ Upcoming Retreat Dates & Details
19 - 21 & 21 - 28 August 2011, Deep Rest retreat in the hills near Tarragona, Catalonia, Spain
One weekend and one 7-day retreat back to back.
Teachings will be in English & Spanish
Facilitators: Jaya and Gemma
For information and registration, write to:
retirosopendharma (at) gmail.com
16 - 19 September 2011, retreat in East Sussex, UK.
Facilitators: Jaya
For information and registration, write to:
odbrighton (at) gmail.com
14 - 16 October 2011, Deep rest weekend retreat in Eastbourne, UK.
Teachings will be in English
Facilitator: Gemma
For information and registration write to:
info (at) retreattogayles.co.uk
www.retreattogayles.co.uk
21 - 23 October 2011 & 24 - 30 October, silent retreat, Mebane, North Carolina
Facilitators: Jaya and Gemma
For information and registration, write to:
opendharma.nc (at) gmail.com
October 2010 - October 2011, Freedom of Movement Lab
Facilitators: Jaya
For information and registration, write to:
interviews (at) opendharma.org
6 - 15 January, 2012, 17 - 26 January, and 27 January - 5 February, Silent retreats near Arunachala, Tiruvannamalai, Tamil Nadu, South India
Teachings will be in English
With Ajay, Gemma, and Jaya. Nicole Christin will join us on one retreat.
For information and registration, write to:
opendharmainfo (at) yahoo.com
8 - 18 February, Dharma Gathering in Sarnath, India
Teachings will be in English
With Christopher, Jaya, Zohar, and Jess.
Come any day; leave any day.
On an entirely donation basis.
Teachings will be in English.
For information and registration check:
www.bodhgayaretreats.org
24 - 31 March, and 1 - 11 April, Deep Rest retreats near Rishikesh, India
Teachings will be in English
With Ajay and Jaya
More information coming soon.
20 April - 20 May, One-month retreat with Ajay, Gemma, and Jaya in the foothills of the Himalayan mountains, India
More information coming soon.
~ Welcome to Everyone
We would love to share your inspiration in an upcoming newsletter. Photos! Poems! Drawings! Musings! Reflections on a recent--or not so recent--retreat! (You can even tell us that you'd like to contribute anonymously.) Please feel free to send any contributions to newsletter (AT) opencentre.es