~ July Newsletter

This month's newsletter, with its deep sense of place and home, reminded me of something I'd read recently in a book by the famous Deep Ecologist Arne Naess. "When the majority of people were living off the land, with little mobility, it was natural to feel at home at certain places. One stayed at home, left home, or went home. But home was not a building. The advertising of homes to be bought is not an offer of a home in the connotation relevant in our analysis. Home was where one belonged. Being 'part of myself,' the idea of home delimited an ecological self, rich in internal relations to what is now called environment." This summer I've loved 'coming home' while working in our garden. I feel how it strenghtens my connection, too, to the home that is Open Dharma.
In this newsletter
~ News
~ A Letter from Jaya.
~ The Fundamental Enoughness of Existence, from Beka, in England.
~ Dharmaloca's Insects, photographed by Jenny, on the road.
~ Being Free from Meditations Temptations, by Keven.
~ September's Retreat in East Sussex.
~ Upcoming Events
~ News

Interviews

Jaya will do one-to-one interviews of 10-15 minutes each via skype on Jaya interviews on
Sunday, 3 July
, starting at 4:30pm her time (in Western Europe).
If you would like to schedule a time for an interview, please email Alison: interviews (AT) opendharma.org
Internet Radio Dharma Talk
Jaya will offer a 30 minute dharma talk--"Immeasurable," over the free internet radio site blogtalkradio.com on
Tuesday, 5 July
at 4:30pm, in Western Europe. (The site lists the start time as 10:30am, as it's based in the Eastern US.)
Please join in by following this link
. You can call with questions during the show at +1-626-226-1427. (For those outsie the US Ernest reccommends using localphone.com, as you can use it to make calls for 2 cents/minute.)
Ajay Video Online
Evan Walker has taken our wish to create free live broadcast of Open Dharma teachings -- and run with it. After putting in hundreds of hours of work, Evan has made several videos of Ajayji's teachings available, with some live broadcasts in the works. Please follow the link
http://vimeo.com/freemeditationinfo

Mind-blowing dedication. Many thanks, Evanji.
Kitchen Volunteers
Open Dharma is looking for two people to help in the kitchen on the retreats in Catalonia, Spain: 19-21 and 21-28 August, 2011. Our two volunteers will get to learn about macrobiotic cooking while integrating service and practice. This is the first time we have arranged with a professional macrobiotic cook and her assistant to lead the kitchen team -- for the same amount of money it would cost us to run a fully volunteer kitchen. They are friendly, love our retreats, and are delighted to support Open Dharma and retreatants in this way.
If you are interested please contact retirosopendharma (at) gmail.com.
---
~ A Letter from Jaya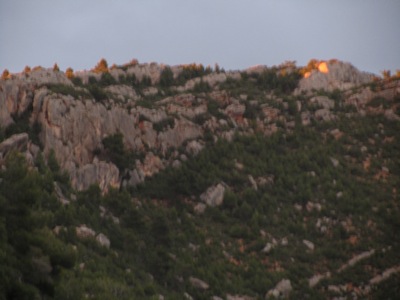 Jaya writes about May's deep rest retreat at the Moulin de Chaves, in France...

Last year flood, this year drought
the inner spring keeps bubbling up.


~~
...and also sends news from Dharmaloca, in Spain, where the one-month retreat is wrapping up.
Dharmaloca news

This week it's loquats and chard. We did not plant them ourselves, but they are here. Their giving is carefree, wild. Loquat juice running down our arms; chard appearing in lentil soup, quiche, stir fry.

For all the tomato seeds I sowed and lost, three have come up on their own--"volunteers"-- sometimes in the middle of the stone garden path, sometimes in clusters under the apricot tree. This month, retreatant-friends have helped transplant their crazy giving--sometimes to dignified, drip-irrigated locations next to the Zapotec Pleated and German Queen tomatoes, and sometimes next to volunteer calendula and morning glory by the caravans...hoping for rain.
It is curious how this year at Dharmaloca, the human life has followed a similar pattern: some friends from past years are back, but many of those who planned sincerely and enthusiastically on being here could not make it. Meanwhile, popping up unexpectedly along the way, surprises: visitor-retreatants to help us enjoy this season of harvests, and plant for the harvests to come.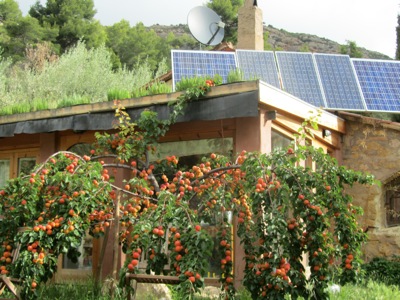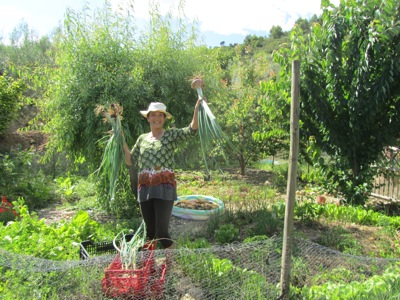 by Jaya
(Photos: The abundance at Dharmaloca.)
---
~ The Fundamental Enoughness of Existence
Having done a fair amount of excavation on the inner world over the winter I began to have a strong sense, finally, that I am/there is enough (love) despite my previous belief that there wasn't. Up to that point I have lived my whole life so far with a feeling of not being lovable, worthy, enough. This has played itself out in both subtle and unsubtle ways. The fear and pain that I noticed so intensely when my partner decided to end the relationship very suddenly made me see this pattern -- that it has been with me all my life and that it was almost certainly there prior to my birth. Seeing this pre-birth element was significant in realizing that the pattern was not mine, it was simply being played out through this vessel called Beka. And Beka could choose not to play it out, since it was clearly no longer serving her, or anyone else for that matter.

The fundamental enoughness that I experienced so strongly during the intense winter period has remained with me and become something of a mantra ~ 'There is Enough', is one of the single most valuable teachings I have ever had the privilege of receiving from Spirit. What suddenly felt so significant and obvious was that it wasn't so much that I was enough, more that there was enough ~ it was only my perception of lack and my identifying with it that made it feel like I wasn't enough.
In addition to this life-changing download I had yet another touching and transformative privilege when I attended a workshop led by the pioneer of Body-Mind Centering, Bonnie Bainbridge Cohen just the other day. The focus for the workshop was Embryology -- not something I was specifically interested in prior to the event but knew I wanted to meet the woman who created the work that I'm now training in -- go to the source, so to speak.
When Bonnie came in the room and started speaking, I started crying -- those tears that come from gratitude, release, the tears that are the glue that binds us to the Beloved. She requested that we all went into silence for a while, that it helps her. What a relief! It helps me too!
During the two days she shared a phenomenal amount of information, wisdom, kindness, equanimity, emptiness and embodied truth but I would like to focus on the part that touched me the most and the part that is linked to what I have already mentioned. Very simply, when we are just one cell, when we are not yet 'us', 'me', 'you' we are received by our mother, by life. If we were not received, we would not exist. Period. 'On our most basic level we were received, we were not rejected'.
I noticed how my belly dropped, relaxed, softened when she said this.

There is also something in the somatic experience (moving with awareness) of the moment of embryo merging with the mother where I have a profound sense that being received is also receiving. The quality of the experience seems to me to speak of the same thing. This then translates itself into my life as a movement of flow, of deep connection, and sometimes even less a sense of 'me' being received or the one that receives ~ there is simply the movement of life giving life.

Bonnie's experience also reveals that we continue to be received, that life is always receiving us. When we see this truth for ourselves we can feel the fundamental enoughness of existence. This brings even greater meaning for me to the word birthright.
'We are life's longing for itself'. --Bonnie Bainbridge Cohen/Kahlil Gibran.

by Beka
---
~ Dharmaloca's Insects
Please enjoy these photos of the insect-life at Dharmaloca, taken by Jenny during her visit.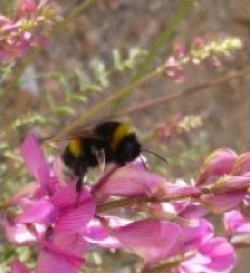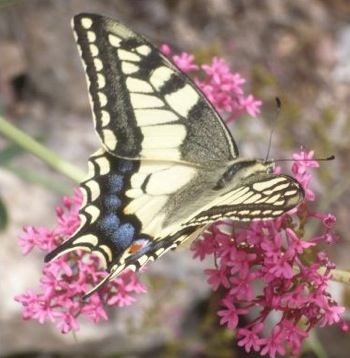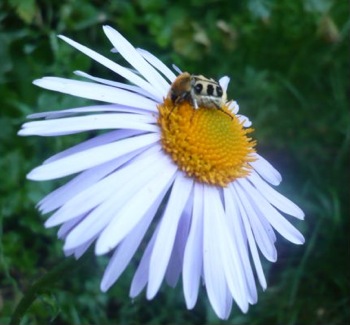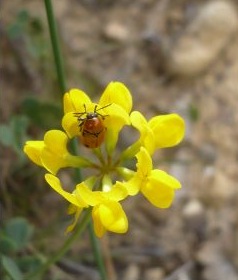 ---
~ Being Free from Meditations Temptations
This poem comes from Kevan, touring Europe in his campervan.
Each time I try
to leave behind the smiles
of these thoughts
that keep my mind
from dropping into peace,
I find another scene
already has
its elbows on the screen,
and digs me in the ribs,
that think
they want to keep
with scenes
from other times
that once more
curl my lips
and open up my eyes.
They say it's good to meditate,
and there are times
I've forced my brain
to hold its tongue,
but when it wakes me
with such joy
in its created scenes,
what else can I do
but join its song?
---
~ September's Retreat in East Sussex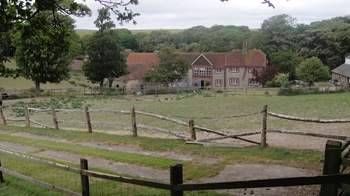 The retreat will be held in a most quiet and beautiful village set in the heart of the South Downs in East Sussex, UK. Steep, chalky hillsides, wild flowers, birdsong. Only a few houses, a farm and a church. All made from the typical flint stone from the land there. Trees that support, earth that heals, hearts that love. When the retreat will happen it will be early autumn which means generally the weather is still quite warm though there could be some clouds, maybe a bit of rain.
All are most welcome.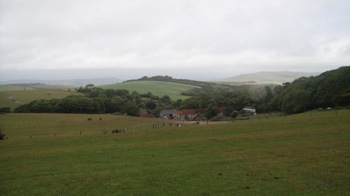 (Photos: The retreat center in East Sussex. )
---
~ Upcoming Retreat Dates & Details

16 - 23 July 2011, Deep Rest retreat in Holland
Teachings will be in English
Facilitators: Jaya and Gemma
For information and registration, write to:
opendharmaholland (at) hotmail.com

19 - 21 & 21 - 28 August 2011, Deep Rest retreat in the hills near Tarragona, Catalonia, Spain
One weekend and one 7-day retreat back to back.
Teachings will be in English & Spanish
Facilitators: Jaya and Gemma

For information and registration, write to:
retirosopendharma (at) gmail.com


16 - 19 September 2011, retreat in East Sussex, UK.
Facilitators: Jaya
For information and registration, write to:
odbrighton (at) gmail.com

21 - 23 October 2011 & 24 - 30 October, silent retreat, Mebane, North Carolina
Facilitators: Jaya and Gemma
For information and registration, write to:
opendharma.nc (at) gmail.com

October 2010 - October 2011, Freedom of Movement Lab
Facilitators: Jaya
For information and registration, write to:
interviews (at) opendharma.org

6 - 15 January, 2012, 17 - 26 January, and 27 January - 5 February, Silent retreats near Arunachala, Tiruvannamalai, Tamil Nadu, South India
Teachings will be in English
With Ajay, Gemma, and Jaya. Nicole Christin and John Seed will each join us on one retreat.
Registration will open in a few months. The break between the retreats if for the Tamil New Year celebration
For information and registration, write to:
opendharmainfo (at) yahoo.com

8 - 18 February, Dharma Gathering in Sarnath, India
Teachings will be in English
With Christopher, Jaya, Zohar, and Jess.
Come any day; leave any day.
On an entirely donation basis. For the first time, we will offer a silent 7-day retreat with Jess within the compound of the Thai Monestery, happening simultaneously with the usual, rich interactions of the Dharma Gathering.
For information and registration, write to:
opendharmainfo (at) yahoo.com

24 - 31 March, and 1 - 11 April, Deep Rest retreats near Rishikesh, India
Teachings will be in English
With Ajay and Jaya
More information coming soon.

20 April - 20 May, One-month retreat with Ajay, Gemma, and Jaya in the foothills of the Himalayan mountains, INdia
More information coming soon.

~ Welcome to Everyone
We would love to share your inspiration in an upcoming newsletter. Photos! Poems! Drawings! Musings! Reflections on a recent--or not so recent--retreat! (You can even tell us that you'd like to contribute anonymously.) Please feel free to send any contributions to newsletter (AT) opencentre.es