~ June Newsletter

Open Dharma is experimenting with several great new ways to help us deepen our practice: Gemma writes of last month's retreat with horses in Spain. Evan, while in Tiru, collected some of Ajay's most poignant one-liners, which he's shared below. And--drumroll, please--Jaya will give an internet radio dharma talk on 15 June, see details below. How exciting!
In this newsletter
~ News
~ A Letter from Gemma, in Spain.
~ Ajay's One Liners, from India.
~ Sattal 4am Refections, a poem by Kailash, written in India.
~ The Cosmic Walk
~ Upcoming Events
~ News

Interviews

Jaya will do one-to-one interviews of 10-15 minutes each via skype on Saturday, 11 June, starting at 4:00pm - 5:30 pm her time (in Western Europe).

If you would like to schedule a time for an interview, please email Alison: interviews (AT) opendharma.org

Open Dharma First--an Internet Radio Dharma Talk
Jaya will offer a 30 minute dharma talk over the internet radio site blogtalkradio.com (
link here to go directly to the Open Dharma page
) on 15 June at noon her time, in Western Europe. (The site lists the start time as 6am, as it's based in the Eastern US.) Please join in this exciting experiment. You can call with questions during the show at +1-626-226-1427. (For those outsie the US Ernest reccommends using localphone.com, as you can use it to make calls for 2 cents/minute.)
An Invitation to Practice
During the month-long June retreat at Dharmaloca, why not practice along? Please join in a 1-month practice commitment.
Jaya suggests clarifying for oneself 3 different practices. They can be short or long, but clear:
1) Rest.
2) Time out to do what you love.
3) Informal meditation: what is the inner gesture that helps you connect to aliveness?
---
~ A Letter from Gemma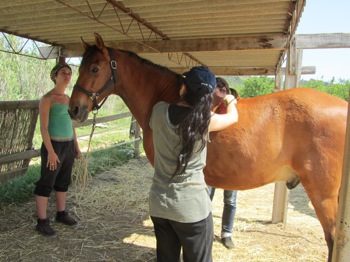 Gemma writes about May's Transformation with Horses retreat in Cabaces, Spain.
"Acting from emptiness."

"No aggression."

"Being a leader who serves," Lea counted on her fingers the main principles of finding communication with horses. She is a Belgian who lives and teaches in Auroville, India, and is about to spend a year on a Danish island immersed in these principles. "These are the general guidelines and then," she said, "you have to take into account the character of the individual horse."
Lea's and my passion for horses, and the crazy idea of inviting her to Dharmaloca, gave us a beautiful week together in the Catalan springtime. Being with horses helped us connect -- without a sense of heaviness and work -- with ourselves, our willingness to live fully, and with all.

I felt so lucky that she agreed to come that I could not resist organizing a weekend workshop to share this adventure. Eight people joined the workshop, and Lea and I offered silent and guided meditations, body awareness exercises, talks and exercises with the horses--like leading them or stopping them-- as well as just being with them in a meditative state.

The horses, transparent and fresh, and reflected any fakeness in us. Any subtle sign of aggression in us would turn them away. They would simply not come to someone who was not connected deeply within.

By learning simple horse body language we could practice communicating with them in a soft and organic way, and we could see that by speaking their language we were understood without force.

Leading or riding a horse in this state of inner connection is an art and a joy. And it becomes a way to understand ourselves and to be deeply transformed.

Many thanks to Alfonso and Carme who offered their space and their horses for us to learn and play with.

Many thanks to Lea for coming and sharing her knowledge and passion for the well-being of horses and for human transformation.
I hope sometimes soon to have the company of horses grazing on the surroundings of Dharmaloca for the benefit of all.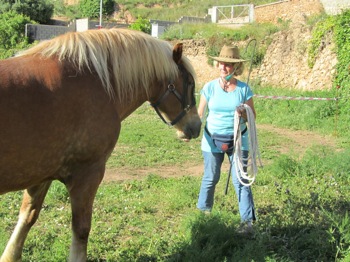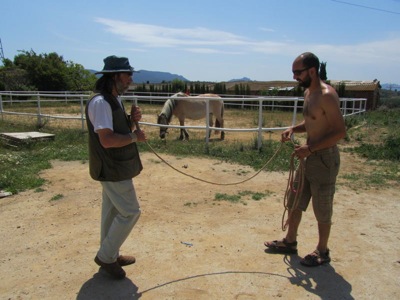 by Gemma
(Photos: On the Transformation with Horses retreat in Spain, including the second image, a photo of Lea, the guest teacher from Belgium and Auroville, India.)
---
~ Ajay's One Liners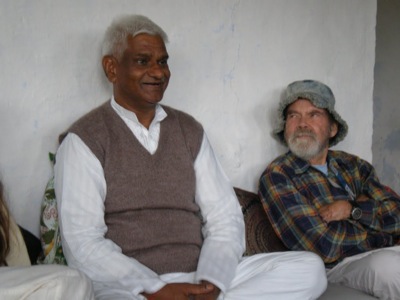 Evan collected these poignant one- and two-liner quotes during Ajay's talks in Tiruvannamalai this past winter.


"If you stop making chai for your guests [thoughts/emotions] and don't invite them, eventually they will stop coming."


"There is such a big shadow of unhappiness. It's very easy to connect people with suffering, but not so easy to connect them to happiness and to life. We really have to look, as humans, if we really want to allow this."

"When you trust, how will you question?"

"Unhealthy hope is 'to run away from me' [reality]. Generally, because of my hope I don't want to see me, or the situations as they are, and this is unhealthy. If I water a plant and it gets sun, a flower may come. This is healthy hope."

"On the path, somewhere we really have to become tired of the mind, and find another faculty to continue in the practice."


"The heart is also mechanical. Because my heart gets influenced by my feelings, and my feelings are influenced by my thoughts. When you go below the heart to the belly, the belly is not mechanical."

"When you experience heart, it's close to data based recognition. Our mind is mathematical and recognises amounts, and some classification is there. But recognition of belly is data-less, there is no 'grossness.' So to recognise we have to change the system because data based recognition does not work there, so it's always available but recognition is not available because it isn't data based. So new system is needed, but it's really difficult to describe because there is no data. It is direct knowing."

"The belly is like the 'dark store room' of us. We really pool all negative things there, so there could be the sensation of negativity there. But this is not what I am talking about. This thing I am talking of is sensation-less."

"It is really helpful for the human mind to have a goal [in everyday life], but life itself has no goal, other than we could probably say that life's goal is life itself."


(Photos: Ajay and Lenny at the retreat in Sattal, India. )


---
~ Sattal 4am Reflections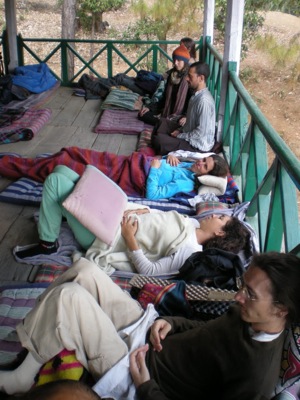 cold hands
caressing hot cup of green tea
full moon dazzling
through the pines and my window
in the utter stullness,
while birds still sleep
I hear Krishna
singing in the forest
Jai Govinda! Jai Gopala!
Hari Narayana
Jai Ho!
sweet sound of silence listening
to its own sublime song,
while cold feet
seek out
misplaced socks

(Photo: The retreat in Sattal.)
---
~ The Cosmic Walk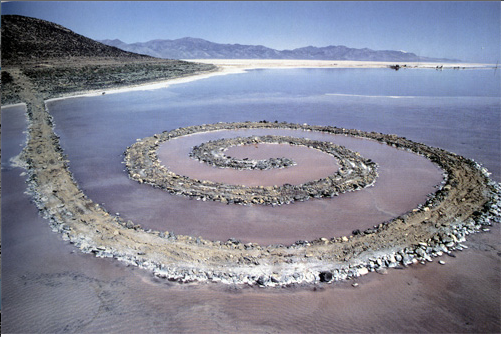 Here is a link to a guided reflection

that John Seed led years ago on an Open Dharma retreat in Tiruvannamalai. Jaya planned to offer her version of The Cosmic Walk refletion during the retreat at the Moulin de Chaves in France this May, using a spiralling rope marked with measurement. That tool "helps us walk when walking through from the Big Bang until today, and to feel our connection to the vastness of the Universe," says Jaya, "and to the aliveness beyond the known."

(Photo: Robert Smithson's "Spiral Jetty.")


---
~ Upcoming Retreat Dates & Details



3 June - 1 July 2011, One month retreat in Dharmaloca, Catalonia, Spain
Teachings will be in English & Spanish
Facilitators: Jaya and Gemma
For information and registration, write to:
dharmalocaretreat (at) opendharma.org

16 - 23 July 2011, Deep Rest retreat in Holland
Teachings will be in English
Facilitators: Jaya and Gemma
For information and registration, write to:
opendharmaholland (at) hotmail.com

19 - 21 & 21 - 28 August 2011, Deep Rest retreat in the hills near Tarragona, Catalonia, Spain
One weekend and one 7-day retreat back to back.
Teachings will be in English & Spanish
Facilitators: Jaya and Gemma




For information and registration, write to:
retirosopendharma (at) gmail.com


16 - 19 September 2011, retreat in Lewes, near Brighton, UK.
Facilitators: Jaya
For information and registration, write to:
odbrighton (at) gmail.com

21 - 23 October 2011 & 24 - 30 October, silent retreat, Mebane, North Carolina
Facilitators: Jaya and Gemma
For information and registration, write to:
opendharma.nc (at) gmail.com

October 2010 - October 2011, Freedom of Movement Lab
Facilitators: Jaya
For information and registration, write to:
interviews (at) opendharma.org

~ Welcome to Everyone
We would love to share your inspiration in an upcoming newsletter. Photos! Poems! Drawings! Musings! Reflections on a recent--or not so recent--retreat! (You can even tell us that you'd like to contribute anonymously.) Please feel free to send any contributions to newsletter (AT) opencentre.es