~ May Newsletter

If this newsletter has a cohesive message, it's about growth, which, as we all know, is never entirely easy. Along those lines, Kellie shares with us her experience in being diagnosed with Thyroid cancer. Jaya describes transformation during a retreat under the rain. Julia wraps her mind around James Gleick's latest theories. Roos writes from the Netherlands about the education system and children's creativity. And Rachel ponders weeds.
In this newsletter
~ News
~ A Letter from Jaya, in Spain.
~ On Cancer and Joy, by Kellie, from North Carolina and Hawaii.
~ Bit by Bit, by Julia, in North Carolina.
~ Spring Photos from Dharmaloca, Spain.
~ Children's Creativity, by Roos, from the Netherlands.
~ On Weeds, by Rachel, in the UK.
~ Upcoming Events
~ News

Interviews

Jaya will do one-to-one interviews of 10-15 minutes each via skype on Tuesday May 10, starting at 11 am her time (in Western Europe).
If you would like to schedule a time for an interview, please email Alison: interviews (AT) opendharma.org
Web news
There have been many new updates to opendharma.org, including additions to Dharma Child, more photos of Dharmaloca and a diagram of photo of Jaya showing some ways to experiment with
lying down postures
, snapped by Tom Riddle.
---
~ A Letter from Jaya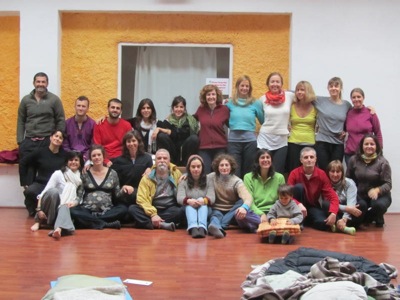 Jaya writes about April's Deep Rest retreat in Catalonia, Spain.
Every day rain.

The first retreat where each teacher was also mothering a child--Gyan now over 3 years old, and Gayatri just over 4 months.

The dining room not ready for dinner. Someone keeps turning off the heating system.

Lots of people new to silence and retreat.

Within the 4 days of the retreat, a historic 2 soccer games between rivals Barcelona and Madrid, plus 2 major holidays--when people usually want to be with a television and with people they know.

Turning 44.

Ice-cold water in the showers on the last morning.

Sounds challenging, to say the least.

But it was one of the more wonderful retreats I have been on in 25 years of meditating.

Silence, deep and refreshing, in the hall from the first evening; breakthrough meditations several times a day; chi gong and embodied anatomy in the mornings; people immersed in the atmosphere of fluidity and love; Gemma's mom made up enough games and read enough books to get through 4 grey days; ease; ease amidst the unexpected; a ribbon of softness; a treasure found; we said, "Love the process; Let things float in softness; Put what is central to life in the center of your life."

They said, "Just arriving here, I felt my armor melting as if by magic."

They said, "Somehow all that meditation helped me find a way to sit without pain."

They said, "Somehow the atmosphere made it easy to go into the fluidity and bring love even to difficult situations."

They said, "Passion for awakening."

They said, "I loved the rain."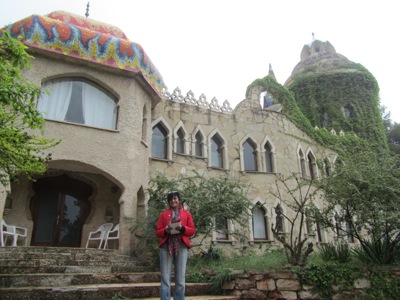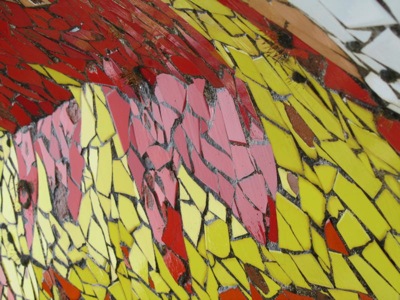 by Jaya
(Photos: The retreat group; Carme, the manager of the retreat and the Open Dharma office manager, in front of El Castell, The Castle, where everyone slept. The place was built by an alternative community in the 70s on land that was leant to them for over a decade.)
---
~ On Cancer and Joy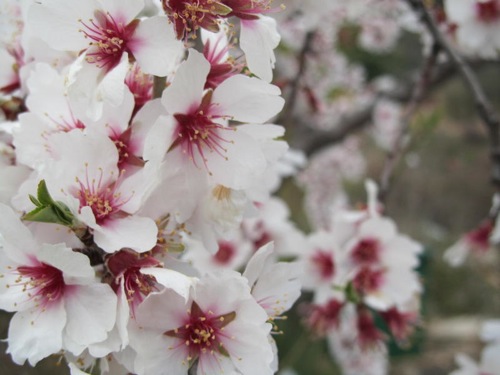 Seven Months ago my entire life changed for the better when I received a call from my doctor informing me that I had Thyroid cancer. Now I know this sounds like an odd statement; however, it is my truth. This is not to say that I have not gone through Hell and High Water as well, and yet somehow the blessings of transformation that have accompanied this illness far outweigh the struggles I have had.

So here is a snippet of my story. A few months after I was diagnosed with cancer I was taking a walk in North Carolina on a cold and sunny day, the barren trees outlined by the blue sky and crisp cool air. What a blessing to be here and experience this earth. While walking I asked myself a question that changed my life. Although I had contemplated this question philosophically for many years, it had never been quite so real as on this day. I asked myself, "If I died from this illness sooner than later, would I be content with my life as is, and specifically where I had focused my energy, attention and thoughts over my life time?" As I reviewed my 30 years of life, I decided whole-heartledly, with great compassion and forgiveness for myself, that I would not be OK with dying because I was not satisfied with the way I had thus far walked on this earth. What a shock to my system. After 10 years of spiritual practice, what did I have to show for myself except discontent. And yet, within this realization I experienced great peace and recognized the immense power I have as a creator to change my own reality NOW. After all the years of hearing the Tibetan's teachings on Death as Skillful Means to help initiate the waking up process, I finally had the teaching pay me a personal and private visit. Sometimes a good kick in the butt is evidently what I need to propel deeper levels of transformation.
This realization changed my life and has empowered me to make different choices. That day in North Carolina I became strikingly aware that I had focused my thoughts and energy into endeavors throughout my life that did not aid in my personal joy, health, and peace or that of the planet at large. All of a sudden, my morning asana and meditation practice became a small part of my spiritual path, as I opened my eyes to every moment, every thought, every action, being part of my spiritual path. In this moment of recognition, it was as if the universe said to me, "Kellie, you have a choice right now to change your life...and it is up to you. You are the creation and the creator. You have the power to change your reality here and now. You don't have to pray for it outside of yourself. Be the prayer by living your deepest desires for love, peace, calmness, and joy out Right Now. Stop waiting to wake up, and live this present moment fully. What are you waiting for...another encounter with your own mortality?"

Since this day my life has been different. This does not mean I do not come up against my own walls, wounds, and sorrows at times. However, they pass much more quickly and they have less of a hold on me. Instead of only being OK, most of the time I feel pretty fantastic, even when I am in physical pain, crying, or experiencing tumultuous emotions. I attribute this to knowing that I will die one day…and it could be any day, so here I am trying to make the most of this day, this body, this consciousness here on this earth. What is there left to do but to love and to serve, for all the other stuff is slowly fading into background noise as the songs of the present moment become more and more divine, passing, temporal, and eternal.
by Kellie
(Photo: Blossoms of Dharmaloca. )


---
~ Bit by Bit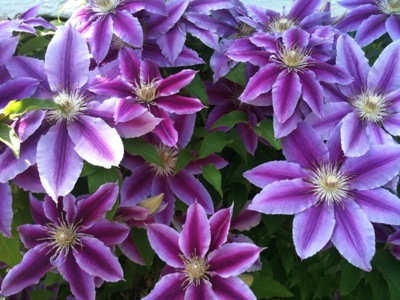 Here's a link to
a fascinating interview with author James Gleick
from the NPR show "All Things Considered" about his new book
The Information: A History, A Theory, A Flood.
It's about information theory, how bits of information are the "fundamental core of things." This theory has become a common thread joining various disciplines like physics, computer science, electrical engineering and economics. Every cell in our bodies and the cosmos itself can be understood as complex information processors that forever return to the on/off, yes/no, coding and decoding that determines a bit.

Gleick's ideas are something of a brain tickler. He admits, "I can't pretend that I fully understand it either, but it's just one of the many ways in which scientists have discovered a conception of information that helps them solve problems in a whole range of disciplines."

(Photo: North Carolina clematis, by Julia.)

Please enjoy these photos, all taken at Dharmaloca this April, and including visitors Vicky and Jamie, who are due to have a baby any day now. Vicky is a dancer who co-taught on an Open Dharma meditation and movement retreat, and who has come on numerous retreats in Spain and in Holland to devote her skills with children to Gyan.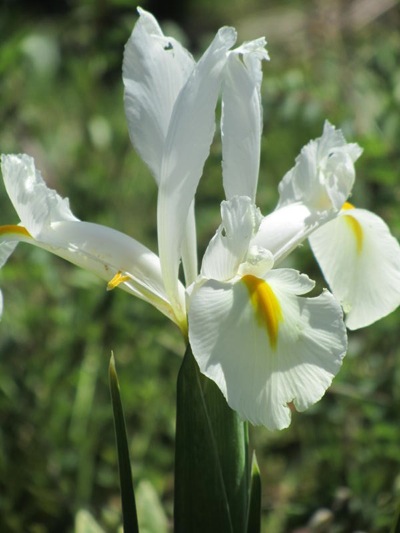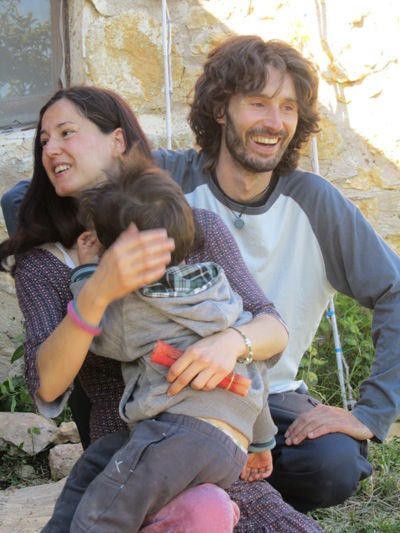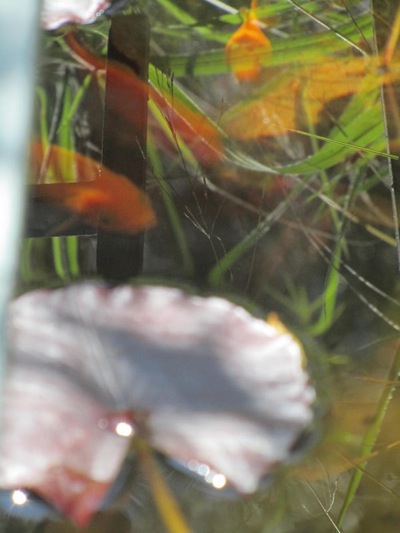 ---
~ Children's Creativity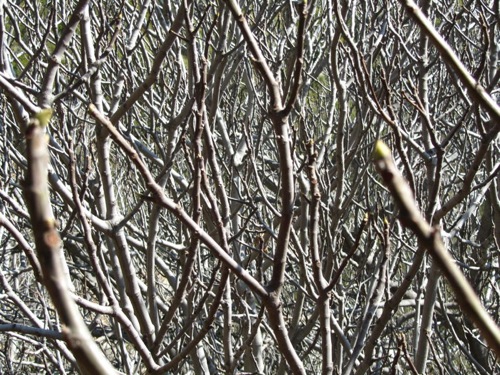 I would like to share something about children and education.
I make theatre, in various ways, and I direct and teach drama to children and teenagers in schools in The Netherlands. It is stunning to see young children going out of their minds completely whenever I pull out a little bunch of papers that has locations, animals or jobs written on them. They press around me, reaching out their hands as if I offer their favorite candy. Just a simple word like 'beach' or 'teacher' opens a whole world for them: the world of their imagination. For me as an artist, seeing this is a great teaching.

With teenagers, who face adulthood, I explore through theater what life is about, or more even, what their lives are about. Performing an old Greek myth, suddenly blackberries become musical instruments and a whole geography is made around Beyonce's song "All the Single Ladies," where originally the god Apollo was playing on his guitars and violins. When my students were given responsibility and space to be creative and make something of their own, I saw them transform from bored, brutal, always messing around teenagers into hardworking, creative, alive and joyful geniuses.

But there is a flip side to this; the young children often begin my class complaining about how cold they are. I know this is from sitting still all morning and I let them run around as hard as they can. And the teenagers, their natural energy is completely gone at the end of the day, when my rehearsals begin, after long hours of Math, French and Geography. I feel there is a blind spot in our education system. Are we truly meeting our children's needs?

From my own experience, I feel many blockages when it comes to being creative, being care-free in exploring and opening my ideas and thoughts and being unafraid of saying or doing something wrong. I recognize this around me. Most teachers and parents are totally involved and have such a good heart for the children, but I am questioning our culture and educational system. About this I'm including here
a link to a very inspiring speech from Sir Ken Robinson.
(Photo: Branches growing strong at Dharmaloca.)

---
~ On Weeds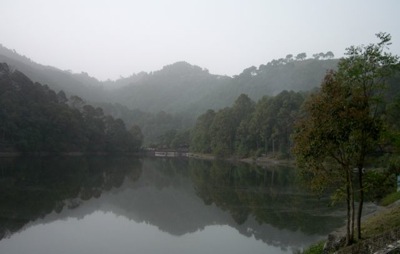 Up in little Himalayas of Sat-tal, bought there by Open Dharma (bless their cotton socks), I listened to the usually mellow Vijay, the estate manager, curse Lantana. He was looking through binoculars at the forested hills for any signs of a fire.

'Lantana's a devil. It runs riot over the whole of this pre-Himalayan belt, colonizing the ground between the trees and so becomes an effective fire carrier. Most of our work is spent taking it out. In monsoon when the ground is more giving, we can pull out the roots, but they are deep and Lantana always returns. We just do what we can.'
I gathered Lantana had more than this one diabolical side to it from an American, Annie (The Story of Stuff, Annie Leonard), who came from a land and culture where Lantana is propagated in pots, and sold as an ornamental plant. Unwanted weed and paid-for plant.
Wryly acknowledging my English origins, Vijay tells me it was the colonising English whose garden loving people introduced Lantana to India, saw it flourish on the sub-continent into a healthy shrub, and nurtured it for the other thing the English like doing, demarking ownership of land: Lantana made excellent hedges.
Ornamental plant and pest, propagated and purged, valuable commodity and expensive nuisance. Tame in one climate, rampant in another. Same natural system but viewed poles apart in divergent place and time.
A view point. 'What is one mans terrorist is another mans freedom fighter,' I extrapolated while walking that gentle pace in a group walking meditation, seeing for myself how effectively Lantana 'colonised' the hillside, its pretty red to yellow florets, attractive and unflustered by being called the devil, or even its commonly called named 'Ham and Eggs.' Did the English gardeners ever imagine the cause and effect of such an innocent action?
Naturally, a 'weed' is just another human construct. A weed does not have an identity of weedness ('oh poor me, I am a weed,' or 'I WILL SURVIVE'). An organism exists for no other reason than it is able to, and can find an opportunity to do so. It has no I AM.
Last Autumn, Richard Mabey published his book succinctly called "Weeds," and fulfilled my Lantana meanderings, magnificently with colourful 'weed' derivations and various attempts at defining this plant with a changeable reputation (a plant in the wrong place, for example).
His most poignant observation for me was the weed as a fellowship of humans. Not that we see it that way--for where ever we are, you can be sure, that weeds sabotage our human plans (for a herbaceous boarder, a field of wheat).
But, as Mabey says, they have at least one behavioral quality in common. "Weeds thrive in the company of humans. They aren't parasites, because they can exist without us. But we are their natural ecological partners, the species along side which they do best. They relish the things we do to the soil: clearing forests, farming, dumping nutrient rich rubbish. They flourish in arable fields, battle fields, parking lots. They exploit our transport systems, our obsession with packaging. They abhor an empty space and fill it with their effective seed spread, leaf growth or root establishment."

Finally, Mayby concludes, most probably they are found most abundantly where there is most weeding!
As I dig up a tenacious English weed called Ground Elder, in the same sense as Vijay does his Lantana -- knowing it will return and just 'doing what I can' -- I smell the perfume of celery, its original family. Recalling the Romans who originally bought the plant over here as an effective remedy for gout, any 'me and them' vitriol I once had towards the so called weed softens.
More profoundly, seeing a weed not as my enemy but as my behavioral partner, has changed my way of 'gardening.' I definitely do less, and deck chair more. Or even stand as a tree.
Up on a hillside, Vijay's wife Varsha spoke to me of her Lantana, and I'll leave you with her words:
"When we were young and hungry, we used to go to the fields and eat the seeds of Lantana. When we were young, when we wanted to look older, we used to pretend to eat pan. (She laughs). If you take a lichie and mix it with the green of lantana, you get the same effect. So I like Lantana."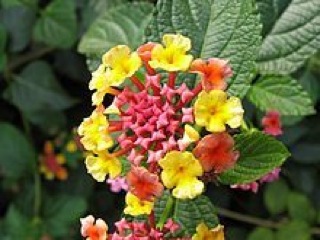 (Photo: Above, Satal; Below, Lantana, by Rachel. )
---
~ Upcoming Retreat Dates & Details
7 May 2011, Day of transformation through meditation and deep rest, near Barcelona, Spain


Saturday, 9:30 - 18:00, at the Vidakine center near Barcelona
Facilitators: Jaya and Gemma
For information and registration, write to:
info (AT) vidakine.com



14 - 15 May 2011, Transformation with horses, near Dharmaloca, in Spain


In Cabaces, 3km from Dharmaloca
Teachings will be in Spanish and English
Facilitators: Gemma and Lea Singh Wouters
For information and registration, write to:
gemmaji (at) gmail.com

21 - 28 May 2011, Deep Rest retreat at Le Moulin de Chaves, France
Teachings will be in English & Spanish
Facilitators: Jaya and Gemma
For information and registration, write to:
mail (AT) moulindechaves.org

3 June - 1 July 2011, One month retreat in Dharmaloca, Catalonia, Spain
Teachings will be in English & Spanish
Facilitators: Jaya and Gemma
For information and registration, write to:
dharmalocaretreat (at) opendharma.org

16 - 23 July 2011, Deep Rest retreat in Holland
Teachings will be in English
Facilitators: Jaya and Gemma
For information and registration, write to:
opendharmaholland (at) hotmail.com

19 - 21 & 21 - 28 August 2011, Deep Rest retreat in the hills near Tarragona, Catalonia, Spain
One weekend and one 7-day retreat back to back.
Teachings will be in English & Spanish
Facilitators: Jaya and Gemma




For information and registration, write to:
retirosopendharma (at) gmail.com


16 - 19 September 2011, retreat in Lewes, near Brighton, UK.
Facilitators: Jaya
For information and registration, write to:
odbrighton (at) gmail.com

21 - 23 October 2011 & 24 - 30 October, silent retreat, Mebane, North Carolina
Facilitators: Jaya and Gemma
For information and registration, write to:
opendharma.nc (at) gmail.com

October 2011, possible retreat in Quebec
For information and registration, write to:
quebec (at) opendharma.org

October 2010 - October 2011, Freedom of Movement Lab
Facilitators: Jaya
For information and registration, write to:
interviews (at) opendharma.org

~ Welcome to Everyone
We would love to share your inspiration in an upcoming newsletter. Photos! Poems! Drawings! Musings! Reflections on a recent--or not so recent--retreat! (You can even tell us that you'd like to contribute anonymously.) Please feel free to send any contributions to newsletter (AT) opencentre.es