~ October & November Newsletter

(Para ir a la versión castellano desplázate al Rincón Latino situado al final de la página.)

(Photo by Gemma)
In this newsletter
~ News
~ The Theme for Reflection, by Jaya
~ Interesting Links
~ Photos
~ Upcoming Events
~ Rincón Latino
~ News

Interviews

Jaya offers one-to-one meetings via Skype--many times available now after many weeks: sign up on opendharma.appointy.com
10-15 minutes or 25-30 minutes both on a donation basis, with a suggested donation of 25-70 euros for the half-hour sessions. Please feel welcome no matter what your financial situation, and please consider giving a donation if you cancel 24 hours or less before an appointment.
Questions: interviews(@)opendharma.org
Interviews with Gemma
Gemma offers personal interviews via Skype or phone. If you wish for continuity, guidance, and company on your inner process, you can contact her at gemmaji(@)
gmail.com
to schedule a meeting.
.
Radio Dharma
Jaya will broadcast half-hour radio dharma talks on
27 October
at 11am (Indian time, GMT+5.5) and on
16 November
at 11am (Indian time, GMT+5.5). blogtalkradio.com/opendharma.
You can call in live to ask questions or to share your experience.
"Job-with-heart" offer, for a resident coordinator & caretaker of Dharmaloca
Dear friends,
As you may know, Dharmaloca is a place of rest and transformation through deep connection with nature. With the help of many Open Dharma friends, we have created this vision born form the wish of many people for a place of depth and integration after coming to our retreats.
Now we are in need of someone to take on the project, care for the place, and make it flower further.
After having lived on the land for the last 8 years, we believe in the healing and transformative powers of Dharmaloca, and we know that the beauty and purity of the place are unique.
We wish for someone to be tickled by the thought of possibly living off the grid, in the midst of stunning beauty, and offering his or her energy to the land and the souls that may benefit from retreating there.
So we are looking for a person (or two people) that:
-would love to embrace the project that is already happening
-is ready to dive into the experience of living off the grid, surrounded by deep nature
-is happy to dedicate an average of 4 to 5 hours daily to the land and the project
-has the personal and management skills to welcome people for self-retreat and group retreats lead by Open Dharma facilitators
-is able to speak and write English, and preferably speak some Spanish
-has a driving license
-is able to commit for a minimum initial period of 1 year (with 3 months trial), and potentially stay on for 3 years.
We can offer in exchange:
-Simple housing all year round.
-Paid food May through October.
-A monthly basic income to help with ongoing personal expenses, and the possibility to increase this amount with some extra activities generated by the place itself.
-One month holiday during the off-season months.
If this resonates with you, then please get in touch and we can talk further: gemmaji(@)gmail.com
To know more about Dharmaloca: www.dharmaloca.org
Managing Retreats in India
We would like to provide the opportunity for a few people this "season" in India to experience the practice of helping to create, support and hold the space of retreat in close collaboration with Jaya.
If interested, please email Jaya or Annette at jaya(@)opendharma.org or manager(@)opendharma.org
Video project with no need for video skills!
We have very short, lovely videos to watch, select sections and decide on the order to put together into one short-ish video about retreat.
The videos are of retreat participants describing their experience after Sattal retreats.
No video tech experience needed but I would love to have a couple volunteers help evidence what goes in the final video and in what order.
Please email jaya(@)opendharma.org if you are interested and have time this month to complete this project with the expert help of videographer Tom Riddle.
---
~ The Theme for Reflection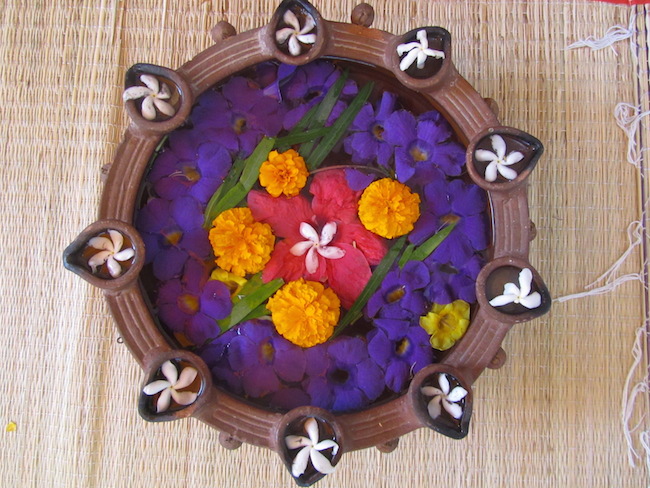 ~Dignify and Share

We have not resolved this yet. This basic living.

I don't mean the esoteric stuff. I mean: in a basic sense, we have not found a way to live.
Our lifestyles do not work with basic facts of life.
The way we live does not work with what is.

But I am very sure no one wants to hear this. It is so easy to hear this conversation start, to feel guilty and turn away.
Probably if you were trying to talk to me about this, I would not like to hear it.
But it is possibly the most exciting thing in our lives.
Because it requires of us a revolution, a voluntary but complete rearranging of our lives for no grand reason. Not because we are dying or desperate, but because we are living.

The basic fact of life I am writing about today is: essential things like food and clothes and health, getting born and dying, take time and work.
All of it takes sweat, and knowledge, and disappointment, and care.

We don't want to go "back" to what I call the housewife system, nor to slavery, and I do not think we can continue much longer in the direction called "development." Development so far just involves outsourcing our housekeeping. It has not revolutionized the way of relating to life.

Sustaining life simply involves time and work. And maybe this is not bad news. Maybe feeding and cleaning and tending are built-in daily chances to let love act.

So-called "development" means: try to forget about basic life-sustaining work. We forget the mystery of food, the way a clean room allows us to think freshly, how working with chaos can bring out our best music, and how needing help can lead into communion (and good conversation). We keep assigning this ordinary, sacred work like a punishment to slaves, servants, and people who are desperate for a little money. And often, though kind of secretly, women still do much of it, while also working paid hours somewhere else.

In so-called "developing" countries, women, servants and slaves openly do much of this work--and I have yet to understand where they get the strength for all of it.
It is just so incredibly much work. Recently a friend was sick here in India and I tasted another rhythm of life trying to take care of her and her family as well as my own, while still doing my other work--from 4:30 am till 11 pm, sweeping the house with sweat trickling down my spine, filtering water and filling bottles, juggling the timing of toast and cereal and fruit with school departures for 4 different kids and 3 different schools, laundry, the trash, boiling the milk, dishes...chai anyone? Oh, and what's for lunch, snacks, and supper? Are there any vegetables left in the house? It felt like a fairy tale where the heroine has to accomplish an impossible task by dawn or dusk-- only no magical help turned up, and after dusk or dawn a new impossible task began.
Instead of fairies for help, other women in the extended family turned up, taking a break from their new tailoring shop, to cook and clean, with amazing good humor. "Cooking dinner only takes an hour and half, so what's the big deal?" one of them said.

Sharing the work seems basic, and I would love for this work to be shared more widely. A life without time to rest and play and think is not a life either.

Can we find a way to embrace this work? Can we find a way

to dignify and share the hard and fulfilling work of sustaining life?
Can we feel the kernel of goodness in simple caring action, in seeds and soap, and find there is enough work to go around--and enough people to lighten everyone's load?
Not that everyone should do the same thing—another slavery.
But I think enough rest and work will bring us all back into touch with aliveness in humble, daily-life ways. All us people--some who need to touch the soil, or who need a yoga class, who need to deal with thread getting tangled on a hem, who need to rest our hands. Back in touch with aliveness.

"Development" has not been brilliant so far. For example, trying to ditch those annoying tasks that "used to be" assigned to women and slaves, we have tried to put the "important" parts of food--nutrition and taste--in a plastic bag. Washed, peeled, sliced. What do we think will actually happen to all that plastic? It sounds good only because we are too busy to think it through.
And maybe you have also noticed that food without the sweat, knowledge, disappointment and care does not feed us fully.
The housewife system uses far less packaging--someone is home to receive the milk from the dairy farmer straight into a metal pot for boiling--but surely we can develop a better way than that.

We acknowledge that taking care of children, sick people and old people is important and takes time, but we do it on the sly, because we adults are not supposed to pause for any of this.
We try to remove ourselves from the slavery--let it be in a factory or a nursing home far away.
Where no one has time to care, and you sweat only because you have to.
Are any of these good ideas?

Learning to let care sweat

is something we need in the "developed" world.
We actually

need

to be involved. We need this work as much as it needs us.

We also need to have enough rest and dignity in the work to feel its wholesomeness. We need to share this work and honor it. Honor it and share it.

I am amazed in India how the extended family works together to bring about the fresh bread of the day.
The

roti, possibly the simplest bread in the world, like most food, is inconvenient to make. Wheat from the field in the village hefted into the city in woven bags, spread in the sunshine on the flat roof (once a month), loaded off to the local mill on a motorbike, and finally mixed with water and rolled out into circles that puff up on the blue gas flame (twice a day). A dash of homemade ghee (made once a week).
No packaging other than the woven bag, which will be used to bring the next round of wheat.
So much work. So fresh. No one could do it alone. (I can hardly do any of that myself.)
Perhaps only because we are so far removed from life in the "developed" world, we may wonder why life has to involve so much work.

What about developing something--a way of living that takes into account the facts. A way of living that works with what is, and that brings out the goodness and honors the life-sustaining in ordinary acts and living.

I would like to suggest 3 practices that may give us enough momentum to let life develop some good ways of living:

1)

Streamlining

all our work, in and out of the house--not to get rid of work, but as part of
honoring and sustaining life, to have enough time to enjoy doing the work. Maybe technology along with some wisdom from ancient building and living traditions can yield us some more space to enjoy living our daily lives.

2)

Letting go of guilt--guilt would be appropriate if we deliberately and willingly did harm, but mostly we just have gotten out of touch with life and creative, live thinking and action. Guilt is a stuck place that drains power and blocks our flow.

3) Shifting our

perfectionism of surface

and our

over-individualism--being more ready to enjoy the local bumpy apple and the soup that someone made for supper even when you wanted salad.

To step willingly into life, anyway, with its demands and sweat and fulfillments--now that would be a development.

Perhaps this fundamental human step is, after all, where ordinary and esoteric meet.

The

bodhisattva

tradition is about committing to develop 6 or 10 paramitas (perfections) such as generosity, patience, discipline, exertion, meditation and wisdom. About the perfections, Chogyam Trungpa says, "instead of holding our own individual territory and defending it tooth and nail, we become open to the world that we are living in. It means we are willing to take on greater responsibility, immense responsibility. In fact it means taking a big chance. But taking such a chance is not false heroism or personal eccentricity... [A] tradition of responsibility and openness has been handed down from generation to generation, and now we too are participating in the sanity and dignity of this tradition....We no longer are intent on creating comfort for ourselves; we work with others. This implies working with our other as well as the other other. Our other is our projections and our sense of privacy and longing to make things comfortable for ourselves. The other other is the phenomenal world outside, which is filled with screaming kids, dirty dishes, confused spiritual practitioners, and assorted sentient beings....
The only way to break the chain reaction of confusion and pain and to work our way outward into the awakened state of mind is to take responsibility ourselves. If we do not deal with this situation of confusion, if we do not do something about it ourselves, nothing will ever happen. We cannot count on others to do it for us. It is our responsibility, and we have the tremendous power to change the course of the world's karma."

I mean, seriously, who would believe that things like generosity, patience, and discipline would make a short-list of "perfections" to develop as a

bodhisattva, a spiritual super-hero?
We may not want to hear it. We may not let it in. Because these simple, humble facts of life are not our idea of development. But perhaps Trungpa agreed with me that the dishes and the world's karma and our own and others' suffering can shift with this one step, our own stepping in to take responsibility. Which means this work is within reach. Which means making time--to be ourselves, to feel and think about what makes sense, to take from the past and from the unknown and to grow it towards sustaining life.

We are actually talking about our real lives and about finding our innate capacities, and about growing them to fit the size of the world. This world, our world.




by Jaya
Anyone who wishes to follow through from this newsletter the above theme with a conversation, please feel welcome to share your thoughts through this link.
(Photo by Jaya.)
---
~Interesting Links


"People who would never dream of killing an albatross or a whale shark are prepared to let others do so on their behalf, so that they may eat whatever fish they fancy. People who could not bring themselves to gut a chicken are happy to commission the disposal of entire ecosystems."
...

"These should be among the central issues of our age. Yet we treat these losses as sad but
peripheral, though we commission them through the things we buy. Elephants, rhinos, lions, polar bears, the great sharks, turtles, condors, whales, rainforests, wetlands, coral reefs: they are all the bycatch of consumerism. We assert both the right to consume – whatever we want, however we want -- and the right to forget the consequences."
...

"I believe we can do better, that we can position ourselves as just one participant in a world of wonders, blessed and cursed with higher consciousness, but using that capacity to embed ourselves within its limits."

~Tom Riddle passed along a link to the BBC, where

reporters have been researching rest, and are interesting in hearing from people about their experiences and expertise.


---
~Photos
Images from the Meditation with Horses retreat that Gemma offered at Dharmaloca this October....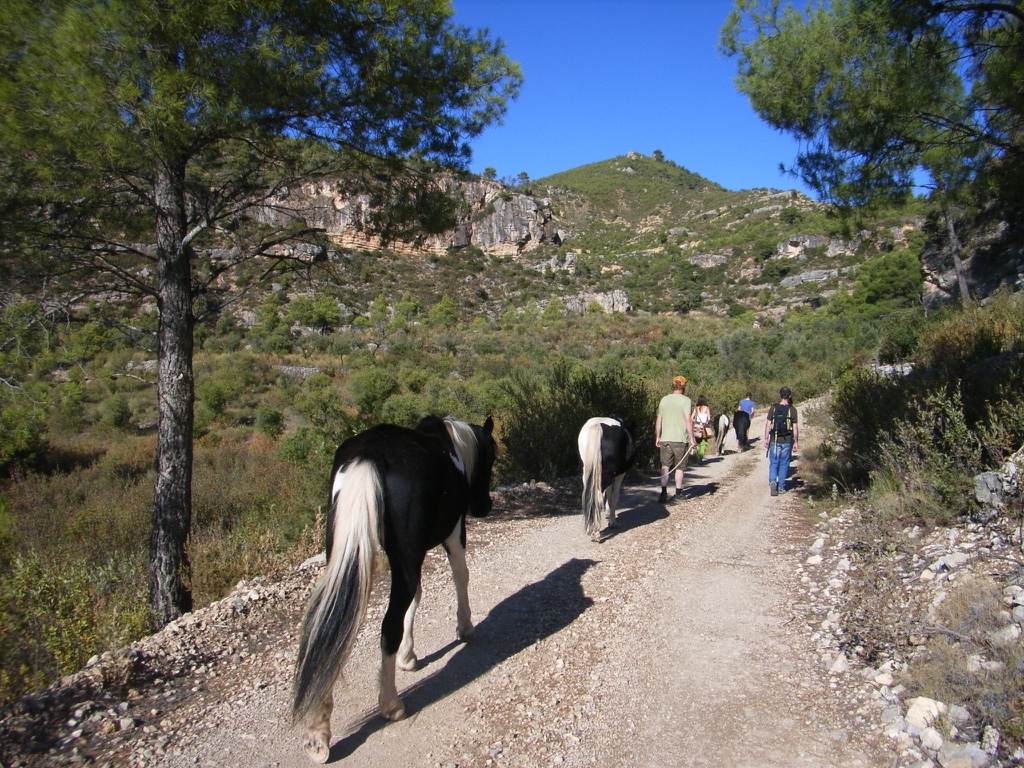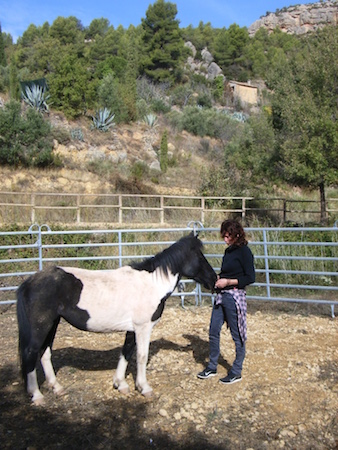 ---
~ Upcoming Retreat Dates & Details

4-10 November, 2016.
Meditation retreat in Germany.
Silence, deep rest, connected movement, sound, genuine inquiry, guidance and heart connection.
Teachings will be in English.
Facilitator: Gemma Polo.
For information and registration, write to:
germanyretreat(@)gmail.com

26 November, 2016.
Spiral woman, one-day workshop in Camallera, Girona, Spain.
Honor your cycles, listen to the earth, inhabit your center.
Teachings will be in Spanish.
Facilitators: Gema Polo and Sophia Style, creator of Mujer Cíclica
For information and registration, click here

3-8 December, 2016.
Deep rest retreat in Finland
Allowing ourselves to be loved by everything.
Teachings will be in English.
Facilitator: Gemma Polo.
For information and registration, write to:
opendharmafinland(@)gmail.com
opendharmafinland.wordpress.com

31 December - 5 January, 2017.
Retreat in Anantha Niketan ashram, Tiruvannamalai, South India.
Entering the new year: meditation through joy and deep rest.
Teachings will be in English
Facilitator: Jaya Ashmore
For information and registration, write to:
manager(@)opendharma.org

5 - 12 January, 2017.
Retreat in Anantha Niketan ashram, Tiruvannamalai, South India.
Meditation and yoga.
Teachings will be in English
Facilitator: Jaya Ashmore and OdeliaWeinberg Peri
For information and registration, write to:
manager(@)opendharma.org

13 -20 January, 2017.
Retreat in Anantha Niketan ashram, Tiruvannamalai, South India.
Meditation through heart connection and genuine inquiry.
Teachings will be in English
Facilitator: Gemma Polo
For information and registration, write to:
manager(@)opendharma.org
4-9 March, 2017.
Retreating into deep rest, depth and beauty in Madeira.
Teachings will be in English
Facilitator: Gemma Polo
For information and registration, click here.
25-30 March, 2017.
Deep rest and heart connection at The Barn Retreat, Devon, UK.
Teachings will be in English
Facilitator: Gemma Polo
For information and registration, click here.
28 March - 4 April, and 4-11 April, 2017.
Silent meditation retreats through joy and deep rest in Sattal, North India.
Teachings will be in English
Facilitator: Jaya Ashmore
For information and registration, write to:
manager(@)opendharma.org
13-19 May, 2017.
Deep rest, meditation, and connected trekking retreat in the National Park of Ordesa and Monte Perdido, Huesca, Spain.
Silence, spectacular beauty, yoga, meditative singing, and sweet and inspiring guidance.
Teachings will be in Spanish and English if needed.
Facilitator: Gemma Polo.
Daniel Benito will be facilitating the connected trekking and yoga.
For information and registration, write to:
info(@)casacuadrau.org and check out casacuadrau.org
19-21 May, 2017.
Women's retreat in the National Park of Ordesa and Monte Perdido, Huesca, Spain.
Exploring the power of our wombs and the beauty of our cycles through silence, group sharing, deep rest, guided dynamics, connected movement, sound and personal guidance.
Teachings will be in Spanish and English if needed.
Facilitator: Gemma Polo.
For information and registration, write to:
info(@)casacuadrau.org and check out casacuadrau.org
July, 2017.
Deep rest meditation in Ter Apel, Holland.
Diving into our deepest heart, and beyond.
Teachings will be in English
Facilitator: Gemma Polo.
Nanda Hunneman and Dieuwertje Stegman will be co-facilitating.
For information and registration, write to:
opendharmaholland(@)gmail.com

For more information about retreats organized by our sister organizations visit www.SanghaCalendar.org
~ Welcome to Everyone
We would love to share your inspiration in an upcoming newsletter. Photos! Poems! Drawings! Musings! Reflections on a recent--or not so recent--retreat! (You can even tell us that you'd like to contribute anonymously.) Please feel free to send any contributions to:
newsletter (at) opencentre.es
---
Rincón Latino
En esta newsletter
~ Noticias
~ Reflexión por Gemma
~ Próximos eventos
~Noticias
Entrevistas Personales

Gemma ofrece entrevistas personales a través de donaciones vía Skype o teléfono. Si deseas concretar día y hora manda un email a gemmaji(@)gmail.com

---
El poder transformador del descanso profundo

El profundo descanso es una puerta al alma. No solamente repara el cansancio, también nos acerca a nosotros mismos, nos sana, nos transforma.

Casi todos estamos necesitados de descanso en nuestras vidas, sabemos que andamos demasiado deprisa y que hacemos demasiadas cosas, y sin embargo, raramente nos permitimos el simple no hacer nada. Cuando paramos también lo hacemos deprisa, nos permitimos mini pausas para hacer una recarga exprés de nuestras baterías internas, tocamos por un instante un lugar reparador y de nuevo nos levantamos para manifestar la siguiente acción. El profundo descanso va más allá de esta falsa sensación de descanso momentáneo, y se nos brinda como un peregrinaje a nuestra fuente vital. Para emprender este viaje necesitamos darnos tiempo, abrazar amorosamente el vértigo a no hacer nada, invitar nuestro cuerpo a relajarse, volvernos sutiles, abrirnos a otra frecuencia, otra dimensión.

Cuando empezamos a descansar con la intención de encontrar profundo descanso, a menudo nos sorprende la sensación de haber entrado en un pozo sin fin; paradójicamente, ¡cuando más descansamos más cansados nos encontramos!. De repente nos permitimos sentir el cansancio y se nos hace evidente un cansancio inmenso acumulado.

Desde de mi experiencia a los largo de los últimos 15 años ofreciendo retiros de profundo descanso y meditación, puedo decir que en los primeros 3 e incluso 4 días de retiro, la gente con coraje duerme sin fin día y noche, como raptados en un viaje profundamente anhelado por cada célula de su cuerpo y que solo termina cuando ya no queda pesadez.

Lo que nace después de haber descansado hasta la raíz, es una fuente vibrante; un lugar nuevo, creativo, sabio.
El habernos rendido, y abandonado por fin la creencia de que la fuerza del empuje lo puede todo, nos hace humanos de nuevo, capaces de escuchar y de escucharnos. Permite que se abra una brecha por donde puede entrar la luz y devolvernos a la experiencia fundamental de sabernos amados, parte de una realidad mucho más ancha.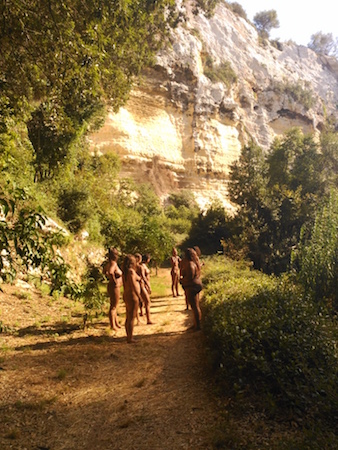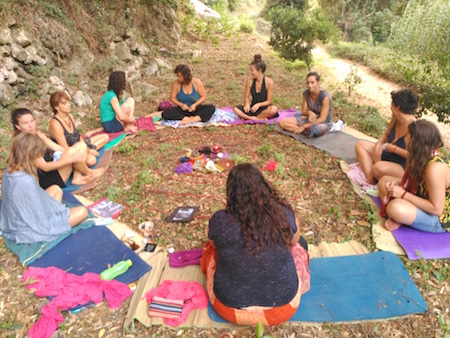 (Fotos del taller Mujer Espiral que Gemma y Sophia ofrecieron el pasado setiembre en Menorca.)
---
Próximos Eventos
(Aquí listamos solo los que se harán en castellano y/o catalán)
26 noviembre, 2016.
Mujer Espiral, taller vivencial en Ca la Lluna, Camallera, Girona.
El arte de adentrarte, nutrirte y expandirte
El taller se ofrecerá en castellano o catalán.
Facilitadoras: Gemma Polo y Sophia Style, creadora de "Mujer Cíclica".
Para más información y para inscribirte
13-19 mayo, 2017.
Retiro de profundo descanso, meditación y senderismo conectado en el Parque Nacional de Ordesa y Monte Perdido, Huesca, España.
Silencio, belleza espectacular, yoga, canto meditativo y dulce acompañamiento e inspiración.
Las enseñanzas se darán en Castellano y en Inglés si es necesario.
Facilitadora: Gemma Polo.
Daniel Benito facilitará el senderismo conectado y las sesiones de yoga.
Para más información y para inscribirte, escribe a:
info(@)casacuadrau.org, casacuadrau.org
19-21 mayo, 2017.
Profundizando entre mujeres, retiro en casa Cuadrau, Pirineos de Huesca, España.
Adentrarnos, compartir, descansar, empaparnos de naturaleza...un retiro para gozar en tribu.
Las enseñanzas se darán en castellano y en inglés si es necesario.
Facilitadora: Gemma Polo
Para más información y para inscribirte, escribe a:
info(@)casacuadrau.org, casacuadrau.org
Nos encantaría compartir tu inspiración en las próximas newsletters. Puedes mandar fotos, poesías, dibujos, reflexiones, comprensiones que vinieron durante o después de un retiro… (lo puedes hacer incluso de una forma anónima y en castellano o catalán). Por favor, manda tus inspiraciones a od.newsletter.latino (@) gmail.com.
Recuerda que si quieres recibir nuestros próximos eventos y posibles actividades de última hora vía email, puedes unirte al grupo informativo enviándonos un correo electrónico en blanco a la dirección: opendharmalatino-subscribe @ yahoogroups.com.