~ June & July Newsletter

(Para ir a la versión castellano desplázate al Rincón Latino situado al final de la página.)

(Photo by Jaya.)
In this newsletter
~ News
~ Theme for Reflection, by Jaya
~ Poems
~ Interesting Links
~ Photos
~ Upcoming Events
~ Rincón Latino
~ News

Interviews with Jaya

Jaya offers one-to-one meetings via Skype: sign up on opendharma.appointy.com
10-15 minutes or 25-30 minutes both on a donation basis, with a suggested donation of 25-50 euros for the half-hour sessions. Please feel welcome no matter what your financial situation, and consider donating anyway if you cancel just 1-2 days before.
Very few spaces will be available in the next few weeks...with more again in the second half of July.
Questions: interviews(@)opendharma.org

Interviews with Gemma
Gemma offers personal interviews via Skype or phone. If you wish for continuity, guidance, and company on your inner process, you can contact her at gemmaji(@)gmail.com to schedule a meeting.

Radio Dharma
Jaya will broadcast a radio dharma talk on
10 June at 10 am (Spain time, GMT+1)
and on
27 July 10 am (India time)
on blogtalkradio.com/opendharma.
You can call in live to ask questions or to share your experience.
About Dharmaloca
:
Dear friends,
It is so beautiful to feel life's generosity opening new windows and magically showing the way.
As some of you might know, Jaya and Gyan are moving to India and Gayatri and me are moving to live in a village in northern Catalonia, near the sea coast.
We would like to clarify that even though this movement is taking place, our wish is to keep Dharmaloca available as a place for
self-retreat
and small group retreats in deep contact with nature: dharmalocaretreat@opendharma.org
So I'll be managing Dharmaloca and spending some weeks there during the Dharmaloca season, which is mainly
May-June-September-October
.
You are welcome!
Would you like to dive into a longer self-retreat and care for this place of wilderness and beauty?
You have also the opportunity to come as a caretaker for a minimum of 6 months and deepen into your practice while caring for the place and being nourished by your actions.
You would be staying in our tiny stone house which is possible to inhabit year-round, and exchange your stay for a basic care of the land.
If this sounds like a call to you, please get in touch and we can talk further: gemmaji(@)gmail.com
Planning 2017
There are several 2017 events with Jaya scheduled so
far...
...in Tiruvannamalai, 4 - 11 January, and 11 - 18 January
... in Sattal 28 March - 4 April, and 4-11 April.
...in Israel 26-28 May, and 28 May - 3 June

---
~ Theme for Reflection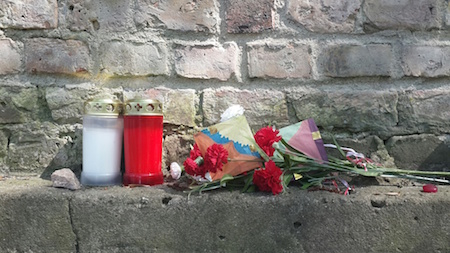 June & July ~ Ground, Body, Sky
Although few words can express the retreat in the former women's prison camp at Ravensbruck, some friends have asked how it was, and here is a response.
A few days before the retreat, most of us--­ participants and organizational team--got nervous. We felt like backing out, canceling; questioned the sanity of going there at all, much less for retreat.
I fully expected to cry, strong, every single day of that retreat.
Then came the day we were there, and nowhere else in the world. By chance, springtime started to break through steely clouds on our first afternoon.
We had not backed out.
We were there with that impossibly lovely lake shining, those trees budding, and our small international group warm and strong. A lake full of ashes. Trees almost all younger than 70 years old.
For our meditation hall, we whisked chairs, tables and a white board out of a room in the present Youth Hostel, in a house that used to belong to a female guards, next to another building of former guard rooms now reserved to host camp survivors.
Our very first meditation, on grass and dandelions by the silver lake, was not at all what I expected.
It felt good, and completely simple. It felt something like: body and ground drinking each other's long­lost presence. The closest analogies I can find for that subtle yet distinct pleasure of body and ground are: the body just melting towards a nap with the breath sifting long and dewy through the body, filling and passing through the cells like wind and sail. Or maybe like a good gaze, uncomplicated and spontaneous kindness through the eyes. Or maybe like listening.
During that first meditation on the sandy grass, the words that came into my mind were even more surprising than the unexpected simple pleasure:
"Just being here is enough."
The feeling and the words fit together, and had no link with guilt and terror, with rage, scars, aggression or hatred. The pleasure and the words stayed with me those 5 complex days--days that by chance were also the anniversary days of World War II Liberation in Holland and and then Germany; also Mother's Day; also a new moon; and a German "men's holiday" where older motorcycle gang tourists drink, ride and barbecue; also Halley's comet's last­-hurrah star shower. The pleasure and the words have stayed underneath everything, tickling. Even now I can feel my body and the ground in each other's long-­lost presence, gazing.
Now maybe you have read enough, and if you are in a rush to get to the end, then please just stop reading. What I want to say is not easy to express or understand, and is all too easy to misunderstand. I am not saying give up, or don't act, cheer up, or just do your own thing.
All retreat, I kept feeling to lie my body down--face down, arms stretched beyond my head, as if prostrating. If I was bowing, then maybe I was bowing to human potential--to the generosity and spirit that flourished in those worst conditions. To the joy, no matter what. We read Etty Hillesum to keep us company, just as she read Rilke in Nazi­occupied Holland. Etty discovered the restrictions she suffered as a Jew could sometimes make her sad but not "weigh heavily on the soul" because the "greatest injury" would be "one we inflict upon ourselves. I find life beautiful, and I feel free. The sky within me is as wide as the one stretching above my head." (pg. 145, An Interrupted Life.)
And if I was bowing, then maybe to the utterly impossible situation of being human, with all those forces working on and in us; maybe bowing to our utter vulnerability to each other and to the worst in us.
As one Israeli participant said, "I feel something like... apology. For being human. That we can do that."
And we said, although it is not our fault--no one personally invented that human potential for
harm--since we do live with that in us, then what? What is asked for in this situation?
This situation of life.
Maybe I was bowing in honor of the ones who went through such horrors that the outside world literally did not believe them. Partly to honor them, partly to give them my eyes across time, to be with them, beyond words.
But mostly I was not bowing.
It was just a matter of contact.
Total, real, warm, vulnerable, un-­held-­back contact. Because if nothing else, the place calls for nothing to be held back. That place and what happened there--and what happens in that place in the human psyche--asks us to meet everything fully. The pain so fully that it nestles in our arms and rests. And the pain so fully we do not see only the pain, but also the dignity, and the joy. That place asks us to meet our unshakable dignity so honestly that we do continually discover a way, a next step, a not giving up, in our impossible situations.
Anything we would plan to do, or try to be, would fall short of what the place calls for. This place.
Just giving up all excuses, agendas, fixes, and prisons. And still being here. In this place, where it has all happened, happens.
On that retreat I discovered and read out a poem by Kathleen Raine, to whom Wendell Berry dedicated his book This Day. From her Soliloquies:
'In the destructive element immerse'­­
And the blind leap into the void
Becomes the peace of those who have nothing to lose,
The moment of freedom when all is understood.

When I lay my palms on the entrance stones, or the shower outlet, or the lakeside grass, or the stone road made by prisoners, or on one of the few trees that must have been there 75 years ago, it was just a need to contact.
When I put myself on the ground just before the entrance one evening, or on the bricks of the shower room one morning, or the cobbled execution ground one afternoon, I felt something like contact with those women who were here. Present with them, completely contacting all of myself, all of us.
Contacting my own potential to imprison or deny and harm. Complete contact with the harmed.
And with the un­-harm­-able.
Not leaving anything out. Where does our intensity land in our lives? Do we get intense about our work, including our spiritual work? About our relationships, including our relating to ourselves? Even if it sounds good to be passionate, when we get intense about something, don't we get destructive?
What if we let our natural intensity ride right in the center of ourselves and our lives? Maybe just being here is enough. Being here, where this place asks us for everything. Where just being in the rich center of this impossible life is more intense than being intense about anything--and more fruitful, mutual, kind, and alive.
As Dogen said, "If you keep wandering around in your head, you may miss the vital chance to let your body leap." If we keep wandering around anywhere, our body may not get the chance to leap, an un-­negotiated, un­-held-­back moment of freedom.
If we immerse in the intensity, acknowledge that we are that intensity, don't we find separations destroyed? Destructiveness destroyed?
Over the retreat days, we did some meditations outside by the lake, some in our sunny hall, and some inside the former prison, now designed as an expanse of black slag gravel indented where buildings used to be, and interrupted by a few lopped-­off trees.
The last evening, after the schedule ended, I felt my body ask for more contact, inside the camp. I knew it might be too much for some participants to be there as night came on. I simply said, I am going, and anyone is welcome to join me. There, with the missing buildings, cropped trees, partial wall, a few friends. Mosquitoes were biting, trees standing, stars pivoting, space echoing.
Finally something inside felt enough­­ not therefore an end, but a beginning.
Also as if the women who were there, were also present for me, in my deepest pain--without a movement to compare what was bad and what was worse. Just contact.
Maybe just being here is enough.
Not to say we are done with doing or learning or stretching or unfolding.
But in the enoughness of just being here, perhaps we begin, begin, and begin to live--and do and learn and stretch and unfold--wholeness into wholeness.



by Jaya
(Photos by Jaya.)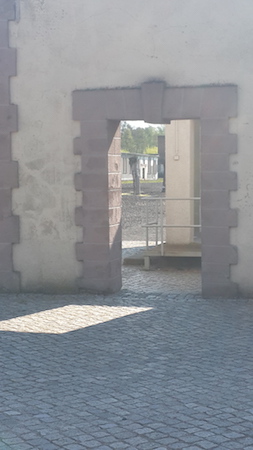 ---
~Poems
Here is a poem that came to Maria on the retreats in Leipzig...and she gave permission happily for it to be shared in the newsletter.
In the splendor of your body I wander

In the richness of your breath I flow

In the vastness of your silence I am and yonder

In the garden of your love I grow.

There is not a single place where I am not -

yet you are searching,

seeking to find me.

Be still, be ever so still,

losen your grip on the plot.

And the drop will find itself to be the sea.
~
Sophie sent this poem, "Late Fragment," written by Raymond Carver, an American poet who died at age 50.
Sophie writes "
This poem is the last in the book of poems,
A New Path to the Waterfall
, that he prepared whilst facing his death with the help of his partner Tess Gallagher. In her introduction she comments about this poem that "for a recovering alcoholic, this self recognition and more generalized feeling of love he was allowing himself was no small accomplishment. Ray knew he had been graced and blessed and that his writing had allowed him to reach far beyond the often mean circumstances from which he and those he wrote about had come...On a piece of scrap paper near his typewriter he had written:
'Forgive me if I'm thrilled with the idea, but just now I thought that every poem I write ought to be called Happiness.' "
Late Fragment
And did you get what
you wanted from this life, even so?
I did.
And what did you want?
To call myself beloved, to feel myself
beloved on the earth.

—Raymond Carver (1938 - 1988)
(Photo: by Jaya.)

---
~Interesting Links

~13 minutes well worth watching...a village in a rain-poor zone worked together for 20-25 years to bring water back...and with it food and livelihood as well as confidence in themselves and humanity's potential.
~A cool video

of Denis Roberrechts' retreats of silence and sound including techno music and dance after days of silence.

~Professors Michael Puett and Christine Gross-Loh write about

embracing the teachings of ancient Chinese texts

in a new way.


(Photo by Jaya.)
---
~Photos
Jaya's photos from the retreats in Germany, and from the recent retreat in Israel.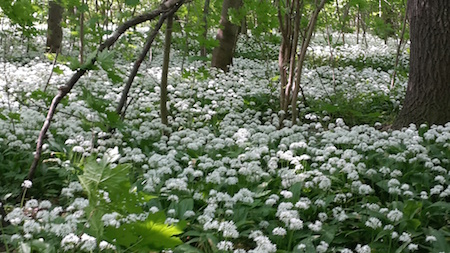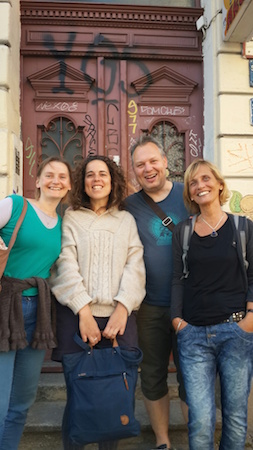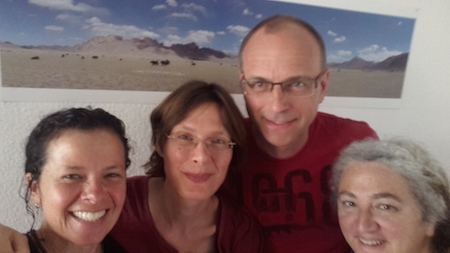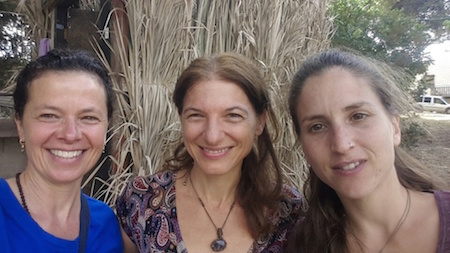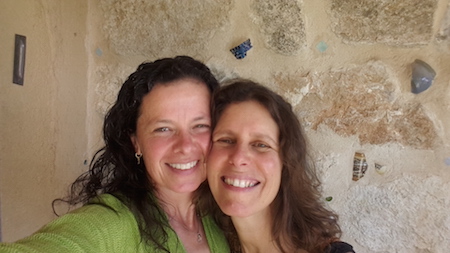 And several photos sent by Gemma from the recent Qigong workshop, Deep Rest retreat and Connection with horses retreat at Dharmaloca this May
(by Sophia Style)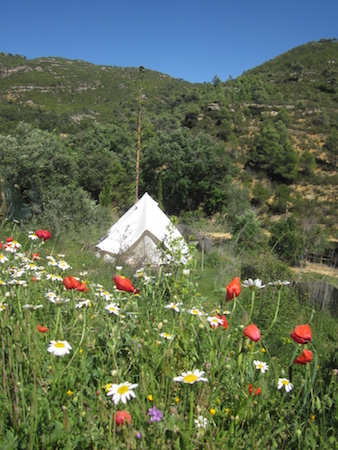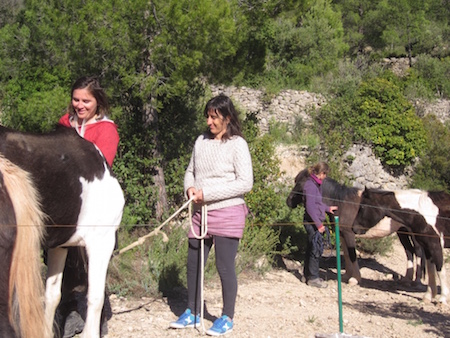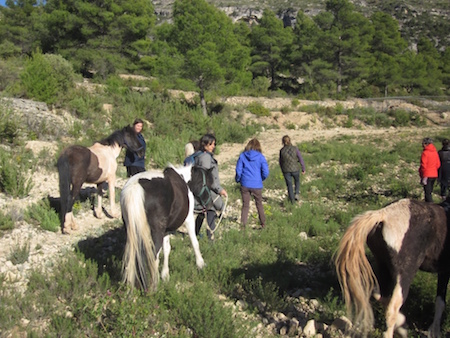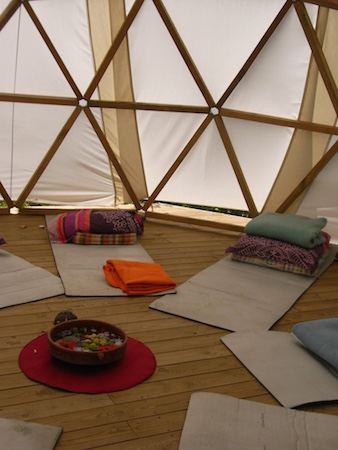 ---
~ Upcoming Retreat Dates & Details
15 - 22 June, 2016.
Wild Silence: 7-day meditation retreat, Haut-Languedoc, South of France.
Teachings will be in English and French.
Facilitator: Jaya Ashmore. Denis Roberrechts will be co-facilitating.
For information and registration, write to:
france(@)
opendharma.org
24 - 26 June, 2016.
Women's meditation retreat at Gayles, Eastbourne, England.
Entering the power of our womb and the beauty of our cycles through silence, deep rest, connected movement, sound and guidance.
Teachings will be in English.
Facilitator: Gemma Polo.
For information and registration, write to:
info(@)
retreattogayles.co.uk
or check this link
16 - 23 July, 2016.
Deep rest meditation retreat in Ter Apel, Holland.
Diving into our deepest heart, and beyond
Teachings will be in English. Facilitator: Gemma Polo. Nanda Hunneman and Dieuwertje Stegeman will be co-facilitating
For information and registration, write to:
opendharmaholland(@)
hotmail.com
3 September, 2016.
Spiral woman, one-day workshop in Menorca, Spain
Honor your cycles, listen to the Earth, inhabit your center.
Teachings will be in Spanish
Facilitators: Gemma Polo and Sophia Style, creator of "mujer cíclica"
For information and registration, write to:
marianshels(@)gmail.com
www.mujerciclica.com
14 - 16 October, 2016.
Meditation with horses retreat at Dharmaloca, Catalonia, Spain.
Letting the horses whisper our true nature.
Teachings will be in English and Spanish if needed.
Facilitator: Gemma Polo.
For information and registration, write to:
gemmaji(@)
gmail.com
www.awakeningwithhorses.org
4-10 November, 2016.
Meditation retreat in Germany.
Silence, deep rest, connected movement, sound, genuine inquiry, guidance and heart connection.
Teachings will be in English.
Facilitator: Gemma Polo.
For information and registration, write to:
germanyretreat(@)gmail.com
3-8 December, 2016.
Deep rest retreat in Finland
Allowing ourselves to be loved by everything.
Teachings will be in English.
Facilitator: Gemma Polo.
For information and registration, write to:
opendharmafinland(@)gmail.com
~ Welcome to Everyone
We would love to share your inspiration in an upcoming newsletter. Photos! Poems! Drawings! Musings! Reflections on a recent--or not so recent--retreat! (You can even tell us that you'd like to contribute anonymously.) Please feel free to send any contributions to:
newsletter (at) opencentre.es
---
Rincón Latino
En esta newsletter
~ Noticias
~ Reflexión por Gemma
~ Próximos eventos
~Noticias
Querid@ amig@s,
Es precioso sentir la generosidad de la vida abriendo nuevas ventanas y mostrando el camino de una forma mágica.
Algunos quizás ya sabéis que Jaya y Gyan van a ir a vivir a India, y Gayatri y yo nos mudamos en un pueblecito en el norte de Cataluña, cerca de la Costa Brava.
Queremos deciros que aunque estos movimientos se están dando, nuestro deseo es seguir ofreciendo Dharmaloca como espacio para retiros personales y para grupos pequeños en pleno contacto con la naturaleza.
Yo seguiré cuidando Dharmaloca y tengo previsto pasar algunas semanas allí, especialmente durante la temporada buena para Dharmaloca que son los meses demayo, junio, setiembre y octubre.
¡Bienvenidos! dharmalocaretreat(@)opendharma.org

¿Te gustaría regalarte una experiencia de retiro personal de larga duración y a la vez cuidar este lugar salvaje de gran belleza?
También tienes la oportunidad de venir como cuidador por un mínimo de 6 meses y profundizar en tu práctica espiritual a la vez que cuidas el lugar y te nutres de tus acciones.
Vivirías en nuestra pequeña casita de piedra en la que se puede vivir todo el año, y podríamos intercambiar tu estancia por el cuidado básico de la tierra.
Si esta propuesta te resuena, por favor ponte en contacto conmigo:
Gemmaji(@)gmail.com

Entrevistas Personales
Gemma ofrece entrevistas personales a través de donaciones vía Skype o teléfono. Si deseas concretar día y hora manda un email a gemmaji(@)gmail.com
---
~Reflexión por Gemma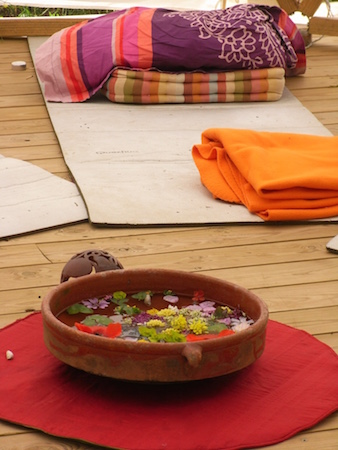 Abrazando la naturaleza cíclica, contemplando el epicentro luminoso

Hace unos días, leí la frase de un hombre que razonaba su incomprensión total hacia los ciclos femeninos, diciendo que las mujeres al ser cíclicas les cuesta evolucionar, ya que sólo dan vueltas sobre sí mismas.
Como os podéis imaginar, en mi cabeza rápidamente formulé una respuesta para él, en defensa de la naturaleza cíclica de las mujeres.
Pasado un rato, dejó de molestarme esta batallita de niños entre hombres y mujeres, y me empezó a entristecer el hecho de que hubiera usado la palabra evolución.
Sentí el dolor de habernos linealizado, todos, hombres y mujeres, olvidando la naturaleza cíclica de todas las cosas, y dando demasiada autoridad a esta idea de evolución. Creyendo que sabemos de dónde venimos y hacia dónde vamos, etiquetando lo que es bueno y los que es malo…
¡Qué arrogante y limitado hablar de evolución contando sólo con la medida de la mente. Es como tratar de medir el mar con un vaso!.

Esto que es, es.
La evolución se da, se está dando, mucho más allá de nuestro esfuerzo, nuestra percepción e incluso de nuestros círculos cíclicos.
Percibido o no, este empuje hacia la luz, es, vibrante en el corazón del universo, y se manifiesta porqué sí. Es la más bella de las sin-razones.
Cuando abrazamos lo que somos, nos damos cuenta de que toda esta danza del cuerpo y las precepciones, de los haceres y deshaceres, son como juegos artificiales del alma, flores bailando que ni tiñen ni alteran lo que realmente somos.

Nos manifestamos en espirales que giran hacia adentro y hacia fuera, como un baile eterno que nos permite conocernos y conocerlo todo, sabernos únicos, bellamente individuales, y a la vez expandirnos como una semilla abriéndonos y fundiéndonos con todo lo que nos rodea.
La gran maravilla de este movimiento en espiral es que hay espacio para la luz en el epicentro de las vueltas, permitiéndonos entrar en contacto con lo sagrado, con un universo infinitamente más ancho que nuestro deseo y el pensamiento de lo que somos. Tanto al adentrarnos como al expandirnos, este centro parece mantenerse inmutable, luminoso, vibrante. Es el corazón de todas las cosas, la fuente inagotable, la posibilidad latente de todas las formas…

Cuando vivíamos conectados a los ciclos de la naturaleza, conocíamos esta danza y en ella percibíamos también lo sagrado, lo latente, lo inalterable.
Ahora, curiosamente alejados de los ciclos, hemos perdido también el sentido de lo sagrado, y tenemos la necesidad
de percibir con la mente una evolución lineal de nuestra existencia. Necesitamos saber que nos estamos moviendo de aquí para allá, de peor a mejor, de lo que no tenemos a lo que queremos tener…
Estamos atados, podríamos decir, a la necesidad de entender el proceso y poderlo medir.

Cuando las mujeres vivimos los movimientos de nuestra naturaleza cíclica, experimentamos muchas veces un dar vueltas sin sentido alrededor de nuestras emociones y estados de ánimo. Si no abrimos los ojos y abrazamos nuestra naturaleza cíclica, puede ser profundamente depresivo o frustrante vivir nuestras vidas midiéndonos con una evolución inventada por la mente y medida por esta misma. ¡Qué desastre andar dando círculos, cuando hay una meta imaginada dónde creemos que tenemos que llegar!
Pero…gracias a la generosidad infinita de la vida, las mujeres contamos con la bendición de estar unidas a la luna y a la sangre que nos habita y fluye, nos es dado un ancla para recordar de forma profunda y vívida, esta conexión con los ciclos de la naturaleza y el movimiento en espiral de todo lo que existe. Es un gran regalo el hecho de no poder olvidar ni alejarnos demasiado de esta experiencia de ser parte de, y movidas por fuerzas ajenas a nuestro querer y nuestra capacidad de determinación. Si no nos rendimos, sufrimos. Si no nos escuchamos, ponemos nuestros cuerpos en un esfuerzo continuado intentando nadar contracorriente.
Para nosotras, una escucha profunda de nuestros ciclos ligados a la luna y a la sangre, nos puede dar el espacio sano entre la desesperación y la sonrisa de saber que estamos de vuelta a este estado de irritación, de tristeza, o de comernos el mundo; y que no pasa nada, que las vueltas pertenecen al mundo de lo manifestado, al baile de la vida. Mientras, de veras, todo reposa, nace y respira en el centro inamovible, sin lógica, más allá del alcance de nuestra percepción.

También hay esperanza para los hombres ¡claro que sí! si no se empeñan en tratar de entenderlo y explicarlo todo, si logran reírse cuando la línea del camino hacia dónde pensaban que iban se tuerce o da una vuelta descomunal. Ellos pueden volverse más sutiles y aprender a percibir y vivir en el momento presente, pueden despertar su don de escucha y abrirse a los ciclos de la naturaleza, sentirlos dentro, o descubrirlos en la mirada amorosa hacia las mujeres.

Porque, al final… ¡digámoslo!, tanto las mujeres como los hombres a menudo andamos en círculos, nos perdemos, nos hundimos y de repente resurgimos sin saber ni como, nos levantamos, andamos, caemos de nuevo…y a la vez somos movidos en espirales siempre ascendentes, empujados por un sinsentido que nos habita y nos empuja. Evolucionamos sin "saberlo", sin percibirlo con la mente.

Amo los círculos que parecen eternos, y el baile en espiral que me embriaga la mente haciéndome creer que no hay avance alguno, que no hay evolución. Y amo contemplar este eje que permanece inalterado, sonriente a todas mis dudas, prisas, y avalanchas de tristeza y frustración.



(Photo por Sophia Style.)
---
Próximos Eventos
(Aquí listamos solo los que se harán en castellano y/o catalán)
3 Setiembre, 2016.
Mujer Espiral, taller vivencial en Menorca.
Honra tus ciclos, escucha la tierra, habita tu centro
Las enseñanzas se darán en castellano.
Facilitadoras: Gemma Polo y Sophia Style, creadora de "mujer cíclica".
Para más información y para inscribirte, escribe a:
marianshels(@)gmail.com
www.mujerciclica.com
14-16 Octubre, 2016.
Retiro de meditación con caballos en Dharmaloca, Tarragona, España.
Las enseñanzas se darán en inglés y en castellano si es necesario.
Facilitadora: Gemma Polo.
Para más información y para inscribirte, escribe a:
gemmaji(@)gmail.com
www.cavallspeldespertar.org
Nos encantaría compartir tu inspiración en las próximas newsletters. Puedes mandar fotos, poesías, dibujos, reflexiones, comprensiones que vinieron durante o después de un retiro… (lo puedes hacer incluso de una forma anónima y en castellano o catalán). Por favor, manda tus inspiraciones a od.newsletter.latino (@) gmail.com.
Recuerda que si quieres recibir nuestros próximos eventos y posibles actividades de última hora vía email, puedes unirte al grupo informativo enviándonos un correo electrónico en blanco a la dirección: opendharmalatino-subscribe @ yahoogroups.com.