~ February & March Newsletter

(Para ir a la versión castellano desplázate al Rincón Latino situado al final de la página.)

(Photo: Tiruvannamalai, by Jaya.)
In this newsletter
~ News
~ Theme for Reflection, by Jaya
~ A Poem by Gemma
~ On the Tiruvannamalai retreats, by Kat
~ Scaravelli Yoga Reflection, by Caroline
~ Poems from Friends
~ Interesting Links
~ Photos
~ Upcoming Events
~ Rincón Latino
~ News

Interviews

Jaya offers one-to-one meetings via Skype: sign up on opendharma.appointy.com
10-15 minutes or 25-30 minutes both on a donation basis, with a suggested donation of 25-50 euros for the half-hour sessions. Please feel welcome no matter what your financial situation, and consider donating anyway if you cancel just 1-2 days before.
Questions: interviews(@)opendharma.org"

Interviews with Gemma
Gemma offers personal interviews though Skype on donation basis. If you wish to have an interview please contact Gemma at gemmaji(@)gmail.com

Radio Dharma
Jaya will give a radio dharma talk over the free internet radio site blogtalkradio.com with times to be announced via facebook and blogtalkradio.com/opendharma
Taking Care
We are looking for a resident caretaker at Dharmaloca.
~Ideally a couple, but also open to one person, who would love to embrace the project that is already happening.
~Ready to dive into the experience of living off the grid, surrounded by deep nature.
~Happy to care for the land, the garden, the animals, the buildings...
~We have in mind a minimum commitment of one year, after which we could revise together and extend if wished in all directions.
~If this sounds like a call to you, please get in touch and we can talk further: gemmaji(@)gmail.com.
More Retreat Days in Germany
9, 10, and 11 May in Germany
After the residential retreat 4 - 8 May in the former prison camp at Ravensbruck near Berlin, Jaya will offer 3 day-long retreats in Leipzig, just on the other side of Berlin. Local friends will help host people coming from outside Leipzig, and there will also be the option of sleeping in the yoga studio where the retreats will be held, or the hosts will find guesthouse accommodations, if someone would like. There are two large city parks a short walk from the studio. Each day will center on its own theme--Nature inside and out on day 1, the question "What is important?" for day 2, and Listening and sound on the 3rd day.
Please contact Dana & Nani for info and to register:
germanyretreat(@)gmail.com
Space is limited to 20-25 on all the Germany retreats.
Retreat in Israel
Jaya will collaborate with Odelia on a meditation and yoga retreat in Odelia's gorgeous eco-haven yoga studio in the countryside in Israel -- 18-22 May. Odeliaji and her friends and family made the straw bale adobe hall and compost toilets about 8 years ago, and it will be a delight to practice together in that love-crafted space.
For more information, contact shahar(@)opendharma.org
March & April in India
Space is very limited on the Sattal retreats this year--30 March-6 April and 6-13 April.
So if you are hoping to join--please get in touch! manager(@)opendharma.org
Quebec Retreat Postponed...
The planned retreat in Quebec is being postponed till next year.
Online Talks and Meditations
Lots of relatively more recent recordings of talks and guided meditations will finally be

available on the website! These new additions bring the grand total to 164 available recordings. Donations as always welcome!
Self-Retreat at Dharmaloca
You are welcome to join this place of rest and reconnection at any time. From 1 week to 3 months stay. With the possibility of some guidance.
For more information: dharmalocaretreat(@)opendharma.org
www.dharmaloca.org
---
~ Theme for Reflection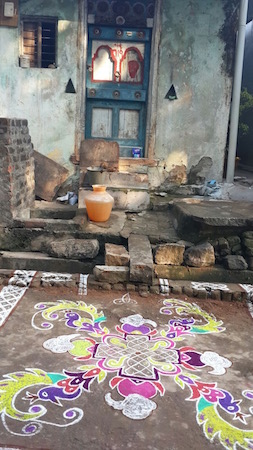 Back to front--Crafting Prophecy

~A soldier, looking into the eyes of the man he just shot in the heart, sees the shine of life still there. He holds the man, another soldier, until "the shine and the tension" both leave. He says this moment changes you, seeing someone's life leave, "be it a good guy or a bad guy." Shine and tension. (1)


I wonder. I wonder many things, like "what does that change-moment do in you afterwards," and "is it like a potent seed that can grow you or destroy you?"

But especially I wonder about that shine and that tension. 
What if we could live shine without tension?


~A Tibetan master, on an EEG to register brainwaves—beta for concentration and conscious thought; alpha waves for relaxation—registers only alpha waves. No beta. Whether Ngak'chang Rinpoche was given math problems, or told to open and close his eyes, his mind stayed completely meditative. (2)

I wonder many things, like: why did they only test the male adept and not also Khandro Dechen, the female master he teaches with?
But especially I wonder: what if we can stay that relaxed while we deal with math problems and life problems, while we open our eyes and our hearts?

Even we non-masters can notice tension.
We can simply feel pressure on cellular tissues taking shape in the body. 
We can feel that this shape does not quite fit. 
Fear acts as pressure in the body. The shape of pressure is lots of energy in one place and too little in another. 
Pressure demands of some body parts to be too "on" and other parts to turn "off," to hide, to be inactive or weak. In Sanskrit the word

sanskaar

means a "formation that forms; shape that shapes."
What happens if we stop investing in this pressure, stop trusting tension? If we unburden the over-energized, privileged areas, and listen to the abandoned?


Let's feel what happens when we try to do something. As soon as we try, even if we are just trying to relax, there is pressure. As soon as we try to feel the shine, we can trace the shape of tension and evacuation in jaw, diaphragm, forehead, sacrum.


~In Australia last November I had the pleasure of exchanging treatments with a master of Feldenkreis, Holly Huon. She looked with care at how my standing body holds itself. I wondered what this master would do or say. 
She just asked me to play with having all my weight on one bent leg. Bouncy and relaxed. Arms loose, head dropping to one side. I could feel that my left leg was not used to having the ground, to feeling at home on earth. I could feel my right leg was not used to having the air. 
To help unlock tailbone and pubic bone on my left side she showed me to reach back "as if to pee in the bushes," she said. Powerfully simple shifts that dissolve a shaping shape. These games made a difference for both my hips, and both shoulders, for throat and heart, lungs, brain, mind, life.



Just by noticing habit-energies of tension, we can listen to and engage the forgotten parts of ourselves. And relax the over-used parts. We can stand on the other leg.
 Our old face rests. And we find ourselves facing things in new ways. 
We may start to find that we can better face "the unknown"--which is life.
I love in Odelia Weinberg-Peri's yoga classes when she asks us to "feel the back and the space behind the back," to "feel the back as if we had eyes there." We can let the way we are facing rest, and find a new body emerge from a new place. A new voice say our deepest heart truth before we knew it. The back (or the side or the bottom) can face what we could not, and find a way of "wider harmony" in Jin Shin Jyutsu language.

So, we can notice tension. We can divest in tension. We can undo that shape and the ways it limits our lives.



Now... Can we notice shine? Is that a different thing?

To discover a completely different, but not opposite, way of living, we could, if we wish, train in what I call the craft of prophecy. Instead of being the alpha male/female (or the subordinates), we could rest into the alpha waves and find out what comes up, what shines, without tension.

The state of prophecy is where we can know and say and live what is important—before it is obvious and too late.
A state where our way of knowing, saying and living also happens to lead others to find their ways.
Prophecy is to allow a life movement not provoked, activated or triggered, but shining with life.
It is not just wild thing that happens to unfortunate people with messy hair and hair shirts. Or maybe it

is

a wild thing, and maybe wildness is exactly what we need to find our way back to and get to know well.



~A European immigrant once asked a Native American elder how it was to live with all those wild creatures near what is now Yellowstone Park—bison, wolf, coyote, rattlesnake. The Lakota Luther Standing Bear said, "We did not think of the great open plains, the beautiful rolling hills, the winding streams with tangled growth, as 'wild'. To us it was tame." They are home and people were home with them.(3)

Prophecy is not just a lightning bolt that happens without help. It does come "out of the blue" but we can practice hanging out in the blue and letting ourselves be moved from there. For no known reason.


How can we start to train in that blue craft? 

~We can listen that uncomfortable pause longer to the forgotten and abandoned parts and people in our lives.
~We can stay an unusual time longer in silence and openness.
~We can rest into deep meditation and, while staying completely at rest, we can find another way-under the radar of tension-- of gathering our energy in the belly. 

~We can dip into a restful state, and then not come out even when we need to do something or face something. When I have a Dharma talk to give, I lie down to rest with a notebook and pen by my side, or I go jogging with a phone in my pocket to record notes of inspiration from the restful state. It sometimes could feel like catching shreds of clouds before they disappear.
~And we can patiently allow our scraps of prophecy-- "non-mine" thoughts, feelings and movements--to show us their coherence-- the integrity of the shape these messages have together. 



One poetess, when she feels a poem coming, literally runs across the field where she works to her writing table to catch the poem before it is gone. Please note:
1) She was outside.
2) She was working, not paying someone else to get sweaty.
3) She ran!

After years of practice, we can recognize the taste of prophecy--at first a seemingly irrelevant musing, what I call a "casual thought." It has no aggression in it. 
The trick is to learn to trust the authority of these relaxed thoughts, inspirations, and movements that come through in what may well be an alpha brainwave state.
It is a trick that can be practiced.

No longer trusting the tension, we begin trusting shine, and allowing deep rest to bring that shine through back and front.

footnotes:
(1)"The Soul of a Soldier"

by Wayne Karlin and Homer Steedly on the great radio storytelling site, snapjudment.org
By the way, that veteran, Homer Steedly, decades later, went back to Vietnam to help the family find the bones of the killed soldier for the family shrine. They happened to stop on the way home from their successful search to bless the bones-- right on the ridge with the enormous tree where the killing happened.

(2) Chogyam, Ngakpa with Khandro Dechen,

Spectrum of Ecstasy, Shambhala Publication, Boston: 2013, Editor's Note.

(3) Eleanor O'Hanlon,

Eyes of the Wild: Journeys of Transformation with the Animal Powers, pg.118.



by Jaya
(Photo in Tiruvannamalai by Jaya.)
---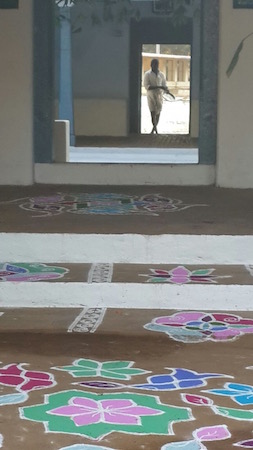 I once heard this voice,
crystal clear,
and then an unbearable silence
that lasted an eternity.
Eons keep passing
dragging around in search of that song,
but it was hiding,
in that which is too simple for my eyes to consider, I guess.
Here and there, unexpectedly, I felt the breeze in my skin,
and was touched by a whisper.
My ears though,
were not tuned to the language of the soul.
So I kept wondering around
thirsty for love,
homesick,
blind to the signs screaming in all directions the ocean I once touched.
On day I fell,
exhausted,
and for once I stayed.
All forgotten,
lost my strength to stand up again,
given to the wind…
Woke up to a luminous world
filled with hymns
coming from the leafs,
the earth,
the stones…
And became human,
wild,
alive again.

by Gemma

(Photo by Jaya)
---
~On the Tiruvannamalai Retreats

Kat shares her photos of Arunachala and the rice that grows itself despite flood damage in Tamil Nadu. (Logu and family had to buy rice to supplement their harvest for the first time ever)....
As well as a quote that has resonances from the retreat teaching. "It's from, of all people, Truman Capote," she writes, "from The Grass Harp."

"We are speaking of love. A leaf, a handful of seeds - begin with these, learn a little what it is to love. First a leaf, a fall of rain, then someone to receive what a leaf has taught you, what a fall of rain has ripened. No easy process, understand; it could take a lifetime, it has mine, and still I've never mastered it -- I only know how true it is; that love is a chain of love, as nature is a chain of life."
--Truman Capote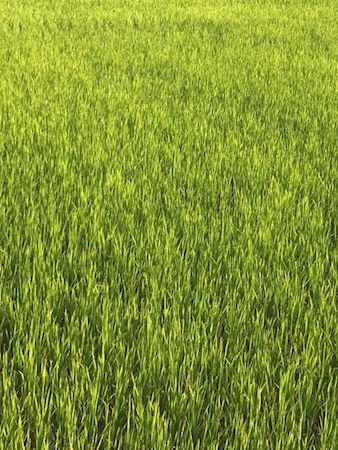 (Photos by Kat)

---
~ Scaravelli Yoga Reflection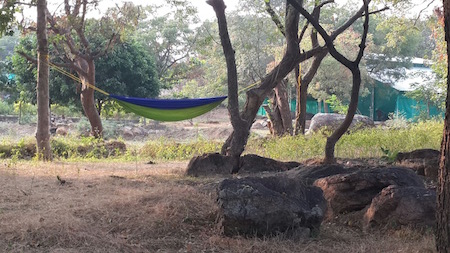 Caroline shares with us her reflections upon Scaravelli-inspired yoga, gathered into words in response to the wonderful curiosity of students and friends. "I am committed to sharing with others a yoga that is not a method but a surrender and a discovery that allows the deep, the raw and the nourishing to flow through," Caroline writes. "It was such a joy and an expression of all that I love to initiate Jaya's retreat in the UK last year and to guide 'special' yoga sessions as the autumn sun spread its magic across the sublime waters of the River Dart."

Of "Centeredness" she writes, "We work from the outside in and the inside out, bringing intelligence to all the big and small parts of the body so they are involved in a realisation of apparent centredness. The journey cannot be underestimated. It is not always easy and along the way we meet all sorts of obstacles in the body and entanglements of the mind. It is a process of embodiment, not trying to escape, requiring 'infinite time and no ambition' This can be difficult to grasp in our culture. A very particular effort is required and patience and courage and love."

To read the rest of her wonderful essay on

Scaravelli Yoga through this link....
And to learn more about Caroline see www.carolinelangyoga.com

(Photo by Jaya)

---
~ Poems from Friends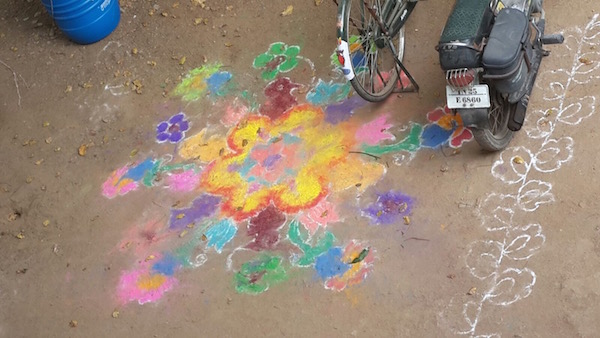 Two friends sent beautiful poems to share this month....
After a morning of huddling into the contours of me, I open the door and walk into air and fields.
Following the half trodden paths, my feet feel their way,
the world is soft and fresh around me.
A leaf sings greenly, bugs are doing their buggy business,
Mama earth moves languidly under my soles like a cat
stretching in the sun.

Threads of thinking filter through,
tugging at my brain but I'm not really interested.

Lying down on a low mound of cushiony bush, I think of it being a perfect place to make love, so soft and bouncy, how did the earth come up with such a cool idea?

I close my eyes.
A million delicately interlaced particles move inside me, their touch within like a lover's soft breath. A drop of rain lands on my cheek quivering with layers of transparent illusion -- here one moment, gone the next.
I pull aside the curtain folds and peer through. There's sun there and bright sky beckoning.
I 'm turning into molten gold as more and more of me is forgotten.
I want to melt into endless infinity, I coax my fingers open and another piece gives way into a shower of golden dust.
A stab of sweetness comes, or maybe it's death.
So die so die so die, isn't that what it's about?
The contours of Me, like a "follow the dots" sketch, tense together anxiously. My hands grasp onto the golden rope dangling from nowhere and I hang between heaven and earth or earth and heaven (or nothing and something), clinging to old familiar stories that enfold me like bulky warm sweaters, like the safety blanket clutched by a child off to nursery school for the first time, "Mama don't go!",
No safety there whispers the Goddess, my fingers slip,
I fall.

Through the rabbit hole I fall, into shimmering dungeons where monsters and angels sit side by side sipping cocktails from double straws to strains of barroom music.
Through bubbling whirlpools of lava where existence is being melted down again and again

Into bare beauty.

Into the witch's cauldron, seething with lizards and snakes and spices and coffee and roses and chips of the philosopher's stone.

Into the Mother's soft lap, into the ravishing arms of the beloved, into star strewn galaxies and barren skies, into bottomless chasms of silence, I spin through space through spinning particles of something, of nothing, I've forgotten my parachute I don't have my landing gear, I just dimly remember one of my dharma teachers saying (as I sit in the dim meditation hall desperately gulping down the kindly offered portions of wisdom):

"There's nowhere to land".

I fall through one rabbit hole after the other, each leading into the next.
It would be easy to make a huge mystical drama out of it all, perhaps creating a transcendental, transpersonal or trans something ritual with lots of symbolic gestures and ancient objects and music that lures us into a trance after which we say "wow it was so…."

When it's just so simple.
There's really nothing but
Love.
--by Ellaya


Running On Retreat
The path was cool and wooded
With just the right amount of softness and rockiness
to feel good in the feet and joints.
Clear and deliberate with a guide,
It all seemed so walkable.
That was before the rains came.
Now this morning, each step takes such incredible care
And sometimes, away from the path
in order to stay on it.
No one to follow, I decide between the thicket
and the mud,
Not sure which holds steadiness.

The options are mine.


A walk that once held mindlessness
now requires No-Mind.
An acute awareness with the challenge
of agility, yield, and finding out.


There was much I had not known yesterday,
like how the ground dips and rises
to form a temporary pool
after the rains.
Or how the papery dry bed of a creek
can become full,
Overnight.

--by Jess Radovich





(Photo: In Tiruvannamalai, by Jaya.)
---
~Interesting Links


~In her brand-new training centre in Utrecht, Nanda is offering

a series of Open Dharma-style meditation evenings, beginning 21 March. The evenings will be conducted in Dutch, but could be translated into English. Like to join? Welcome! For more information: nanda(@)wonder-word.n.

~Jaya shares a link to ToWo,

"Talking Out Walking On," a volunteer-based project translating mindfulness into Arabic and especially making mindfulness based programs accessible to people in rough or tragic circumstances.

~Here, also, Jaya sends a link to "We're Doing It" an action alliance formed to face the worldwide issue of migration.

~Open Dharma friend Susan Crozier has a new website up, called

"Advice from a Failure."

"Failure is a kind of freedom," writes Susan, "something to be embraced as the the end of a wearisome striving and the beginning of a life where it is easier to breathe."
~Jaya has also shared her casual notes on

a recent radio program, "On Being," about prayer,

including interviews with Anoushka Shankar, Stephen Mitchell and Roberta Bondi.

Jaya noted:

"Absolutely unmixed attention is prayer." Simone Weil

The vibration of the sounds is prayer.

In improvisation, I have to be completely focused, whereas if I am performing a piece, I can be thinking about whether I cut my toenails this week or not.--Anoushka Shankar

"Prayer does not need to be religious." --Stephen Mitchell

"I love you, gentlest of ways...

as we wrestled with you,

you, the great homesickness we could never shake off." --Rainer Maria Rilke, translated by Anita Barrows

Simone Weil describes her practice of prayer:

"The virtue of this practice is extraordinary and surprises me every time I do it, for, even though I live it every day, it goes beyond my expectation every time. Sometimes the first words already tear my thought outside my body and transport it to a place outside space from which there is neither perspective or point of view. Space opens up. The infinity of ordinary space is replaced by an infinity to second or third power. At the same time this infinity of infinities fills itself to the brim with silence, a silence that is not an absence of sound, and that is the object of a positive sensation, more positive than that of a sound. Noises, if there are any, only reach me after going through this silence."

..."I never would have taken it upon me to tell you all this if I wasn't leaving. And as I leave with more or less the thought of a probable death, it seems to me that I do not have the right to not speak of these things. For after all, in all of this, it's not about me. It's about God. I have nothing to do with it."

"I praise you for that which is...You have put a joy in my heart greater than all the world's riches. I lie down trusting the darkness, for I know, even now, you are here."

Stephen Mitchell translated and composed Psalm 4 of the Hebrew Bible

Intrigued by its images of "the freedom of the natural world, of the hugeness of the world beyond good and evil," Mitchell translated the Book of Job:

"Where were you..?
Do you know who took [the earth's] dimensions, measuring its dimensions with a cord? Who laid down the cornerstone while the morning star burst out singing...?"

And Roberta Bondi learned from the Desert Mothers and Fathers of "the hush where the voice can be heard."

~In January,

Ram Dass shared his remembrances of Stephen Levine

, his dear friend and collaborator.

(Photo: by Jaya.)
---
~ Photos
Jaya shares photos from the recent retreats in Tiruvannamalai, including the gift-giving ceremony at the retreat's end.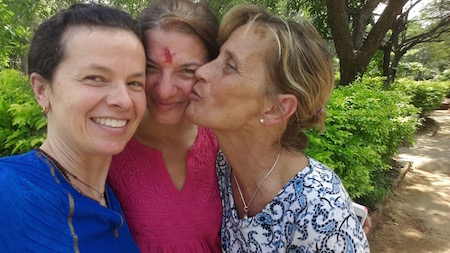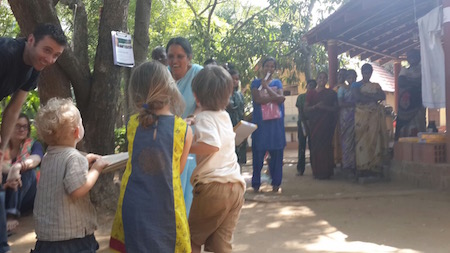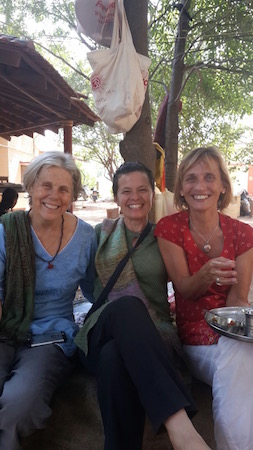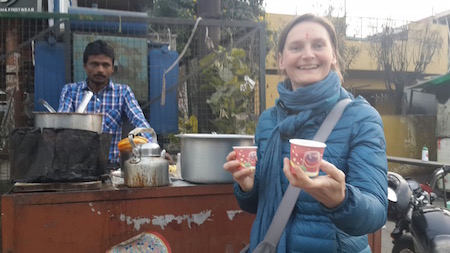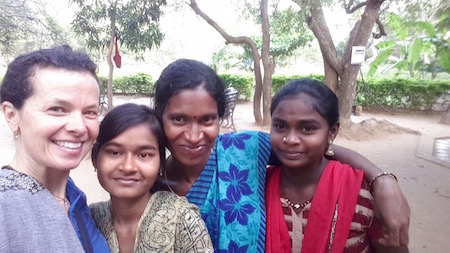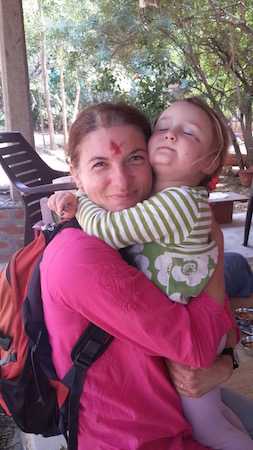 ---
~ Upcoming Retreat Dates & Details
4-11 March, 2016.
Deep rest retreat in Karjalohja, Finland.
Teachings will be in English.
Facilitator: Jaya Ashmore.
For more information check: opendharmafinland.wordpress.com
23-27 March, 2016.
Opening the wings of the soul, silent retreat at Diáfanum, Gredos, Spain.
Transformation through deep rest, loving inquiry, nature, and sound.
Teachings will be in Spanish.
Facilitator: Gemma Polo.
For information and registration, write to: gemmaji(@)gmail.com
www.diafanum.com
30 March-6 April and 6-13 April, 2016.
Two 7-day deep rest and meditation retreats in the foothills of the Himalayas, North India.
Teachings will be in English.
Facilitator: Jaya Ashmore.
For information and registration, write to: manager(@)opendharma.org
28 April -1 May, 2016.
Qigong, deep rest, and wild horses retreat at Dharmaloca, Spain.
A weekend to reconect with the essence.
Teachings will be in Spanish and English if needed.
Facilitators: Gemma Polo and the Qi Gong expert Xènia Ros.
For information and registration, write to: gemmaji@gmail.com
www.dharmaloca.org
4-8 May, 2016.
Beyond Words: meditation retreat at the former prison camp in Ravensbruck, Germany.
Teachings will be in English with translation to German and Hebrew if needed.
Facilitator: Jaya Ashmore.
For more information check: https://opendharmaravensbruck.wordpress.com
13-15 May, 2016.
The flower of life, creation and light at Dharmaloca, Spain.
A living workshop to deepen into this sacred geometry figure.
Teachings will be in Spanish and English if needed.
Facilitator: Jordi Cavaller. Gemma Polo will help holding the space.
For information and registration, write to: jcbadia(@)hotmail.es www.dharmaloca.org

28 May-3 June, 2016.
Deep rest, meditation, and connected trekking retreat in The National Park of Ordesa and Monte Perdido, Huesca, Spain. Silence, spectacular beauty, yoga, meditative singing, and sweet and inspiring guidance.
Teachings will be in Spanish and English if needed.
Facilitator: Gemma Polo. Daniel Benito will be facilitating the connected trekking and yoga.
For information and registration, write to: info(@)casacuadrau.org
www.casacuadrau.org
8-12 June, 2016.
Wild connection, a nature-based retreat at Dharmaloca, Spain.
Diving within through the practices of council, expanding awareness, meditation, and embodiment work.
Teachings will be in English and Spanish if needed.
Facilitators: Rebecca Card. Gemma Polo will help holding the space and guiding.
For information and registration, write to: rebeccajoycard(@)gmail.com www.dharmaloca.org
15-22 June, 2016.
Wild Silence: 7-day meditation retreat, Haut-Langudoc, South of France.
Teachings will be in English and French.
Facilitator: Jaya Ashmore. Denis Roberrechts will be co-facilitating.
For information and registration, write to: france(@)opendharma.org
24-26 June, 2016.
Women's meditation retreat at Gayles, Eastbourne, England.
Entering the power of our womb and the beauty of our cycles through silence, deep rest, connected movement, sound and guidance.
Teachings will be in English.
Facilitator: Gemma Polo.
For information and registration, write to: info(@)retreattogayles.co.uk
www.retreattogayles.co.uk
16-23 July, 2016.
Deep rest meditation retreat in Ter Apel, Holland.
Diving into our deepest heart, and beyond
Teachings will be in English. Facilitator: Gemma Polo. Nanda Hunneman and Dieuwertje Stegeman will be co-facilitating
For information and registration, write to: opendharmaholland(@)hotmail.com
14-16 October, 2016.
Meditation with horses retreat at Dharmaloca, Catalonia, Spain.
Letting the horses whisper our true nature.
Teachings will be in English and Spanish if needed.
Facilitator: Gemma Polo.
For information and registration, write to: gemmaji(@)gmail.com
www.awakeningwithhorses.org
For more information about retreats organized by our sister organizations visit www.SanghaCalendar.org
~ Welcome to Everyone
We would love to share your inspiration in an upcoming newsletter. Photos! Poems! Drawings! Musings! Reflections on a recent--or not so recent--retreat! (You can even tell us that you'd like to contribute anonymously.) Please feel free to send any contributions to:
newsletter(@)opencentre.es
---
Rincón Latino
En esta newsletter
~ Noticias
~ Reflexión por Gemma
~
fuente infinita, por Hedy
~ Próximos eventos
~Noticias
Entrevistas Personales
Gemma ofrece entrevistas personales a través de donaciones vía Skype o teléfono. Si deseas concretar día y hora manda un email a gemmaji(@)gmail.com

Querid@ amig@s,
La vida fluye, cambia y trae nuevos horizontes,,, Estamos buscando un cuidador o una cuidadora residente en Dharmaloca.
~Sería ideal que fuera una pareja pero podría ser también una persona dispuesta a abrazar el proyecto existente.
~Preparados para vivir en plena naturaleza. -Felices de cuidar la tierra, los árboles, la huerta y las estructuras.
~Tenemos en mente un compromiso mínimo de un año extensible si así lo sentimos todos.
~Si te sientes llamad@ a esta propuesta, por favor ponte en contacto con nosotras: gemmaji(@)gmail.com

Retiros personales en Dharmaloca:
Eres bienvenid@ a este lugar de descanso profundo y reconexión. Estancias de 1 semana a 3 meses. Con la posibilidad de acompañamiento.
www.dharmaloca.org
Para más información: dharmalocaretreat(@)opendharma.org


Hay una belleza infinita en hacer lo que nos toca hacer, en tomar la determinación de alejarnos del rol de víctimas de la vida y empezar a comprender la luz que albergan los obstáculos.
Tomar las riendas de nuestra vida, podríamos decir, y ponernos a indagar en nuestro propio mapa, lo que nos ha traído hasta aquí y nos ha llevado a la descripción de nosotros mismos que ahora poseemos.
Me acuerdo del gran alivio que sentí, cuando a los 11 años conocí a mi amigo del alma San Francisco de Asís a través de la película
Hermano sol hermana luna
, y en esta descubrí no solo que aquello que anhelaba con toda mi alma alguien lo había anhelado también alguna vez, sino que además había un camino, un algo que yo podía hacer para acercarme a lo anhelado.
Qué ilusión descubrir que había algo en mis manos, algo que de alguna manera dependía de mí, de mi habilidad de centrarme en el anhelo, darle espacio y voz a través de conocerme a mi misma y mis propios laberintos de pensamientos y emociones.
Más adelante, di con la tradición budista que tan claramente propone una vía para el despertar, unos pasos al alcance y a las manos de cada individuo para dirigirse hacia la felicidad. Me encanta ver el brillo en los ojos de los que han descubierto este camino y se han lanzado con toda su sinceridad y entrega. Y me entristece a menudo descubrir que en este andar el propio camino fácilmente nos sabemos héroes, caminantes, meditadores, trabajadores de lo profundo… y empezamos a coleccionar triunfos y fracasos según los resultados sean los imaginados o no.
Me preocupa oír demasiadas frases hechas y sobretodo oír los discursos de los que creen haber avanzado, por sus propios méritos, y se saben en un lugar cómodo con respuestas tranquilizantes para cada situación.
Perdemos la posibilidad de renacer, es decir, de morir, cuando nos otorgamos como propios los éxitos de algunos momentos de paz.
Sí, hemos hecho bien lo que teníamos que hacer, lo que estaba en nuestras manos de hacer, lo que nos correspondía hacer, y a la vez hay algo clave que hemos olvidado, saber que nada de lo que hemos hecho es ni siquiera comparable con lo que realmente nos ha traído aquí, lo que lo ha hecho posible, lo que nos ha lanzado a instantes de otra dimensión, otro registro, otra realidad más pura, más real, la única.
Empezar a amar es empezar a vivir en la conciencia de esta otra realidad, de lo que sana realmente, de lo que nos transporta. Cuando la percibimos, nace de lo más hondo una melodía de gratitud inacabable. Nuestros sacrificios y acciones para el despertar, nuestro trabajo espiritual se convierte simplemente en lo que nos corresponde hacer sin más, sin drama, como nos lavamos los dientes cada día, con amor y dedicación, y a la vez sabiendo que nada depende de esto, que hay algo más, un flujo luminoso que dicho con palabras de Sta. Catarina de Siena, nos sonríe, nos susurra y nos transforma:
El sol oye a los campos hablar sobre el esfuerzo
y el sol
sonríe,
y me susurra,
¿"por qué no simplemente descansan los campos,
si yo estoy dispuesto hacerlo
todo
para ayudarlos a
crecer?"
Descansad, amados,
orando*.
*abiertos al misterio

---

Fuente Infinita
Este mes Hedy nos invita a buscar nuestra fuente infinita
Hay un lugar dentro de mí, dentro de ti, en el que existe una fuente infinita.
Búscalo ¡excava si hace falta!

Escucha dentro de ti,
déjate llamar por el murmullo del agua que brolla sin interrupción.

Sigue su dulce murmullo,
no temas mojarte los pies.

Cuando lo encuentres permítete desnudarte tranquilamente,
notando como caen las ropas que esconden tu piel.
Y adéntrate en sus aguas,
paso a paso, a tu ritmo, notando como su agua (tu agua) moja cada rincón de tu cuerpo.
Hasta quedar empapado. Hasta quedar empapada.

Notaras entonces el gozo de la infinitud.
Brollando sin fin.
Vacía, llena. Vacío, lleno.
Nutriéndote y nutriendo al mundo sin preguntas, sin dudas, sin porqués.
Simplemente siendo agua infinita.






por Hedy
---
Próximos Eventos
(Aquí listamos solo los que se harán en castellano y/o catalán)

23-27 marzo, 2016
Abriendo las alas del alma, retiro de semana santa en Diáfanum, Ávila, España.
Transformación a través del profundo descanso, el silencio, la naturaleza y la vibración.
Las enseñanzas se darán en Castellano.
Facilitadora: Gemma Polo.
Para más información y para inscribirte, escribe a: gemmaji(@)gmail.com
www.diafanum.com
28 abril-1 mayo, 2016
Qi Gong, profundo descanso y conexión con caballos en Dharmaloca, Catalunya, España.
Un fin de semana de reconexión con la esencia
.
Las enseñanzas se darán en Castellano y en Inglés si es necesario.
Facilitadoras: Gemma Polo y la experta en Qi Gong Xènia Ros.
Para más información y para inscribirte, escribe a: gemmaji(@)gmail.com
www.dharmaloca.org
www.taosilvestre.com
13-15 mayo, 2016.
La flor de la vida, creación y luz en Dharmaloca, Catalunya.
Taller vivencial para profundizar en esta importante figura geométrica sagrada.
Las enseñanzas se darán en Castellano o Catalán y Inglés si fuera necesario.
Facilitador: Jordi Cavaller. Gemma Polo ayudará conteniendo el espacio.
Para más información y para inscribirte, escribe a: jcbadia(@)hotmail.es
www.dharmaloca.org
28 mayo-3 junio, 2016.
Retiro de profundo descanso, meditación y senderismo conectado en el Parque Nacional de Ordesa y Monte Perdido, Huesca, España.
Silencio, belleza espectacular, yoga, canto meditativo y dulce acompañamiento e inspiración.
Las enseñanzas se darán en Castellano y en Inglés si es necesario.
Facilitadora: Gemma Polo. Daniel Benito facilitará el senderismo conectado y las sesiones de yoga.
Para más información y para inscribirte, escribe a: info(@)casacuadrau.org
www.casacuadrau.org
8-12 junio, 2016.
Conexión salvaje, un retiro basado en la naturaleza. Dharmaloca, Catalunya.
Profundizando a través del círculo, la conciencia expansiva y el movimiento conectado.
Las enseñanzas se darán en Inglés y Castellano si fuera necesario.
Facilitadoras: Rebecca Card. Gemma polo ayudará conteniendo el espacio y acompañando.
Para más información y para inscribirte, escribe a: rebeccajoycard(@)gmail.com
www.dharmaloca.org
14-16 Octubre, 2016.
Retiro de meditación con caballos en Dharmaloca, Tarragona, España.
Las enseñanzas se darán en inglés y en castellano si es necesario.
Facilitadora: Gemma Polo.
Para más información y para inscribirte, escribe a: gemmaji(@)gmail.com
www.cavallspeldespertar.org
Nos encantaría compartir tu inspiración en las próximas newsletters. Puedes mandar fotos, poesías, dibujos, reflexiones, comprensiones que vinieron durante o después de un retiro… (lo puedes hacer incluso de una forma anónima y en castellano o catalán). Por favor, manda tus inspiraciones a od.newsletter.latino (@) gmail.com.
Recuerda que si quieres recibir nuestros próximos eventos y posibles actividades de última hora vía email, puedes unirte al grupo informativo enviándonos un correo electrónico en blanco a la dirección: opendharmalatino-subscribe @ yahoogroups.com.