~ December & January Newsletter

(Para ir a la versión castellana desplázate al Rincón Latino situado al final de la página.)

(Photo: Cliffs, by Jaya.)
In this newsletter
~ News
~ Theme for Reflection, by Jaya
~ Love and News from Dharmaloca, by Gemma
~ On the Retreat with Horses
~ Interesting Links
~ A Poem
~ Photos
~ Upcoming Events
~ Rincón Latino
~ News

Interviews

Jaya will offer one-to-one meetings via Skype or phone through opendharma.appointy.com ... but availability will be necessarily limited because of travels and retreats over next month or more.
The 10-15 minute interviews are offered on a completely donation basis, and 25-30 minute interviews are offered on a donation basis with a suggested sliding scale of 25-50 euros. But we intend not to turn anyone away because of financial lack. If you have questions or would like to arrange another time not available through the appointy site, please contact Jessica at interviews(@)opendharma.org
Gemma offers personal interviews though Skype on donation basis. If you wish to have an interview please contact Gemma at gemmaji(@)gmail.com
Radio Dharma
Jaya recently broadcasted for half an hour on 13 December, which you can find in the archives, and will broadcast again on
29 January, at 11:30am
(Spain time, GMT+1) on blogtalkradio.com/opendharma.
You can call in live to ask questions or to share your experience.
Retreat in Tiruvannamalai
,
1 - 8 & 8 - 15 January, 2016.
There are still a few places left on the first 7-day retreat with Jaya and with guest facilitator Odelia Weinberg at
Anantha Niketan Ashram near Tiruvannamalai, in South India,
There are also 1-2 spaces left on the second retreat, although it is worthwhile to get on the waiting list.
For information and registration, write to:
manager(@)opendharma.org
Able and Willing Web-work
We are looking for 1 or 2 people as volunteers, for modest pay or even at the going rate—specifically for technical work with the website, and especially to help us get more recent recorded talks and meditations posted. If anyone is able and interested, please let Jaya know and we can email about the specific skill and time requirements. jaya(@)opendharma.org
Dharmaloca Caretaker and Volunteering
There is space for one caretaker at Dharmaloca, our eco-hermitage in Catalonia, Spain, from 20 December onwards. We usually ask for a commitment of 3 to 6 months. The caretaker lives, works, and apprentices at Dharmaloca--helping with the permaculture garden and facilities, welcoming guests, keeping an eye on the horses, and other essential work depending on your abilities and the needs of the time and place. There is time for your own practice, and much solitude in winter and the middle of summer.
Also if you have some skills on carpentry, stonewall building, or eco-building in general, and wish to volunteer at any time, please let us know. Thanks!
For more information: dharmalocaretreat(@)opendharma.org
---
~ Theme for Reflexion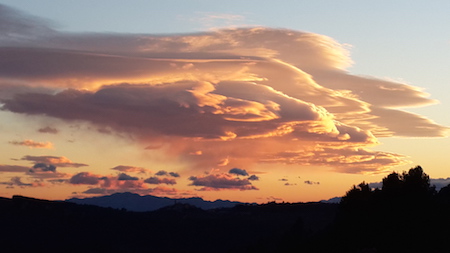 ~Get Real

Now that we are more intimately "each other" than ever, I can go.
Now that I belong with and in and to, it is time to leave.
Now that separation is deeply impossible, my life veers off to another continent.
It may sound like a Sufi poem, but it is just my conversation with a place.

Dharmaloca is an utterly generous and deeply demanding place.
Ethereal, raw.
Meditative, invigorating.
I feel it as a being--a beloved where I am also beloved.

It is certainly a place, inner and outer, of getting real. You can go there right now, wherever you are.

Dharmaloca is a stretch in all directions.
Eight years ago, in my first winter out of India in decades, I wrote about the rich spiritual demand I experienced through pregnancy and motherhood in the articles "Call Me a Pregnant Woman"

and

"Home Stretch"--pieces of writing that evolved into this very newsletter.

Now it comes time for me to move back to India. Dharmaloca comes with me.

Meanwhile, I am very glad to see an inspired Gemmaji bring the caravans to their best welcoming state; to see the moon and almond trees reflect in the pond where there used to be an empty hole dug out by the previous owner; to feel the place has arrived and can only get better.

Leaving does not feel melancholy, but quite surprisingly freeing.
And natural world came to see me off in so many moonrise sighs, fog walls, and twinkling skies with the children--and the tiny round red-breasted pit-roig that followed me singing from tree to tree during the olive harvest--at first I was worried we were disturbing a nest but then just found sweet company.

I am so proud and grateful to have helped to make this place real on earth.
A place to practice deeply, with some support but not too much, with some nature but not too much. With amazing ingredients--just like the rich organic food, but no one cooking for you. Whoever comes here learns to cook for themselves and others--in real ways that are not only about food.

So in "Dharmaloca mind," let's make it clear: we do not practice meditation and walk the spiritual path just to make life easy nor just to feel happy, not just to enjoy subtle relative relief. Not just to have a break from "real life."
Practicing meditation and walking the spiritual path is getting real. Not getting refuge from suffering; not indulging in habitual suffering.

Living in and as part of the ecosystem of Dharmaloca has further stretched me--body and mind, and my understanding of life--into a new kind of real. Not the so-called "real life" of being busy in a city, but the real life of tuning into the weather because it matters if the road is passable and how much solar energy is raining down; drinking in the stars and sunshine because it nourishes me like food or song; and feeding and being fed by a place and all its creatures together. I cannot overemphasize the uplift in experiencing composted human waste going into beautiful olives and almonds. I cannot overemphasize the freedom in knowing a valley beautiful in every weather, even when it is midnight and raining and winter and the electricity has just run out.

It is very important to realize that getting real, only sometimes, asks us to be uncomfortable as we stretch in ways we did not expect. Stretched beyond what we thought we were. Into what we are. What is. And so very often, getting real is resting into ease, softness, happiness, less pressure, no pressure--resting into a basic trust that there is freedom in us and also a willingness to be free. Not as a break from real life, but as real life.

And this movement of resting into depth is our big stretch. The really real life. Most people most of the time shy away from this challenge, or expect that rest should be easy. Or that rest should be an end of difficulty. The resting itself is a dipping out of ego and programming, and gives us the space and resources that allow the next stretch.

I rejoice: Dharmaloca exists, both within me and in you, and in the world.
And I rejoice in now letting my inner Dharmaloca--my own place of loving life beyond concepts--take me and stretch me onwards and inwards.

Over my eight years in Dharmaloca, I continuously had the sense that I was a privileged guest. I felt humbly grateful in all the luxuries--the light like food, the stars like oxygen, the spring water flowing from all the taps, and grey water out of all the drains--even if those taps and drains were often subject to water pressure fluctuations, mineral build-up, leaks.

Dharmaloca comes with me, and I stay as I go--just as the food grown there has become my body, and my body has given to it. My body-mind, freed from mainstream voices and images, gradually freed itself into loving, demanding, interwoven living. Into real life, where a body is free to be real and beloved. Where a mind is free to be real and belong.
Having lived so much time in the real world of Dharmaloca, my heart has room for the rest of the world in new surprising ways. Every day surprising, this real world.

Over the last eight years, when people asked me where was home, and I could not honestly say Dharmaloca. I felt that privileged to be a guest there. Yet when I left Dharmaloca for the summer in 2014, I was surprised to feel it was goodbye. When I found myself back just 2 months later, I was surprised again. And again, when only in this last year, after the unexpected goodbye and the unexpected return, I have landed in an, equally unexpected, absolute intimacy with the nature, in ways beyond imagining.

Now that India calls me back, I wonder how it will be, with millions more residents than when I lived there last, with violence and air pollution in the news, and most importantly, with an 8-year-old son who will continue his schooling there. I know at first there will be one big difference: I will just stay in one place with my son until he is settled enough for me to travel and teach again. From late June until at least the end of 2016, I am not planning any retreats.
I will be glad to meet in the Dharma online, and certainly in the retreats in the first half of the coming year. And after that, let's be surprised, again, and again, by this real life, where we are free to be real and beloved and belong.




by Jaya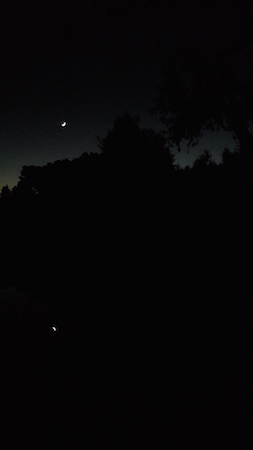 (Photos of Dharmaloca: the sky, top, and the dark pond, below, both by Jaya.)
---
Love and News from Dharmaloca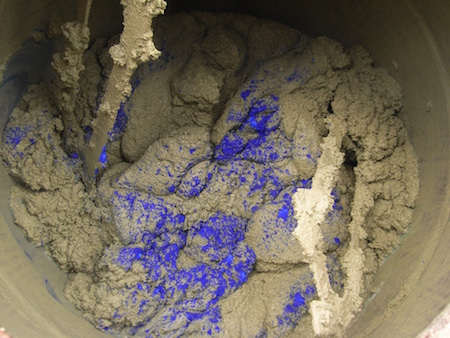 Dear Friends,
Winter is coming,
We have tons of branches to burn…thanks Samuel for your love and good hand pruning the trees!
The new natural pond is looking greater everyday…
And we have a new beautiful inspiration dome!
Christina, our sweet caretaker at the moment, is doing miracles transforming the caravans, treating endless structures with linseed oil, taking great photos for the new website, and helping with whatever is needed!
Marlies and I have been playing with all different eco-techniques to do the finishings of a new room…so much fun mixing lime, straw, clay, and different natural pigments. I do not understand why concrete is so popular out there, having enjoyed working with natural materials and loving the feeling of being in a room breathable and free of toxins!
And finally, my knees are hurting from my new adventure of installing a wooden floor…I have to admit that I made an emergency call to the local carpenter with some questions as I moved along…but the result is much better than I expected and I'm enjoying the pleasure of the results for now, far from embracing Krishna's teachings to Arjuna, but so good and satisfying sometimes!
Sending you all so much love and gratitude, and strength, and joy, and everything you deeply wish for!
Gemma

by Gemma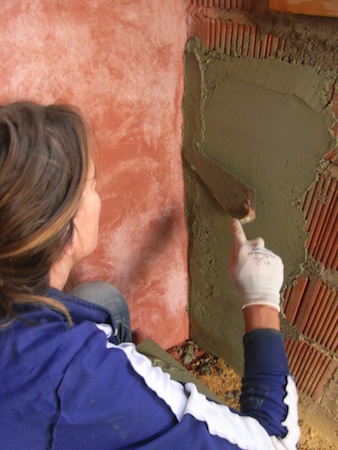 ---
~ On the Retreat with Horses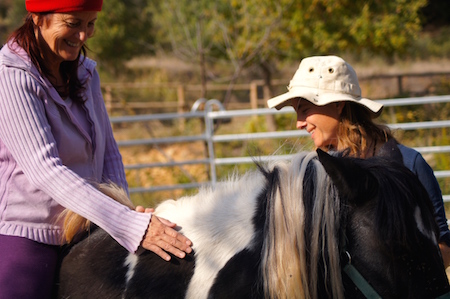 Some words of gratitude from the participants on the meditation retreat with horses that Gemma offered at Dharmaloca last October:


"The retreat was very touching and watered a long forgotten seed in me." --Katri
"The weekend with you and the horses was a magical time for me really & truly. To be able to work with the horses in such a way is very different to any retreat I have done and from the bottom of my heart to you, Ganga, Sophia, Tacky & Chandra beyond the sky and the earth thank you! I feel my heart has been nourished.
I may just come back again next year to do it all again God willing."
--Lisa
"The beauty and serenity were overwhelming. And then these horses...they were so natural ...beautiful mirrors...helping us ...teaching us about ourselves. Yes I can honestly say that I fell in love with these beautiful horses and back in Holland my live is being filled with signs telling me to meet more horses and enjoy more the horse magic. And also they are so beautiful. I really feel for this one horse, Taki, a very sensitive horse. Before the retreat I had some time to go on long walks in nature and I had some surprise meetings with animals. A squirrel, wild pig mother with little ones, gecko and a snake, vultures, and eagles, and many more birds welcomed me to their paradise: nature reserve Montsant. I felt really at home in nature and felt kind of sad I had to leave because it felt so good. The stay in caravan and eating together were also special, simple and pure. I feel so much gratitude to have been able to feel the energy of the place and meet people, plants and animals at Dharmaloca paradise. Thank you Jaya and Gemma for sharing your self made retreat paradise with me."
--Samuel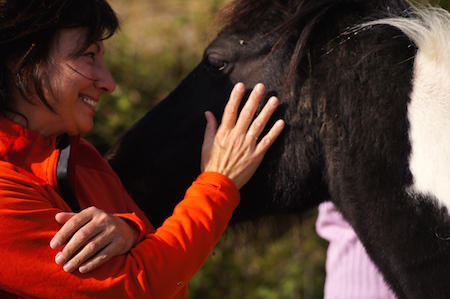 (Photos by Gemma and Christina.)
---
~Interesting Links



~Jaya shares

a good conversation

on altruism, with Matthieu Ricard and American radio host Diane Rehm,
appropriate for the holiday time of year...

~Also from Jaya,

an interview with Tony

who, about 10 years ago, created what seems to be the 1st soup kitchen in China.

~Tom Riddle wrote about floatation tank therapy: "If you've attended any of Jaya's retreats you know that 'deep rest' can be very relaxing. Well, try this: spend an hour in a sensory deprivation tank, sometimes called flotation tank, and relax even more."

"In a flotation tank," he continues, "where the air and water temperature are body temperature, you are naked, it is silent and dark, and you float like a cork thanks to the Epsom salt in the water, you can, very quickly, relax very deeply. You'll also quickly become aware of any tension in your body. For example, I found some tension in my jaw. One could of course spend the time idly fantasizing. But at least try making an effort to concentrate on your breathing and really eye-balling your thoughts. I think you'll find, as I did, that you can very quickly enter into a deep meditative state. For me, for a few days after that, I was able to go back to that state of utter quiet in the same way I'm able to after a long retreat." To read more on the subject, check out this article in the New York Times.

~Susan Crozier shared

this link to a very interesting interview with Eluned Summers-Bremner who has written a book on the history of insomnia. The article also talks about the first and second sleep, and go into the question of insomnia as a possible side effect of having so much privacy.


(Photo by Jaya.)
---
~A Poem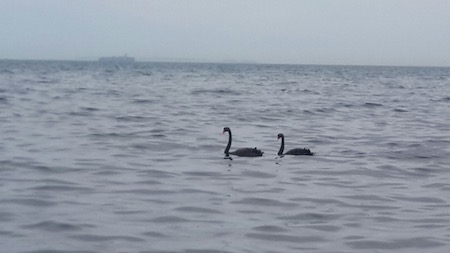 Thanks to Marjorie Scheer for sharing this poem by Mark Nepo
"Yes, We Can Talk"
Having loved enough and lost enough,

I'm no longer searching

just opening,

no longer trying to make sense of pain

but trying to be a soft and sturdy home

in which real things can land.

These are the irritations

that rub into a pearl.

So we can talk for a while

but then we must listen

the way the rocks listen to the sea.

And we can churn at all that goes wrong

but then we must lay all distractions

down and water every living seed.

And yes, on nights like tonight

I too feel alone. But seldom do I

face it squarely enough

to see that it's a door

into the breath

that has no breather,

into the surf that human

shells call God.
—Mark Nepo
(Photo by Jaya)
---
~Photos
A few images from Jaya's latest retreat in Oz...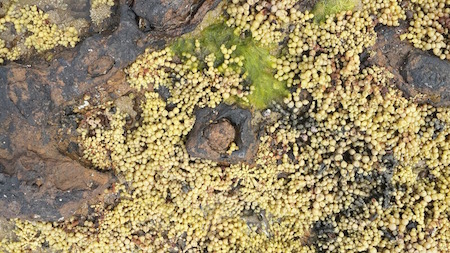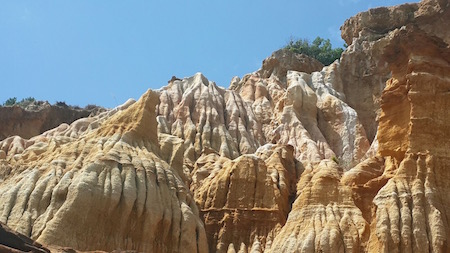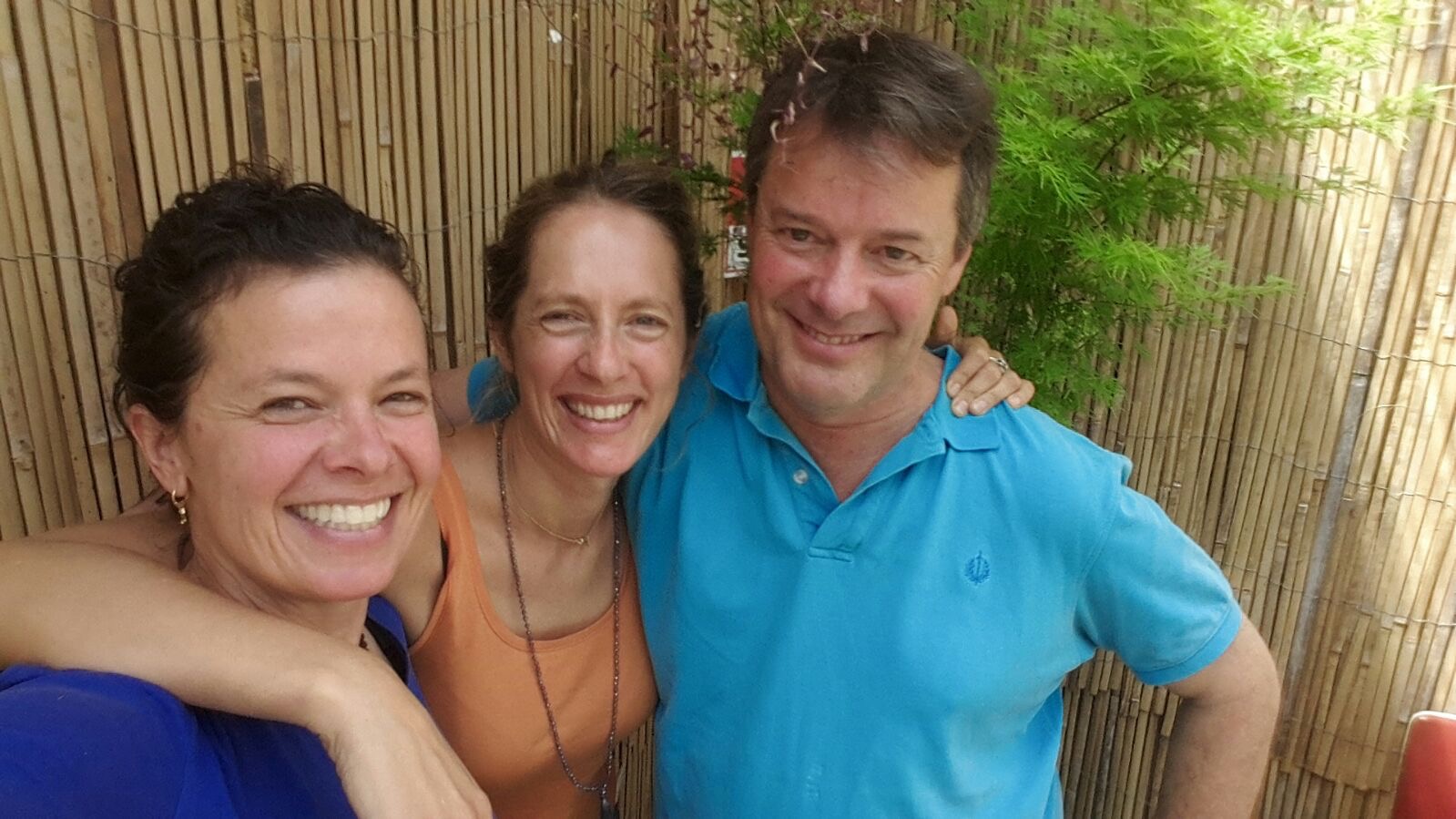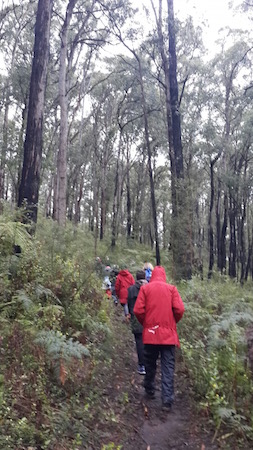 Jaya doing skype one-to-one interviews in the old car...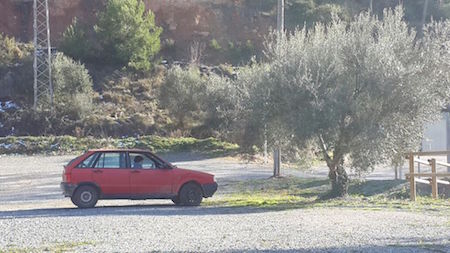 October's retreat in Germany, with Gemma...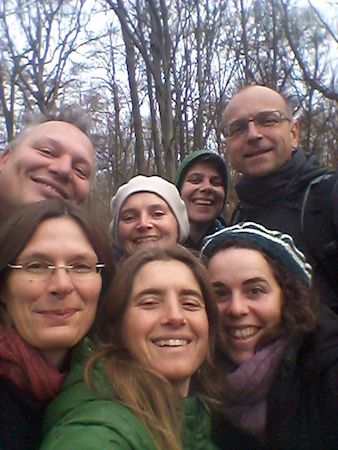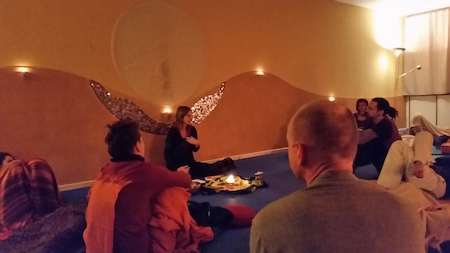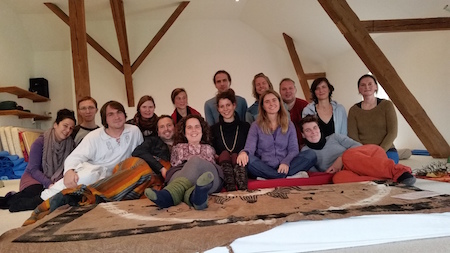 All the eco-building projects underway at Dharmaloca...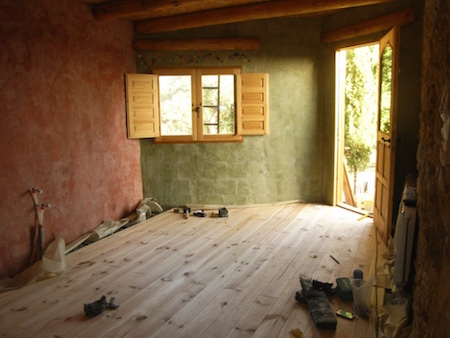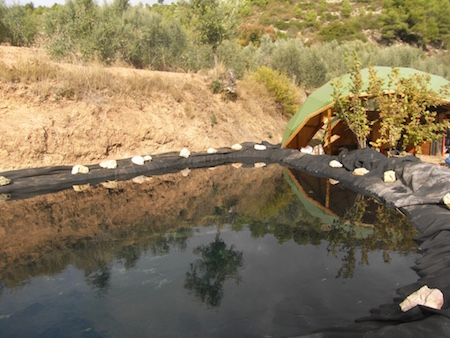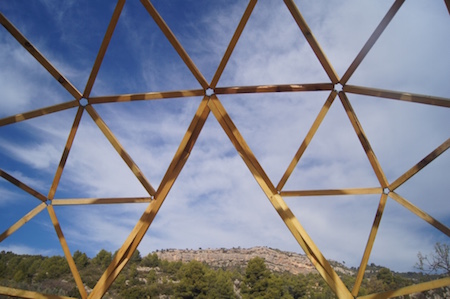 (Photos by Jaya, Gemma and Christina)
---
~ Upcoming Retreat Dates & Details
1 - 8 and 8 - 15 January, 2016.
Two 7-day silent meditation retreats at Anantha Niketan Ashram near Tiruvannamalai, south India. Meditation through deep rest to contact life beyond ideas.
Teachings will be in English.
Facilitator: Jaya Ashmore.
Guest facilitator: Odelia Weinberg.
For information and registration, write to:
manager(@)opendharma.org
4-11 March, 2016.
Deep Rest retreat in Karjalohja, Finland.
Teachings will be in English.
Facilitator: Jaya Ashmore.
For more information check:
opendharmafinland.wordpress.com
23-27 March, 2016.
Opening the wings of the soul, silent retreat at Diáfanum, Gredos, Spain.
Transformation through deep rest, loving inquiry, nature, and sound.
Teachings will be in Spanish.
Facilitator: Gemma Polo.
For information and registration, write to:
gemmaji(@)gmail.com
www.diafanum.com

30 March - 6 April & 6 - 13 April, 2015.
Two 7-day Deep Rest and meditation retreats in the foothills of the Himalayas, North India
Teachings will be in English.
Facilitator: Jaya Ashmore.
For information and registration, write to:
manager(@)opendharma.org

28 April - 1 May, 2016.
Getting intimate...Qigong, deep rest and wild nature in Dharmaloca, Spain
A weekend to reconnect with the essence.
Teachings will be in Spanish and English, if needed.
Facilitator: Gemma Polo.
Qigong master Xènia Ros will co-facilitate.
For information and registration, write to:
gemmaji(@)gmail.com
dharmaloca.org

4 - 8 May, 2016.
Beyond Words: meditation retreat at the former prison camp in Ravensbruck, Germany.
Teachings will be in English with translation to German and Hebrew if needed.
Facilitator: Jaya Ashmore.
For more information check:
opendharmaravensbruck.wordpress.com

28 May-3 June, 2016.
Deep rest, meditation, and connected trekking retreat in The National Park of Ordesa and Monte Perdido, Huesca, Spain.
Silence, spectacular beauty, yoga, meditative singing, and sweet and inspiring guidance.
Teachings will be in Spanish and English, if needed.
Facilitator: Gemma Polo.
Daniel Benito will be facilitating the connected trekking and yoga.
For information and registration, write to:
info(@)casacuadrau.org
www.casacuadrau.org
15-22 June, 2016.
Wild Silence: 7-day meditation retreat at la Fleyssière, Haut-Langudoc, South of France.
Teachings will be in English and French.
Facilitator: Jaya Ashmore.
Denis Roberrechts will be co-facilitating.
For information and registration, write to:
france(@)opendharma.org

24-26 June, 2016.
Women's meditation retreat at Gayles, Eastbourne, England.
Entering the power of our womb and the beauty of our cycles through silence, deep rest, connected movement, sound and guidance.
Teachings will be in English.
Facilitator: Gemma Polo.
For information and registration, write to:
info(@)retreattogayles.co.uk
www.retreattogayles.co.uk

16-23 July, 2016.
Deep rest meditation retreat in Ter Apel, Holland.
Diving into our deepest heart, and beyond
Teachings will be in English.
Facilitator: Gemma Polo.
Nanda Hunneman and Dieuwertje Stegeman will be co-facilitating
For information and registration, write to:
opendharmaholland(@)hotmail.com

14-16 October, 2016.
Meditation with horses retreat at Dharmaloca, Catalonia, Spain.
Letting the horses whisper our true nature.
Teachings will be in English and Spanish if needed.
Facilitator: Gemma Polo.
For information and registration, write to:
gemmaji(@)gmail.com
awakeningwithhorses.org

May through October, 2016.
Ongoing self-retreats from 1 week to 3 months at Dharmaloca.
Dharmalocaretreat(@)opendharma.org
For more information about retreats organized by our sister organizations visit www.SanghaCalendar.org
~ Welcome to Everyone
We would love to share your inspiration in an upcoming newsletter. Photos! Poems! Drawings! Musings! Reflections on a recent--or not so recent--retreat! (You can even tell us that you'd like to contribute anonymously.) Please feel free to send any contributions to:
newsletter (at) opencentre.es
---
Rincón Latino

En esta newsletter
~ Noticias
~ Reflexión por Gemma
~ Un momento de felicidad, por Hedy
~ Próximos eventos





~Noticias


Noticias desde Dharmaloca:
Querid@s amig@s
El invierno está llegando.
Tenemos un montón de ramas para quemar…gracias Samuel por tu amor y habilidad podando los árboles!
La nueva balsa natural cada días está más bonita…
¡Y ya tenemos el Nuevo domo de la inspiración!
Christina, que es nuestra dulce cuidadora del momento, está haciendo milagros transformando las caravanas, protegiendo todas las estructuras de madera con aceite de linaza, sacando fotos preciosas para la nueva web, y ayudando con todo lo que sea necesario.
Marlies y yo hemos estado jugando con diferentes técnicas de bio-costrucción para los acabados de la nueva habitación…nos lo hemos pasado en grande mezclando cal, paja, barro y pigmentos naturales. No entiendo por qué el cemento es tan popular, con lo precioso que es trabajar con materiales naturales, y poder disfrutar después de un espacio libre de tóxicos y que respira!
Y para terminar, me duelen las rodillas después de mi nueva aventura de colocar un suelo de madera…tengo que confesar que tuve que llamar al carpintero local con algunas preguntas para poder seguir avanzando…pero el resultado es mucho mejor de lo que me esperaba y por ahora me permito el lujo de disfrutar del placer del resultado, sabiendo que no es lo más importante tal y como Krishna enseña a Arjuna, pero a veces tan bueno y maravilloso simplemente dejarnos satisfacer por los resultados!

Os mando mucho amor y gratitud, y coraje, y alegría, y todo lo que profundamente anheláis!
Gemma

Entrevistas Personales
Gemma ofrece entrevistas personales a través de donaciones vía Skype o teléfono. Si deseas concretar día y hora manda un email a gemmaji(@)gmail.com

Cuidador de Dharmaloca y voluntariado
Hay una plaza libre para hacer de cuidador o cuidadora de Dharmaloca empezando el 20 de diciembre. Lo ideal sería comprometerse un mínimo de 3 meses. Se trata del privilegio de hacer una experiencia de conocerse a uno mismo en contacto con la naturaleza y haciendo unas horas de trabajo de manutención del eco-eremitorio a cambio de la estancia y la comida. Ahora también abrimos la posibilidad de que esta posición de cuidador sea de uno a tres años y se convierta así en una posibilidad de adentrarse aun más.
Por otro lado, si tienes conocimientos en carpintería, construcción de pared seca, o eco-construcción en general y te apetece venir de voluntario o voluntaria en cualquier momento, por favor contáctanos. Gracias!
Para más información: dharmalocaretreat(@)opendharma.org


---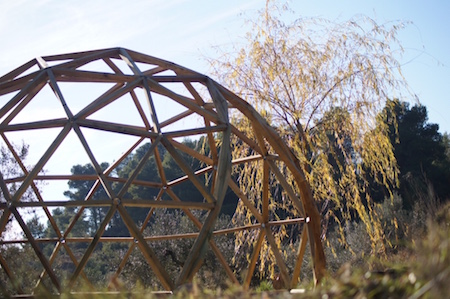 Joven y vieja
"Soy lo bastante joven para creer en la revolución,
y soy lo bastante viejo para arrodillarme y orar".
—Kris Kristofferson

Estas afirmaciones me parecen dos remos de un mismo barco.
Creer y hacer. Estar abiertos al infinito y trabajar en lo concreto.
Ojalá demos a luz acciones que impliquen el corazón y aprendamos a movernos desde un lugar que conoce el poder de la no-acción.
Ojalá mantengamos el fuego interior y lo dejemos arder en nuestras acciones
para cambiar el mundo a través de gestos concretos, claros, y quizás comprometidos. Para decirlo susurrando o decirlo a gritos: ¡que esto no funciona, que nos perdimos por el camino, que andamos como peces sedientos en medio del agua, peleándonos y agotando aquello que nos sostiene!
Y ojalá que en medio de la acción misma, del grito, del susurro… podamos alzar los ojos hacia lo desconocido, lo infinito. Sabiéndonos en una danza mucho más ancha de lo que podamos percibir cómo bueno o malo. Adentrándonos en el misterio. Rindiéndonos ante lo que ES, sin atacar con un sinfín de razonamientos y respuestas. Manteniendo el gran silencio relajado del que no sabe sabiendo, del que hace lo que le corresponde sin más, y deja el resto para algo mucho más ancho que sus brazos.
Ojalá que nuestros ojos sigan viendo y nuestras piernas alzándose para cambiar lo que es inadmisible.
Y ojalá podamos cerrar los ojos y ver con claridad, percibiendo esta corriente imparable que acompaña todo hacia la luz, y la dejemos actuar a su manera indescifrable, a su ritmo…

(Photo por Gemma.)
---
Un moment de felicidad
Cuando el amor llena nuestro momento presente…

Un momento de felicidad,
tú y yo sentados en la baranda,
aparentemente dos, pero uno en alma, tú y yo.
Sentimos el Agua de Vida que fluye aquí,
tú y yo, con la belleza del jardín
y el canto de las aves.
Las estrellas nos mirarán,
y les mostraremos
lo que es ser una fina luna creciente.
Tú y yo fuera de nosotros mismos, estaremos juntos,
indiferentes a conjeturas inútiles, tú y yo.
Los papagayos del paraíso harán el azúcar crujir mientras reímos juntos tú yo.
De una forma en este mundo,
y de otra en una dulce tierra sin tiempo.

—Rumi. Kulliyat-e Shams, 2114






por Hedy
---
Próximos Eventos
(Aquí listamos solo los que se harán en castellano y/o catalán)
23 - 27 marzo, 2015
Abriendo las alas del alma, retiro de semana santa en Diáfanum, Ávila, España. Transformación a través del profundo descanso, el silencio, la naturaleza y la vibración.
Las enseñanzas se darán en Castellano.
Facilitadora: Gemma Polo.
Para más información y para inscribirte, escribe a:
Gemmaji(@)gmail.com
www.diafanum.com
28 mayo-3 junio, 2016.
Retiro de profundo descanso, meditación y senderismo conectado en el Parque Nacional de Ordesa y Monte Perdido, Huesca, España.
Silencio, belleza espectacular, yoga, canto meditativo y dulce acompañamiento e inspiración.
Las enseñanzas se darán en Castellano y en Inglés si es necesario.
Facilitadora: Gemma Polo.
Daniel Benito facilitará el senderismo conectado y las sesiones de yoga.
Para más información y para inscribirte, escribe a:
info(@)casacuadrau.org
www.casacuadrau.org
28 abril-1 mayo, 2016
Intimando...Qigong, profundo descanso y naturaleza en Dharmaloca, Catalunya, España. Un fin de semana de reconexión con la esencia.
Las enseñanzas se darán en Castellano y en Inglés si es necesario.
Facilitadora: Gemma Polo.
La maestra de qigong Xènia Ros co-facilitará con Gemma.
Para más información y para inscribirte, escribe a:
gemmaji(@)gmail.com
dharmaloca.org
taosilvestre.com
Desde mayo hasta octubre
retiros personales de una semana a 3 meses de duración
Para más información:
dharmalocaretreat(@)opendharma.org
Nos encantaría compartir tu inspiración en las próximas newsletters. Puedes mandar fotos, poesías, dibujos, reflexiones, comprensiones que vinieron durante o después de un retiro… (lo puedes hacer incluso de una forma anónima y en castellano o catalán). Por favor, manda tus inspiraciones a od.newsletter.latino (@) gmail.com.
Recuerda que si quieres recibir nuestros próximos eventos y posibles actividades de última hora vía email, puedes unirte al grupo informativo enviándonos un correo electrónico en blanco a la dirección: opendharmalatino-subscribe @ yahoogroups.com.