~ October & November Newsletter

(Para ir a la versión castellano desplázate al Rincón Latino situado al final de la página.)

(Photo by Jaya.)
In this newsletter
~ News
~ Theme for Reflection, by Jaya
~ Remembering Ben Winston
~ Letter from Dharmaloca, by Gemma
~ Details on Ravensbrook and DharmaNature retreats
~ Interesting Links
~ Photos
~ Upcoming Events
~ Rincón Latino
~ News

Interviews

Jaya will offer one-to-one meetings via Skype or phone through opendharma.appointy.com
The 10-15 minute interviews are offered on a completely donation basis, and 25-30 minute interviews are offered on a donation basis with a suggested sliding scale of 25-50 euros. But we intend not to turn anyone away because of financial lack. If you have questions or would like to arrange another time not available through the appointy site, please contact Jessica at interviews(@)
opendharma.org
Gemma offers personal interviews though Skype on donation basis. If you wish to have an interview please contact Gemma at gemmaji(@)
gmail.com
Radio Dharma
Jaya recently broadcasted for half an hour on
October 13
,
which you can find in the archives, and will broadcast again on
November 17 at 3:30pm
(Spain time, GMT+1) on
blogtalkradio.com/opendharma
.
You can call in live to ask questions or share your experience.
Jaya also welcomes suggestions for themes, or requests for guided meditations.
Retreat News
~Now is the time to register for the retreat in
Germany
with Gemma. You can come for the whole week 6-12 November or for the weekend 6-8 November. Nani and Dana are the angels that will take you through the registration process.
It would be lovely to see you there and to feel you deeply resting to be transformed. Please consider to give yourself this gift: germanyretreat(@)gmail.com
~30 March - 6 April, and 6 - 13 April, Deep Rest retreats with Jaya at the beloved ashram in
Sattal, India
. manager(@)opendharma.org
~4 - 8 May 2016,
Ravensbruck, Germany
, Jaya will lead a meditation retreat at a former concentration camp. For more details, read below. claudiahorwitz(@)gmail.com
~15-22 June, in the south of
France
, Jaya will teach again with Denis Roberrechts of Dharma Nature for the first time in about 8 years. For more information, please read below. manager(@)opendharma.org
~3-10 June (approximately),
Quebec
, Jaya will teach what may be the only Open Dharma event in North America in 2016. quebec(@)opendharma.org
~Jaya is not currently planning any other events in 2016.
Upcoming at Dharmaloca
~May & June events at Dharmaloca
will include Chikung and deep rest in intimacy with nature, Sacred geometry and Ongoing self-retreats from 1 week to 3 months...
~There is space for one caretaker at Dharmaloca, our eco-hermitage in Catalonia, Spain, from 20th December onwards. We usually ask for a commitment of 3 to 6 month. The caretaker lives, works, and apprentices at Dharmaloca--helping with the permaculture garden and facilities, welcoming guests, keeping an eye on the horses, and other essential work depending on your abilities and the needs of the time and place. There is time for your own practice, and much solitude in winter and the middle of summer.
Also if you have some skills on carpentry, stonewall building, or eco-building in general, and wish to volunteer at any time, please let us know. Thanks!
For more information: dharmalocaretreat(@)opendharma.org
OMM Meditation Challenge
Meditate together every day for one month through
ommchallenge.com
a
nd meanwhile, help raise money to support the refugees

fleeing Syria

and neighboring countries to Europe through

Care International
. Free sign-up to access lots of guided meditations from diverse teachers, including Jaya, and a library that includes talks by teachers from Mooji to Tara Brach.
Martin Aylward has spearheaded this grand experiment.
Traveling in India
As some of us may be looking towards India in the next couple months, please read and share the info on
www.opendharma.org
as well as some simple pointers here:
On food: If you really do not want to get sick in the belly, then DO wash your hands with soap and water for at least 20 seconds before eating and after toilet. Do NOT eat any raw food. At all. No matter how nice the restaurant or fruit salad looks.
DO include in the category of raw food: lassi and yogurt or other cold-served foods in dishes that may have non-drinking water in them before serving.
On safety, not all tourists are aware of these issues, so please spread the word: Sexual violence in India has been in the media and is an issue. Cultural norms in most places are that women do not go to "lonely" places or out at night alone. Two women walking together is not as safe as more, or in mixed gender company. Rishikesh, Dharamsala, Varanasi, and Tiruvannamalai are some of the tourist places with serious issues in the last 10-15 years. So...go to India, but go out at night and in nature TOGETHER.
Similarly, when arriving in the big airports, especially Delhi, beware of the taxi scams: drivers report riots, curfews, festivals or other reasons they cannot take you to the hotel or area of your choice. Instead they say they can take you to Agra, for example, for whatever 100s in cash you can give them. Inquire about possible curfews or travel advisories before traveling. Note down the license number of your pre-paid, police-confirmed taxi driver, and perhaps phoning someone from the back seat in a voice the driver can hear...When in doubt, perhaps you could return to the airport! There are also buses to city center during the day.
---
~ Theme for Reflection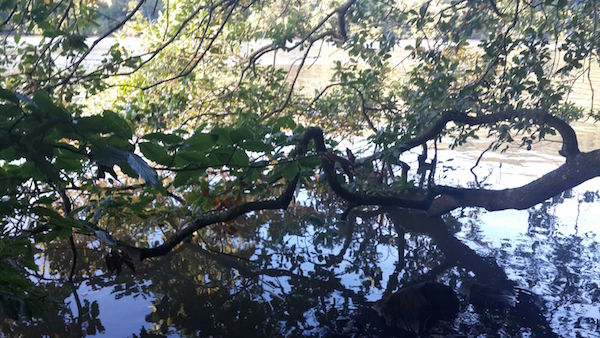 Theme for Reflection, for October & November ~ Ancestors

Many of us seem to have an experience of family blown apart. Coming of age includes going away to live alone, and includes realizing how we as children parented our parents.
We come to realize we did not have the protected range of childhood, nor the supported emergence into responsibility. For lack of elders, we grow up to be shadowy in our own lives.

But hardly anyone wants the job of elder anymore. It is unpaid, unglorifying, demanding, delicate, life-or-death work. The question "What do I get out of this?" receives zero response.

But maybe we still need elders anyway.
Maybe we need to hand-choose our elders and call them in somehow--reading and feeling and tuning into those who have gone before, those whose lives stand strong and silent and magnetize our deepest knowing into action.
Etty Hillesum is a talisman for me. I often think of her walking home in Amsterdam past unfriendly soldiers, buying daisies for her writing desk, with a gold star sewn onto her sleeve. I think of her spontaneously gazing at beauty right in the face, right through the fence of a muddy concentration camp. My image of her glows with the evening light on the sidewalk as she walked, and as she paused to look through the fence. I call her in and she sings, just as she did on that train: it is possible to live, free. If she can, we can--we are allowed, we are welcome to be happy here, no matter what. Not despite tragedy, not by turning our shoulder to block out the cold, but arm in arm with it.

Walking arm and arm with Hillesum, and other chosen elders, maybe we can bring about a different experience of family. What I notice is that through living with my full range of chosen elders around and in me, I am also rooted in my own family in a simple and good way.
Maybe rooted in our families and walking in our chosen company, we can grow into elders ourselves. Maybe we can grow into family, into children, into ancestors.

A friend died three weeks ago. All these days, Ben Winston has been as if with me, usually just behind me and to the right. He has been here much as I knew him when he lived: spark-eyed, easy in his skin like a wild animal. But unlike an animal he was so loose in his skin that life whistled through him. Life whistled through, between him and his skin, as a deep devotion to big mind. Like the great civil rights leaders, he had no argument with life. He could disagree with friends, but in friendship. He knew what Suzuki said, "Big mind is always on your side." As Ben's wife, my friend Emmaji, traversed difficult spiritual terrain, he cheered her on--seeing her greatness as she huffed up the magnificent peak of her own gifts and presence. And she stands on that peak now--she is so there that when the police came to tell her Ben had died, she compassionately offered to give them trainings on how to do that hard job better. And perhaps most touching of all--which is saying a lot--is how Ben loved his daughter, right out in the open. His utter flat-out love of life condensed into those two arms to swing her up, into that attention getting her to eat another bite of porridge. When he held a friend's 2-day-old baby in his hand he looked into her face and asked out loud, "Who are you?" For me, living these three weeks with a dead man has been instructive: no entanglement in small mind, whether past, present or future. Look into the face of beauty, ask everything "Who are you?" and loosen into that utter dedication of this life to that big life. I am glad to have Ben as "spiritual ancestor" and I invite us all to this family.

When Emma told me a heart weakness had brought Ben as a teenager across the threshold of death and back, I exhaled in the relief of deep understanding. His deep loyalty to life and serving life emerged partly because he had tasted death and lost the fear of death.

To have and be the kind of elders that we need, now, we also can taste death and, smiling, serve life.
So that our lives are not wrestling with death and vulnerability, behind our backs. So that our practice is not about avoiding difficulty, or seeking refuge from tragedy. So that we live into a deep loose-skinned welcome, as we are. "As we are" is not just the relief that we do not have to hide our faults.
"As we are" includes our deeper knowing of what is worth engaging--what is serving life and not servitude to suffering. To live knowing what we know--that we all die, and not only that but life keeps on continuously bubbling up, by itself. Inviting us into family that goes beyond its own circle of needs to bear the impossible beauty of this.



by Jaya
(Photo by Jaya.)
---
Remembering Ben Winston
Sharing a few of Ben's beautiful photos, all taken at Sattal, below.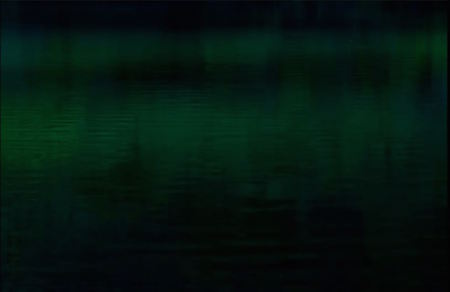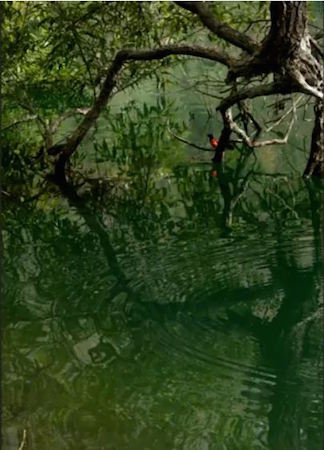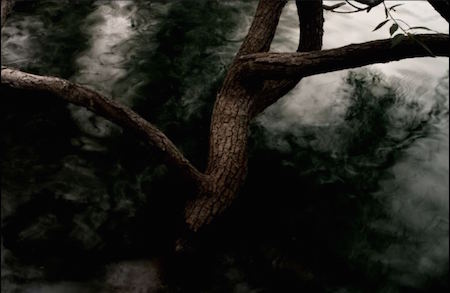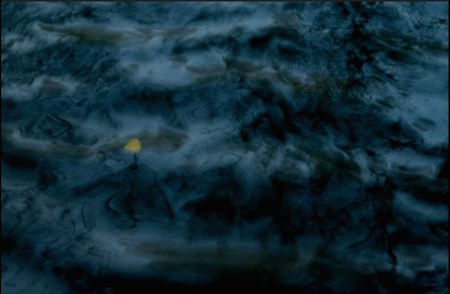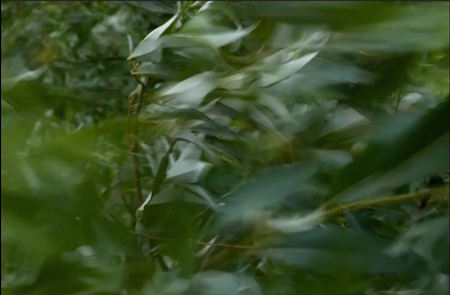 ~A memorial for Ben will take place in Sheffield, in the UK, on Saturday, 17 October, at 3pm (UTC time). All are welcome to join in that connection, wherever you are, as an invitation to tune into deep love of life.
~Ben's essays, photographs and video work are found on his site,
benwinston.co.uk
~Friends have written about Ben's life at
benwinstn.wordpress.com
(Photos by Ben Winston)
---
~Retreat in Germany at Ravensbrook, 4 - 8 May, 2016
4-8 May 2016
Jaya will offer a meditation retreat at a former women's concentration camp a 1-hour train ride north of Berlin, Germany, at the invitation of Zahiro Kai Esko, from the Generation After Project.
The retreat will include meditation in movement and stillness, silence, and teachings as well as dialog around the inspiring words and life of Etty Hillesum, a Dutch woman who lived and was killed in World War II Holland.

We welcome anyone to join us in tuning into our human situation, with all its depth, intensity and freedom: the history of trauma from World War II; present realities of refugees, race, and climate; and a pull to turn together towards life with freshness.
Inspired by Hillesum, we can feel welcome, even in this place, to enter wholeheartedly into deep non-knowing, care, and openness to life in all its pain and beauty. We can be inspired by Bernie Glassman, who has offered retreats in former concentration camps for 20 years. He says that at these places of such tragedy, "it is not hard to let go of fixed ideas." From that open mind, in that welcome, what do we meet in stillness, what do we taste is important, and how are we moved?

May we discover the spiritual potential and resources in us that respond to the call of this day not from pain and ideology but from wholeness and non-separation.

We also hope to offer an option of joining for a single day, and Zahiro plans to organize additional accommodation in Berlin before and after the retreat, for those coming from abroad. Both Zahiro and Jaya also plan to offer some short events before or after the retreat.
The retreat will take place at Ravensbruck, a former camp that is now a youth hostel and meeting place. To receive more information on the retreat please email claudiahorwitz(@)gmail.com
For more on Bernie Glassman's experience on offering retreats in former concentration camps, please follow the link to zenpeacemakers.org.

~Retreat in France at DharmaNature, 15 - 22 June

Wild Silence will be a 7-day meditation retreat with Jaya Julienne Ashmore and Denis Roberrechts, conducted in English and in French, at DharmaNature.

We are so very happy to announce that the annual Open Dharma retreat in France with Jaya-ji is moving south! There it will meet with dharmanature and Denis in the gorgeous Haut-Languedoc nature preserve, in a tiny mountain village which was converted to a holiday camp some sixty years ago. Luckily, in June, we will have the place to ourselves, and everybody is invited to come and breathe fresh mountain air on deep meditation immersed in nature.
Volunteers to manage the kitchen are welcome to contact manager(@)opendharma.org
Registration will open soon.
---
~ From Dharmaloca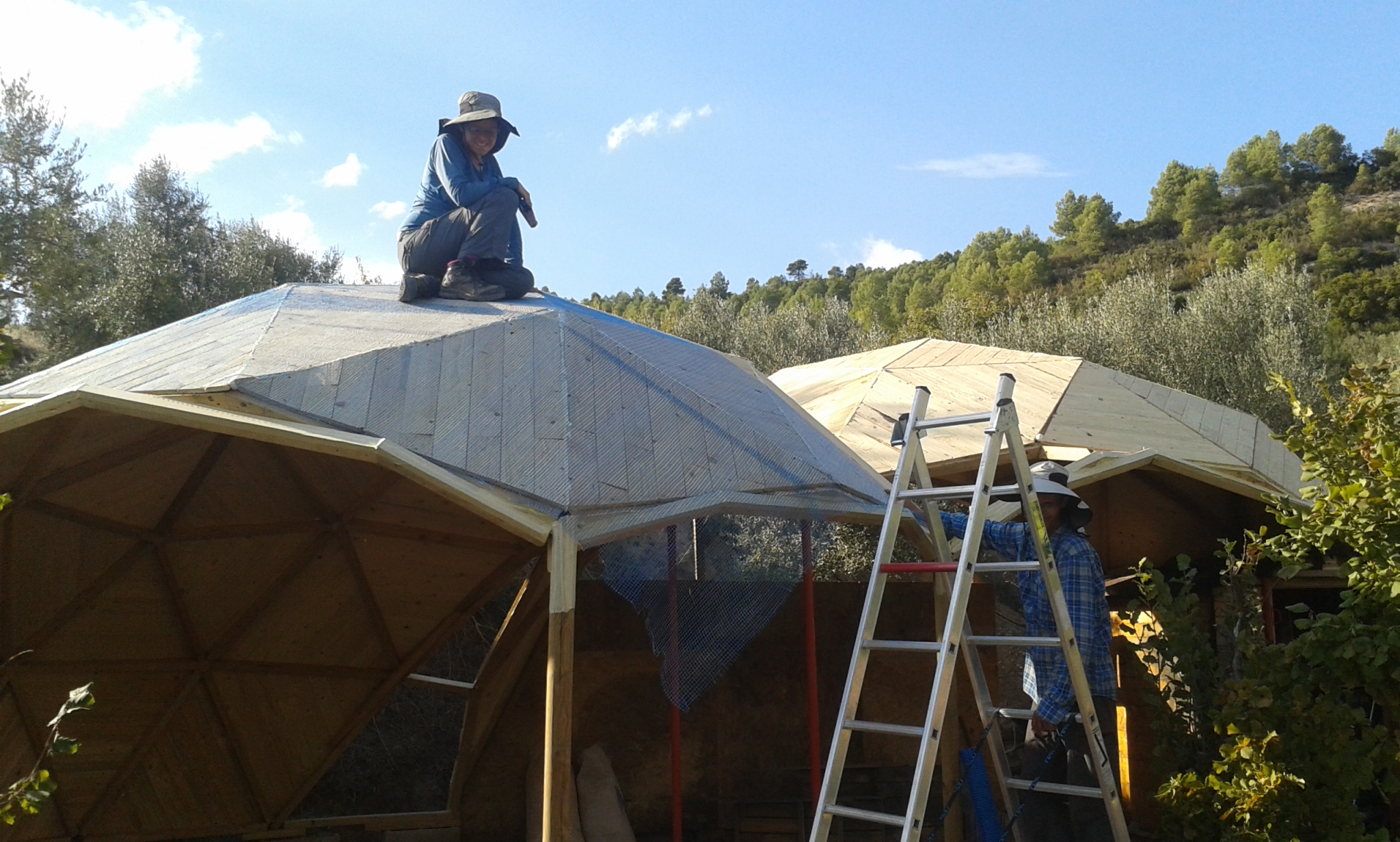 The magical autumn light is filling the days as we enjoy the hard and fun work of transforming Dharmaloca.
Jordi, our eco-builder friend, spent 15 days here creating the new tool shed and workplace. Together with the kind and committed help of Omer, Day and Michal, they have built two domes connected that creates a wonderful space. We--both Jaya and I--fantasized on moving there to live!

We are planning on bringing Jordi to Dharmaloca sometime next May-June to offer an experiential retreat-workshop on sacred geometry. More soon!

Thanks to Thjis, we are also now only one step from having a wonderful natural pond. We even have the material ready to be placed whenever enough hands come together. It weights more than 200Kg!!!

I'll keep you posted on more projects and fun coming soon.
With so much love and gratitude,
Gemma

by Gemma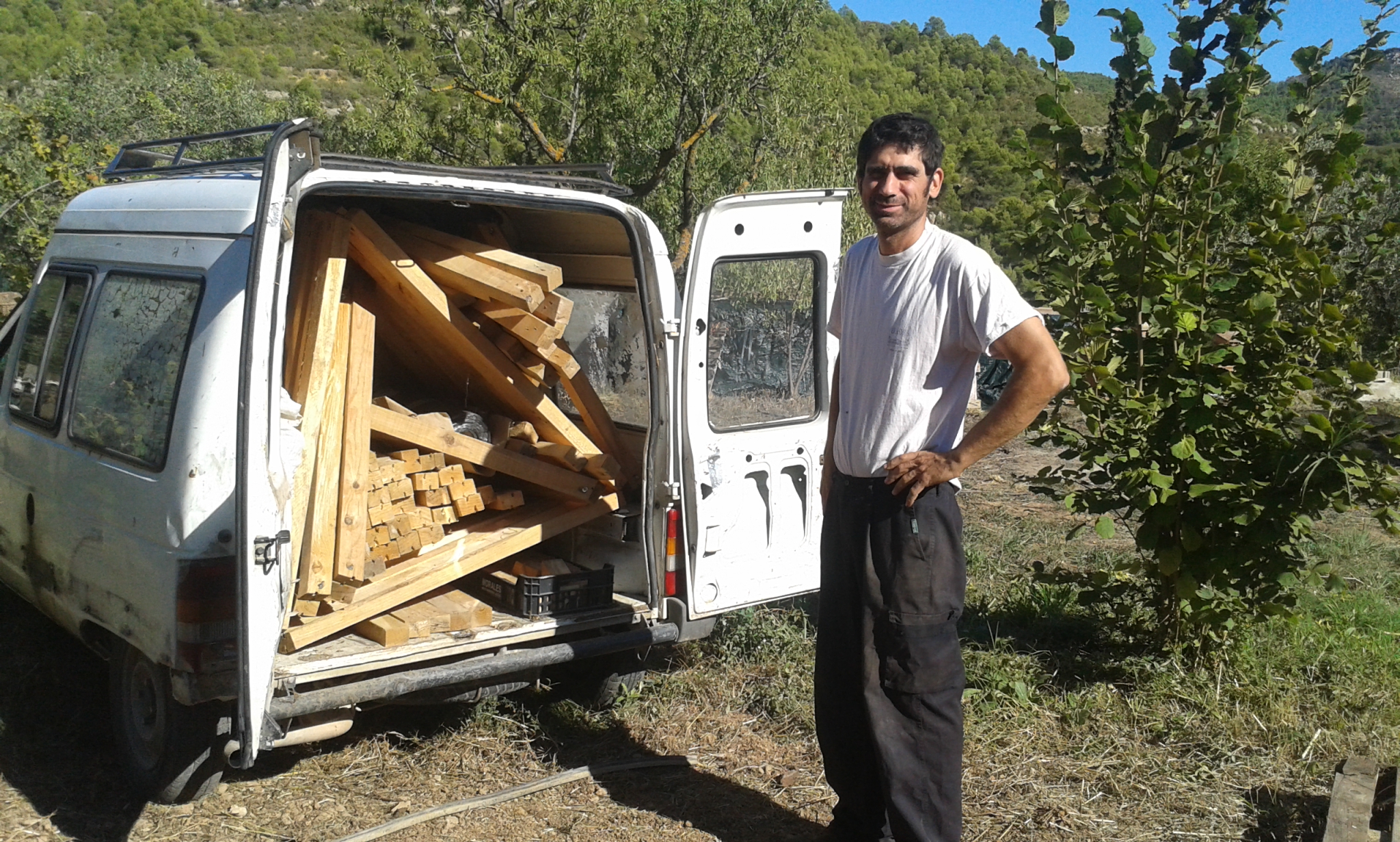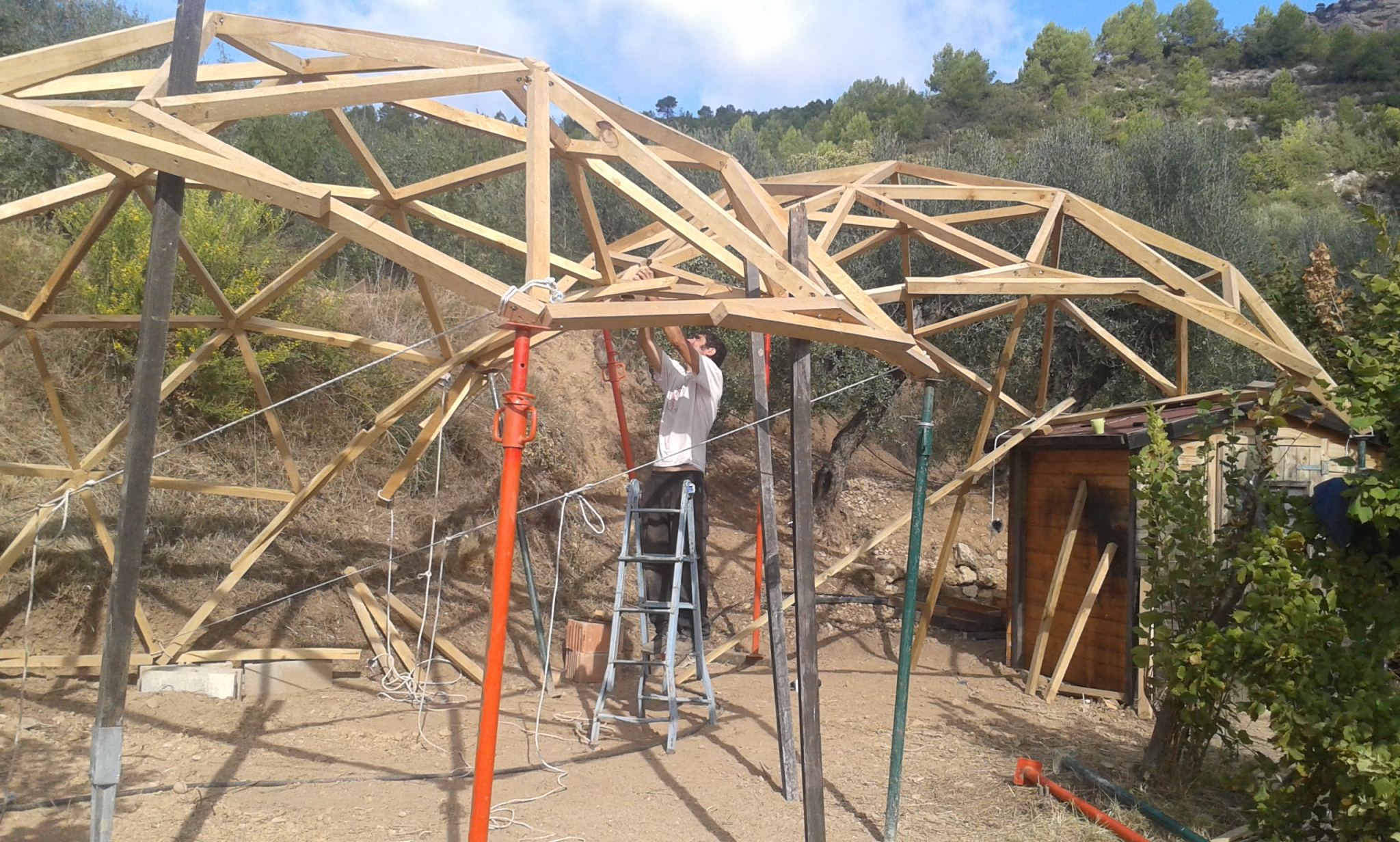 (Photos by Gemma.)
---
Interesting Links
Here's something sent by Sara Jordan, so great and so relevant—an interview with Rachel Yehuda on
"How Trauma and Resilience Cross Generations
"
---
~Photos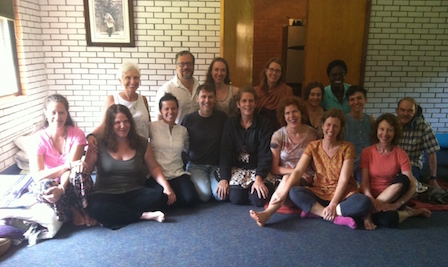 Last summer's retreat in North Carolina, above, and photos from Jaya's retreat at Sharpham House in the UK this fall, below.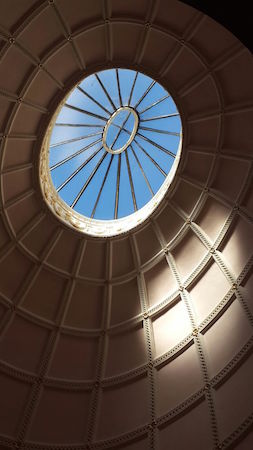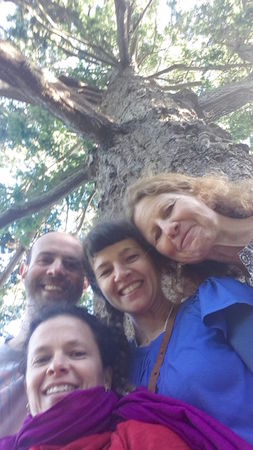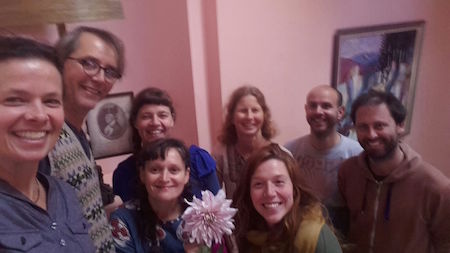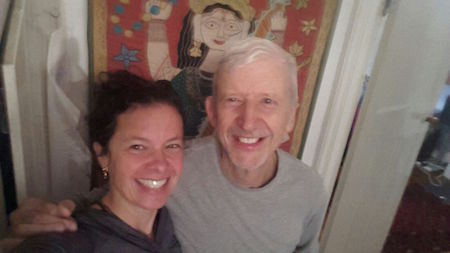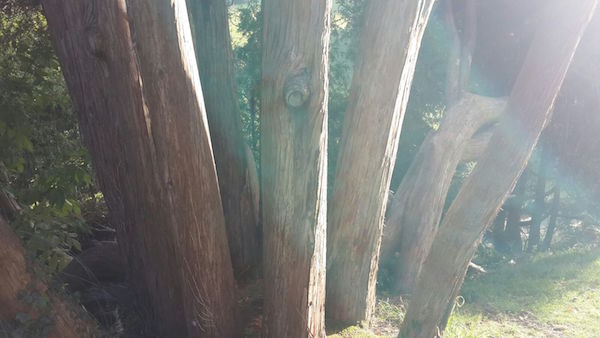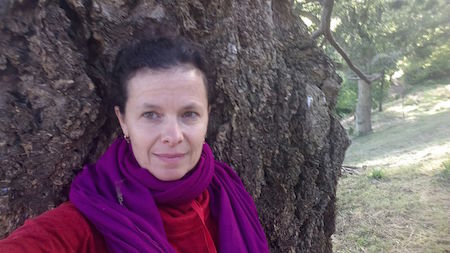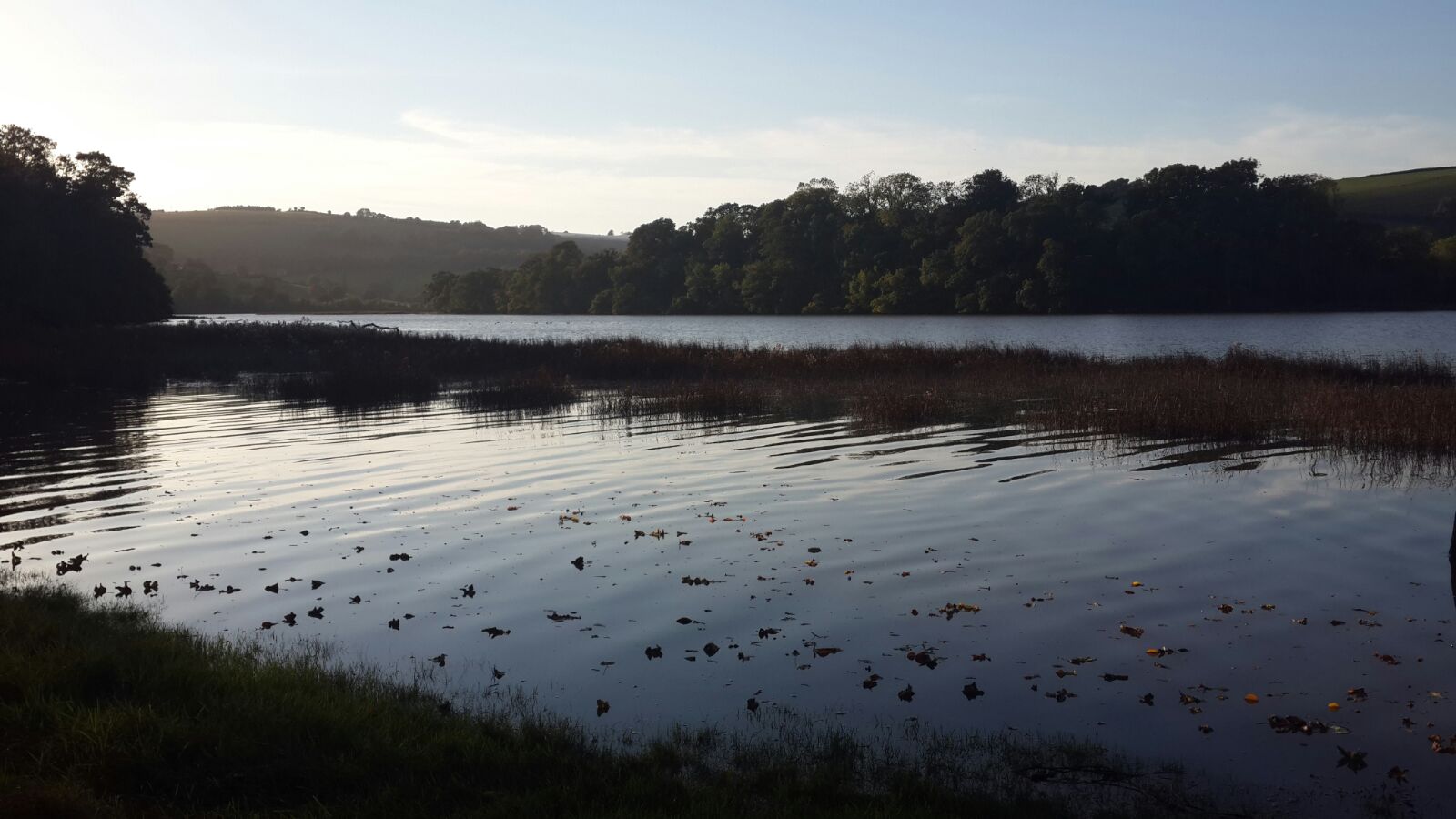 ---
~ Upcoming Retreat Dates & Details
16-18 October, 2015.
Meditation with horses retreat at Dharmaloca, Catalonia, Spain.
Letting the horses whisper our true nature.
Teachings will be in English and Spanish if needed.
Facilitator: Gemma Polo.
For information and registration, write to:
gemmaji(@)gmail.com
www.awakeningwithhorses.org
24 October-3 November, 2015.
Retreats and dharma talks in Australia.
Teachings will be in English.
Facilitator: Jaya Ashmore.
For information and registration, write to:
ozopendharma(@)gmail.com
6-12 November, 2015.
Meditation retreat in Germany.
Silence, deep rest, connected movement, sound, genuine inquiry, guidance and
heart connection.
Teachings will be in English.
Facilitator: Gemma Polo.
For information and registration, write to:
Germanyretreat(@)gmail.com
27-29 November, 2015.
Deep rest and meditation retreat near Banyoles, Catalonia, Spain.
It is time to lovingly enter the depths of your being...
Teachings will be in Catalan and Spanish if needed.
Facilitator: Gemma Polo.
For information and registration, write to:
Gemmaji(@)gmail.com
www.mamakilla.cat
1-8 and 8-15 January, 2016.
Two 7-day silent meditation retreats at Anantha Niketan Ashram near Tiruvannamalai, south
India.
Meditation through deep rest to contact life beyond ideas
Teachings will be in English.
Facilitator: Jaya Ashmore.
Guest facilitator: Odelia Weinberg.
For information and registration, write to:
manager(@)opendharma.org
4-11 March, 2015.
Deep Rest retreat in Karjalohja, Finland.
Teachings will be in English.
Facilitator: Jaya Ashmore.
For more information check:
opendharmafinland.wordpress.com
23-27 March, 2016.
Becoming intimate, silent retreat at Diáfanum, Gredos, Spain.
Transformation through deep rest, loving inquiry, nature, and sound.
Teachings will be in Spanish.
Facilitator: Gemma Polo.
For information and registration, write to:
gemmaji(@)gmail.com
www.diafanum.com

30 March-6 April and 6-13 April, 2015.
Two 7-day Deep Rest and meditation retreats in the foothills of the Himalayas, North India
Teachings will be in English.
Facilitator: Jaya.
For information and registration, write to:
manager(@)opendharma.org

28 May-3 June, 2016.
Deep rest, meditation, and connected trekking retreat in The National Park of Ordesa and Monte Perdido, Huesca, Spain.
Silence, spectacular beauty, yoga, meditative singing, and sweet and inspiring guidance.
Teachings will be in Spanish and English if needed.
Facilitator: Gemma Polo.
Daniel Benito will be facilitating the connected trekking and yoga.
For information and registration, write to:
info(@)casacuadrau.org
www.casacuadrau.org
24-26 June, 2016.
Women's meditation retreat at Gayles, Eastbourne, England.
Entering the power of our womb and the beauty of our cycles through silence, deep rest, connected movement, sound and guidance.
Teachings will be in English.
Facilitator: Gemma Polo.
For information and registration, write to:
info(@)retreattogayles.co.uk
www.retreattogayles.co.uk
For more information about retreats organized by our sister organizations visit www.SanghaCalendar.org
~ Welcome to Everyone
We would love to share your inspiration in an upcoming newsletter. Photos! Poems! Drawings! Musings! Reflections on a recent--or not so recent--retreat! (You can even tell us that you'd like to contribute anonymously.) Please feel free to send any contributions to:
newsletter (at) opencentre.es
---
Rincón Latino
En esta newsletter
~ Noticias
~ Reflexión mensual por Gemma
~ Photos
~ El gusanito, por Hedy
~ Próximos eventos
~Noticias
Queridos amigos
Os escribo recibiendo la luz mágica del otoño que estos días me está bañando dulcemente.
Me llena de alegría ver el proceso de transformación que está tomando Dharmaloca. Mi amigo Jordi, con su gran sabiduría sobre geometía sagrada y su infinita creatividad, acaba de pasar 15 días intensos en Dharmaloca creando un espacio precioso que será el nuevo taller y almacén de materiales comunitarios.
¡Mil gracias Jordi por tu dedicación y por creer que otra forma forma de vida es posible! y mil gracias al gran trabajo y dedicación de Omer, Day y Michal, ya que sin ellos nada habría sido posible.
Entrevista a Jordi Cavaller Badia sobre geometría sagrada
Estamos haciendo planes para invitar a Jordi a ofrecernos un retiro-taller experiencial de geometría sagrada aquí en Dharmaloca el próximo mayo-junio. Bienvenidos!
También quiero dar las gracias Thjis, que de nuevo vino para hacer un retiro personal y con sus manos preparó el espacio de la futura balsa natural. Gracias! ahora solo queda poner la tela impermeabilizante, ques està esperando el momento en que muchas manos puedan venir a levantárla y colocarla ya que pesa más de 200 Kg.!
Me dá especial ilusión anunciaros que por fin ofreceré un retiro de profundo descanso y meditación per estas tierras y en catalán o castellano. Últimamente sólo ofrecía en otros países…

Retiro de profundo descanso y meditación.
27-29 noviembre 2015 en Mamakilla, Banyoles.
Es hora de entrar amorosamente en las profundidades de tu ser...
A través de la meditación estirada y el silencio, en buena compañía y con palabras de inspiración, haremos espacio para reencontrarnos con la Fuente y escuchar el susurro de la sabiduría que nos habita.
Gemma Polo nos acompañará en este proceso desde la genuinidad de cada individuo, dulcemente, sin prisas y aún así, con la urgencia de vivir en plenitud.
Meditaremos, andaremos en la naturaleza, cantaremos, escucharemos, nos moveremos de manera conectada, gozaremos del silencio... y sobretodo descansaremos el cuerpo y la mente para ser transformados.
Bienvenida: viernes día 27 a las 19h
Despedida: domingo día 29 a las 16h
Precio: 120€ por la estancia, la comida vegetariana y los gastos de organización + donación consciente para la facilitadora que podrás hacer al finalizar el retiro.
Existe un universo de libertad cuando se ofrece sin precio, tanto para el que da cómo para el que recibe.
Más información e inscripciones: Gemmaji(@)gmail.com
www.opendharma.org
Sobre el lugar:
www.mamakilla.cat
Entrevistas Personales
Gemma ofrece entrevistas personales a través de donaciones vía Skype o teléfono. Si deseas concretar día y hora manda un email a gemmaji(@)gmail.com
Cuidador de Dharmaloca y voluntariado
Hay una plaza libre para hacer de cuidador o cuidadora de Dharmaloca empezando el 20 de diciembre. Lo ideal sería comprometerse un mínimo de 3 meses. Se trata del privilegio de hacer una experiencia de conocerse a uno mismo en contacto con la naturaleza y haciendo unas horas de trabajo de manutención del eco-eremitorio a cambio de la estancia y la comida. Ahora también abrimos la posibilidad de que esta posición de cuidador sea de uno a tres años y se convierta así en una posibilidad de adentrarse aun más.
Por otro lado, si tienes conocimientos en carpintería, construcción de pared seca, o eco-construcción en general y te apetece venir de voluntario o voluntaria en cualquier momento, por favor contáctanos. Gracias!
Para más información: dharmalocaretreat(@)opendharma.org

Manjeeta
Manjeeta de Chile, que ayudó con la organización de muchos retiros y con la pagina web de Open Dharma en los primeros años. Ahora ella está de vuelta en Santiago de Chile y ha filmado estas hermosas entrevistas en Castellano.
Entrevista a José Aldunate
Fuerza Pepe Aldunate
Entrevista a Andrés Aylwin
Entrevista a Karoline Mayer
Entrevista a Reinaldo Sapag
Movimiento Laicos Osorno
---
~Reflexión Mensual por Gemma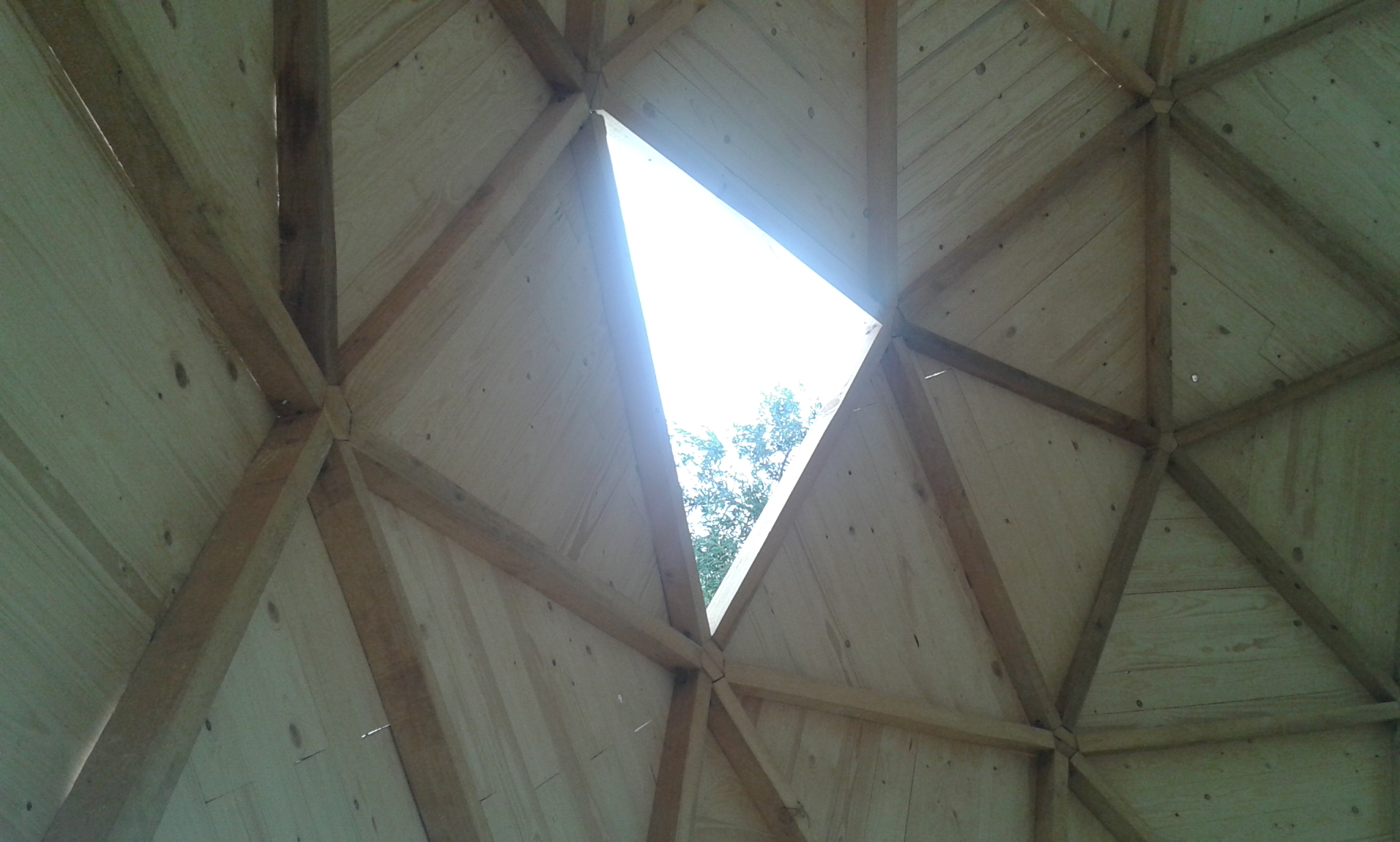 Amor, compromiso, voz del alma.

Hace días, o quizás meses, que me llega esta pregunta una y otra vez: ¿cómo amar cuando ya has amado? ¿cómo prometer cuando ya has prometido y luego roto lo prometido?
Vivimos en un mundo, o en una parte del mundo dónde hemos ganado la libertad de escuchar nuestras emociones e inventar nuestra realidad entorno a estas. Podemos decidir ir por otro camino incluso después de habernos comprometido a andar un camino concreto. Podemos casarnos y después descasarnos, escoger otra dirección, volar para sobrevivir, para seguir lo que sentimos, o simplemente porqué nos apetece cambiar.
Hay una libertad ganada, y con ella una responsabilidad tremenda. Es la tragedia y la belleza de poder escoger, cambiar, inventar, volar…
Una vez hemos roto lo que pensábamos que era para siempre, es como si se hubiera roto algo esencial, la parte de uno mismo que cree en sus propias decisiones y habilidades para llevar algo a término, la parte que es consecuente y estable más allá de las emociones, la parte que va con lo prometido incluso a expensas de la felicidad, la parte que no duda ni cuestiona, sino que lucha, tira adelante a pesar de.
Después de haber prometido de verdad, desde el corazón que conoce la serenidad debajo de las olas, sólo la llamada del alma puede arrancarnos hacia otros caminos. Sólo si aún estamos vivos y sabemos que nos estamos ahogando, podemos hacer cuánto sea para salvarnos, para honrar la vida incluso más allá de las ideas y las palabras, más allá de lo prometido.
En este tiempo, y en este lugar del mundo en el que se nos permite separarnos después de habernos casado, hemos ganado la posibilidad de darle brillo al alma justo antes de que empiece una decadencia sin retorno, y hemos perdido el honor de la palabra y en muchas ocasiones, la habilidad de poner todo nuestro ser al encuentro de la serenidad más allá de las olas.
Esta libertad nos hace adultos, nos permite cuestionar, sentir, revisar…y nos hace responsables del discernimiento necesario para saber si estamos rompiendo lo prometido mientras somos olas del mar, o mientras descansamos en lo más profundo de nuestro ser.
Los resultados quizás se parezcan, pero en realidad las dos acciones son muy diferentes.

(Photo por Gemma.)
---
El gusanito

Allí donde nos lleva el corazón…

"Un pequeño gusanito caminaba un día en dirección al sol. Muy cerca del camino se encontraba un chapulín. "¿Hacia dónde te diriges?", le pregunto. Sin dejar de caminar, la oruga contestó: "Tuve un sueño anoche, soñé que desde la punta de la gran montaña miraba todo el valle. Me gustó lo que vi en mi sueño y he decidido realizarlo".
Sorprendido, el chapulín dijo mientras su amigo se alejaba: ¡Debes estar loco! ¿Cómo podrás llegar hasta aquel lugar? Tú, una simple oruga! Una piedra será una montaña, un pequeño charco un mar, y cualquier tronco una barrera infranqueable". Pero el gusanito ya estaba lejos y no lo escuchó. Sus diminutos pies no dejaron de moverse.
De pronto se oyó la voz de un escarabajo: "Hacia dónde te diriges con tanto empeño?". Sudando ya el gusanito, le dijo jadeante: "Tuve un sueño y deseo realizarlo, subiré a esa montaña y desde ahí contemplaré todo nuestro mundo".
El escarabajo no pudo soportar la risa, soltó la carcajada y luego dijo: "Ni yo, con patas tan grandes, intentaría una empresa tan ambiciosa". El se quedó en el suelo tumbado de la risa mientras la oruga continuó su camino, habiendo avanzado ya unos cuantos centímetros. Del mismo modo, la araña, el topo, la rana y la flor aconsejaron a nuestro amigo a desistir. "¡No lo lograrás jamás!", le decían, pero en su interior había un impulso que lo obligaba a seguir. Ya agotado, sin fuerzas y a punto de morir, decidió parar a descansar y construir con su último esfuerzo un lugar donde pernoctar. "Estaré mejor", fue lo último que dijo, y murió.
Todos los animales del valle por días fueron a mirar sus restos. Ahí estaba el animal más loco del pueblo. Había construido como su tumba un monumento a la insensatez. Ahí estaba un duro refugio, digno de uno que murió por querer realizar un sueño irrealizable.
Una mañana en la que el sol brillaba de una manera especial, todos los animales se congregaron en torno a aquello que se había convertido en una advertencia para los atrevidos. De pronto quedaron atónitos.
Aquella concha dura comenzó a quebrarse y, con asombro, vieron unos ojos y una antena que no podía ser la de la oruga que creían muerta. Poco a poco, como para darles tiempo de reponerse del impacto, fueron saliendo las hermosas alas arcoiris de aquel impresionante ser que tenían frente a ellos: una mariposa.
No hubo nada que decir, todos sabían lo que haría: se iría volando hasta la gran montaña y realizaría un sueño; el sueño por el que había vivido, por el que había muerto y por el que había vuelto a vivir."

Cuento popular.






por Hedy
---
Próximos Eventos
(Aquí listamos solo los que se harán en castellano y/o catalán)
16-18 Octubre, 2015.
Retiro de meditación con caballos en Dharmaloca, Tarragona, España.
Las enseñanzas se darán en inglés y en castellano si es necesario.
Facilitadora: Gemma Polo.
Para más información y para inscribirte, escribe a:
gemmaji(@)gmail.com
www.cavallspeldespertar.org
27-29 noviembre, 2015.
Retiro de profundo descanso y meditación cerca de Banyoles, Catalunya.
Es hora de entrar amorosamente en las profundidades de tu ser...
Las enseñanzas se darán en Catalán y Castellano si es necesario.
Facilitadora: Gemma Polo.
Para más información y para inscribirte, escribe a:
gemmaji(@)gmail.com
www.mamakilla.cat

23-27 marzo, 2015
Intimando, retiro en Diáfanum, Gredos, España.
Transformación a través del profundo descanso, la mirada amorosa, la naturaleza y la vibración.
Las enseñanzas se darán en Castellano.
Facilitadora: Gemma Polo.
Para más información y para inscribirte, escribe a:
gemmaji(@)gmail.com
www.diafanum.com
Avanzando para mayo y junio en Dharmaloca:
Chikung y profundo descanso en intimidad con la naturaleza.
Geometría sagrada
Retiros personales de 1 semana a 3 meses de duración
28 mayo-3 junio, 2016.
Retiro de profundo descanso, meditación y senderismo conectado en el Parque Nacional de Ordesa y Monte Perdido, Huesca, España.
Silencio, belleza espectacular, yoga, canto meditativo y dulce acompañamiento e inspiración.
Las enseñanzas se darán en Castellano y en Inglés si es necesario.
Facilitadora: Gemma Polo.
Daniel Benito facilitará el senderismo conectado y las sesiones de yoga.
Para más información y para inscribirte, escribe a:
info(@)casacuadrau.org
www.casacuadrau.org
Nos encantaría compartir tu inspiración en las próximas newsletters. Puedes mandar fotos, poesías, dibujos, reflexiones, comprensiones que vinieron durante o después de un retiro… (lo puedes hacer incluso de una forma anónima y en castellano o catalán). Por favor, manda tus inspiraciones a od.newsletter.latino (@) gmail.com.
Recuerda que si quieres recibir nuestros próximos eventos y posibles actividades de última hora vía email, puedes unirte al grupo informativo enviándonos un correo electrónico en blanco a la dirección: opendharmalatino-subscribe @ yahoogroups.com.