~ June & July Newsletter

(Para ir a la versión castellano desplázate al Rincón Latino situado al final de la página.)

(Photo: Sattal laundry, by Jaya.)
In this newsletter
~ News
~ The Monthly Theme, by Jaya
~ A Letter from Dharmaloca, by Gemma
~ Interesting Links
~ Photos
~ Upcoming Events
~ Rincón Latino
~ News

Le Moulin in June
Last space on retreat with Jaya in Europe this year: France at le Moulin de Chaves, 8 - 13 June: 5 days of deep rest meditation in the exquisite care of the Moulin team.
Mail(@)moulindechaves.org


UK Retreat....
There is still some space to join the 24 - 28 June retreat at Gayles, England, that Gemma is offering.
Deep rest, genuine inquiry, magic walks through endless green countryside, and a swimming pool! Info(@)retreattogayles.co.uk

Interviews

Jaya will offer one-to-one meetings via Skype or phone through opendharma.appointy.com.

The 10-15 minute interviews are offered on a completely donation basis, and 25-30 minute interviews are offered on a donation basis with a suggested sliding scale of 25-50 Euros. But we intend not to turn anyone away because of financial lack. If you have questions or would like to arrange another time not available through the appointy site, please contact Jessica at interviews(@)opendharma.org

Gemma offers personal interviews though Skype on donation basis. If you wish to have an interview please contact Gemma at gemmaji(@)gmail.com
Radio Dharma
Jaya will broadcast for half an hour on
Friday, June 5, 3:30pm
and
Friday, July 10, 6pm
(both Spain time, GMT+1) on
blogtalkradio.com/opendharma
.
You can call in live to ask questions or share your experience.
Jaya also welcomes suggestions for themes, or requests for guided meditations.
Retreats in India, 2016
We are pleased to announce dates for retreats in India in 2016!
Tiruvannamalai, 1 - 8 January and 8-15 January.
Sattal Deep Rest retreats, 30 March - 6 April, and 6 - 13 April.
Online With the Times
It is time for our precious opendharma.org to morph into the 21st century--to adapt to phones and tablets as well as computers.
When Open Dharma dawned along with the internet back in 1999, sending people the dates and details by email was a new thing.
Now we need to streamline and redesign to share all our resources via the new internet, so it is easier to stream talks and check upcoming events on a phone or tablet.
If anyone wishes to contribute expertise, time, design, or money for this project this year, please write directly to Jaya at jaya(@)opendharma.org
Spreading the Word
Sharing can make you happy. Please share these gorgeous posters for the August retreats with Jaya if you are inspired:
The 2-9 August retreat in Durham, NC, USA, poster thanks to Lisa and Kylie.
Please e-share and print-post!
The 14-21 August retreat in Sutton, Quebec, Canada has a Facebook event page and leaflets, thanks to Gab!
These links can be forwarded, or posters printed and taped up at a local cafe:
Facebook Event page
Leaflet in English
Leaflet in French
Bilingual Poster
(big JPG file, about 11 MB):
Caring for Dharmaloca
There is space for one caretaker at Dharmaloca, our eco-hermitage in Catalonia, Spain, from last week of August onwards. We usually ask for a commitment of 3 to 6 months. The caretaker lives, works, and apprentices at Dharmaloca--helping with the permaculture garden and facilities, welcoming guests, keeping an eye on the horses, and other essential work depending on your abilities and the needs of the time and place. There is time for your own practice, and much solitude in winter and the middle of summer.
This time, as someone might be coming from mid October till mid December, we would like to offer the space to someone whom might had already been here or had managed some retreats with us elsewhere, and or someone to help Gemma with building an extension to the tool shed and a chicken house.
Anyone with some skills on carpentry or willingness learn?
dharmalocaretreat(@)opendharma.org
Retreat to Dharmaloca
You are welcome for self-retreats at Dharmaloca!
This year arrival and departure day only Thursdays afternoon from 3rd September through 15th October.
Please notice that you have to have joined at least one retreat with Jaya or Gemma previously, and that during summer personal guidance may not be possible continuously. For more information: dharmalocaretreat(@)opendharma.org
---
~ The Monthly Theme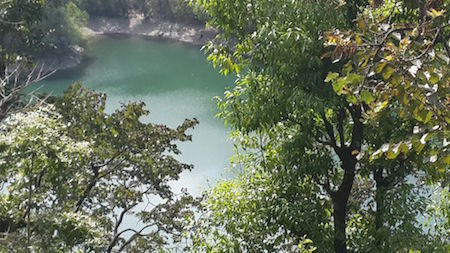 Monthly Theme for June & July ~ Invitation


Standing "under" a tree, what happens if we remember that we are also standing above

its roots? We are actually standing

inside

the wholeness of tree.
Similarly, what if we imagine or sense the unseen "roots" of the whole human being--the flow of air in and out, the unseen electromagnetic fields?

On retreat, we also rest into the subtle in the ungraspable nature of our experience: it can sometimes be unnerving, and joyful, to realize how even the most basic experiences are immediately here-­and-­gone in a continual flow. This sound is now precisely, intimately, completely gone as soon as it is here. Before we can name it. The flash of texture on the skin, the thought, the footstep. Even the most physical perceptions are nonverbal "writing on sky" in the words of a Tibetan Buddhist tradition.

What happens when we sense both our

subtle, ethereal reality along with the physical

structure? When I drink the night sky in through my little eyes, I feel unutterable humble joy--to be so small and yet scooped into the arms of such sparkling vastness.

Instead of living this humble joy, we tend to get preoccupied with one side of the continuum, and escape another. Then subtlety is not freedom but disappearance; physicality is not ground but a grind.

In urgent situations, or in the most supportive retreat, we often get the hang of being here now, integrating flow and ground--not using the spiritual path to avoid practical and psychological "issues," and not getting so caught up in practical binds and dramas that we forget our wide wisdom heart.

Opening our awareness to include the whole continuum of this here and now--­­the expansive flow and the precise limitations--what happens then? Experientially. Try it.

Being here, with the boundless and the specific, I notice a third element--­­an intensity, bright and electric, that is hard to bear, though not necessarily unpleasant.

In fact, it can often be so pleasant that we turn away--so juicy that we assume it is not spiritual anymore. We dull it down, or we replace the brilliance with drama.
We are allergic to our own intensity, to the forceful immediacy and unpredictability of life bubbling up. We need to adjust our practice to help us to bear the voltage.
Let's enjoy the challenge of getting to know this intensity that keeps bubbling up within us, without a cause.
I think it is the catalyst in our practice. The missing umph that allows our observations to be an actual shift that makes a difference in our lives.
Through practice we come to the relief of knowing clearly that our woundedness has a reason; has causes.
But this intensity does not. It just is.
And it is an invitation.

Like oil, water, and air, these 3 human qualities or "forces" expansive, physical, and intense--­­do not mix easily at first. Like height, width and depth, they seem to go in different directions.
Can we allow intensity to weave together with the expansive and the physical in a way that height, width, and depth do not pull apart but together?
This dynamic vortex invites us into a totality, where we are both at ease and vulnerable, but also powerful. In transformation and complete, but also generous. Nothing special. No escape. Fully giving and receiving.
I can find no other way to describe it--­­being a field of blessing.


by Jaya
(Photo by Jaya.)
---
A Letter from Dharmaloca
Dear Friends,

While everything is dancing its dance, and I move from one thing to the other taking care of the so many daily expressions, I'm happy to share with you that I'm involved taking a new step into Dharmaloca, to really prepare the place further to be offered to people, and to widen its meaning into not only as Open Dharma's eco-hermitage in Montsant, Catalonia, Spain, but also as a platform from where to offer retreats and guidance elsewhere. And, of course, as we are in this time of history, one of the things is taking me longer, and that needs lots of dedication, is the creation of the new Dharmaloca web. So far, a beautiful challenge! More soon, I hope…

by Gemma
---
~ Interesting Links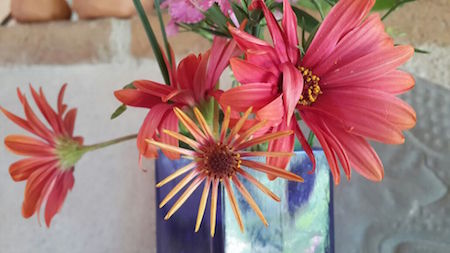 ~Interesting Links

~Fresh from Sattal! Here is a link to a new youtube video meditation that Tom Riddle and Jaya created this April, "Meditation on Aliveness in the Cells..."

~Jaya shares several video links on Giving. Here is an introduction to a second video showing an experiment exploring generosity and children,

and another, all conducted by Evolutionary Anthropologist Max Planck.

~In a similar vein, in this article,

"Connected Consumption,"

Sociology professor Juliet Schor discusses the Sharing Economy.

~ Tom Riddle shares a link to a video in which

Krishna Das

describes his decision to take some time off to rest after 20 years of travel & chanting.

~ An light-hearted article in which astrophysicists describe and discuss the illusory nature of solidity, titled

"Why Doesn't Your Butt Fall Through the Chair?"
(Photo: By Jaya.)
---
~Photos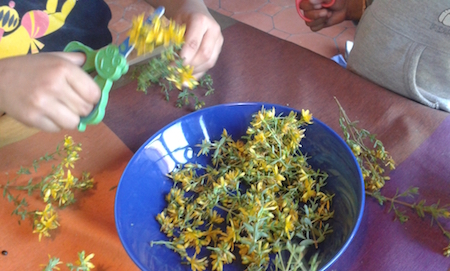 Summer is coming again to Dharmaloca, and with it the beautiful yellow flowers of Saint John's Wort. So we had a sweet morning picking flowers with Roz and then preparing them with the kids to macerate with almond oil.
In forty days we hope to have the oil ready, a great medicine to help with skin burns and contusions. Thanks, Mother Nature!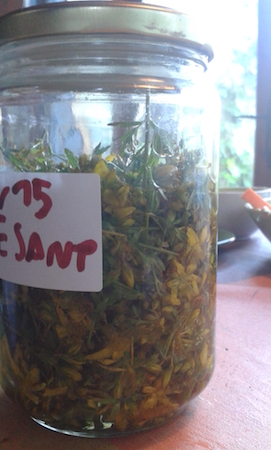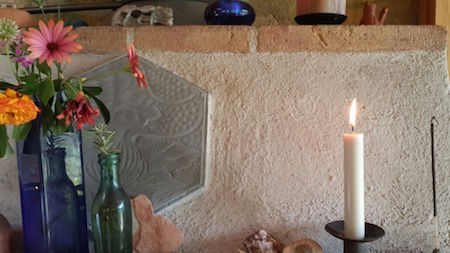 For the daily meditation connecting with people in Nepal in May...as announced on our Facebook page...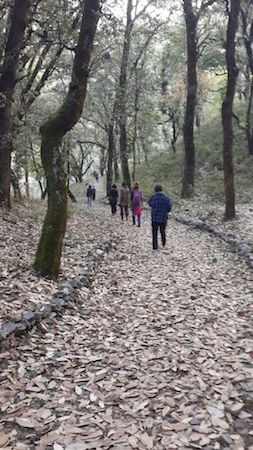 Sattal morning walk...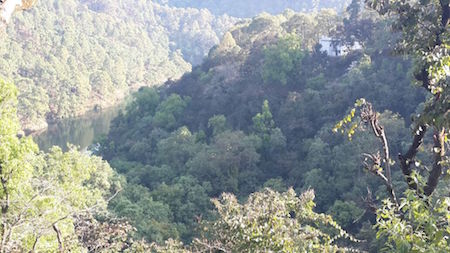 Sattal meditation hall with new rooms on top above the lake...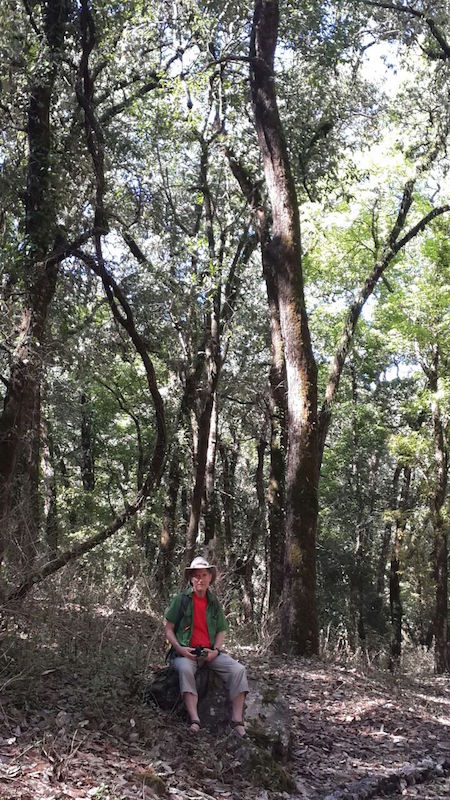 The inimitable Tom Riddle, at Sattal just after filming the guided meditation...and the Sattal group, below...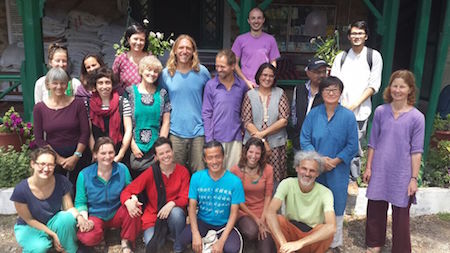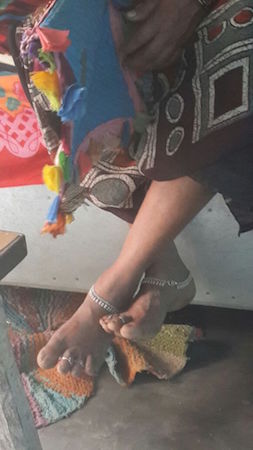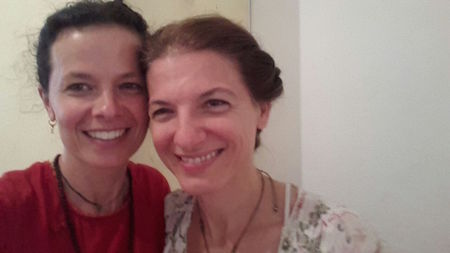 In Israel with Odelia-ji...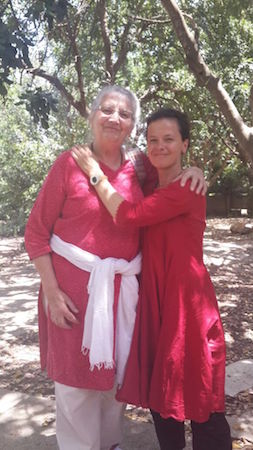 And Anandi-ji...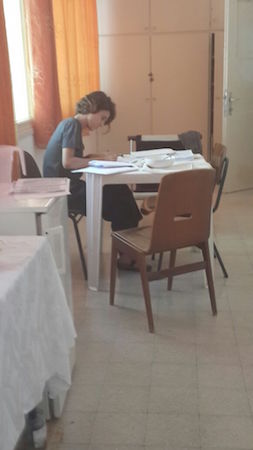 ...and at the Israel retreat, with managers Noga-ji, above, and Shachar-ji, below...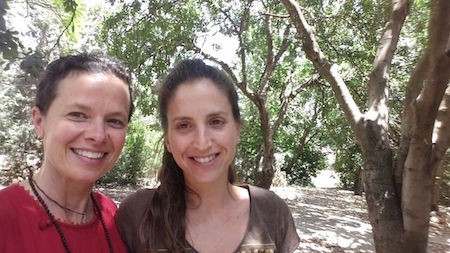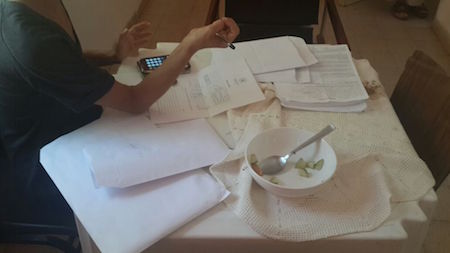 (Photos: St. John's Wort, by Gemma; Sattal & Israel by Jaya)
---
~ Upcoming Retreat Dates & Details
8 - 13 June, 2015

.
Deep rest and meditation retreat at Le Moulin, France.
Teachings will be in English.
Facilitator: Jaya Ashmore.
For information and registration, write to:
mail(@)moulindechaves.org
www.moulindechaves.org
24 - 28 June, 2015

.
Diving into meditation retreat in Eastbourne, UK.
Deep rest, silence and genuine inquiry.
Teachings will be in English.
Facilitator: Gemma Polo.
For information and registration, write to:
info(@)retreattogayles.co.uk
www.retreattogayles.co.uk
11 - 18 July, 2015

.
Deep rest and meditation retreat near Ter Apel, Holland.
Silence, nature, personal guidance, connected movement and meditative singing.
Teachings will be in English.
Facilitator: Gemma Polo.
For information and registration, write to:
opendharmaholland(@)hotmail.com
2 - 9 August, 2015


Silent deep rest meditation retreat near Durham, North Carolina, USA.
Teachings will be in English.
Facilitator: Jaya Ashmore.
For information and registration, write to:
opendharma.nc(@)gmail.com
14 - 21 August, 2015


Silent deep rest meditation retreat in Quebec, Canada.
Offered completely on a donation basis.
Teachings will be in English.
Facilitator: Jaya Ashmore.
For information and registration, write to:
quebec(@)opendharma.org
4 - 9 September, 2015
True connection and meditation retreat in the Velebit Nature Park of Croatia.
Silence, nature, personal guidance, connected movement and meditative singing.
Teachings will be in English with transtalion to Croatian if needed.
Facilitator: Gemma Polo.
For information and registration, write to:
croatia(@)opendharma.org
www.lindenretreat.com
21 - 28 September, 2015
Silent deep rest meditation retreat at Sharpham in Totnes, Devon, UK.
Teachings will be in English.
Facilitator: Jaya Ashmore.
For information and registration, write to:
totnes(@)opendharma.org
16 - 18 October, 2015

.
Meditation with horses retreat at Dharmaloca, Catalonia, Spain.
Letting the horses whisper our true nature.
click here for information about the place and how to get there
Teachings will be in English and Spanish if needed.
Facilitator: Gemma Polo.
For information and registration, write to:
gemmaji(@)gmail.com
www.awakeningwithhorses.org
24 October - 3 November, 2015.
Retreats and dharma talks in Australia.
Teachings will be in English.
Facilitator: Jaya Ashmore.
For information and registration, write to:
ozopendharma(@)gmail.com
6 - 12 November, 2015.
Meditation retreat in Germany.
Meditation through silence, deep rest, yoga, genuine inquiry and heart connection.
Teachings will be in English.
Facilitator: Gemma Polo.
For information and registration, write to:
germanyretreat(@)gmail.com
1 - 8 and 8 - 15 January, 2016.
Two 7-day silent meditation retreats at Anantha Niketan Ashram near Tiruvannamalai, south India.
Meditation through deep rest to contact life beyond ideas.
Teachings will be in English.
Facilitator: Jaya Ashmore.
Guest facilitator: Odelia Weinberg.
For information and registration, write to:
manager(@)opendharma.org

30 March - 6 April, 6-13 April, 2016 Deep rest retreat in Sattal Ashram

30 March - 6 April and 6 - 13 April, 2016.
Deep rest retreat in Sattal Ashram, India.
For information and registration, write to:
manager(@)opendharma.org
For more information about retreats organized by our sister organizations visit www.SanghaCalendar.org
~ Welcome to Everyone
We would love to share your inspiration in an upcoming newsletter. Photos! Poems! Drawings! Musings! Reflections on a recent--or not so recent--retreat! (You can even tell us that you'd like to contribute anonymously.) Please feel free to send any contributions to:
newsletter (at) opencentre.es
---
Rincón Latino

En esta newsletter
~ Noticias
~ Reflexión mensual por Gemma


~ Sabes exactamente dónde tienes que mirar, por Hedy


~ Próximos eventos





~Noticias

Queridos amigos
Mientras todo sigue su ritmo y yo atiendo las mil cosas de la vida de cada día. Soy feliz de deciros que estoy preparando Dharmaloca para llevarlo un paso más hacia ser ofrecido como eco-eremitorio y también para sentar las bases desde dónde poder ofrecer retiros y talleres en otras lugares. Y claro, ya que estamos en el momento de la historia en el que nos encontramos, una de las cosas que me está tomando mucho tiempo es la creación de la nueva página web de Dharmaloca. ¡Todo un reto! Espero poderos daros más noticias pronto…

Si te apetece ayudarnos a pasar la información de nuestros eventos, por favor mándanos un email a opendharma(@)gmail.com y te mandaremos algunos posters en PDF para que los puedas reenviar a tus contactos o colgar en tu barrio. Gracias!

Entrevistas Personales
Gemma ofrece entrevistas personales a través de donaciones vía Skype o teléfono. Si deseas concretar día y hora manda un email a gemmaji(@)gmail.com

Cuidador de Dharmaloca
Hay una plaza libre para hacer de cuidador o cuidadora de Dharmaloca empezando la ultima semana de agosto. Lo ideal sería comprometerse un mínimo de 3 meses. Se trata del privilegio de hacer una experiencia de conocerse a uno mismo en contacto con la naturaleza y haciendo unas horas de trabajo de manutención del eco-eremitorio a cambio de la estancia y la comida. Ahora también abrimos la posibilidad de que esta posición de cuidador sea de uno a tres años y se convierta así en una posibilidad de adentrarse aun más.
Apreciaríamos recibir a alguien con algunos conocimientos de carpintería para ayudar a Gemma a crear una nueva extensión de la casita de las herramientas y un gallinero. Gracias!
Para más información: dharmalocaretreat(@)opendharma.org

¡Bienvenidos para retiros personales en Dharmaloca!
Este año los días de llegada y salida son los jueves por la tarde, del 3 de septiembre hasta el 15 de octubre.
Por favor observa que para hacer un retiro personal en Dharmaloca previamente tienes que haber atendido al menos un retiro con Jaya o Gemma, y que durante el verano el acompañamiento personal quizás no podrá ser continuado.
Para más información: dharmalocaretreat(@)opendharma.org
---
~Reflexión Mensual por Gemma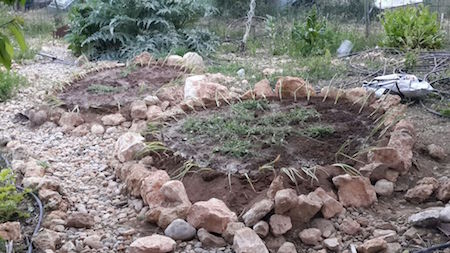 Como la vida misma

Aaaaaah! cuanto quisiéramos que las cosa fueran de la manera que nosotros queremos y fueran a la velocidad que nosotros deseamos o creemos deberían ir…
Así mujeres que aman las flores y la dulzura se encuentran pasando los domingos en campos de fútbol para acompañar a sus hijos y sus pasiones. O personas súper eco nos encontramos haciendo más kilómetros en coche que los más insensibles que nunca han oído hablar de eco, ni de reciclaje, ni de permacultura, ni…
¡Así de bonita es la vida! completa, con retos, interrogantes y contradicciones.
Parece que cuando más atado lo quedemos tener todo, más se nos viene todo abajo, y más nos frustramos, y más energía gastamos en re controlar o redirigir.
¡Si pudiéramos amar lo que es! tal como es! sin más! podríamos dejar de mirar las olas del mar con sus idas y venidas para poner nuestra mirada en el interior y nuestros ojos en el horizonte.
A menudo damos demasiada importancia a lo que sentimos en un instante concreto, es decir que nos quedamos viendo la ola y nos llegamos a creer que eso es todo lo que hay: nuestra lentitud, caos, contradicciones… perdiendo la capacidad de una visión más ancha, o en otras palabras olvidando el rumbo, la quietud del fondo del mar y la belleza del horizonte.
Es paradójico que amar el caos signifique amar la plenitud y a la vez, no parece haber otro camino hacia la vida que la vida misma, con todo lo que es, con nuestra rabia y nuestra ternura.

(Photo por Jaya.)
---
~Sabes exactamente dónde tienes que mirar
Hedy comparte un cuento de Anthony de Mello sobre la sensibilidad.
Una ostra vio a una perla que había caído en un hueco en el fondo del océano. Después de muchos esfuerzos la recuperó y la puso en una hoja a su lado. Sabía que los humanos buscaban las perlas y pensó "esta perla les tentará y me dejaran en paz a mí".
Un pescador de perlas, los ojos del cúal estaban hechos a buscar ostras y no perlas encima de una hoja, llegó a ese lugar.
Naturalmente atrapó la ostra -- la qual, por cierto, no tenía ninguna perla – y dejó que la perla de la hoja cayera de nuevo en el hueco.
Sabes exactamente dónde tienes que mirar. Por eso no consigues encontrar a Dios.

Texto del libro "La plegaria de la rana" de Anthony de Mello.






por Hedy
---
Próximos Eventos
(Aquí listamos solo los que se harán en castellano y/o catalán)

16 - 18 Octubre, 2015.
Retiro de meditación con caballos en Dharmaloca, Tarragona, España.
Dejando que los caballos nos susurren nuestra verdadera naturaleza.
clic aquí para mas información sobre el sitio y como llegar hasta allí
Las enseñanzas se darán en inglés y en castellano si es necesario.
Facilitadora: Gemma Polo.
Para más información y para inscribirte, escribe a:
gemmaji(@)gmail.com
www.cavallspeldespertar.org

Nos encantaría compartir tu inspiración en las próximas newsletters. Puedes mandar fotos, poesías, dibujos, reflexiones, comprensiones que vinieron durante o después de un retiro… (lo puedes hacer incluso de una forma anónima y en castellano o catalán). Por favor, manda tus inspiraciones a od.newsletter.latino (@) gmail.com.
Recuerda que si quieres recibir nuestros próximos eventos y posibles actividades de última hora vía email, puedes unirte al grupo informativo enviándonos un correo electrónico en blanco a la dirección: opendharmalatino-subscribe @ yahoogroups.com.