~ December & January Newsletter

(Para ir a la versión castellano desplázate al Rincón Latino situado al final de la página.)

(Photo by Jaya.)
In this newsletter
~ News
~ Theme for Exploration, by Jaya
~ Feet
~ Loads of Interesting Links
~ Photos
~ Upcoming Events
~ Rincón Latino
~ News

Interviews

Jaya will offer one-to-one meetings via Skype or phone during December & January through opendharma.appointy.com.
The 10-15 minute interviews are offered on a completely donation basis, and 25-30 minute interviews are offered on a donation basis with a suggested sliding scale of 25-50 Euros. But we intend not to turn anyone away because of financial lack. If you have questions or would like to arrange another time not available through the appointy site, please contact Jessica at interviews(@)opendharma.org
Gemma offers personal interviews though Skype on donation basis. If you wish to have an interview please contact Gemma at gemmaji(@)gmail.com
Radio Dharma
You can listen to Jaya's radio dharma talks any time after the live broadcasts on
12 December
at 3pm (Spain time, GMT+1) and
23 January
at 3pm (Spain time, GMT +1). Jaya loves when someone is there listening live, but many people listen, often more than once, to the talks later on.
There are over 30 talks by Jaya already available on the free internet radio siteblogtalkradio.com Please go to blogtalkradio.com and search for "Jaya Ashmore" to join. And if you don't want to miss these events, then click on "follow," just under the Open Dharma logo. If audio quality is not good, try downloading rather than direct stream.
All New Open Dharma Streaming Begins with a 3-Day Retreat
3 days of online retreat in February with Jaya! Connect at home, in all kinds of ways!
After lots of work behind the scenes, we are inaugurating our own online forum, Open Dharma Streaming, with a 3-day retreat. Join Jaya and some of her all-time favorite texts from wherever you are on
17, 18, and 19 February
during the day 10 am - 4 pm (Spanish time, GMT+1). Yes, this retreat will include meditation as well as in-depth text exploration, including a part of the Patanjali Yoga sutras and the Majjhima Nikaya of Gautam Buddha.
Do any one or all four of the days, but full commitment to the day is essential.
There will be a charge to help Open Dharma cover the significant past and future costs of creating Open Dharma Streaming, and as usual the teachings are offered freely.
Contact Shahar for more information: shahar(@)opendharma.org
This first retreat is the beginning of something big. Just recently someone asked Jaya, "How can we get you off blogtalkradio into a more accessible format?" Well, we plan to host Jaya's monthly radio talks from the new Open Dharma Streaming center, and to make them available as a podcast you can find, follow, download and listen to more easily. We also hope to continue to host occasional talks by our diverse voices of wisdom among the Open Dharma community--but from our own Open Dharma Streaming rather than blogtalkradio.
Recordings of talks and meditations on retreats in the last few years will finally be available from there soon, too. (Thanks, Ulrike and Benoit!)
One-way streaming or downloadable audio and video talks are just the beginning.
Jaya will also offer a 9-month online chance to connect in small groups with ancient texts and our own minds, hearts and freedom. (See more info in this newsletter about this application-only opportunity to be part of an intimate exploration of what is important.)
We intend to offer many ways to connect securely with us and each other, without ads.
We especially value the chance to meet in a one-time or ongoing group where everyone can hear and see and communicate with everyone else in a group dialog, for example.
Eventually, these online events can be automatically recorded and accessed through the Open Dharma Streaming center.
The first retreat will help cover a small part of the costs of getting this far.
If you wish to help the Open Dharma Streaming project come to completion faster, your kind donations of any size make all the difference. Contact Shahar if you'd like to offer help or a donation: shahar(@)opendharma.org
Many thanks to Ernest for his devotion to this project.
Precision in the Flow--20 February till 20 November, 2015
Jaya will lead small groups of about 8 people each in finding the edges of discovery in our practice and lives. As mindfulness, yoga, and meditation enter the mainstream, they easily lose their finer and more challenging points. Now that we more commonly hear about "being in the flow" or the "zone," we can focus on keeping to the precision that makes the flow fruitful.
By reading select texts from different traditions, we will taste some of the finest and most demanding teachings of all time, using modern technology like internet to help us gather and apply this timeless experiential wisdom to our own lives.
In contrast to the usual online mass teachings and hidden identities, we will explore in a small "circle" of people, as if warm and bright around a fire.
The fire: our love of deepening connection with life—through meditation, friendship and teachings.
The warmth: our connections with many layers of ourselves, each other, and the spiritual ancestors who kindly passed on their experiential wisdom.
The brightness: that paradoxically sharp, kind edge of love, of willingness to be lived, of openness to live a vast yet simple life.
The exploration is about embodying the fundamentals of meditation and freedom, each in our unique way. We will have plenty of time with select text teachings, so that we do not just think about the concepts but so we can enjoy and digest the particular taste of each. Along the way we will learn ways of finding the juice in the teachings through the crusts of traditions and centuries. We will include parts of the Patanjali Yoga Sutras, Meerabai, Yoga Vashisht, and the Buddhist Majjhima Nikaya. Other texts may come in organically.
Teachings are offered on a donation basis. The course cost of 300 Euros total (about 33 Euros a month) will help cover the costs of our online infrastructure, internet, and some thank-­you support for the course organizing.
By application only.
Please send the following details in an email to:
shahar(@)opendharma.org
Name, country, Open Dharma experience, past and current spiritual practices with dates, and a paragraph on why you would like to participate.
Applications are due by 20 January, 2015
.
Taking Care
There is space for one caretaker at Dharmaloca, our eco-hermitage in Catalonia, Spain, from March onwards. We usually ask for a commitment of 3 to 6 month. The caretaker lives, works, and apprentices at Dharmaloca--helping with the permaculture garden and facilities, welcoming guests, keeping an eye on the horses, and other essential work depending on your abilities and the needs of the time and place. There is time for your own practice, and much solitude in winter. Please email Gemma for more information: gemmaji(@)gmail.com.
New Retreat Dates
There are several new upcoming retreat dates with Jaya:
Sattal, India, in the gorgeous foothills of the Himalayas: 5-12 and 12-19 April.
In Israel, an evening, a weekend and a week, 20 - 30 May.
In the Dordogne of France, on the river at Le Moulin, June 8 - 13, one more time!
North Carolina in the US: weekend of 30 July - 2 August, and weeklong of 2 - 9 August, or stay for all 10 days.
Back in Quebec at a great retreat center, 14 - 21 August
And for the first time ever, Jaya will finally step foot in Totnes, Devon and teach at lush Sharpham 21 - 28 September!
Full to Bursting!
Uh oh. We have run out of space on our server for all the recorded talks and meditations that are available on a donation basis.
The wonderful Ulrike and fabulous Benoit have processed the recordings from the last few years and they are ready to go up, but we do not have space for everything.
We have two options.
If someone would like to donate the cost--about $30 per month--of the expanded server capacity, we can just keep offering everything, new and old. If a bunch of people all together want to contribute to the cost, also fantastic.
Please let us know by contacting Shahar: S
hahar(@)opendharma.org
If support comes flooding in before
December 20
, then we can keep everything up.
If no one steps forward to support this expansion by Dec 20, then we will simply need to remove most of the old talks.
And by the way...
Are there some recordings currently available that you would especially like us to keep available? Whether for your own or for others' benefit and enjoyment? Please let us know by contacting Shahar: S
hahar(@)opendharma.org
And also by the way, the recordings will soon be hosted in the new space on the website called Open Dharma Streaming.
---
~The Practice Theme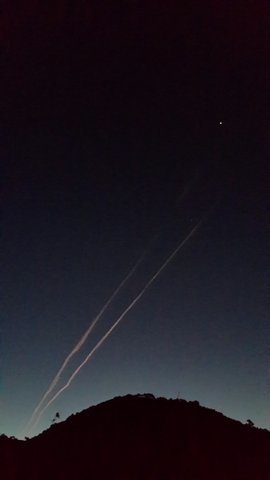 Theme for Exploration, December & January ~ Nudge and Flow

In my twenties, I neglected to practice meditation for several years. I was in a spiritual group, our entire lives revolved around Dharma, but nobody meditated. We were anti-practice.

Although we did practice many things--every day listening to teachings, for example--we thought meditation was for beginners. And we did not want to think of ourselves as beginners. (A serving of blind spiritual ego, anyone?)

In the middle of monsoon one year, when the teachings were at a lull, an old friend invited me to meditate with one other person. "I will come by and pick you up at 6 tomorrow morning."
It was not a question, and there was no need to question: it was just the right timing for me to start meditating again, at long last.
The fact that my friend would be at my gate was enough to get me up and out, to walk together the rest of the way to the little cement house by the forest where three of us would simply be still together for an hour. Radical beginning.

Many of us live in situations where we are surrounded by people who do not meditate.
We have an anti-practice culture.
Or we are surrounded by people who practice, but we do not.
Or we practice, but just to check it off on our list.
It is worth wrestling with what stops us. (Do we think that we should not need to practice--that we should already be done? Do we think we do not "deserve" to meditate, or to sink into our deepest aliveness before we attend to outer pressures? Do we really think we do not have time to "do nothing?" Are we afraid to be happy, or to be ourselves in our own lives? Perfectionism, guilt, postponement? Do we shy away from the tenderness, unpredictability, and humility of practice? I don't mean just the humility of not being perfect. Are we mostly shy of the silent, simple, unspeakable vastness that goes so far beyond us (as we know us) that we no longer have any reference points?

Now, there may be times when a pause in a rigid or controlling practice pattern may be healthy. We can re-group and come back into the flow with more heart and fluidity.

But in general we can ask, What has (or can have) authority over our habit energy of avoidance? Who inside us is big and friendly enough to stand at our gate at 6 tomorrow morning?
There is something childish in us that really wants to stick to the melodramatic known, to the pale predictable, or to the aggressive certainty of not-being-beginners. We are so loyal to the cover-up and to covering up the cover-up. As quantum physicist David Bohm says in

Unfolding Meaning, "certain questions are very painful to face. Now thought is constantly trying to find ways of escaping, of avoiding the question. Thought is programmed to try to do this and to conceal what it is doing..."
And I would add that thought also avoids what is overwhelming in a positive or liberating way. Thought is programmed to avoid our true nature and to cover up that avoidance.

What can nudge us into simply getting on with it?
On any day, not just after a long gap, we may need a nudge, a small push, to get started.

Just knowing that can help.

Or we may need a "carrot" for the donkey--like the idea that "this is good" or "self-care"--to get us going.
I think of my practice of jogging. Some days the nudge is that I think, "This is good for my body." But if it were only good for my body, I do not think I would continue year after year. The fact is, once I get out and into my rhythm, it is my mind that loves the "flush" and freedom. If I only did it for the thought that it is good for me, I would not last long.
For me, the practice of jogging is sustainable because it does real good for my mind to get beyond its horizons. A simple, slippery, easy-to-forget good.

Similarly with meditation, the idea that meditation is good for us may help us start. Or maybe we need at first some good company, or a routine. But once we are into our practice, the fact that we need it becomes obvious. Once we get started, we keep going for the simple, slippery wholesomeness of coming home into our deep being. Whatever comes up, or goes away. However pleasant or unpleasant. Good.

But let's remember that this goodness is by its nature easy to forget.

So first, we may need a nudge, and then we may need to let the meditation flow. We need to feel our way for when to stop nudging (or justifying, or giving authority over to somebody or something else).

Over decades, I have gotten to know, inside out, a persistent fear of assault. Because assault does happen, and way too often, I have had to grow my ability to hear my intuition even when I am afraid, even when I may have every reason to be afraid.
Very gradually, the wisdom in the lower belly has won out over the paranoia. Then I noticed how extremely attentive I can be to the belly voice in moments of potential danger, and how good that was. I wished for that much "vigilance" in moments of peace.
But it was not through trying to be vigilant that the flow came.
And it was not not through trying.
Everything comes together to allow this free flow of love for love. Love for that friend by the gate who is not outside anymore, or never was.

Once we are free of the habit energy of avoidance, we may let our so-called practice have a life of its own. We may give our heart to the goodness of the silence that speaks to our sweetest places, the stillness or the movement that flows with aliveness.




by Jaya
(Photo by Jaya.)
---
~Feet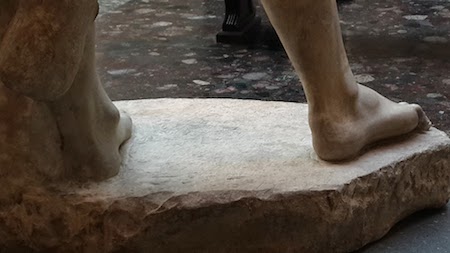 ---
~Interesting Links


~Jaya shares excerpts from several interviews with Irina Tweedie, author of "Daughter of Fire" one on spiritual training, in which she explains, "the less you understand, the better,"

and another on

the Sufi path, which she studied with a Hindu Sufi, about the history of those ancient wandering truth-seekers.
~Here, also, are two links featuring wonderful poetry. Nico shared a link to scholar and translator Joanna Macy,

giving an interview and reading an especially amazing Rilke poem.

Mary Oliver

here reads some of her work, including a poem called "The Fish."

~This site gives really

fun historical insight into color,

going one by one through the rainbow.

~A New York Times interview with Jack Kornfield on the popular up-swelling in interest in mindfulness and meditation.

~An American news radio article on the

consciousness-expanding capacity in psychedelics, and Sam Harris' book Waking Up: A Guide to Spirituality Without Religion

~A mind-expanding visual explanation of

how small we are

in the Universe....

~And two stories that give amazing insight into the body: The New York Times on the

sense of smell found all over the body,

in odor receptors found in the heart, as well as other organs. This reminded Jaya how Jacques Lusseyran, though "blind," could see...and how he cited research of sight receptors in different parts of the body too. The second story describes how

the skin's olfactory (smell) receptors can induce healing.

~Krishna sent this link to an

interview between author Sam Harris and news reporter Dan Harris,

who has a book called "10% Happier," and here discusses "Taming the Mind." At one point, he turns the tables and asks a question of Sam Harris, below an excerpt.

Dan Harris: You know, I've read a little bit about non-duality, but I still don't fully understand the distinction you're making. I know you're supposed to be interviewing me, but I would love to hear more about this from you. I've wanted to ask you this question for a long time. What is the non-dual critique of gradual approaches like mindfulness?

Sam: I think the best way to communicate this is by analogy. Everyone has had the experience of looking through a window and suddenly catching sight of his own reflection staring back at him from the glass. At that point, he can use the glass as a window, to see the world outside, or as a mirror, but he can't do both at the same time.

Sometimes your reflection in the glass is pretty subtle, and you could easily stand there for ten minutes, looking outside while staring right through the image of your own face without seeing it.

For the purposes of this analogy, imagine that the goal of meditation is to see your own reflection clearly in each moment. Most spiritual traditions don't realize that this can be done directly, and they articulate their paths of practice in ways that suggest that if you only paid more attention to everything beyond the glass--trees, sky, traffic--eventually your face would come into view. Looking out the window is arguably better than closing your eyes or leaving the room entirely--at least you are facing in the right direction--but the practice is based on a fundamental misunderstanding. You don't realize that you are looking through the very thing you are trying to find in every moment. Given better information, you could just walk up to the window and see your face in the first instant.

The same is true for the illusoriness of the self. Consciousness is already free of the feeling that we call "I." However, a person must change his plane of focus to realize this.

~Joseph Goldstein, who's a friend to both Krishna and Jaya, recently put out

this supplement to daily practice

where he says, "Listen to all the sounds that arise in your consciousness and then try to find who or what is hearing them."


(Photo of close-up bit of a huge work by artist Emily Kam Kngwarray called "Big Yam Dreaming," in the National Gallery of Victoria, Melbourne.)
---
~Photos
These photos were taken during the Dharmaloca olive harvest...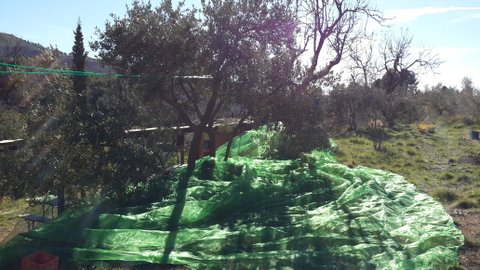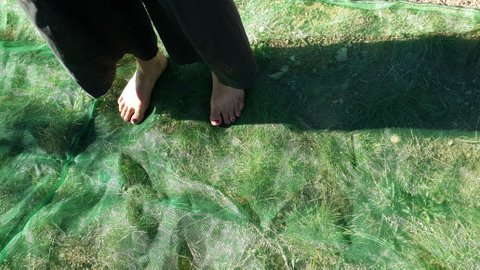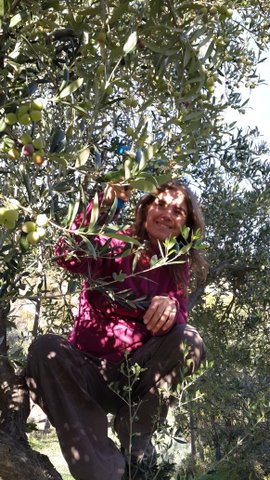 And from this fall, with friends in Spain and in Australia....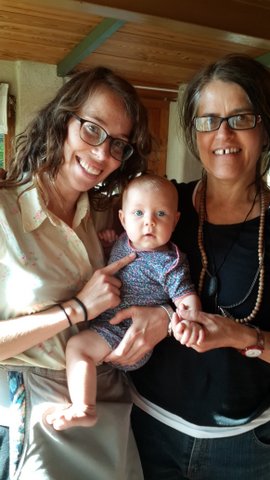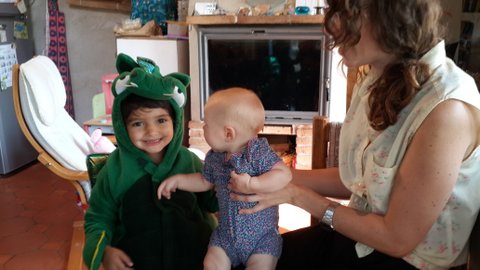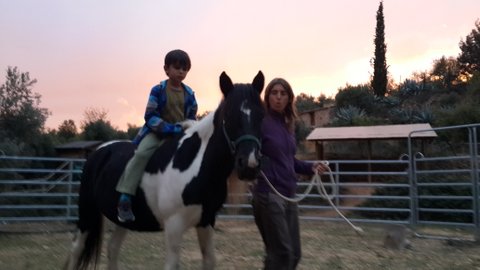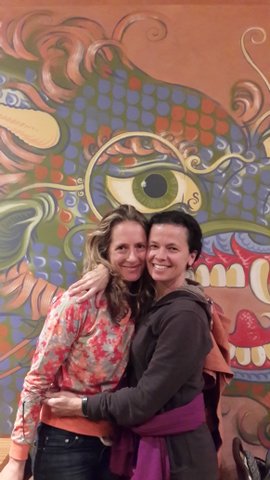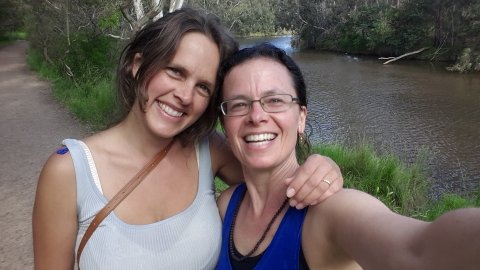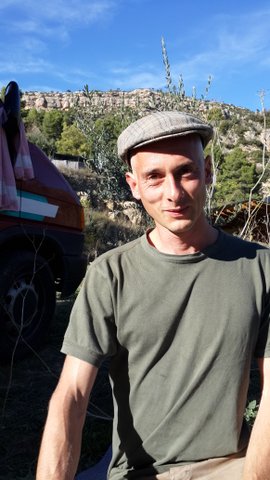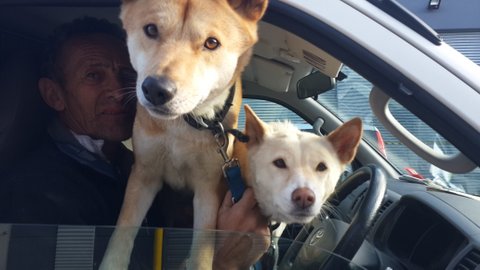 ---
~ Upcoming Retreat Dates & Details
4 - 11 and 11 - 18 January, 2015. Two 7-day silent meditation retreats at Anantha Niketan Ashram near Tiruvannamalai, South India.
Facilitators: Jaya and Gemma.
For information and registration, write to:
manager(@)opendharma.org
7 - 14 March, 2015. Deep rest retreat in Karjalohja, Finland.
Teachings will be in English
Facilitator: Jaya
For more information check:
opendharmafinland.wordpress.com
5 - 12 and 12 - 19 April, 2015. Two 7-day deep rest and meditation retreats in the foothills of the Himalayas, North India.
click here for information about the place and how to get there
Teachings will be in English.
Facilitator: Jaya
For information and registration, write to:
manager(@)opendharma.org
20 May, 2015. Dharma evening in Tel Aviv, Israel.
Offered completely on a donation basis.
Teachings will be in English with translation to Hebrew where needed.
Facilitator: Jaya
For information and registration, write to:
tovana(@)tovana.org.il
www.tovana.org.il
21 - 23 May, 2015. Silent deep rest meditation weekend at Ein-Dor near Mount Tabor, Israel.
Offered completely on a donation basis.
Teachings will be in English with translation to Hebrew where needed.
Facilitator: Jaya
Sandya will assist with the teachings.
For information and registration, write to:
tovana(@)tovana.org.il
www.tovana.org.il
24 - 30 May, 2015. Silent deep rest meditation week-long retreat at Ein-Dor near Mount Tabor, Israel.
Offered completely on a donation basis.
Teachings will be in English with translation to Hebrew where needed.
Facilitator: Jaya
Odelia will assist with the teachings.
For information and registration, write to:
tovana(@)tovana.org.il
www.tovana.org.il
8 - 13 June, 2015. Deep rest retreat at Le Moulin, Cubjac, France.
Teachings will be in English
Facilitator: Jaya
For information and registration, write to:
mail(@)moulindechaves.org
www.moulindechaves.org
24 - 28 June, 2015, Diving into meditation retreat in Eastbourne, UK.
Deep rest, silence and genuine inquiry.
Teachings will be in English.
Facilitator: Gemma
For information and registration, write to:
info(@)retreattogayles.co.uk
www.retreattogayles.co.uk
11 - 18 July, 2015, Deep rest and meditation retreat near Ter Apel, Holland.
Silence, nature, personal guidance, connected movement and meditative singing.
Teachings will be in English.
Facilitator: Gemma
For information and registration, write to:
opendharmaholland(@)hotmail.com
16 - 18 October, 2014, Meditation with horses retreat at Dharmaloca, Spain
Teachings will be in English and Spanish if needed.
Facilitator: Gemma
For information and registration, write to:
gemmaji(@)gmail.com
www.awakeningwithhorses.org
For more information about retreats organized by our sister organizations visit www.SanghaCalendar.org
~ Welcome to Everyone
We would love to share your inspiration in an upcoming newsletter. Photos! Poems! Drawings! Musings! Reflections on a recent--or not so recent--retreat! (You can even tell us that you'd like to contribute anonymously.) Please feel free to send any contributions to:
newsletter (at) opencentre.es
---
Rincón Latino

En esta newsletter
~ Noticias
~ Reflexión por Gemma
~ Photos
~ Los Lunes También Sienten, por Hedy
~ Próximos eventos





~Noticias

Entrevistas Personales
Gemma ofrece entrevistas personales a través de donaciones vía Skype o teléfono. Si deseas concretar día y hora manda un email a gemmaji(@)gmail.com


Cuidador de Dharmaloca
Hay una plaza libre para hacer de cuidador o cuidadora de Dharmaloca empezando en marzo, lo ideal sería comprometerse un mínimo de 3 meses. Se trata del privilegio de hacer una experiencia de conocerse a uno mismo en contacto con la naturaleza y haciendo unas horas de trabajo de manutención del eco-eremitorio a cambio de la estancia y la comida. Para más información: gemmaji (@) gmail.com.
---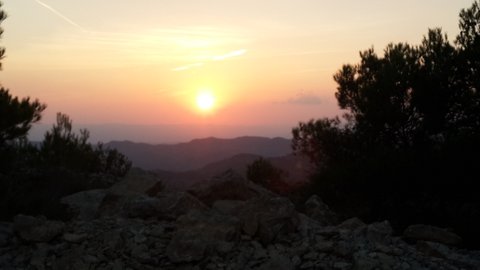 El arte de reinventarnos

Cuando escuchamos las muchas corrientes de espiritualidad que hablan de vivir el momento presente, nos sentimos animados a parar y notar la respiración que está pasando, o a descubrir las diferentes sensaciones en los pies contactando con la tierra, o simplemente a abrir los ojos y darnos cuenta de la belleza que nos rodea estemos donde estemos. Pero más además de esta habilidad de acordarnos, pararnos y darnos cuenta, vivir el momento presente es también cultivar el amor a la vida más allá de nuestras preferencias, o en otras palabras, aprender a abrazar todos los colores y situaciones de la vida.
Estar vivos con la vida significa reinventarnos a cada instante, chequear nuestro corazón a diario y preguntarnos si estamos viviendo aquello para lo cual estamos hechos, si somos felices, si estamos creciendo, amando, aprendiendo.
Hay demasiadas cosas que suponemos que deberían de ser en nuestras vidas, tiempos concretos para cada una de las diferentes etapas dependiendo de nuestra edad , género y clase social, y al fin andamos midiéndonos por lo que deberíamos ser y somos, lo que se llama éxito o lo que deberíamos ser y no somos, lo que se llama frustración.
Pero, más allá de estos parámetros…soy quién estoy llamado a ser? Estoy dispuesto a navegar este océano siguiendo la llamada del alma que no sabe de comodidad ni de situaciones más o menos aceptables o gratificantes?
Escucharnos significa estar conectados con la posibilidad de reinventarnos, ser honestos, cambiar de rumbo, apuntar más alto.
Qué bello sería parar de quejarnos, reconocer aquello que no nos hace felices y abrir las puertas a escucharnos profundamente, con el coraje de reinventarnos si lo que escuchamos nos habla de otros hitos y otras formas posibles más armónicas con lo que nos llena.
Atrevernos sentir lo que nos incomoda, sin camuflarlo con distracciones, para que esta incomodidad sea la mano que nos lleve a escuchar lo que de veras anhelamos, e ir amasando nuevos horizontes, quizás extraños al principio pero tremendamente familiares y genuinos a medida que les damos tiempo y voz. Nunca es tarde para volver a ser, para sacar una nueva versión de nosotros mismos, para decir de nuevo, o quizás por primera vez, sí a la vida.

(Photo por Jaya.)
---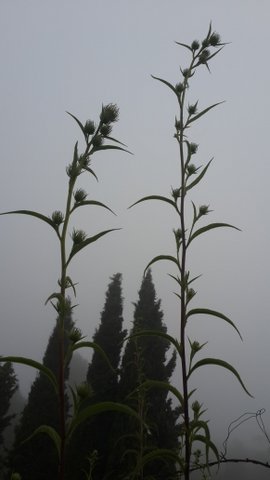 Sobre el Amor
Este mes Hedy comparte palabras sobre el amor de Rumi....
Vuelvo a Rumi y a su inspiración, esta vez hablando del amor:

Cada momento se precipita hacia nosotros desde todas partes
la convocatoria del Amor.
¿Quieres venir con nosotros?
No es momento para quedarse en casa,
sino para salir y entregarse al jardín...
Ven,
Te diré en secreto
Adónde lleva esta danza.
Mira como las partículas del aire
Y los granos de arena del desierto
Giran sin norte.
Cada átomo
Feliz o miserable,
Gira enamorado
En torno del sol.
Una persona no está enamorada
si el amor no ilumina su Alma.
No es un amante
si no gira como las estrellas alrededor de la luna.
Excepto el amor intenso, excepto el amor,
no tengo otro trabajo;
Salvo el amor tierno, salvo el amor tierno,
no siembro otra semilla.







por Hedy
(Photo por Jaya.)
---
Próximos Eventos
(Aquí listamos solo los que se harán en castellano y/o catalán)

16 - 18 Octubre, 2014.
Retiro de meditación con caballos en Dharmaloca, Tarragona, España.
Las enseñanzas se darán en inglés y castellano.
Facilitadora: Gemma.
Para más información y para inscribirte, escribe a:
gemmaji(@)gmail.com

Nos encantaría compartir tu inspiración en las próximas newsletters. Puedes mandar fotos, poesías, dibujos, reflexiones, comprensiones que vinieron durante o después de un retiro… (lo puedes hacer incluso de una forma anónima y en castellano o catalán). Por favor, manda tus inspiraciones a od.newsletter.latino (@) gmail.com.
Recuerda que si quieres recibir nuestros próximos eventos y posibles actividades de última hora vía email, puedes unirte al grupo informativo enviándonos un correo electrónico en blanco a la dirección: opendharmalatino-subscribe @ yahoogroups.com.