~ October & November Newsletter

(Para ir a la versión castellano desplázate al Rincón Latino situado al final de la página.)

(Photo by Jaya.)
In this newsletter
~ News
~ The Monthly Theme, by Jaya
~ Interesting Links
~ News From Dharmaloca
~ On Headlessness
~ Photos
~ Upcoming Events
~ Rincón Latino
~ News

Interviews

Jaya will offer one-to-one meetings on skype or phone during October and November via opendharma.appointy.com.

The 10-15 minute interviews are offered on a completely donation basis, and 25-30 minute interviews are offered on a donation basis with a suggested sliding scale of 25-50 Euros. But we intend not to turn anyone away because of financial lack. If you have questions or would like to arrange another time not available through the appointy site, please contact Jessica at interviews(@)opendharma.org

Gemma offers personal interviews though Skype on donation basis. If you wish to have an interview please contact Gemma at gemmaji(@)gmail.com
Radio Dharma
You can listen to Jaya's radio dharma talks any time after the live broadcasts on
17 October
at 3pm (Spain time, GMT+1) and
28 November
at 3pm (Spain time, GMT +1).
Jaya loves when someone is there listening live, but many people listen, often more than once, to the talks later on.
There are over 30 talks by Jaya already available on the free internet radio site blogtalkradio.com Please go to blogtalkradio.com and search for "Jaya Ashmore" to join. And if you don't want to miss these events, then click on "follow," just under the Open Dharma logo. If audio quality is not good, try downloading rather than direct stream.
Friday sangha talks.
Continue to check out our new series of radio talks (15-30 minutes long) on Fridays. Jaya has invited diverse people from all over the sangha and world to speak about what is alive for them. We aim to broadcast at 3 pm Spanish time every Friday, but you can listen to the talks by stream or download any time after that. (Check the Open Dharma facebook page for links.)
Thanks to the help of Shachar Yarkoni, we have found a way to make this project logistically possible as well as improve the sound quality.
Any donations to Open Dharma towards the expense ($35/month) are welcome.
Recently Added Retreats & New Destinations
Please note several new or different events coming up, with more details at the end of the newsletter.
Back in Germany soon, for the first time in years, Gemma will teach near Leipzig, 31 October - 5 November.
The 3rd annual Melbourne retreat with Jaya will be nonresidential this time over the same dates--1 - 4 November.
Jaya and Gemma will teach in Tiru together in January.
Jaya will teach our first-ever Finland retreat (already getting towards full!...thanks, Anna!)
The Sattal retreats are ON for April--2 7-day retreats with Jaya, with probably but still unfixed dates of 5 - 12 and 12 - 19 April.
And Jaya may return to teach in both Quebec in summertime, and the UK (first time ever in Totnes!) 21 - 28 September.
Dharmaloca caretaker
There is space for one caretaker at Dharmaloca, our eco-hermitage in Catalonia, Spain, from December onwards. We usually ask for a commitment of 3 to 6 months. The caretaker lives, works, and apprentices at Dharmaloca--helping with the permaculture garden and facilities, welcoming guests, keeping an eye on the horses, and other essential work depending on your abilities and the needs of the time and place. There is time for your own practice, and much solitude in winter.
Please e-mail Gemma for more information: gemmaji(@)gmail.com.
Last But Not Least
There is also one more book from 2013, yes 2013, that Jaya did not highlight and wanted to mention--"Eyes of the Wild"...excellent prose and delicious insights.
---
~ The Monthly Theme

Monthly Theme for October & November ~ Peace Upon Peace

Some people think deep rest is taking a break from life. This is a fundamental misunderstanding of rest, meditation, and life.

Resting deeply can mean recovering from an unsustainable way of living--of acting, working, communicating, thinking, perceiving, and being. But we do not "do" rest as that thing that then allows us to continue living unsustainably. Rest is not a break so we can get back to burning out.

I remember being surprised when someone said, "Oh, good, deep rest--get out the eye pillows!" Now, I am not into eye pillows, but they do apply the gentle pressure that is said to reduce stress hormone levels in an over-activated alarm system in body and mind.
But, anyone who has followed deep rest where it leads knows that meditation through deep rest does not keep us perpetually at the spa.

Meditation through deep rest brings us out of the ongoing anxiety of taking "small mind" as the center of what we are.
Meditation through deep rest brings us into the stream of aliveness, where the dams of our small agendas burst. Life sustains itself. Courage and calm, responsiveness and joy happen by themselves, and we can go along with what emerges.

A.H. Almaas writes that, as "ego" dissolves, "basic trust" allows a 3 kinds of willingness to unfold.
He says first we are willing to let go--"the death of the old." Then we are further willing "to settle into simple being," "just to be present, which is a sort of realization itself."
Third, he says, we are willing "to allow things to develop spontaneously and naturally the way they want to develop, ...[with] trust that wherever things take you will be okay." (pg. 26, Facets of Unity)

I would add that, in practice, it helps to notice and give room to 2 kinds of peace--an "Aaah" and a "Hummm."

The "Aah" is the letting go. We relax in body or mind. And it is good to notice that it feels good. Or we notice we do not need to obey inner pressure. Aaah.
We realize the little tight mind is never going to feel full or enough, but there is fullness or okayness anyway. Good, the "ego" anxiety or sense of wrongness can live within a wider sense of peace. Our alarm system calms down and we feel relief.
As we let go of what is not alive or life-sustaining, we learn to drop our physical-mental addiction to stress and disconnection. We are not stressed out for no reason. Peace.

The "Hummm" is the power of aliveness. In moments of crisis, or creativity, or love, or being in touch with nature or the underbelly of emotions, we come upon a power that is beyond us as individuals.
Even if we simply relax, we also feel the presence of tremendous force, maybe coming up as if from the belly.
Sometimes, looking up at the stars, we feel happily humble. Or, if we think this power is separate from us, we feel overwhelmed and afraid.
But as we learn to let this energy move in and through us, we discover creativity, insight, and kindness flowing through the space we thought we were supposed to inhabit and defend.
As we accept the power of the stream of aliveness, we learn a second form of peace. Our body and mind learn experientially that there is no need to freak out even in intense, powerful situations. We are not stressed out even if there

is

reason to freak out. Peace upon peace.

Gradually, we find no need to separate the "Aaah" and the "Hummm." Relaxed and powerful, receptive and responsive--no need to take a break from self-sustaining life.


by Jaya
(Photo by Jaya.)
---
Interesting Links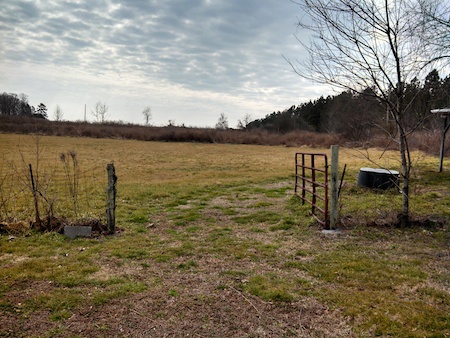 ~So many wonderful friends in the Open Dharma community are working on interesting projects.
Whitney
is part of cool art group in Berlin called Signs of Dexterity (which you can check out
on facebook
) and she's recently writing a series of essays on love, friendship and life, many of which can be found on her blog. To read and discover more of Whitney's work,
click here
, or
here,
or
here
and
here
.
Meanwhile,
Sam
is leading a project that pairs scientists with artists to discover ways in which their creativity deepens through contact. To learn more,
click here.
And
Chad
has given us access to a freely available 50-page book describing the use of Koans to bring awakening into even the shadowiest places of us.
You'll find it here
. Scroll down to 'Mondo Zen Training Manual April 2012.' He will be uploading a radio talk about the Mondo in November, and will be offering sessions to go through the Mondo by Skype at no charge. He is also open to answering questions about it at gladchad(@)gmail.com
~Krishna shares an article written by Robert Rabbin on a day spent in silence. "It seemed that everything was alive in a way I had never noticed," Rabin writes. Read it here.
~It's not as simple as the Earth traveling around the Sun. Jessica is amazed by how this new modeling of the solar system puts things into a cool new perspective, and Jaya loves the statement the article makes that rotational energy and vortex energy are two entirely different things. Check it out here.
~Here's a link that, while we aren't entirely sure about it, we do feel it is an interesting spur to dialog and critical thinking. Read it here.

(Photo by Steve.)
---
~News from Dharmaloca
As some of you know, about 15 years ago Gemma was a professional organic beekeeper based in the forests of central Catalunya, Spain, and producing honey as well as propolis and pollen.

She was also very much involved in the educational part of beekeeping, both on the streets, as she was selling her produces directly to the consumers, and in some agricultural schools.

Here some pictures of that time!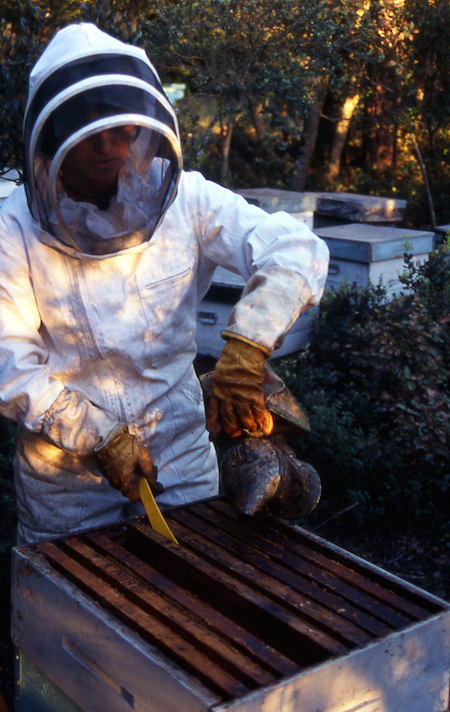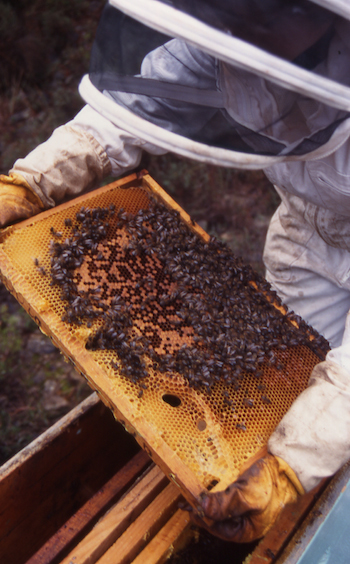 Six years ago a friend gave back to Gemma seven empty hives to restore and to fill up with bees, and finally last summer we started this project with the special excitement of Gyani and Gayatri.

Here, our first Dharmaloca hive called "flor" (flower) by the kids, and our first delicious honey harvesting that took place a few days ago.

All welcome to get sweet and sticky!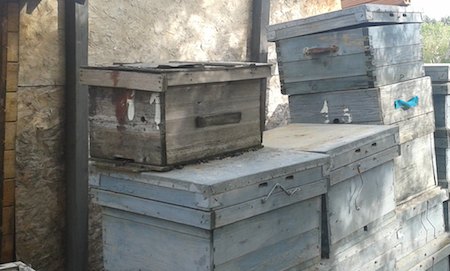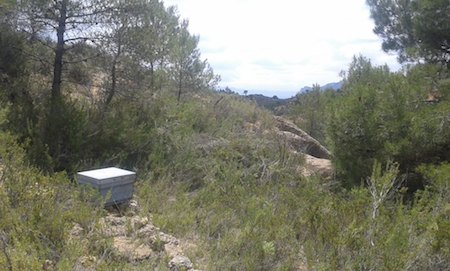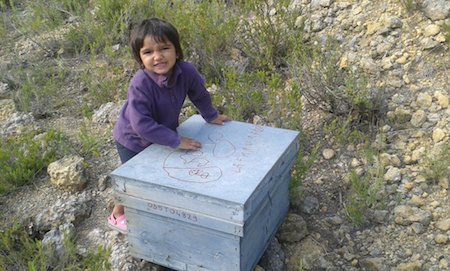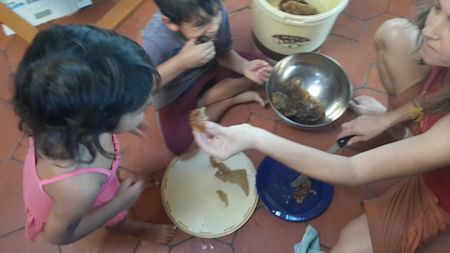 (Photos by Gemma.)
---
~On Headlessness


Thanks to Krishna for sending this excerpt from Sam Harris' book "Waking Up: A Guide to Spirituality Without Religion" in which he discusses Douglas Harding, "headlessness" and Dzogchen. Harding's book "On Having No Head: Zen and the Rediscovery of the Obvious" was the main reading Jaya was given before her first trip to India with the Antioch Buddhist Studies Program in 1987.

Douglas Harding was a British architect who later in life became celebrated in New Age circles for having opened a novel doorway into the experience of selflessness. Raised among the Exclusive Plymouth Brethren, a highly repressive sect of fundamentalist Christians, Harding apparently expressed his doubts with a fervor sufficient to get himself excommunicated for apostasy. He later moved his family to India, where he spent years on a journey of self-discovery that culminated in an insight he described as the state of "having no head." I never met Harding, but after reading his books, I have little doubt that he was attempting to introduce his students to the same understanding that is the basis of Dzogchen practice.

Harding was led to his insight after seeing a self-portrait of the Austrian physicist and philosopher Ernst Mach, who had the clever idea of drawing himself as he appeared from a first-person point of view: "I lie upon my sofa. If I close my right eye, the picture represented in the accompanying cut is presented to my left eye. In a frame formed by the ridge of my eyebrow, by my nose, and by my moustache, appears a part of my body, so far as visible, with its environment." 20 Harding later wrote several books about his experience, including a very useful little volume titled "On Having No Head." It is both amusing and instructive to note that his teachings were singled out for derision by the cognitive scientist Douglas Hofstadter (in collaboration with my friend Daniel Dennett), a man of wide learning and great intelligence who, it would appear, did not understand what Harding was talking about.

Here is a portion of Harding's text that Hofstadter criticized:

"What actually happened was something absurdly simple and unspectacular: I stopped thinking. A peculiar quiet, an odd kind of alert limpness or numbness, came over me. Reason and imagination and all mental chatter died down. For once, words really failed me. Past and future dropped away. I forgot who and what I was, my name, manhood, animal-hood, all that could be called mine. It was as if I had been born that instant, brand new, mindless, innocent of all memories. There existed only the Now, that present moment and what was clearly given in it. To look was enough. And what I found was khaki trouser legs terminating downwards in a pair of brown shoes, khaki sleeves terminating sideways in a pair of pink hands, and a khaki shirtfront terminating upwards in absolutely nothing whatsoever! Certainly not in a head.

It took me no time at all to notice that this nothing, this hole where a head should have been, was no ordinary vacancy, no mere nothing. On the contrary, it was very much occupied. It was a vast emptiness vastly filled, a nothing that found room for everything: room for grass, trees, shadowy distant hills, and far above them snow-peaks like a row of angular clouds riding the blue sky. I had lost a head and gained a world. . . . Here it was, this superb scene, brightly shining in the clear air, alone and unsupported, mysteriously suspended in the void, and (and this was the real miracle, the wonder and delight) utterly free of "me," unstained by any observer. Its total presence was my total absence, body and soul. Lighter than air, clearer than glass, altogether released from myself. I was nowhere around. . . . There arose no questions, no reference beyond the experience itself, but only peace and a quiet joy, and the sensation of having dropped an intolerable burden. . . . I had been blind to the one thing that is always present, and without which I am blind indeed to this marvelous substitute-for-a-head, this unbounded clarity, this luminous and absolutely pure void, which nevertheless is--rather than contains--all things. For, however carefully I attend, I fail to find here even so much as a blank screen on which these mountains and sun and sky are projected, or a clear mirror in which they are reflected, or a transparent lens or aperture through which they are viewed, still less a soul or a mind to which they are presented, or viewer (however shadowy) who is distinguishable from the view. Nothing whatever intervenes, not even that baffling and elusive obstacle called "distance": the huge blue sky, the pink-edged whiteness of the snows, the sparkling green of the grass--how can these be remote, when there's nothing to be remote from? The headless void refuses all definition and location: it is not round, or small, or big, or even here as distinct from there."

Harding's assertion that he has no head must be read in the first-person sense; the man was not claiming to have been literally decapitated. From a first-person point of view, his emphasis on headlessness is a stroke of genius that offers an unusually clear description of what it's like to glimpse the nonduality of consciousness.

Here are Hofstadter's "reflections" on Harding's account: "We have here been presented with a charmingly childish and solipsistic view of the human condition. It is something that, at an intellectual level, offends and appalls us: can anyone sincerely entertain such notions without embarrassment? Yet to some primitive level in us it speaks clearly. That is the level at which we cannot accept the notion of our own death." Having expressed his pity for batty old Harding, Hofstadter proceeds to explain away his insights as a solipsistic denial of mortality--a perpetuation of the childish illusion that "I am a necessary ingredient of the universe." However, Harding's point was that "I" is not even an ingredient, necessary or otherwise, of his own mind. What Hofstadter fails to realize is that Harding's account contains a precise, empirical instruction: Look for whatever it is you are calling "I" without being distracted by even the subtlest undercurrent of thought--and notice what happens the moment you turn consciousness upon itself.

This illustrates a very common phenomenon in scientific and secular circles: We have a contemplative like Harding who, to the eye of anyone familiar with the experience of self-transcendence, has described it in a manner approaching perfect clarity; we also have a scholar like Hofstadter, a celebrated contributor to our modern understanding of the mind, who dismisses him as a child.

Before rejecting Harding's account as merely silly, you should investigate this experience for yourself.

Look for Your Head.
As you gaze at the world around you, take a moment to look for your head. This may seem like a bizarre instruction. You might think, "Of course, I can't see my head. What's so interesting about that?" Not so fast. Simply look at the world, or at other people, and attempt to turn your attention in the direction of where you know your head to be. For instance, if you are having a conversation with another person, see if you can let your attention travel in the direction of the other person's gaze. He is looking at your face--and you cannot see your face. The only face present, from your point of view, belongs to the other person. But looking for yourself in this way can precipitate a sudden change in perspective, of the sort Harding describes.

Some people find it easier to trigger this shift in a slightly different way: As you are looking out at the world, simply imagine that you have no head.

Whichever method you choose, don't struggle with this exercise. It is not a matter of going deep within or of producing some extraordinary experience. The view of headlessness is right on the surface of consciousness and can be glimpsed the moment you attempt to turn about. Pay attention to how the world appears in the first instant, not after a protracted effort. Either you will see it immediately or you won't see it at all. And the resulting glimpse of open awareness will last only a moment or two before thoughts intervene. Simply repeat this glimpse, again and again, in as relaxed a way as possible, as you go about your day.

Once again, selflessness is not a "deep" feature of consciousness. It is right on the surface. And yet people can meditate for years without recognizing it. After I was introduced to the practice of Dzogchen, I realized that much of my time spent meditating had been a way of actively overlooking the very insight I was seeking.

How can something be right on the surface of experience and yet be difficult to see?
--From "Waking Up: A Guide to Spirituality Without Religion," by Sam Harris.

(Photo by Jaya.)
---
Photos from Israel
Here some of the photos which Jaya took on her last trip to Israel, including images of the kibbutz fence, the team for the 7-day retreat, the church on top of Mount Tabor, and Anandiji.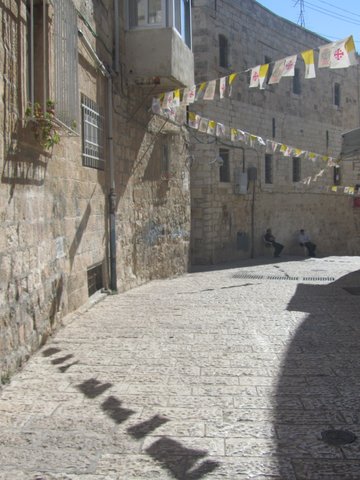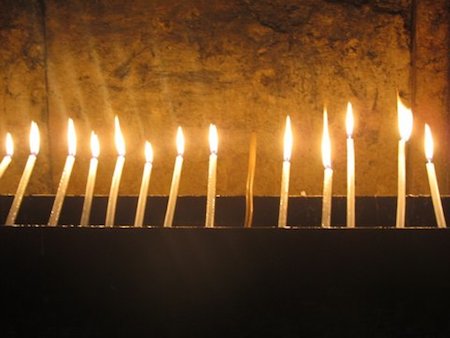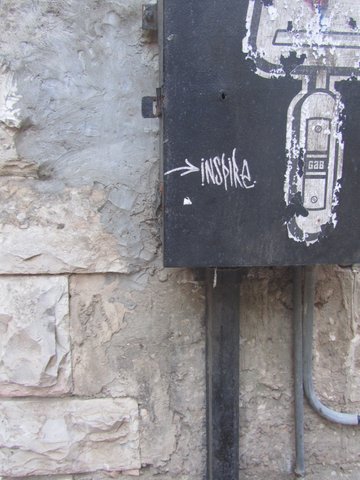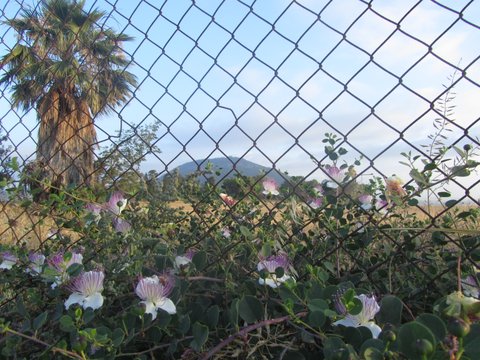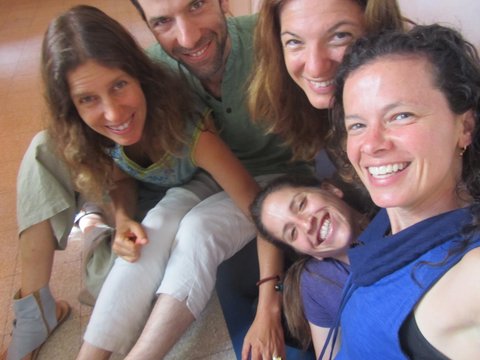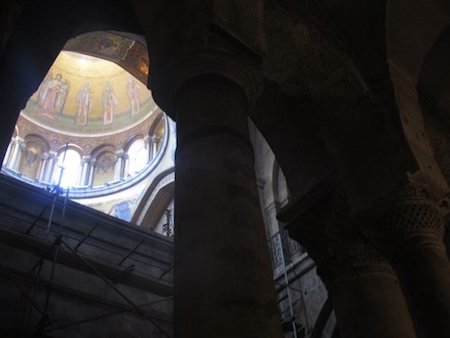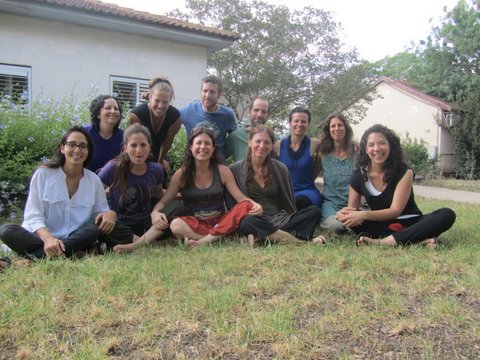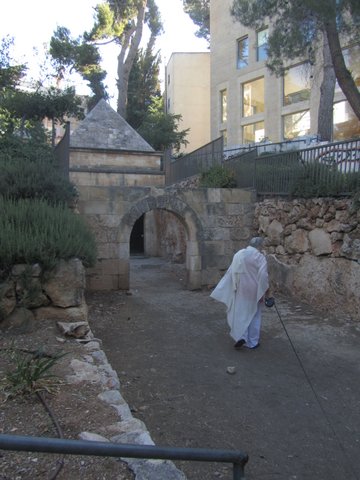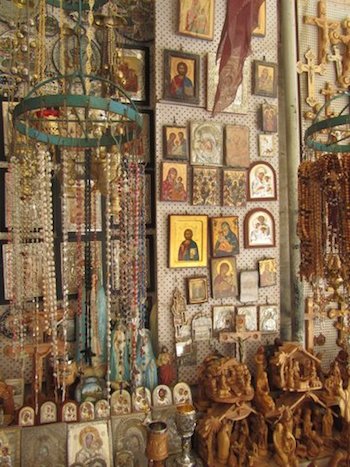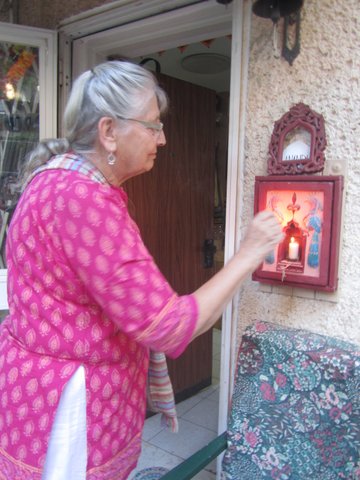 (Photos by Jaya.)
---
~ Upcoming Retreat Dates & Details
10 - 12 October, 2014, Meditation with horses retreat at Dharmaloca, Spain
Teachings will be in English and Spanish if needed
Facilitator: Gemma
For information and registration, write to:
gemmaji(at)
gmail.com
www.awakeningwithhorses.org
24 - 26 October, 2014, A weekend retreat at the Montseny mountains, Catalunya, Spain
Teachings will be in Spanish and English if needed
Facilitator: Gemma
For information and registration, write to:
retirosopendharma(at)
gmail.com
31 October - 5 November, 2014, Meditation retreat in Germany.
Teachings will be in English
Facilitator: Gemma
For information and registration, write to:
germanyretreat(@)
gmail.com
1 - 4 November, 2014. 4-day nonresidential deep rest retreat in Australia.
Teachings will be in English.
Facilitator: Jaya Ashmore.
For information and registration, write to:
ozopendharma(@)gmail.com
www.thedharmapath.com.au
30 October and 5 November, 2014
Evenings of deep rest meditation and teachings in Northcote, Melbourne, Australia.
Teachings will be in English.
Facilitator: Jaya Ashmore.
For information and registration, write to:
ozopendharma(@)gmail.com
www.thedharmapath.com.au
14 - 16 November, 2014, Diving into meditation retreat in Eastbourne, UK
Teachings will be in English.
Facilitators: Gemma
For more information write to:
info(@)
retreattogayles.co.uk
4 - 11 and 11 - 18 January, 2015. Two 7-day silent meditation retreats at Anantha Niketan Ashram near Tiruvannamalai, south India.
click here for information about the place and how to get there
Facilitators: Jaya and Gemma.
For information and registration, write to:
manager(@)opendharma.org
7 - 14 March, 2015. Deep rest retreat in Karjalohja, Finland.
Teachings will be in English
Facilitator: Jaya
For more information check:
opendharmafinland.wordpress.com

5 - 12 and 12 - 19 April, 2015. Two 7-day deep rest and meditation retreats in the foothills of the Himalayas, North India.
click here for information about the place and how to get there
Teachings will be in English.
Facilitator: Jaya.
For information and registration, write to:
manager(@)opendharma.org
8 - 13 June, 2015. Deep rest retreat at Le Moulin, Cubjac, France
Teachings will be in English
Facilitator: Jaya
For more information about retreats organized by our sister organizations visit www.SanghaCalendar.org
~ Welcome to Everyone
We would love to share your inspiration in an upcoming newsletter. Photos! Poems! Drawings! Musings! Reflections on a recent--or not so recent--retreat! (You can even tell us that you'd like to contribute anonymously.) Please feel free to send any contributions to:
newsletter (at) opencentre.es
---
Rincón Latino

En esta newsletter
~ Noticias
~ Reflexión mensual por Gemma
~ Photos
~Un paso hacia la vida que deseas, por Hedy
~ Próximos eventos





~Noticias

Entrevistas Personales

Gemma ofrece entrevistas personales a través de donaciones

vía Skype o teléfono. Si deseas concretar día y hora manda un

email a gemmaji(@)gmail.com



Cuidador de Dharmaloca
Hay una plaza libre para hacer de cuidador o cuidadora de Dharmaloca empezando en diciembre, lo ideal sería comprometerse un mínimo de 3 meses. Se trata del privilegio de hacer una experiencia de conocerse a uno mismo en contacto con la naturaleza y haciendo unas horas de trabajo de manutención del eco-eremitorio a cambio de la estancia y la comida. Para más información: gemmaji (@) gmail.com.
---
~Reflexión Mensual por Gemma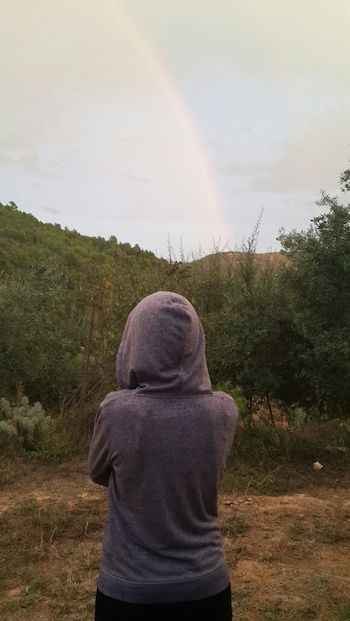 Andar es sanar

Admiro a esta gente, más mujeres que hombres, que se encuentran para salir a pasear por la mañana o al atardecer, para hacer ejercicio dicen, y para ser felices pienso yo. Las puedes ver alrededor de los pueblos, aventurándose por los antiguos caminos que llevaban a las fuente o al los huertos, haciendo la misma ruta o similar a diario, con el bastón, o con ropa nueva de deporte y buenas bambas si son más jóvenes.

En muchas tradiciones se contempla el hecho de andar como un modo de meditación, ya sea a través de practicar un caminar lento y consciente o a través de la invitación a realizar peregrinaciones o incluso correr poniendo cierta atención en la respiración o combinando esta con un mantra al inhalar y exhalar. Se habla también del punto de la felicidad, situado dónde arranca el dedo gordo del pie y estimulado en cada paso ya sea andando o corriendo.

El andar puede ser una acción de gran sanación, no solo cuando todo nuestro ser parece rechazar la meditación más formal y no encontramos nunca el tiempo para sentarnos o estirarnos en meditación, sino también de modo regular aun cuando encontramos el tiempo para meditar.

Invitarnos a mover el cuerpo, respirar, activar los pies y dejar que los pensamientos se piensen ellos solos al reencontrarnos una y otra vez con la belleza y las múltiples sensaciones del momento. No hace falta pelear, ni intentar dejar de pensar, ni controlar el tipo o la cantidad de pensamientos, sino simplemente andar, sentir, reactivarnos, cansarnos, de tal forma que poco a poco nos vamos fundiendo en lo que es, y tímidamente empezamos a descubrir el cosquilleo de la felicidad. Especialmente si aprieta el gusanillo de la ansiedad, o si parecemos arrastrados a la oscuridad de la depresión, quizás podemos usar lo que nos queda de ilusión para simplemente salir a caminar y dejarnos sanar. No se trata de encontrar respuestas ni soluciones sino de que la energía circule y podamos encontrar algo de renovación y paz.

Podemos aventurarnos a andar sin rumbo y jugar a sentir desde el corazón hacia dónde dirigirnos o simplemente escoger lo conocido y dar así más espacio a las sensaciones corporales y las respiración.

Podemos cantar, recitar un mantra, pasar un rosario o un mala. Crear poesía...

(Photo por Jaya.)
---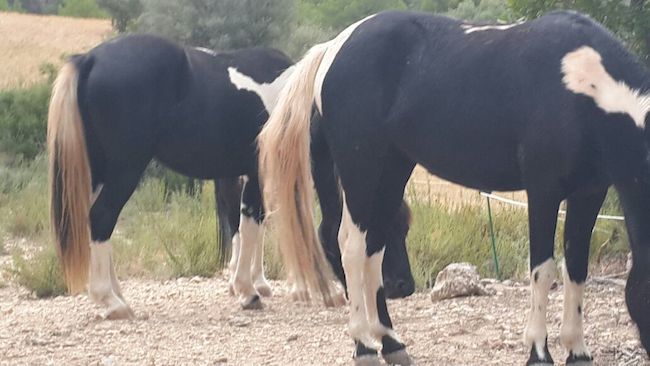 Un Paso Hacia La Vida Que Deseas
Este mes Hedy nos pregunta sobre qué pequeños pasos podemos hacer hacia la vida que deseamos
¿Cuántos de nosotros nos repetimos día detrás día que querríamos cambiar algo a nuestra vida?

Que querríamos conseguir esto otro, que querríamos dejar de hacer aquello que tanto nos desagrada... ¿Cuántas veces vamos a dormir pensando que se nos ha escapado otro día sin darnos cuenta?

Todos tenemos sueños, ilusiones, deseos. Grandes o pequeños. Pero nos enredamos en las cosas del día a día y llegamos a creer que no tenemos tiempo ni ánimo de conseguir aquello que deseamos.

Te diré un secreto: hoy puedes hacer el primer paso.

Porque la vida que deseas empieza con un pequeño paso. Date sólo un minuto y pregúntate: "¿qué puedo hacer hoy para avanzar un pequeño paso hacia aquello que quiero?"

Y hazlo. Porque sólo hace falta que sea una pequeña cosa.

Mañana haz lo mismo. Y pasado mañana. Y al otro. Y no te olvides de que cada día, cada hora, cada minuto, cada instante tienes la posibilidad de volver a hacer un pequeño paso.

Para no olvidarte compártelo, con la pareja, con una amistad, con un hermano o hermana, con un guía... Con quién tú quieras. Porque compartiéndolo te ayudas a comprometerte en crear la vida que deseas, disfrutando del viaje.

¡Y déjate sorprender por lo que surge!






por Hedy
---
Próximos Eventos
(Aquí listamos solo los que se harán en castellano y/o catalán)

10 - 12 octubre, 2014. Retiro de meditación con caballos en Dharmaloca, Tarragona, España.
Las enseñanzas se darán en inglés y castellano.
Facilitadora: Gemma.
Para más información y para inscribirte, escribe a:
gemmaji(@)gmail.com
24 - 26 octubre, 2014. Retiro de fin de semana en las montañas del Montseny, Cataluña, España.
Profundo descanso, meditación, silencio, naturaleza y enseñanzas. Las enseñanzas se darán en castellano y en inglés si es necesario.
Facilitadora: Gemma.
Para más información y para inscribirte, escribe a:
retirosopendharma(@)gmail.com
Nos encantaría compartir tu inspiración en las próximas newsletters. Puedes mandar fotos, poesías, dibujos, reflexiones, comprensiones que vinieron durante o después de un retiro… (lo puedes hacer incluso de una forma anónima y en castellano o catalán). Por favor, manda tus inspiraciones a od.newsletter.latino (@) gmail.com.
Recuerda que si quieres recibir nuestros próximos eventos y posibles actividades de última hora vía email, puedes unirte al grupo informativo enviándonos un correo electrónico en blanco a la dirección: opendharmalatino-subscribe @ yahoogroups.com.