~ August & September Newsletter

(Para ir a la versión castellano desplázate al Rincón Latino situado al final de la página.)

(Photo by Jaya.)
In this newsletter
~ News
~ Practice Theme--Pushed and Held, by Jaya
~ Interesting Links
~ Above the Dzogchen Monastery
~ Rhythms at Dharmaloca, by Kate
~ Sweet Silence, a poem by Ilan Abrahams
~ Upcoming Events
~ Rincón Latino
~ News

Interviews

Jaya will not have interviews in August, but will offer one-to-one interviews on the
18, 21, 23 and 25 September
, between 10am - 11am and from 4pm - 6pm western European time.
Jaya will continue to offer more times and days for interview via skype or phone. As usual, you can sign up for a 10-15 minute interview on donation basis, or a 25-30 minute interview on a sliding scale basis of 25-30 euros. Please contact interviews (@) opendharma.org to schedule even if none of the posted times work for you. in September additional times may be available.
Gemma
will not have interviews in August, but
will offer one-to-one interviews of 10-15 minutes each via Skype on the
18 and 21 September between 11am - noon and from 3pm - 4pm western European time.
If you would like to schedule a time for an interview, please email Alison at interviews (at) opendharma.org.
Radio Dharma

Jaya will not give a radio dharma talk in August over the free internet radio site blogtalkradio.com, but on
15 September
at 6:00pm western European time. Please go to blogtalkradio.com and search for "Jaya Ashmore" to join. And if you don't want to miss these events, then click on "follow," just under the Open Dharma logo.
Retreat Announcements

1) Gemma will be offering a
Meditation with horses retreat, 11-13 October
at Dharmaloca.
2)
Retreats in Melbourne, Australia, are confirmed for these dates:
October 31st
, 7pm, Northcote. Dharma evening: meditation and teachings
November 1-5
, Deep rest meditation retreat, Yarra Valley, near Melbourne
November 7th
, 7pm, Northcote. Dharma evening: meditation and teachings
November 9th
, Day of meditation, Melbourne
November 10th
, Day of meditation, Melbourne
November 11th
, 7.15pm, Ceres, Dharma evening: meditation and teachings
3) Our friends at Anantha Niketan are enthusiastically preparing to receive their teacher John de Ruiter in Tiru this January.
So our retreats in Tiru in 2014 will be shortened to these dates:
4-11 January, and 12-19 January.
---
~ The Practice Theme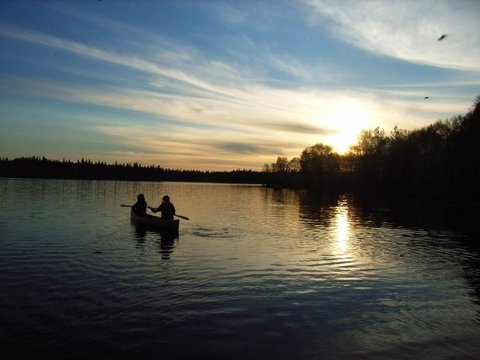 Jaya offers a practice theme for August & September ~ Pushed and Held
Pressure. Usually retreat is where we learn how to live at ease without the "pressures of daily life." But we also find pressure necessary.
In the youtube video on Open Dharma's home page, the first person interviewed reports, "I felt really pushed and really held." And this is a compliment. A compliment about two kinds of pressure, pushing and holding.
Slight pressure of diaphragm opening lungs, closing them. The pressure of the feet on the ground reminding us of support and interdependence. A gentle pressure on the shoulder to encourage. A firm pressure between the shoulder blades to release tension.
The pressure of tears or rage or insight finally bursting through.
A pressure building up in the psyche towards catharsis and resolution.
The pressure of change, loss or arrivals--signaled by confusion, disappointment, frustration, disillusionment--a pressure on our worldview to grow wider and wiser.
The pressure of a game or an audience bringing out focus and energy to play beyond the usual quality. Creativity pressing up from within to break through in fresh words, colors, movement. A leading pressure in the palm of the hand or the hip to dance or to turn the horse. Birth: pressure within pressure, tiny feet and stretched womb both pushing.
But also, the pressures we need to learn not to bend to. Perfectionist pressure that paralyzes. Peer pressure. Pressure to succeed, or conform, or perform--to pretend. Pressure to be who we are not; to do what we would not.
Sometimes life seems to offer support that we feel as a tender "being held." Sometimes life offers situations that seem to press us forward or back or up or down, or stretch us beyond what was possible; and we feel uplifted. Sometimes the pressure feels inhumane. We aren't up for it; we can't live with or without that person, thing, mind-state, situation...
Sometimes it is hard to know when to "stand up for ourselves" and "state our needs and boundaries," and when to "accept the things we cannot change."
Chogyam Trungpa expresses it this way in a chapter called "Compassion" in Mahayana: "The intention is gentle, but the practice is very harsh." The intention to experience unconditional love and unwavering wisdom comes from a gentle place. But the practice of knowing that nothing is under our control can be harsh.
Transformation comes when we stay ruthlessly true to that impersonal, unstoppable gentleness.


by Jaya
(Photo by Jaya.)
---
~ Interesting Links
~Tom Riddle has sent along these links for information about mindfulschools.org, integrating mindfulness into education and now coming to Europe. Check it out here.

~Here's something incredible. "This stunning 360 degree panorama of the night sky was stitched together from 37,000 images by a first-time astrophotographer," the story reads. Nick Risinger, from Seattle, USA, hiked across the States and South Africa to make this giant panorama of the sky. (You can click into the image and spin it around here.) "The genesis of this was to educate and enlighten people about the natural beauty that is hidden, but surrounds us," he said.

~This is another pretty interesting story, recently on American news, about genetic interconnectedness. A recent scientific study showed that if you go back 1000 years, all Europeans are related. Though the study focused on Europeans, the implications are worldwide. You can read more here.


---
~Above the Dzogchen Monastery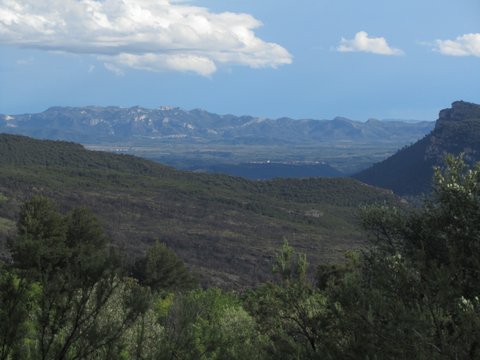 A friend sent in this wonderful passage, taken from "

The Tibetan Book of Living and Dying," by S. Rinpoche and A. Harvey

. Please, enjoy.
Nyoshul Lungtok, who later became one of the greatest Dzogchen masters of recent times, followed his teacher Patrul Rinpoche for about eighteen years. During all that time, they were almost inseparable. Nyoshul Lungtok studied and practiced extremely diligently, and accumulated a wealth of purification, merit, and practice; he was ready to recognize the Rigpa, but had not yet had the final introduction. Then, one famous evening, Patrul Rinpoche gave him the introduction. It happened when they were staying together in one of the hermitages high up in the mountains above Dzogchen Monastery. It was a very beautiful night. The dark blue sky was clear and the stars shone brilliantly. The sound of their solitude was heightened by the distant barking of a dog from the monastery below. Patrul Rinpoche was lying stretched out on the ground, doing a special Dzogchen practice.
He called Nyoshul Lungtok over to him, saying: "Did you say you do not know the essence of the mind?"
Nyoshul Lungtok guessed from his tone that this was a special moment and nodded expectantly.
"There's nothing to it really," Patrul Rinpoche said casually, and added, "My son, come and lie down over here: be like your old father." Nyoshul Lungtok stretched out by his side.
Then Patrul Rinpoche asked him, "Do you see the stars up there in the sky?"
"Yes."
"Do you hear the dogs barking in Dzogchen Monastery?"
"Yes."

"Do you hear what I'm saying to you?"
"Yes."
"Well, the nature of Dzogchen is this: simply this.
"Nyoshul Lungtok tells us what happened then: "At that instant, I arrived at a certainty of realization from within. I had been liberated from the fetters of 'it is' and 'it is not.' I had realized the primordial wisdom, the naked union of emptiness and intrinsic awareness. I was introduced to this realization by his blessing, as the great Indian master Saraha said: "He in whose heart the words of the master have entered, Sees the truth like a treasure in his own palm."
---From The Tibetan Book of Living and Dying, by S. Rinpoche and A. Harvey, pg. 160
(Photo: Dharmaloca, by Gemma.)

---
~ Rhythms of Dharmaloca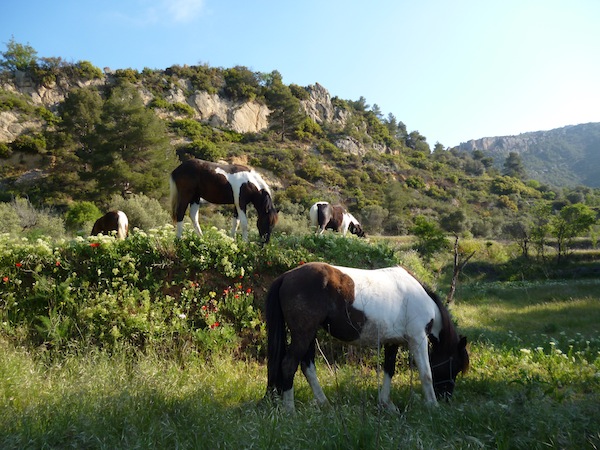 Kate sent these reflections about her days with the horses at Dharmaloca.
The mornings are so beautiful. I wake with the dawn chorus--a billion birds all starting the day with their public announcements, a call to prayer, and am barefoot in the dew long before the first rays of sun have spilled over the edge of the valley and filled it up like honey. The horses watch me as I move around the terraces but are silent, waiting, until I call out a greeting and then theirs, all four distinct, ring out joyfully across the mountain, telling me how pleased they are that it's finally time for breakfast. And we start our day.
We are finding a rhythm together, all of us. Resting, strengthening, finding a connection, working together. We go for walks across the mountains, we stay in a good place that we find and hours pass lulled by the deeply-calming rhythm of the grazing. We dance together in the round-pen and in the fields, and we explore where we feel safe with each other and how. I challenge them to confront their fear of me and they do the same to me, and we all discover that we're happy. I know how to read their bodies so that I am at no risk (they arrived here wild and scared) and they know how to read mine for the same reason. In this way, thinking about the signals my body gives, I learn once again the power of slowing down, of trusting in sometimes only a thought, in leaving space around me so they can come to me, of asking only for 1 cm and when I get it, stopping for a least 10 seconds. And of trusting in the process--that what seems so little is enough. The next day they give me 100 cms.
I learn about the difference between being a boss (a feeling that has had me sit on the floor at their feet and cry) and being a dance-partner (pure joy and expansion). I relish the process of breaking down what I would like us to achieve into really tiny steps and these suddenly all linking up and flowing. I learn again and again not to plan but to go with what is there, what is being offered, and the massive difference between intention ("I would like us to do this"; helpful, freeing, clear) and control ("Ionly want to do this"; aggressive, hopeless, blocked). If I have clear intention, 99% of the time we will successfully begin with what I intended and it flows from there to new places, in a conversation. From a fixed idea of exactly the same thing being what HAS to happen, we never even get to the start.
What is wonderful about being alone with them is the huge trust that grows through familiarity. They know how I move, how I sound, the smell of my shampoo, they know fact that they like to be around me, and that I ask new things of them so gradually that they barely notice apart from it awakening their curiosity in an exciting way. And it's the same for me. When I am bareback riding Sofia up to a terrace to graze, the gentle familiarity of routine and pathway allows us both to soften into the moment, and when something unexpected happens, and she or I are startled and move in new and challenging ways, we are relaxed, fluid, able to absorb the potentially stressful situation. If she moved like that in a new training session in a new place, we would probably both end up on the floor.
As they are almost my only source of conversation, contact and affection, massive amounts of love flow between us. This is the privilege of being alone with them. I love them, and they are tender and demonstrative with me, and extremely accepting. When I think I must be imagining this huge trust a new person comes and they are unsettled and it takes a few days or longer for things to soften again, and I see that it is true. For a horse to let you approach when it is lying down is rare, and a massive act of trust. For it to allow you to lie down too and use its shoulder as a pillow is almost unheard of. It is a wonderful acceptance. They will follow me anywhere, even at 5am when they (the two little ones, who love to explore anything off-limits) have escaped and I am woken by the drumming of eight small galloping hooves off in search of the Dharmaloca vines, and we all glow white in the moonlight as we walk bleary-eyed across the mountains homeward.
Taki, the biggest, shyest adult mare, if I work with her in gentle way, gives me extraordinarily sweet equine kisses on the top of my head, and my ribs. I took her out for a walk last week; her first walk in a halter and rope outside the corral. She strode up next to me like a show horse, and walked right alongside me, instead of directly behind as she does at home. She was attentive and interested and alive, just looking and walking. I felt we had set out to walk for hours. I would have wished it, her too; we were both loving it. Until the others, off in an orchard, noticed us walking by up on the track. Her daughter, Ganga, panicked at the separation that she hadn't actually noticed until then, charged up the steep and crumbling bank, bust through the electric fence, pulling the fencing-posts out of the ground, and wrapped the whole thing around the both of them. Oops. Taki looked to me, saw I was calm, and so she was calm too. That is how receptive they are. If I am calm, they are calm. Even when wrapped in fencing. Remarkable. So I take the other things they reflect back to me as a gift, for someone like me who lives a quite isolated life with little reflection from significant others.
These horses soothe and nourish me, energize and challenge me, and I am always laughing out loud. They are wonderful company and deeply touching. They demand respect, they give respect, they are clear about boundaries, they welcome me, they heal me, they respond to my suggestions and want to work with me, they are curious about the things I ask of them and keen to understand how to fulfill them, and they are always surprising me. When I slow down they show me a whole universe.
by Kate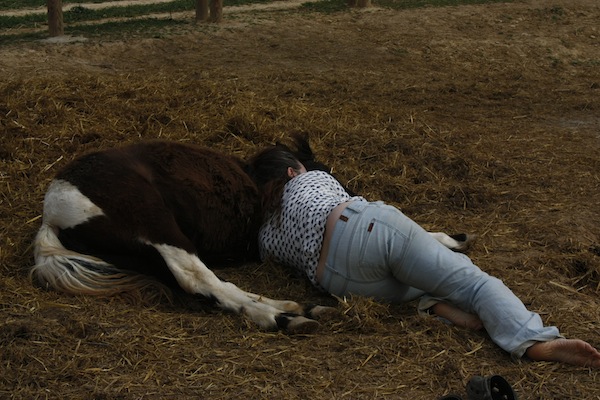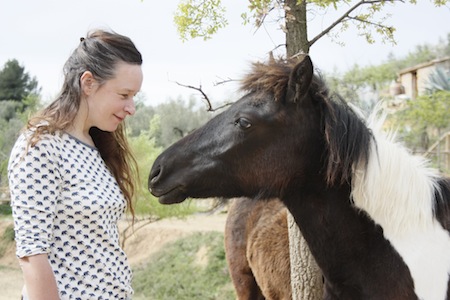 (Photos: Kate with the horses, by Gemma.)
---
Sweet Silence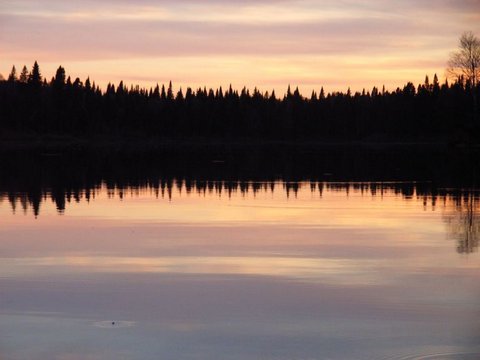 Ilan Abrahams sent this poem for us to share...

"Sweet Silence," by Ilana Abrahams

Sweet silence is my lover
she lives where the wind blows through she-oaks
she comes to me at night
carries me and cuddles me back home in a sheep skin and sensual embrace
calms my beating heart
I could stand on a footbridge above the freeway
spit at cars below
she would giggle
Sometimes we don't see each other for a while
It's good to have some distance I s'pose
but then I'm walking after a movie
a bat wing flaps and she's back
she brings me home again
embraces me in places that I could not feel

In the morning on the train
we sit together and hold hands


(Photo by Jaya.)
---
~ Upcoming Retreat Dates & Details
June through December, Ongoing 1 - 2 month apprenticeships at Dharmaloca, Spain
Facilitator: Jaya
For information and registration, write to:
jaya (at) opendharma.org
8 - 11 August and 11 - 18 August, 2013, Deep rest retreats at the Stone House in NC, USA
Teachings will be in English.
Facilitator: Jaya
For more information write to:
opendharma.nc (at) gmail.com
23 - 26 August 2013, Silent Deep Rest Retreat, near San Francisco, California, USA
Teachings will be in English.
Facilitators: Jaya & Gemma
For more information write to:
california (at) opendharma.org
26 - 29 August 2013, Meditation Retreat for People of All Ages, near San Francisco, California, USA
Teachings will be in English.
Facilitators: Jaya & Gemma
For more information write to:
california (at) opendharma.org
11 - 13 October 2013, Meditation with horses retreat at Dharmaloca, Spain
Teachings will be in English and Spanish.
Facilitator: Gemma
For information and registration, write to:
gemmaji@gmail.com
www.awakeningwithhorses.org
31 October, 2013, Dharma Evening at Anton's, Melbourne, Australia
Teachings will be in English
Facilitator: Jaya
For information and registration, write to:
ozopendharma(at)gmail.com
Or visit: http://www.thedharmapath.com.au
1 - 5 November, 2013, 4-day Residential retreat at Casa Palloti, near Melbourne, Australia
Teachings will be in English
Facilitator: Jaya
For information and registration, write to:
ozopendharma(at)gmail.com
Or visit: http://www.thedharmapath.com.au
9 - 10 November, 2013, Non-Residential Weekend Residential in Melbourne, Australia
Teachings will be in English
Facilitator: Jaya
For information and registration, write to:
ozopendharma(at)gmail.com
Or visit: http://www.thedharmapath.com.au
9 - 10 November, 2013, Non-Residential Weekend Retreat in Barcelona, Spain
Deep rest, silence and genuine inquiry.
Teachings will be in Spanish or Català, and English if needed.
Facilitator: Gemma
For information and registration, write to:
hedykramer(at)yahoo.es
11 November, 2013, Dharma Evening in Melbourne, Australia
Teachings will be in English
Facilitator: Jaya
For information and registration, write to:
ozopendharma(at)gmail.com
For more information about retreats organized by our sister organizations visit www.SanghaCalendar.org
~ Welcome to Everyone
We would love to share your inspiration in an upcoming newsletter. Photos! Poems! Drawings! Musings! Reflections on a recent--or not so recent--retreat! (You can even tell us that you'd like to contribute anonymously.) Please feel free to send any contributions to:
newsletter (at) opencentre.es
(Non-Spanish speakers, curious about the Rincón Latino? Try, as one friend did, cutting and pasting the text you'd like to read into google's translation program. You'll get the flavor.)
---
Rincón Latino
En esta newsletter
~ Noticias
~ Reflexión mensual por Gemma
~ Presente por Hedy
~ Próximos eventos
~Noticias
Entrevistas Personales
Gemma ofrecerá entrevistas personales de unos 20-30 minutos a través de Skype o teléfono los días
25-27-29 de Junio y 2-4-16-18 de Julio de 10 a 12 y de 16 a 18h.
Las entrevistas se ofrecen a través de donaciones pero proponemos un intercambio a escoger entre 50 y 25 Euros para poder seguir ofreciéndolas.
Si deseas concretar día y hora manda un email a
gemmaji (@) gmail.com.
---
~Reflexión Mensual por Gemma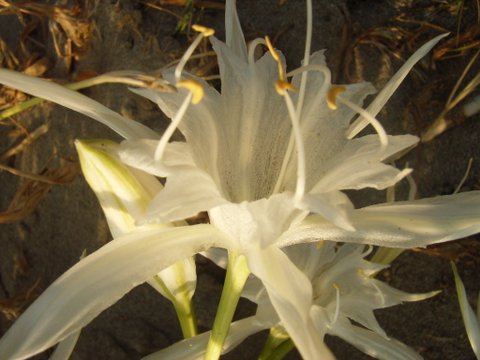 ¿Vivir o sobrevivir?
Parece que la vida nos ofrece un sinfín de posibilidades, entre ellas la opción de sobrevivir o la opción de vivir.
Cuando nuestras acciones y pensamientos se basan en una combinación de patrones creados a causa de las experiencias vividas y el instinto de supervivencia, entonces en realidad somos esclavos de los instintos y del pasado. Sobrevivimos y como mucho podemos decir que vamos tirando.
VIVIR en cambio, más allá de los patrones y los instintos nos convierte en humanos, realmente humanos, es decir seres capaces de saborear todo nuestro potencial.
Propongo…
Decir que sí a la vida.
Dejar que las caídas sean trampolines hacia el despertar.
Atrevernos a desafiar la mente cuando esta se centra en lo imposible y el corazón en cambio intuye posibilidad.
Salir de la comodidad de lo conocido para dar opciones a lo desconocido.
Entender que el instinto de supervivencia nos ha traído hasta aquí pero que ahora es el momento de decirle gracias y adiós, para entrar en una tierra más ancha.
Abrazar esta tierra nueva significa hacernos sensibles y por lo tanto aprender a convivir con la incomodidad de sentir lo que sentimos, para no escapar, no fingir, no tapar…y así, poco a poco, convertirnos en lo que somos.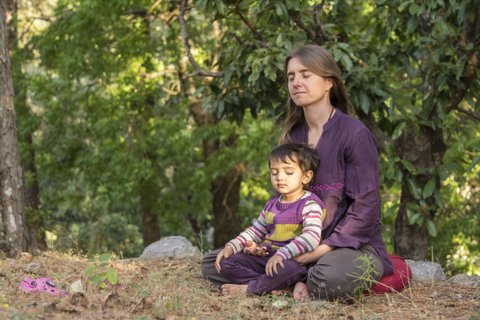 (Photos por Jaya, y Tom. )
---
Presente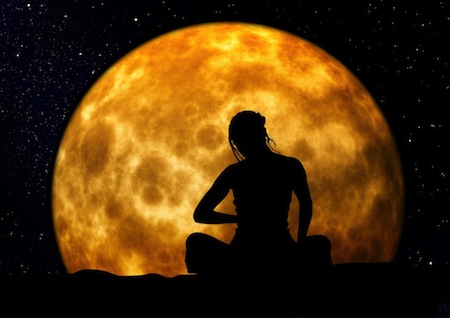 Este mes Hedy comparte un cuento sobre la oscuridad y la luz.

Vuelvo a compartir un cuento. Esta vez escrito por mí en un momento internamente complicado. Y al dejarme llevar escribí más allá de lo que sentía, hasta dar con mi luz guía. Porque los cuentos nos hablan de nosotros y dejan que el corazón se exprese sin tapujos, conectando con nuestra sabiduría interna.
Llevo unos días triste, deprimida, apática… He olvidado quien soy, que quiero, donde voy. Me pregunto dónde está la luz, estoy a oscuras. Me siento perdida en una larga noche.
No me atrevo a salir a la calle, me siento abrumada por la gente., por los colores, por los olores, por el viento, por los susurros de la vida. Me encierro de nuevo buscando la oscuridad que temo. Pero la temo menos que a mí misma.
Me acurruco en un rincón y miro por la ventana. Ha salido la luna, pequeña, casi imperceptible. Me cae una lágrima y le pido un cuento por ella. Durante largo rato no me dice nada, no oigo su voz, solo oigo mis pensamientos. Suben de intensidad y se vuelven acusadores, traicioneros, maliciosos. Hasta que alcanzan un grito, que sube de tono inexorablemente. Intento concentrarme en la luna sin mucho éxito. Hasta que los gritos dentro de mi cabeza se vuelven tan intensos que explotan y solo dejan silencio.
Un profundo silencio. Me siento flotando en la nada. Y de pronto escucho una preciosa voz que me acuna y me acaricia. La luna me está hablando y no entiendo nada. Pero empiezo a notar un cosquilleo dentro de mí, como si algo reviviera. Y poco a poco me doy cuenta de que están brillando estrellas dentro de mi corazón. Y recuerdo que esas estrellas ya estaban ahí, que habían perdido brillo y que ahora están luciendo de nuevo.
Crecen, llenando de luz mi corazón.
Me miro la barriga y veo una estrella diferente, la siento preciosa y poderosa. Es la estrella más maravillosa que he visto nunca. La quiero con locura y me abruma con preguntas. Preguntas que buscan dentro de mí, que van más allá de lo que he ido nunca.
Preguntas que buscan la semilla de la gran madre.
Como más miro la estrella más crece ella, más brilla y más bella es. Y sin darme cuenta su luz me llena y va más allá de mí, buscando la madre tierra. Salgo de la habitación y atravieso mi casa hasta llegar a la puerta principal. La abro y salgo al mundo. Los árboles me saludan y la hierba me invita a estirarme a su lado. Acepto su invitación y me tumbo en la tierra. Me siento en casa mientras la madre tierra nos acoge y nos unimos a ella.

por Hedy
(Photo por Gerald.)
---
Próximos Eventos
(Aquí listamos solo los que se harán en castellano y/o catalán)
11 - 13 Octubre, 2013, Curso de meditación con caballos en Dharmaloca, Cataluña.
Las enseñanzas se darán en castellano e inglés.
Facilitadora: Gemma
Para más información y para inscribirte, escribe a:
gemmaji@gmail.com
www.cavallspeldespertar.org
9 - 10 Noviembre, 2013, Retiro no residencial en Barcelona.
Invitar a la meditación a través del profundo descanso y la conexión auténtica con el anhelo.
Las enseñanzas de darán en castellano o catalán y en inglés si es necesario.
Facilitadora: Gemma
Para más información y para inscribirte, escribe a:
hedykramer (@) yahoo.es
Nos encantaría compartir tu inspiración en las próximas newsletters. Puedes mandar fotos, poesías, dibujos, reflexiones, comprensiones que vinieron durante o después de un retiro… (lo puedes hacer incluso de una forma anónima y en castellano o catalán). Por favor, manda tus inspiraciones a od.newsletter.latino (@) gmail.com.
Recuerda que si quieres recibir nuestros próximos eventos y posibles actividades de última hora vía email, puedes unirte al grupo informativo enviándonos un correo electrónico en blanco a la dirección: opendharmalatino-subscribe @ yahoogroups.com.