~ November Newsletter

(Photo: Still inlet, by Jessica.)


In this newsletter
~ News
~ The Monthly Theme--Leaving, by Jaya
~ A Letter from Dharmaloca, by Gemma
~ Mary Oliver on Poetry & Nature
~ Upcoming Events
~ News

Interviews

Jaya will conduct one-to-one interviews of 10-15 minutes each via Skype
Sunday,
25 November
, between 4pm and 5pm India time. If you would like to schedule a time for an interview, please email Alison: interviews (at) opendharma.org.
Radio Dharma
Jaya will give a radio dharma talks this month over the free internet radio site blogtalkradio.com on
Sunday, 25 November
at 5:30pm India time. (The site lists the start time earlier, as it's based in the Eastern US.) You can find the link closer to the broadcast date by searching for "Open Dharma" or "Jaya Ashmore" on the site and checking for upcoming broadcasts. If you don't want to miss these events, then click on "follow" on the blogtalkradio page just under the Open Dharma logo.
A Ton of Talks & Meditations
Almost 100 new audio tracks, guided meditations as well as many, many talks have been uploaded to opendharma.org, all available for listening to on a donation basis. From 2010, talks added include those from Le Moulin de Chaves, from Holland, from the Deep Rest retreat in Catalonia, the Brighton weekend, and from The Stone House retreats in North Carolina. Talks from 2011 include some from Sattal, Le Moulin, and Holland, as well as previously broadcast internet-radio dharma talks. Enjoy!
Awakening with Horses
There is a new page on the website explaining the Awakening with Horses program at Dharmaloca, for those who are curious to know a little more. The English page is found t
hrough this link
, and the Spanish page can
be found here
.
---
~ The Monthly Theme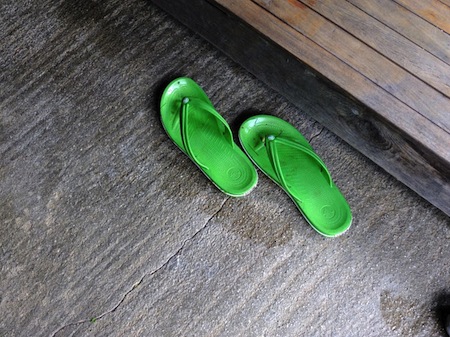 Jaya offers the monthly practice theme for November ~ Leaving
Papaji liked to say we are all living in a transit lounge. Other teachers have compared our temporary existence to more charming things like the morning dew.

Knowing our journey is transient does not mean we have to be in a hurry. We do not have to remain dislocated and disconnected.

We do not have to behave the way Chief Seattle is supposed to have described the Europeans' arrival in North America: strangers "who come in the night and take from the land whatever [they] need. The earth is not [their] brother, but [their] enemy, and when [they] have conquered it, they move on."

Getting ready to go on the road for 7 months, I was struck by what marked my last week: I found myself washing the shower curtain, sharpening the kitchen knives, co-hosting 12 family guests over the last weekend--and finally, months after the first invitation, visiting a friend's pig farm (very tidy and overpoweringly smelly). Our friend's father was there, too, as he is most days, working on a stunning, 8-meter-high dry-stone wall--no cement, no metal--the same wall he has worked on by hand for the last 5 years.

I let myself do these "unnecessary" things, but it did not feel like avoidance of the necessary.

Although I certainly had "too much to do" in the last week, knowing I was leaving nudged me to do exactly what would normally get postponed. I did not get everything on my to-do list marked off. And I am happy that people will enjoy the shower curtain and the kitchen knives, even if they don't notice them. And I left more connected, content, humbled by life and people.

Sometimes it is fruitful to live as if it is our last day, but sometimes it might also be fruitful to act as if we are just about to go away for a while, humble, connected, happy.

Love,
Jaya




by Jaya
(Photo: Flip-flops at the hall, by Nico.)
---
~A Letter from Dharmaloca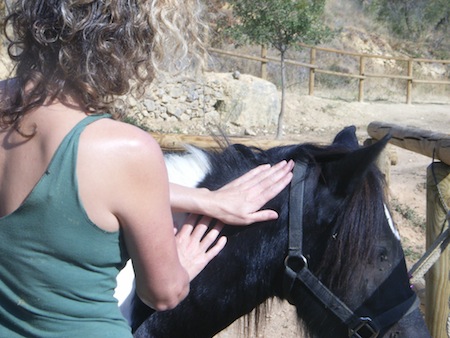 Dear friends
All through the summer, people who have come to Dharmaloca had enjoyed the horses company and have been nourished by them in many different ways. Here some pictures!
Now the 4 horses are finding their way into freedom, discovering the surroundings of Dharmaloca, and my heart relaxes as I see them doing what they are made to do, just endless grazing…

Gemma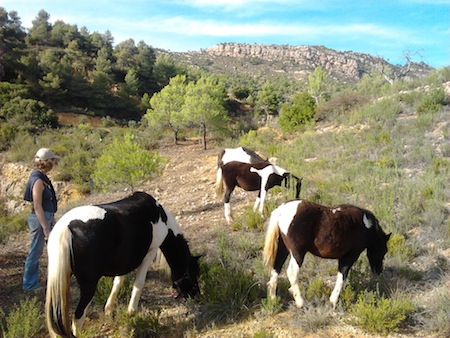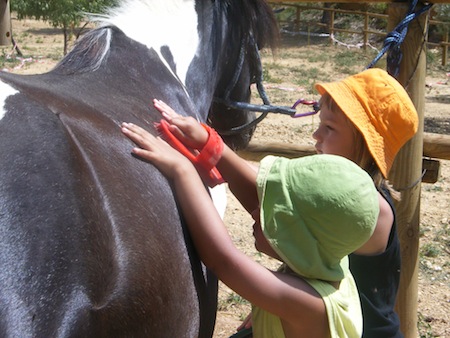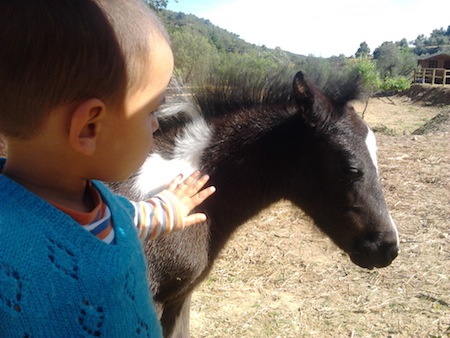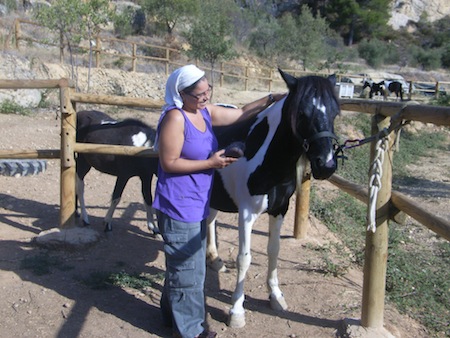 (Photos of the horses and friends at Dharmaloca.)

---
~Mary Oliver on Poetry & Nature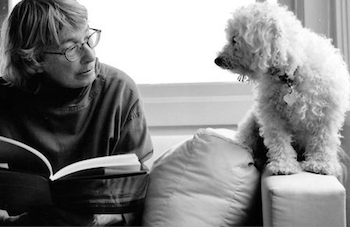 Poet Mary Oliver recently gave a radio interview...
She discusses the edge between artistic discipline and freedom, her love of seeing the sun rise and of poetry, and the beauty of the natural world. "Prayer has become more useful, interesting, fruitful and almost involuntary in my life," she says. "When I talk about prayer I mean really what Rumi says in that wonderful line, 'There are hundreds of ways to kneel and kiss the ground.'"
She also reads a poem from her last book, "A Thousand Mornings." Follow the link here to hear Mary Oliver's interview.
(Photo: Mary Oliver.)


~ Upcoming Retreat Dates & Details
2 - 6 or 2 - 9 November, 2012, silent meditaiton retreat in Melbourne, Australia

Teachings will be in English

Can be taken as a four-day or a 7-day retreat

Facilitators: Jaya

ozopendharma(at)gmail.com

5 - 15 January, 17- 26, and 27 January - 6 February, 2013, Silent meditation retreats near Tiruvannamalai, India

Near Anantha Niketan Ashram

Teachings will be in English.

Facilitators: Jaya and Gemma. Guest facilitators Zohar and Nicole will join us on the second and third retrats, respectively.

opendharmainfo (at)

yahoo.com

21 - 28 February, 2013, Dharma Gathering, Sarnath, India

At the Thai temple in Sarnath, India

Facilitators: Christopher Titmuss, Jaya, Zohar and others.

For more information check: bodhgayaretreats.org

10 - 17 March, 2013, Jin Shin Jyutsu in Lucknow, India

Jaya will offer a course in Jin Shin Jyutsu....

More information to come!

1 - 8 & 9-19 April, 2013, meditation retreats at Sattal Ashram, North India

Seven-day and 10-day silent meditaiton retreats at Sattal Ashram in the foothills of the Himalayas in India

Teachings will be in English.

Facilitators: Jaya and Gemma

For more information write to:

opendharmainfo(at)yahoo.com

20 April - 4 May, 2013, Two-week Jin Shin Jyutsu and meditation retreat at Sattal Ashram, North India

Teachings will be in English.

Facilitators: Jaya and Gemma.

opendharmainfo (at)

yahoo.com

June, 2013, Two-week retreat at Dharmaloca, Spain

Teachings will be in English & Spanish

Facilitators: Jaya and Gemma

For more information write to:

dharmalocaretreat (at) opendharma.org

25 - 29 June, 2013, Silent Deep Rest Retreat at Le Moulin, Cubjac, France

Teachings will be in English.

Facilitators: Jaya or Gemma

For more information write to:

mail (at) moulindechaves.org

13 - 20 July, 2013, Deep Rest retreat near Ter Apel, Holland

Teachings will be in English.

Facilitators: Jaya or Gemma

For more information write to:

opendharmaholland(at)hotmail.com

31 July - 4 August, 2013, Diving into Meditation Retreat, in Eastbourne, UK

Deep rest, silence and genuine inquiry.

Teachings will be in English.

Facilitators:Gemma

For more information write to:

info(at)retreattogayles.co.uk

For more information about retreats organized by our sister organizations visit www.SanghaCalendar.org

~ Welcome to Everyone

We would love to share your inspiration in an upcoming newsletter. Photos! Poems! Drawings! Musings! Reflections on a recent--or not so recent--retreat! (You can even tell us that you'd like to contribute anonymously.) Please feel free to send any contributions to: newsletter (at) opencentre.es