~ August Newsletter

(Photo: Poppies, by Nico.)
In this newsletter
~ News
~ The Monthly Theme--Getting Lost, by Jaya
~ Photos to Share
~ The Tree That Would Not Let go of Its Leaves, by Will
~ Generosity, by Danielle
~ Upcoming Events
~ News

Gemma in the UK
Gemma will be facilitating a retreat--Diving into Meditation--in Eastbourne
August 8 - 12
. She writes: "
Once more we will be there, lying down and closing our eyes, alone and together, deeply asking ourselves what is the meaning of it all and letting fresh answers come to our hearts.
Once again we will become humans by walking endless green downs and letting the sheep graze forever near the sea.
We will be there, because life cannot wait.
And I welcome you to be crazy enough to come."

There are still several spots open on the retreat. For more information and registration please write info (at) retreattogayles.co.uk

Interviews

Jaya will conduct one-to-one interviews of 10-15 minutes each via Skype on Thursday,
16 August
, between 1o am until 11 am US Mountain time. If you would like to schedule a time for an interview, please email Alison: interviews (at) opendharma.org.
Ajay's Talks Online
Nathan has painstakingly uploaded many, many--dozens, in fact--of Ajay's recorded talks, on The Bhagavad Gita, Kabir, Meera Bai, and the Yog Vasistha. To listen as Ajay translates and explains these ancient texts,
please follow this link
.
Sitting Postures Poster
Tom spent many hours of time, much energy and thought to create this poster showing different sitting postures used in meditation. It is designed to help people get a sense of sitting posture options at a glance, just like they do with the reclining posture poster Open Dharma already uses.
To check it out, please follow this link.
Jaya in Australia & New Zealand
Jaya will be teaching several retreats in Australia and New Zealand this fall. To learn more about her time there, please check out the detailed schedule via this link.

Radio Dharma
There is no scheduled radio talk for August, though it may happen spontaneously. If you don't want to miss these events, please search for Open Dharma page on blogtalkradio.com then click on "follow," just under the Open Dharma logo.
---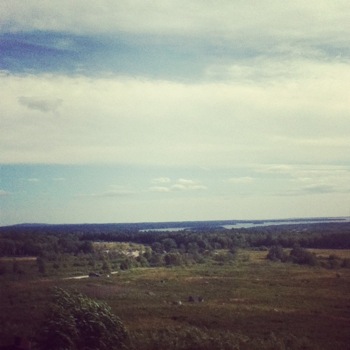 ~ The Monthly Theme
Jaya offers the monthly practice theme for August ~ Getting Lost
When I was about 18, my college roommate and I won a trip to Bermuda for spring break.
I danced the 24-hour marathon, and she, the youngest sister of ten, got the sponsors. Where we stayed was not a fancy place, but Peter (or Paul?) from "Peter, Paul and Mary" was in the next room.
My favorite memory--better than the day cruise in a grey drizzle or the disco with bubble lights--is going jogging and deliberately getting lost.
The grey sky (maybe spring break is not the best time to visit sunny Bermuda!) doubled the colors of the fields, the scrambled flowers and the laundry strung on lines.
Getting lost on purpose means being glad to see the unseen, to see things inside out; it means taking the risk--like actually using the high school French or Spanish, actually pronouncing those weird sounds out loud. We can sometimes go into unknown territory, and also rediscover what we thought we knew from a fresh angle.

Love,
Jaya





by Jaya
(Photo: Distance, by Jessica.)
---
~Photos to Share
Jaya has snapped these photos over the summer months, during Open Dharma retreats in Holland, where the group took a walk in the sun on the last morning of the retreat, and in France, at the Moulin de Chaves, where the new yurt--supposed to be the biggest in France--provided plenty of space for deep rest and connected movement. And at Dharmaloca, everyone squeezed into the picture.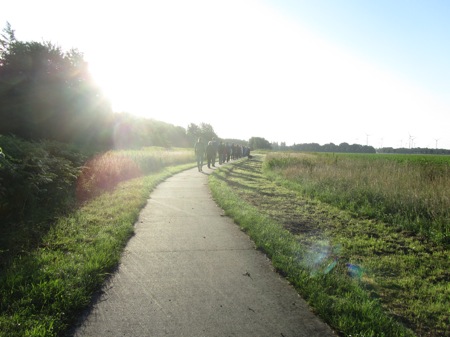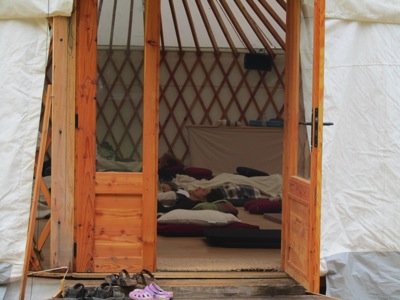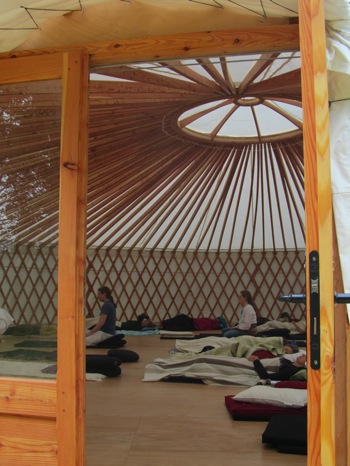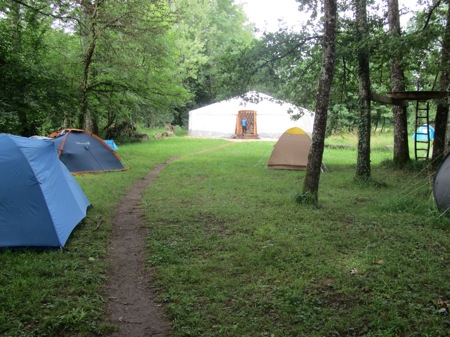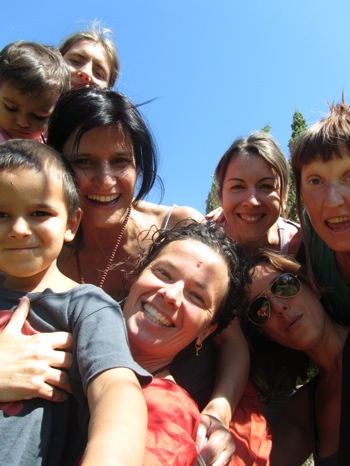 (Photos by Jaya)

---
~The Tree That Refused to Drop Its Leaves
Will writes sending us a link to his latest children's story, part of a series, all drawing on various dharmic themes. He's currently at the stage of searching for an illustrator. To read his story, about a tree that refused to drop its leaves,

please follow this link. "To me, the natural world is a great Dharma teacher and trees perhaps the greatest sages of all," Will writes, "look where Siddartha chose to sit that momentous night! Branches flowing to the rhythm of wind and storm and yet always rooted deep to the earth, embracing the seasons and the passing of time... there's so much we can learn and that's what inspired this story."



by Will
---
~ Generosity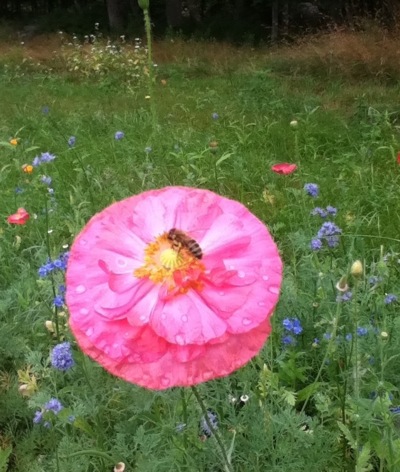 Danielle sent in these thoughts on Generosity for us to share:
I wanted to say something about my changing experience of generosity. Having never yet been able to work full-time, money has mostly been scarce. I remember when I first discovered meditation retreats it became scarcer still as every penny went on booking fees, travel and a little dana, if that was how the retreat centre operated.
My first encounter with Jaya and Gemma was on the Spanish yatra in 2007(?) when Jaya was pregnant with Gyan. I remember the heat coursing through my body at the closing dana talk, the massive discrepancy between what I had received and the few notes in my wallet. I remember thinking, well no one else will know how little I'm giving -- as though that was the important thing. I also remember Jaya talking about how just because we may not have much money that needn't bar us from the fun of practicing generosity. I didn't understand that then and am only starting to now.
It's funny because my Mum has always been very open-handed. A couple of years ago she noticed a woman from her street doing the school-run always without a coat even in rain, cold, hail. One day she left her house and gave the woman her own coat to borrow until she could afford to buy one. Who does that? She was also possibly the last person in the Great Britain to refuse to lock her door. When I've been left alone there in her house I've often been startled by a neighbour walking in without knocking, looking for some butter to finish a cake or returning a book. My mother was burgled recently and what makes me sad more than the lost money and few pieces of jewellery is that she feels stupid and is now locking her door, though I wonder how long she can do this when it's so against her nature.
My own relationship with money has been more fearful. Always ultra careful, planning ahead, knowing exactly how much I can spend at any one moment. To be fair I have been in some pretty dire straits so there has been some practical use to this. But like Jaya said, I have been cut off from the fun of practicing generosity. I couldn't see a way to I could possibly get involved.
A year and a half ago, after much procrastination, I decided to set up a monthly direct debit donation Open Dharma, just a small amount but still it felt like a big plunge. At first I was scared that I would forget it was going out of my account and become overdrawn and worried that I couldn't really afford it. Now, I automatically budget for it just like I do the phone bill. And it is fun, to be involved, to not be barred from giving, to support that which supports life. I found a way too to support a local retreat centre who for years have always allowed me to pay the concessionary rate. For 6 months I pledged to donate the profits from my monthly creative writing group to the centre. I made the commitment public knowing that it would help me to follow through. That first session many more people than usual turned up and I found myself thinking, I could have done with that money (old habits die hard). Other months only a few people came and the money I sent the centre was very little. But after the last session when I totted up the total I was delighted to see a significant figure that I could never have given in one go. And again it was fun.
Jaya e-mailed me recently and amongst other things thanked me for my ongoing support. I did reply but not to that part of the e-mail. I felt embarrassed at her thanks when she and Gemma have given me so much. There is also an automatic email that arrives in my inbox after every monthly payment again saying thanks. It always says the same or similar things but still I choose to keep receiving it because it reminds me of my connection to these people and retreats that I love and wish to support. What my friend and poet Manjusvara calls -- 'A golden thread of sympathy connecting us through all darkness.'
At the time of writing I am a few days away from giving birth to my first child by caesarean section. The world is already different because I am changing. This has something to do with generosity too. Everyone is now someone's child, the grumpy man driving the bus, the angry middle-aged woman who snaps at me when I forget to say thank you for letting me pass in the narrow lane. I don't find it so easy to hate anymore. I engage in conversations with strangers that once I would have found vacuous and beneath me. The world has become a nicer place because that's what I need it to be. In the same poem (Ghazal -- Buddha) Manjusvara says --
There can be no shadow without the lust for shadow.
I spent a month at Dharmaloca last year and was overwhelmed by the generosity I found there. Jaya and Gemma sharing their home with us; the apricot tree so heavy with fruit that its boughs had to be supported by chairs to stop them from breaking; the gurgling spring and the abundant wild mint growing around it and the orange moon, as fat and full as I have ever known, like a second sun. And we left with jars of apricot jam so that the sweet taste could linger long after we'd gone.




by Danielle
(Photo: Honeybee, by Nico.)
~ Upcoming Retreat Dates & Details
October 2011 thru October 2012, Freedom of Movement Lab
in Cyberspace
Facilitator: Jaya
For information and registration, write to:
interviews (at) opendharma.org
8 - 12 August, Diving into Meditation, in Eastbourne, UK.
Teaching will be in English.
Facilitator: Gemma
info(at) retreattogayles.co.uk
www.retreattogayles.co.uk
25 - 28 August, Deep Rest retreat on the Blue Hill Peninsula, Maine, USA
At the Morgan Bay Zendo
Teachings will be in English.
Facilitators: Jaya
opendharma.maine (at)
gmail.com
7 September - 5 October, one-month retreat at Dharmaloca, Spain
Teachings will be in English and Spanish.
Facilitators: Jaya and Gemma
27 & 28 October, two one-day meditation retreats in Melbourne, Australia
Teachings will be in English.
Facilitators: Jaya
ozopendharma(at)gmail.com
2 - 6 or 2 - 9 November, silent meditaiton retreat in Melbourne, Australia
Teachings will be in English
Facilitators: Jaya
ozopendharma(at)gmail.com
28 October - 7 November, silent meditation retreat at Sattal Ashram, in north India
Teachings will be in English
Facilitators: Ajay, with guest facilitator Nicole
www.retreatswithajay.org
5 - 15 January, 17- 26, and 27 January - 6 February, Silent meditation retreats near Tiruvannamalai, India
Near Anantha Niketan Ashram
Teachings will be in English.
Facilitators: Ajay, Jaya and Gemma. Guest teachers Zohar and Nicole will join us on the second and third retrats, respectively.
opendharmainfo (at)
yahoo.com
21 - 28 February, Dharma Gathering, Sarnath, India
At the Thai temple
Facilitators: Christopher Titmuss, Jaya, Zohar and others.
For more information check: bodhgayaretreats.org
7 - 17 March, Silent meditation retreat, Hardwar, India
In Saptraishi Ashram
Teachings will be in English.
Facilitators: Ajay, Jaya and Gemma
For more information write to:
opendharmainfo(at)yahoo.com
18 - 25 March, Silent meditation retreat, Dharmalaya, North India
In Saptraishi Ashram
Teachings will be in English.
Facilitators: Ajay, Nathan and Zohar
Organized by Sanghaseva
For more information check:
www.sanghaseva.org/comingup.html#dharmalaya2013
1 - 8 & 9-19 April, meditation retreats at Sattal Ashram, North India
Teachings will be in English.
Facilitators: Jaya and Gemma
For more information write to:
opendharmainfo(at)yahoo.com
20 April - 12 May, Three week silent retreat at Sattal Ashram, North India
Teachings will be in English.
Facilitators: Ajay, Gemma and Jaya.
opendharmainfo (at)
yahoo.com
We would love to share your inspiration in an
upcoming
newsletter. Photos! Poems! Drawings! Musings! Reflections on a recent--or not so recent--retreat! (You can even tell us that you'd like to contribute anonymously.) Please feel free to send any contributions to
newsletter (at) opencentre.es