~ July Newsletter

In this newsletter
~ News
~ The Monthly Theme--Irreversible
~ Open Inspiration, from Fred
~ Upcoming Events
~ News

Interviews

Jaya will do one-to-one interviews of 10-15 minutes each via Skype on Wednesday, 4 July, between 5:45pm and 7:15pm Spanish time. If you would like to schedule a time for an interview, please email Alison: interviews (at) opendharma.org.

Radio Dharma
Jaya will give a radio dharma talk over the free internet radio site blogtalkradio.com on
Wednesday, 4 July
at 5:00 pm Spanish time. (The site lists the start time at noon, as it's based in the Eastern US.)
To join in click this link.
If you don't want to miss these events, then click on "follow," just under the Open Dharma logo. Or copy and paste this link: http://www.blogtalkradio.com/opendharma/2012/07/04/dharma-talk-with-jaya-ashmore
An Interview with Gemma
Gemma recently sat for an interview with the news magazine
El Periódico de Catalunya
.
To check it out, follow this link.
Or cut and paste this link: https://docs.google.com/document/d/1Q9IJ8c_zi_r2frH-BQs65SVhtl316qb-Ygr5VyATr2s/edit
---
~ The Monthly Theme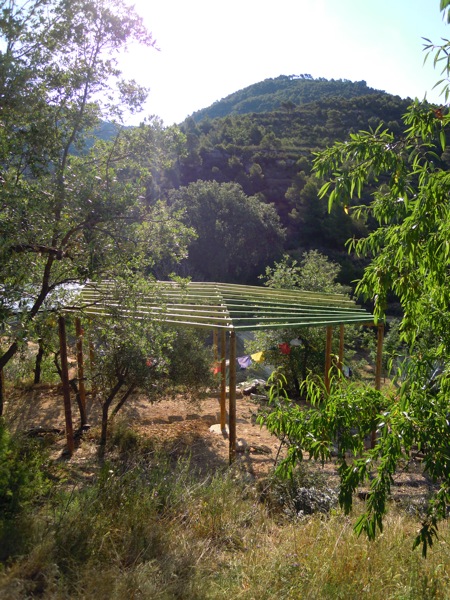 Jaya offers the monthly practice theme for July ~ Irreversible

We like to keep our options open. Having options is nearly synonymous with wealth these days.

So it can take decades of practice to feel the ripe moment for radical changes, for leaving options behind, for irreversible gestures.

To feel into our human power of awake, unhesitant living. Not that we can decide and plan this living, not that we are orchestrating grand, dramatic endings.

But we can agree fully with the mystery of life's irreversible flow.
Call it creativity or destruction, as you like: to bite a pear, to write a word on a blank piece of paper, to prune a tree, to mix the flour and eggs and milk together irreversibly in the direction of muffins. To say a word, to stay true to a silence. To meet now this sound fully, this sound that is now gone completely, forever. Daily living includes countless moments of no return--who needs an adrenaline rush from anywhere else?

Staying tuned to the living edge, and to the love that bubbles up from nowhere when we meet life this way.

There is a ruthlessness to the love.

A juiciness to the edge.

An answer to the call: gone, gone, gone beyond, to awake, to another dimension, another way of living this immeasurable life: alive with love.


Love,

Jaya




by Jaya
(Photo: The hall shade, by Jaya.)

---
~Open Inspiration

Fred has written to share his inspiration--acrobat Marie-Anne Michel

Marie-Anne Michel is an acrobat who lives her body with a rare intensity. Desiring to explore verticality and the tense space between the sky and the ground, she decided to work with a mast. She learned by herself. Instead of using physical strength, as it is ordinarily required, she developed her own practice, with more fluidity, including a sense of dance. Trying to put conscience inside each movement, from its birth to where it leads, then it turns in an new one. And finally giving it all, for her art is a way of meeting people all over the world and sharing with them. Some years ago, she traveled in the Tunisian desert to find inspiration.
Follow the link to see Marie-Anne Michel's exploration....
Or copy and paste this link: http://www.dailymotion.com/video/xacn2u_un-horizon-vertical-documentaire-ex_shortfilms
---
~ Upcoming Retreat Dates & Details
October 2011 thru October 2012, Freedom of Movement Lab
in Cyberspace

Facilitator: Jaya
For information and registration, write to:

interviews (at) opendharma.org

6 - 12 July, Deep Rest retreat in Catalonia, Spain

Teachings will be in Spanish.
Facilitator: Gemma
retirosopendharma (at) gmail.com
www.labartra.com




14 - 21 July, Deep Rest retreat near Ter Apel, Holland

Teachings will be in English

Facilitator: Jaya

opendharmaholland (at) hotmail.com




2 - 4 and 4 - 12 August, Deep Rest retreat in North Carolina, USA

Teaching will be in English.
Facilitator: Jaya

opendharma.nc(at)gmail.com




8 - 12 August, Deep Rest retreat in Eastbourne, UK.

Teaching will be in English.
Facilitator: Gemma

info(at) retreattogayles.co.uk

www.retreattogayles.co.uk


25 - 28 August, Deep Rest retreat on the Blue Hill Peninsula, Maine, USA
At the Morgan Bay Zendo
Teachings will be in English.
Facilitators: Jaya
opendharma.maine (at) gmail.com

7 September - 5 October, one-month retreat at Dharmaloca, Spain

Teachings will be in English and Spanish.
Facilitators: Jaya and Gemma

dharmalocaretreat (at) opendharma.org

27 &18 October, two one-day meditation retreats in Melbourne, Australia
Teachings will be in English.
Facilitators: Jaya
more information to come...


2 - 6 or 2 - 9 November, silent meditaiton retreat in Melbourne, Australia
Teachings will be in English
Facilitators: Jaya
more information to come...

28 October - 7 November, silent meditation retreat at Sattal Ashram, in north India
Teachings will be in English
Facilitators: Ajay, with guest teacher Nicole

5 - 15 January, 17- 26, and 27 January - 6 February, Silent meditation retreats near Tiruvannamalai, India
Near Anantha Niketan Ashram
Teachings will be in English.
Facilitators: Ajay, Jaya and Gemma. Guest teachers Zohar and Nicole will join us on the second and third retrats, respectively.
opendharmainfo (at) yahoo.com

21 - 28 February, Dharma Gathering, Sarnath, India
At the Thai temple
Facilitators: Christopher Titmuss, Jaya, Zohar and others.

7 - 17 March, Silent meditation retreat, Hardwar, India
In Saptraishi Ashram
Teachings will be in English.
Facilitators: Ajay, Gemma and Jaya.
opendharmainfo (at) yahoo.com

20 April - 12 May, Three week silent retreat at Sattal Ashram, in north India
Teachings will be in English.
Facilitators: Ajay, Gemma and Jaya.
opendharmainfo (at) yahoo.com

For more information about retreats organized by our sister organizations visit www.SanghaCalendar.com


~ Welcome to Everyone

We would love to share your inspiration in an upcoming newsletter. Photos! Poems! Drawings! Musings! Reflections on a recent--or not so recent--retreat! (You can even tell us that you'd like to contribute anonymously.) Please feel free to send any contributions to newsletter (at) opencentre.es