~ March Newsletter



(Photo: Hardwar, by Jaya
.)

In this newsletter
~ News
~ The Monthly Theme--Space and Intimacy, by Jaya.
~ Meditation Teachers on Video, by Evan.
~ Rest in the U.S., by Julia, Nico & Jessica.
~ A Walking Pilgrimage
~ Upcoming Events
~ News

Interviews

Jaya will do one-to-one interviews of 10-15 minutes each via Skype on Friday, 8 June, between 4pm - 5:30pm Spanish time. If you would like to schedule a time for an interview, please email Alison: interviews (at) opendharma.org.


Radio Dharma
Jaya will give a radio dharma talk over the free internet radio site blogtalkradio.com on
Saturday, 9 June
at 4:30 pm Spanish time. (The site lists the start time at noon, as it's based in the Eastern US.)
Please join in by following this link.
If you don't want to miss these events, then click on "follow," just under the Open Dharma logo.
Deep Rest in Maine
Open Dharma is offering a second retreat in North America this summer--a three day Deep Rest retreat led by Jaya on the wild and wooded Blue Hill peninsula of Maine, 25 - 28 August. While camping on rolling land that serves as the local zendo, we will have the opportunity to practice together in nature, in the beautiful tatami mat-lined hall, in silence and in connected movement. Please join in for this first retreat in Maine, or pass along the info to friends. Email Jessica: opendharma.maine@gmail.com.
Si and Yes
There has been a slight change for the Deep Rest retreat in Spain 6 -1 2 July: It will now be conducted in both Spanish and in English. Spanish speakers and non-Spanish speakers are very welcome. And those who are bilingual will have the best of both worlds.
Your Feedback
There is a new online feedback form that you can fill in, even if you participated in an Open Dharma retreat months or even years ago, with a space on the form to write in the date of the retreat attended. Please share your
thoughts by following this link
--and many thanks to Evan-ji, who created the form and also managed several retreats in a row with Open Dharma this season in India.
Taking Care
There is space for one caretaker at Dharmaloca, our eco-hermitage in Catalonia, Spain, an on-going need. The caretaker live, works, and apprentices at Dharmaloca for a minimum of 3 months--helping with the permaculture garden and facilities, welcoming guests, keeping an eye on the horses, and other essential work depending on your abilities and the needs of the time and place. There is time for your own practice, and much solitude in winter. Please email Gemma for more information: gemmaji(at)gmail.com
---
~ The Monthly Theme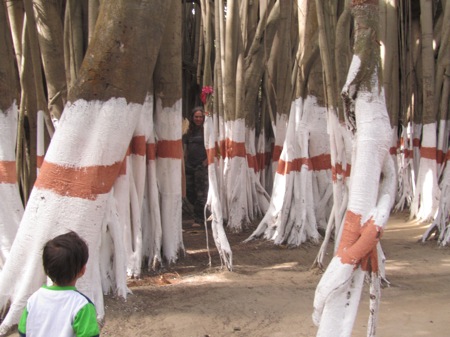 Jaya offers the monthly practice theme for March ~ Space and Intimacy
When a tree has enough space, it can thrive. In isolation, it might suffer drought, or it might not receive the cross-pollination its flowers need to fruit.
We also know the quality healthy space gives us and our complex communities.
What helps us feel, feed and feed on the thriving space of intimacy and independence, even with our closest relations--humans, nature, this body, this mind, this consciousness?
The Tibetan tradition has a kind of joke/teaching that the true nature of our mind has "4 faults"--one is that it is too close.
What helps us come in close with different eyes, different faculties to meet what is "too close" to notice in our normal consciousness? What kind of space brings us close?
Along with this theme, I would like to suggest we also explore sound as an aid to experiencing spatial relations differently. Open to sound as a way to connect. Listen to normal, everyday sounds with intimacy and space. What quality comes available?

Love,
Jaya




by Jaya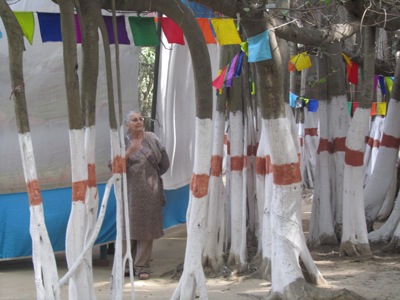 (Photos: Gyan in the banyan trees outside of Lucknow in March, above, and Anandi-ji in the trees, below , by Jaya.)
---
~Meditation Teachers on Video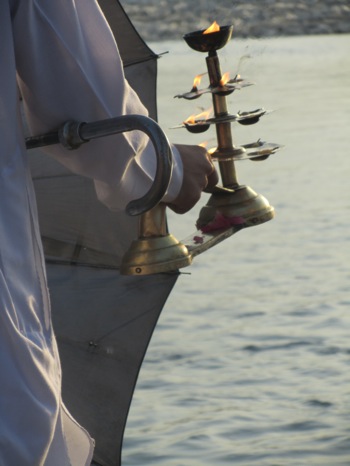 Evan writes to say, "now that the retreats are finished I've had the chance to work on a few of my own projects - mainly a few recent meditation interviews I've been doing on video with Teachers, including Ajay, Christopher Titmuss, Stephen Fulder and others." His series of interviews with teachers of meditation from different backgrounds and spiritual traditions asks the same questions of each : What is meditation? What are the benefits of meditation? Who should meditate?

To check out all of Evan's videos,

you can

follow this link to his website

freemeditationinfo.com--and stay tuned! He hopes to add some video dharma talks from last winter's retreats in Tiruvannamalai soon.


(Photo: Arti, by Jaya.)


---
~ Rest in the U.S.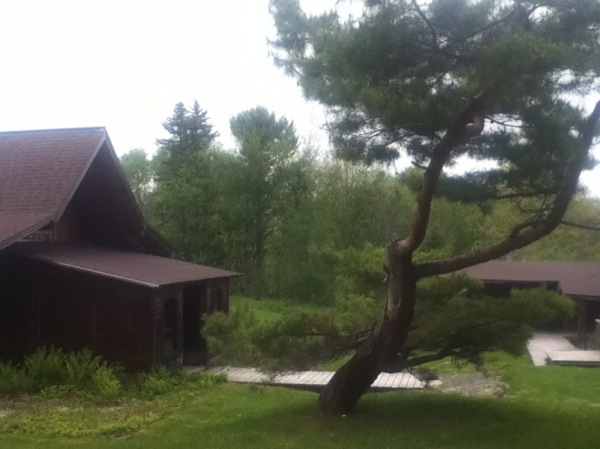 These photos of the Stone House in North Carolina and the Morgan Bay Zendo in Maine come from Julia and from Nico. Open Dharma will hold Deep Rest retreats at both of these beautiful places this August.
Julia writes: "The Stone House is magical in the Summer, the perfect spot for Deep Rest. I love picking a piece of fruit as I walk through the orchard, finding a hammock to rest in awhile, the contrast of the steamy Southern heat with the blissful cool waters of the pond, wandering the acres of fields that are teeming with life, letting my imagination run wild in the art space and the sublime, vegetarian cooking, deeply nourishing and filled with loving care."

Jessica writes: "The Morgan Bay Zendo is a new retreat location for Open Dharma. It is rugged, a little wild, tucked into the woods and just a short walk-- .3 miles/.48 km-- from the sea. The hall is silent and pleasantly austere, lined with smooth straw tatami mats on the walls and with windows covered with sliding paper screens to diffuse the light. We will be camping in a field under a vast sky surrounded by trees. The moss garden under the evergreens feels like a tiny fairy-land. And yet, though this place has been in existence for some decades, there really is the sense in there of starting at zero--freshness--a chance to discover something completely new. It tingles."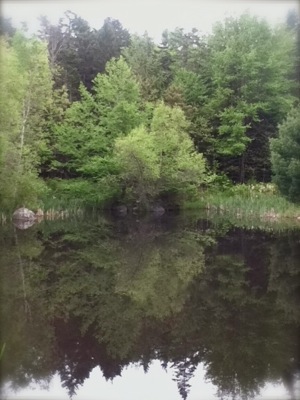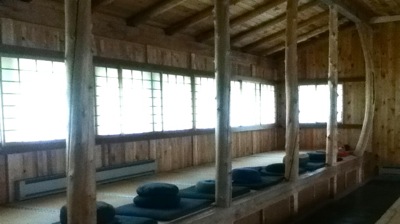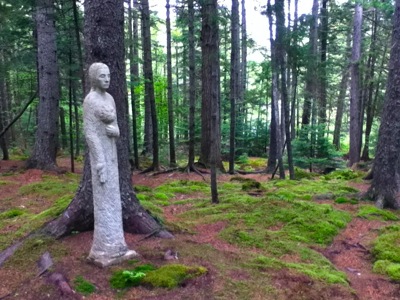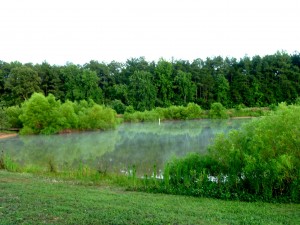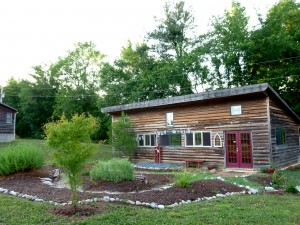 (Photos: From the top--the Maine zendo, its pond, tatami-lined walls and moss garden, by Nico. Bottom two--the Stone House's pond and practice hall by Julia.)

---
~ A Walk with Nipun Mehta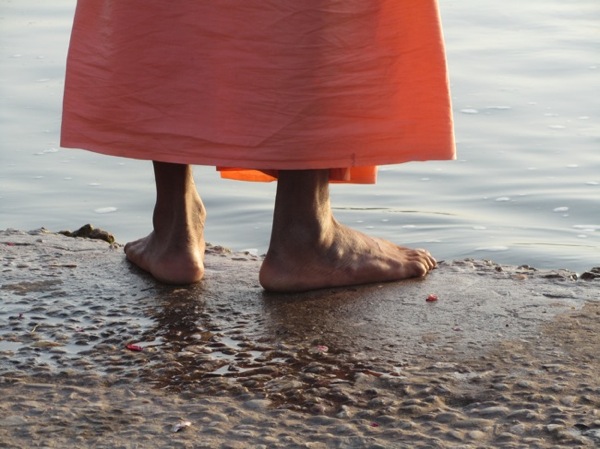 Philanthropist Nipun Mehta gave a rousing graduation speech about his walk across India with his wife this May.
In it he describes the insights he gained over those 1000 km, thoughts about the act of walking and the nature of pilgrimage. His goal was "to be in a space larger than our egos," he said, "and to allow that compassion to guide us in unscripted acts of service along the way. Stripped entierly of our comfort zone and accustomed identities, could we still 'keep it real'?" he asked. "That was our challenge." To learn about Mehta's revelations on the road,
follow this link for the full text of the speech.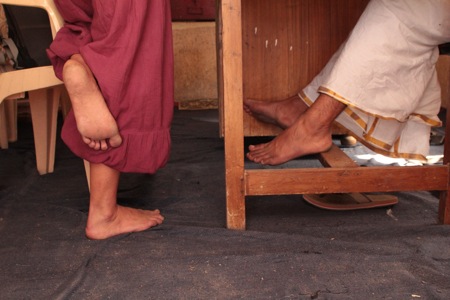 (Photos by Jaya
.)
---
~ Upcoming Retreat Dates & Details
October 2011 thru October 2012, Freedom of Movement Lab
in Cyberspace
Facilitator: Jaya
For information and registration, write to:
interviews (at) opendharma.org
4 - 18 June, two-week retreat at Dharmaloca, Spain
Teachings will be in English and in Spanish.
Facilitators: Jaya and Gemma
dharmalocaretreat(at) opendharma.org
25 June - 1 July, Deep Rest retreat at Le Moulin, France
Teachings will be in English
Facilitator: Jaya
mail (at) moulindechaves.org
6 - 12 July, Deep Rest retreat in Catalonia, Spain
Teachings will be in Spanish.
Facilitator: Gemma
retirosopendharma (at) gmail.com
www.labartra.com
14 - 21 July, Deep Rest retreat near Ter Apel, Holland
Teachings will be in English
Facilitator: Jaya
opendharmaholland (at) hotmail.com
2 - 4 and 4 - 12 August, Deep Rest retreat in North Carolina, USA
Teaching will be in English.
Facilitator: Jaya
opendharma.nc(at)gmail.com
8 - 12 August, Deep Rest retreat in Eastbourne, UK.
Teaching will be in English.
Facilitator: Gemma
info(at) retreattogayles.co.uk
www.retreattogayles.co.uk
25 - 28 August, Deep Rest retreat on the Blue Hill Peninsula, Maine, USA
At the Morgan Bay Zendo
Teachings will be in English.
Facilitators: Jaya
opendharma.maine (at) gmail.com
7 September - 5 October, one-month retreat at Dharmaloca, Spain
Teachings will be in English and Spanish.
Facilitators: Jaya and Gemma
dharmalocaretreat (at) opendharma.org

27 &18 October, two one-day meditation retreats in Melbourne, Australia
Teachings will be in English.
Facilitators: Jaya
more information to come...

2 - 6 or 2 - 9 November, silent meditaiton retreat in Melbourne, Australia
Teachings will be in English
Facilitators: Jaya
more information to come...

28 October - 7 November, silent meditation retreat at Sattal Ashram, in north India
Teachings will be in English
Facilitators: Ajay, with guest teacher Nicole

5 - 15 January, 17- 26, and 27 January - 6 February, Silent meditation retreats near Tiruvannamalai, India
Near Anantha Niketan Ashram
Teachings will be in English.
Facilitators: Ajay, Jaya and Gemma. Guest teachers Zohar and Nicole will join us on the second and third retrats, respectively.
opendharmainfo (at) yahoo.com

21 - 28 February, Dharma Gathering, Sarnath, India
At the Thai temple
Facilitators: Christopher Titmuss, Jaya, Zohar and others.

7 - 17 March, Silent meditation retreat, Hardwar, India
In Saptraishi Ashram
Teachings will be in English.
Facilitators: Ajay, Gemma and Jaya.
opendharmainfo (at) yahoo.com

20 April - 12 May, Three week silent retreat at Sattal Ashram, in north India
Teachings will be in English.
Facilitators: Ajay, Gemma and Jaya.
opendharmainfo (at) yahoo.com
~ Sanghacalendar.org
Open Dharma has an open, mutually enriching friendship with several "sister projects": Christopher Titmuss encouraged Jaya to start teaching in 1998, and Christopher and Jaya continue to teach together annually in Sarnath. "Retreats with Ajay" highlights events where Ajay is teaching even if they are not Open Dharma events. Other newer teachers received nourishment with Open Dharma and have now begun to lead their own events. Click here for a calendar of all these events.




~ Welcome to Everyone


We would love to share your inspiration in an upcoming newsletter. Photos! Poems! Drawings! Musings! Reflections on a recent--or not so recent--retreat! (You can even tell us that you'd like to contribute anonymously.) Please feel free to send any contributions to newsletter (at) opencentre.es