~ April Newsletter

Love from three continents! Dancing into spring the newsletter has plenty to offer this month, including contributions from India, Europe and the US. Thank you Jaya, Gemma, Ulrika, Julia, Evan and Jennifer for sharing your thoughts, your inspirations and your hearts with us all.
In this newsletter
~ News
~ The Monthly Theme--Homecoming, by Jaya
~ Growing with the Mares, by Gemma
~ Sharing Dreams, by Ulrika
~ On Continuum, by Julia
~ Photos from India, by Evan and Jaya
~ A Letter from Tiruvannamalai, by Jennifer
~ Upcoming Events
~ News

Interviews
& Radio Dharma
Jaya won't have internet access for Skype interviews or the internet Blogtalkradio dharma talks in April. Stay tuned for next month!
---
~ The Monthly Theme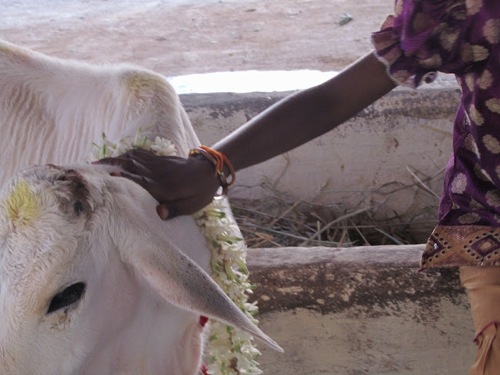 Jaya offers the monthly practice theme for March ~ Homecoming

Familiar yet beyond the known. Sometimes the first time we meet someone, we seem to recognize them, yet the very familiarity or recognition is strangely surreal and not literally true.


This quality has something to say both to our daily living and to the depths of our meditations:

1) Wherever we live our "daily lives"--whether out of a backpack or in an ancestral home--we can open to the mystery of the living people and places there. No matter how much we love a person or a place, we can also love that we will never own them, control them, or totally know them. Acknowledging that un-known-ness frees us as well--to be unpredictable, in our most familiar environments. We can feel at home and give room for magic. We can belong and not bear a burden of rules and routines.

2) In our deep spiritual being, we have glimpsed an intimacy with life that is tender and powerful, but does not make us special as individuals. Home. Stepping or falling beyond the known, we don't just feel exposed and over-sensitive, but also free to fall into place in the midst of life--receiving aliveness in vivid color, but also in simplicity. We can, again, love that we will never own, control, or totally know aliveness. Neither can we ever disown it. This home where we belong no matter what the situation, that we belong to no matter what.


Love,

Jaya




by Jaya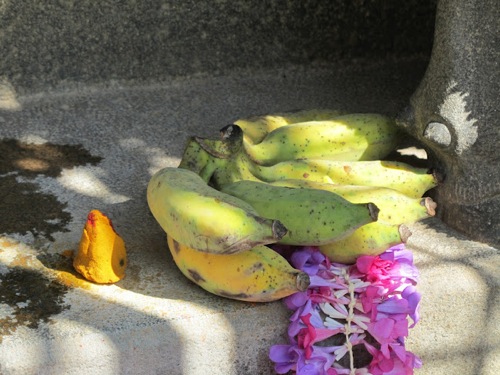 (Photo: Cow and child, above, and offering, below, both by Jaya.)
---
~Growing with the Mares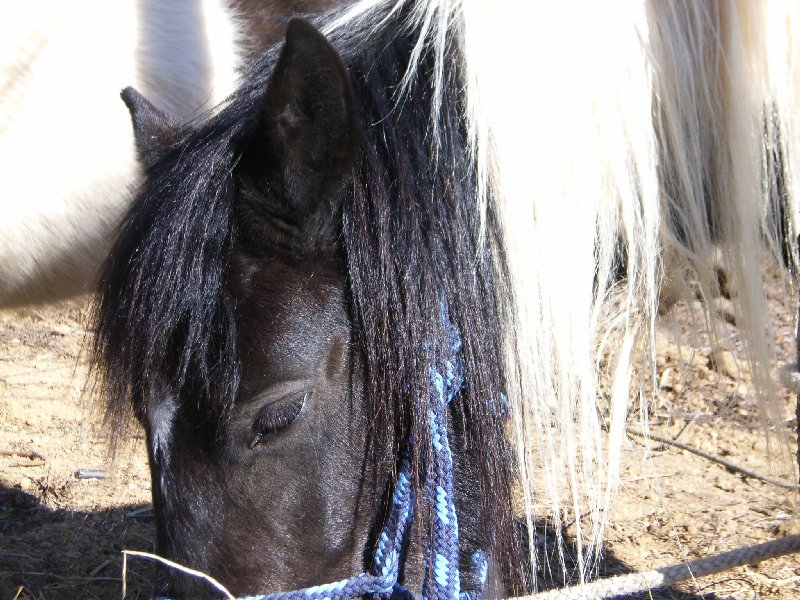 Gemma writes of living with the horses at Dharmaloca...
Dear Friends,
Here in Dharmaloca the flowers had their explosion of beauty and fragrances, and now petal by petal like a soft rain, they decorate the ground.
The mares keep finding home and my heart widens understanding and embracing their freedom and wildness.
Nothing to conquer…nothing!
So I find myself alone even among the natural horsemanship experts, enjoying simply being together with the mares, without any search for receiving emotional comfort or the illusion of being emotionally needed.
Mainly like this I spend my time with the mares: making myself available, to allow their own curiosity to explore me, as they explore the new wooden poles and every new piece of grass…
Love,
Gemma




by Gemma
(Photo: One of the mares at Dharmaloca, above, by Gemma.)

---
~ Sharing Dreams
Ulrika writes from Dharmaloca....

Since beginning of February I've been staying in Dharmaloca. I am here with Gemma and Gayatri, the wind, the sun, the mountains, with two horses, the fox and more and more flowers everywhere. It is a very special time for me and I feel soooo lucky.
I am here to help Gemma so she can find more time to work with the horses. Often I go on long walks with Gayatri on my back. And then I also work on my own project, creating sculptures from paper, and three of them I would like to introduce to you.
The first one is a butterfly.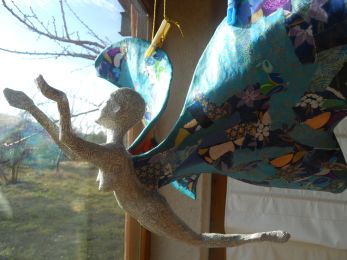 I don't remember what gave me the idea, but when making it I learned about an activist called Julia Butterfly Hill who performed a famous action to rescue trees from being cut down. She lived on a platform on an ancient redwood tree (these are huge) and didn't come down for two years. Not to write this too quickly--she did not touch the earth with her feet for two years! That impressed me a lot, so I had her in mind a bit when making the butterfly.
Maybe it isn't finished yet. I might make one, two or three balls for her to juggle with.
The other one is a golden figure, carrying a woman in the arms. It is about the wish to be protected and safe. It is the first time that when I finished something it didn't lose almost all importance for me. I love looking at this one, feeling it.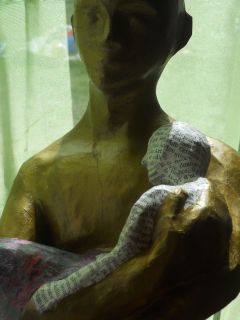 The third one is the one I am working on now. It is not finished. It is still just newspaper, layer upon layer and the face is formed using a paste made of shredded paper, which still needs lots of layers too.
I wanted to make a portrait of the wind. So the hair of this woman is flying in the wind.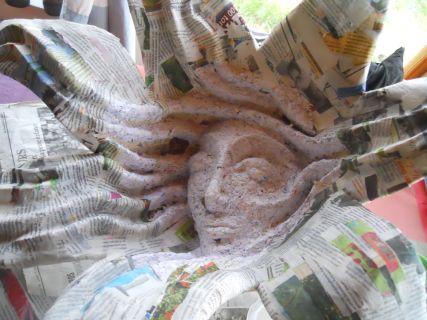 When doing this, I feel often very absorbed and quiet, concentrated, or sometimes very exited and intense inside. I let my hands do, feel, touch and form. They learn a lot, much better if left on their own. And beauty is there for me, happening all the time, often growing all by itself under my hands unexpected, coincidentally, visible in the tiniest little detail, surprising -- beauty is happening and it's such an exiting and ever-changing process to witness. My mind is adding a lot into it, doubts, judgements... Often I wonder if this world doesn't need other things from me, other forms of actions or creations, somehow more useful ones. As long as I can't come up with the good answer, I try not to listen to these doubts too much and let my hands just do what they love to do and doing this here, in the quietness and beauty of Dharmaloca and the surrounding mountains, is very precious to me.





by Ulrika
(Photos: Paper creations, by Ulrika.)

---
~ On Continuum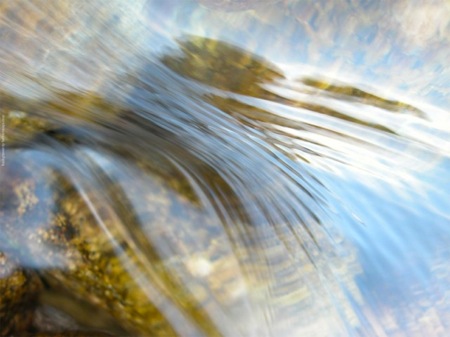 Julia writes on the practice of Continuum....
"What we basically do in Continuum is merge our consciousness with the sea of life." This is one way that Emilie Conrad conceptualizes Continuum Movement, the singular style of movement that is her life's work.
As a birthday gift to myself, I recently attended a four day workshop with Emilie called "Radiant Health" in Chapel Hill, NC, USA.
Emilie was a dancer for many years in the US and in Haiti, and she created Continuum using her own healing impulses and cues gleaned from the spontaneous movements she observed and experimented with during trance dances in Haiti. Her childhood in New York City was filled with prejudice, isolation, and terror, and she jokes that she has a Masters and PhD in hyper-vigilance. Her book, Life on Land: The Story of Continuum, is the only embodied autobiography I've ever read, and I highly recommend it.
Emilie now has a wise presence, sparkling eyes, luminous skin, and a killer sense of humor that transcend her early environmental insults. In her late seventies, she moves like a person fifty years younger, getting on the floor to demonstrate a movement and then quickly coming back up to standing with grace and ease. The practice of Continuum bathes the body's tissue with nourishment, preventing decrepitude. Emilie's skin is wrinkled, but she is otherwise quite youthful and radiantly alive.
She punctuates her teaching with statements like:
"The first issue of authority is to take you away from your body knowing."
"The first fragmentation is the message that God is elsewhere."
"We're in charge of our own evolution."
"This practice helps us take our place in the planetary process without shame."
She points out that we have no idea why we're here, but that we do know that our bodies are 80% water, and surely the bio-intelligence of nine billion years of evolution is our birthright.
Continuum uses specific sounds and breaths to stir the water in our bodies, and to reconnect with the resonant stream of all the water and on the planet, and in the galaxy. It's like creating and then riding an inner wave that connects you with the big wave of the bio-resonant stream of the universe, The practice begins and ends with taking a baseline, typically resting on your back, and seeing how much of your body makes contact with the ground as the process unfolds. As places of contraction soften and relax, there is a sense of landing or melting towards the ground, much like in our beloved deep rest. The practice consists of sequences of breaths and sounds, with periods of open attention interspersed to allow the "moving medicine" to flow through and work its magic. At times, it feels like a spontaneous choreography of self acupressure and chiropractic, at others it may feel like you are resonating with another species. I've become a blue whale, a sea lion, a water snake. The practice can evoke a deep, healing pleasure that flows into the erotic.
For more information, you can click the link: www.continuummovement.com
Also, check out "Moving Legends," Emilie's interviews with innovators in the field of somatics, including Jaya's beloved teacher, Bonnie Bainbridge Cohen through this link.
Special thanks goes out to my local Continuum teachers, Rebecca Lawson and Sabine Mead.




by Julia
(Photo: Rushing water, by Julia.)
---
~ Photos from India
Evan and Jaya have sent beautiful photos from India to share this month...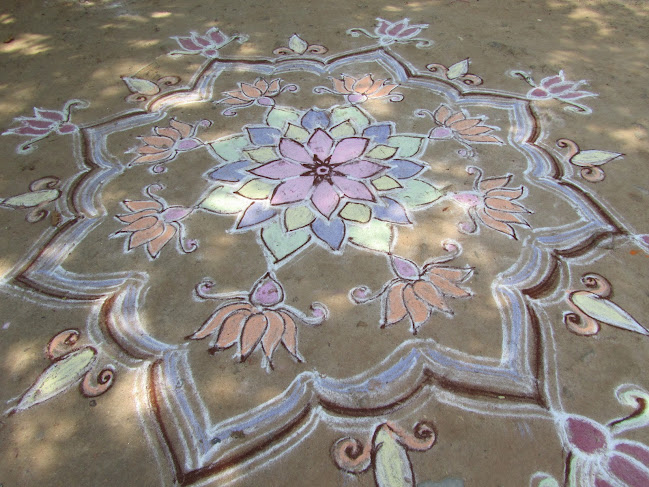 Kollam ground art, above, and Chitrama's lotus, below, by Jaya.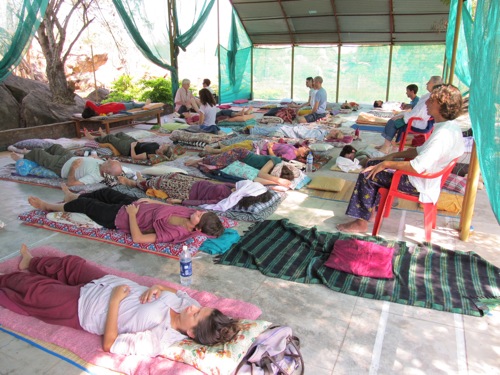 The hall at Anantha Niketan, on one of the retreats in Tiruvannamalai, above. Going into the hall, below, and lunch at Anaatha Niketan, below, all by Evan.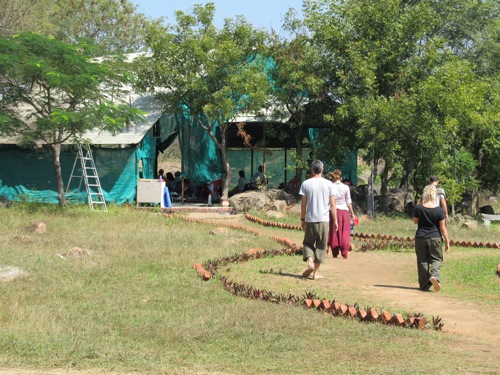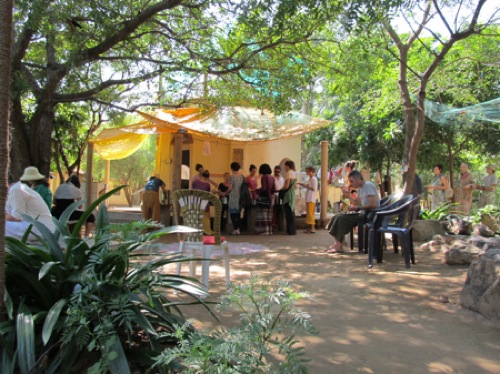 ---
~ A Letter from Tiruvannamalai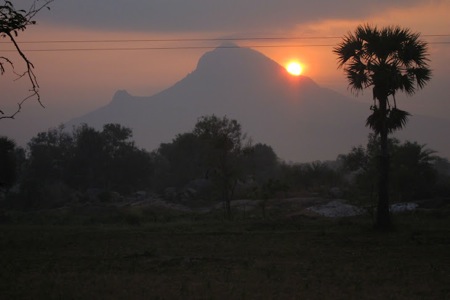 Jennifer writes of her experience on the Deep Rest retreat in Tiruvannamalai...

I was a retreat participant at the Open Dharma Deep Rest and Relaxation retreat near Tiruvannamalai, in Tamil Nadu, and took part in all three retreats. To depict the magic of my experience I would first like to describe the environment of Anantha Niketan Ashram where the retreat took place.
The ashram is on a small farm outside of the wacky, wild and spiritually ambient city of Tiruvannamalai. Its backdrop is an awe inspiring view of Mount Arunchala, an extinct volcano which is one of the holiest Hindu pilgrimage sites in India because it is supposed that Shiva appeared as a column of light to form it. Sri Ramana Maharishi was said to reach enlightenment in a cave, which is now a temple on the mountain.
Inside the ashram there are iridescent green rice paddy fields, beautiful trees to provide well needed shade, hammocks hung perfectly for napping, papaya and coconut trees to provide fruit, lotus ponds with sublime purple and pink flowers, bright green parrots flying about, and cawing crows. Dragonflies and lovely butterflies hover above during sunny days with a light wind billowing that appeases any possible suffering from the heat. The meditation hall is open under a tin roof against the rocks which allows for a beautiful serenade of insects and frogs in the evenings. Sleeping accommodations consist of thatched roof cottages and dormitories and there are also ideal rooftop areas for yoga. One can go on stunning nature walks with views of the mountain. And while you are passing smiling local villagers herding their cows, sheep, and goats, you can observe brightly painted houses, flower farms, and visit a small little temple on top of a hill.
Some people would assume signing on for a 30 day silent meditation retreat is about the pursuit of a peaceful experience.... but what you may not realize, is that along with the possibilities of observing and experiencing pleasant, comfortable, and joy filled mind states, comes the likelihood of facing more difficult emotions and habitual patterns that we have employed since we were little. Sitting with Jaya Ashmore, Ajay Pal Singh and Gemma Polo Pujol with a guest appearance by Nicole Christin on the third retreat, provided a safe permissive environment to sit (or in this case, the much encouraged lying down meditation) with whatever arose. The daily dharma talks always felt directed specifically at me, only to find out that other participants felt exactly the same way, indicating how thought filled, inspiring and far reaching these discussions were. There was a perfect mix of silent verses guided meditations which invited one into more expansive and heart opened states. And there was a daily gently-led movement class.
Jaya shared a quote with us that really sums up the opportunity that being a part of the Open Dharma Tiruvannamalai retreat offered me….
"It is not an intellectual affair but when the heart enters into the mind, the mind has quite a different quality. It is really, then limitless, not only in its capacity to think, to act efficiently, but also in its sense of living in a vast space where you are part of everything." J. Krishnamurti
I would like to extend my deep gratitude to the teachers for providing me the opportunity to partake in such a heart filled meaningful experience in such a magical environment and encourage everyone to put it on your calendar and participate the next time this event takes place.




by Jennifer
(Photo: Arunachala, by Jennifer.)
---
~ Upcoming Retreat Dates & Details
October 2011 through October 2012, Freedom of Movement Lab
in Cyberspace

Facilitator: Jaya
For information and registration, write to:

interviews (at) opendharma.org

24 - 31 March, and 4 - 11 April, Deep Rest retreats near Hardwra, India

Teachings will be in English

Facilitators: Ajay and Jaya

opendharmainfo(at)yahoo.com


15 April - 5 May, deep rest retreat in the foothills of the Himalayan mountains, India

Teachings will be in English

Facilitators: Ajay, Gemma and Jaya
opendharmainfo(at)yahoo.com


4 - 18 June, two-week retreat at Dharmaloca, Spain

Teachings will be in English and in Spanish.
Facilitators: Jaya and Gemma
dharmalocaretreat(at) opendharma.org




25 June - 1 July, Deep Rest retreat at Le Moulin, France

Teachings will be in English

Facilitator: Jaya

mail (at) moulindechaves.org




6 - 12 July, Deep Rest retreat in Catalonia, Spain

Teachings will be in Spanish.
Facilitator: Gemma
retirosopendharma (at) gmail.com
www.labartra.com




14 - 21 July, Deep Rest retreat near Ter Apel, Holland

Teachings will be in English

Facilitator: Jaya

opendharmaholland (at) hotmail.com




2 - 4 and 4 - 12 August, Deep Rest retreat in North Carolina, USA

Teaching will be in English.
Facilitator: Jaya

opendharma.nc(at)gmail.com




8 - 12 August, Deep Rest retreat in Eastbourne, UK.

Teaching will be in English.
Facilitator: Gemma

info(at) retreattogayles.co.uk

www.retreattogayles.co.uk



7 September - 5 October, one-month retreat at Dharmaloca, Spain

Teachings will be in English and Spanish.
Facilitators: Jaya and Gemma

dharmalocaretreat (at) opendharma.org

~ Sanghacalendar.org
Open Dharma has an open, mutually enriching friendship with several "sister projects": Christopher Titmuss encouraged Jaya to start teaching in 1998, and Christopher and Jaya continue to teach together annually in Sarnath. "Retreats with Ajay" highlights events where Ajay is teaching even if they are not Open Dharma events. Other newer teachers received nourishment with Open Dharma and have now begun to lead their own events. Click here for a calendar of all these events.





~ Welcome to Everyone

We would love to share your inspiration in an upcoming newsletter. Photos! Poems! Drawings! Musings! Reflections on a recent--or not so recent--retreat! (You can even tell us that you'd like to contribute anonymously.) Please feel free to send any contributions to newsletter (at) opencentre.es