~ December Newsletter

During the Deep Rest retreat in North Carolina I was reminded how much power there is in chanting together, and how much I love it. 'I really need more of that in my life,' I thought, and I wondered if I'd ever have the chance to chant with the great singer Bhagavan Das, who tours around the US frequently. It felt like an real Open Dharma moment of magic synchronicity when I checked the internet and found out that he was coming to a town only 3 hours away from our place in the faraway countryside. And he was coming in just two weeks. The three hour chanting meditation and the three hour kirtan were incredible! The reverberations from the singing we did then, and the chanting during the retreat, are still ringing through what Bhagavan Das would call my "bone temple."
In this newsletter
~ News
~ The Monthly Theme--Standing Out
~ Reflections on Tiruvannamalai
~ A Fishbowl in the Ocean
~ Stone House Pancakes
~ Blissed and Blessed in San Francisco
~ Upcoming Events
~ News

Interviews

Jaya will do one-to-one interviews of 10-15 minutes each via skype on Saturday, 10 December, between 1:00 pm until 2:30 pm in Western Europe (5:30pm - 7pm India time.) If you would like to schedule a time for an interview, please email Jessica: interviews (at) opendharma.org


Radio Dharma
Jaya will give a radio dharma talk over the free internet radio site blogtalkradio.com on
Saturday, 10 December
at 3pm, in Western Europe/7:30pm India time. (The site lists the start time at 9am, as it's based in the Eastern US.)
Please join in by following this link.
If you don't want to miss it, click on "follow," just under the Open Dharma logo.
---
~ The Monthly Theme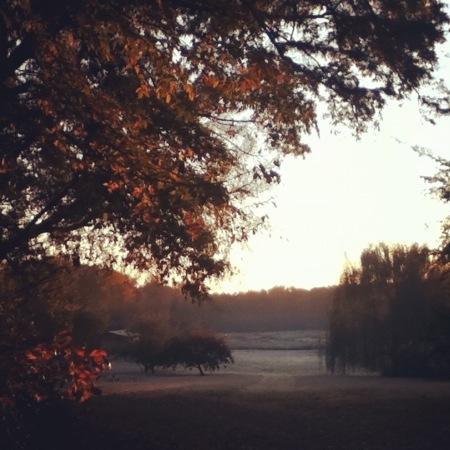 Jaya offers the monthly practice theme for December ~ Standing Out
Watching a 1-year-old child stand up is a revelation.
After lying, rolling, sitting, kneeling, sliding, and crawling for months, to stand up is to trust and cross from one dimension to another. Like a first bicycle ride, a plane taking off, or the proverbial "stepping off a cliff into thin air" that is nearly every step of this spiritual path.

I would like to suggest that we can each play this month with literal and metaphorical standing, standing up, and standing out:



~Rediscover literal standing--just the feet, or the magic of balancing, or the skin as we stand in line, on a bus, at the sink, or on purpose just standing among the trees. We can play around with the process of standing up, and what a radical change of perspective, atmosphere, or even consciousness happens when we literally stand.



~"Take a stand" of any kind, including simple moments of not falling into lowest common denominators such as gossip or traffic aggression or a sense of lack/fear. How exposed it is to stand against the stream; how much power is needed at first and available later; and how simple, creative, and needed.


~Be open to whatever "stands out." Sometimes magic happens when we are just open and lovingly ready to receive a signal from our surroundings or even from our own mind. We receive a glimpse of someone's facial expression, and clarity comes through about what is important. One word unexpectedly stands out in a conversation, and everything starts to make sense. We wake up and before we get busy, we know that on long our to-do list, those 3 things are the only things to do, to bear in mind and heart, to treasure.

~Let everything that is held up by pretense, competition, anxiety and fear just fall down and apart. What stands, what lifts up, by itself?
by Jaya



(Photos: Deep resting at The Stone House, top, and the morning light in the trees there, above.)
---
~Reflections on Tiruvannamalai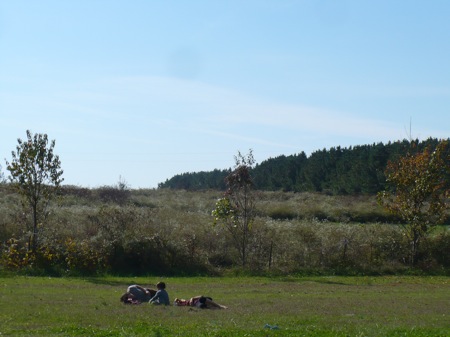 Sarah wrote in this month with her reflections on the retreats at Tiruvannamalai last year.
"I still feel like I am processing all the went on during that month," she says, "but I have compiled a few big lessons I would like to share."

1. Humor is invaluable…lighten up….slow down…take a nap…

2. If I am taking "this being" too seriously, I just need to look up at the starry sky and quickly things are put into perspective.

3. Trust that voice in the belly.

4. Take time everyday to watch the butterflies.

5. Never assume.

6. Learning to watch the mind is invaluable tool. If I do not cultivate self-awareness I run the risk of being ruled by the mind's changing mind states, emotions, feelings, and desires, rather than reuniting with my true nature.

7. The importance of Right Speech: Is it true? Is it timely? Is it helpful? And, Is it kind? I have a choice in how I respond and how I act in all situations.

8. Watch anger, attachment, and fear. I can learn to hear them coming like slippers at the door. I can welcome them in and they will tell me why they are appearing before I act or react. This way I can really hear them rather than suppress them.

9. Trust the growth process, a certain amount of effort is required with Psycho-Spiritual growth but I also need to let go and trust that I will grow just like a child grows. (Jaya-ji)

10. The importance of Sangha (community). Even though we were in silence we created a tight community (more than 50 people at the height of the retreat) from all over the world. We can really get to know someone even if we are not using words. This makes sense to me since we are all vibrations of energy according to many ancient wisdom traditions and Quantum Physics.

11. "Breathe in very, very, gently and very, very, deeply.
Breathe out, very, very gently and very, very, deeply." (Ajay-ji)

12. I want to live where the frogs sing and the stars shine.

13. Conditioning implies the past. I can meet each day with a newness of being rather than dwelling in past conditioning that is no longer applicable to now.

14. Sat Chit Ananda (Truth, Existence, Consciousness, Bliss)

15. LET GO. Let go of expectations…especially those involving intimate relationships…

16. Rest in equanimity-cultivate steadiness. Regardless of what is going on within and around me in the moment.

17. All things change in time. I am working to remember this in the moment and then to patiently observe as whatever it is that is arising passes.







by Sarah

(Photo: Katurah, Ben and Gyan in the meadow at The Stone House.)

---
~ A Fishbowl in the Ocean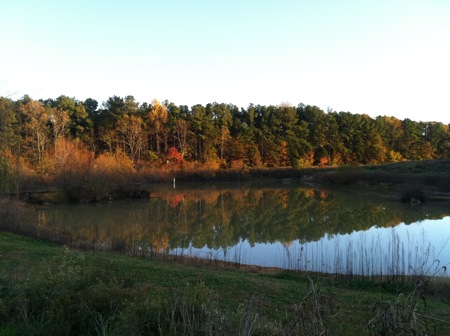 Sharon participated in October's Deep Rest weekend in North Carolina. She writes:
Jaya, our teacher from the Open Dharma meditation retreat this past weekend at The Stone House shared a beautiful and poignant visual that brilliantly described this experience of expanding consciousness, what it feels like. She said it's as if we are living in a fishbowl floating within the ocean.


Hit me right between the eyes and got me thinking...

We swim around in this fishbowl thinking that the limitations of the bowl - our stories, our fears, our judgments - are all there is to life. Many of us are happy living out our entire lives in the fishbowl; but some of us are driven by a persistent, mysterious impulse toward liberation for ourselves and for others and to have our work in the world come from this deeper, more empowered & open-hearted space.

I've felt this persistent impulse or ache in my soul for as long as I can remember but didn't understand or have the language for it. Now I do.

Through commitment to deepening spiritual practice (reading, meditation, prayer, service, etc.), our awareness of the ocean around us expands and we realize that all we have to do is swim out of this fishbowl to experience true freedom.

And what does that freedom feel like?

For me it feels like dropping into an unlimited capacity for love, compassion, joy, forgiveness. There's a flow and ease to life that is independent of circumstances. I feel connected to everyone and everything with an insatiable desire to serve others in a deep and meaningful way.

It also at times feels scary, exhausting, vulnerable and insecure because the ocean is so vast and uncontrollable...until I remember what enlightened masters like Jesus and Buddha have always taught - that the unseen Power that governs universal life (God, Spirit, etc.) is not separate from us. It is me, it is you, and we are that. I am the ocean and the ocean is me. So what is there to fear?"

To read Sharon's entire blog post,

follow this link....





by Sharon

(Photo: The Pond at The Stone House.)

---
~Stone House Pancakes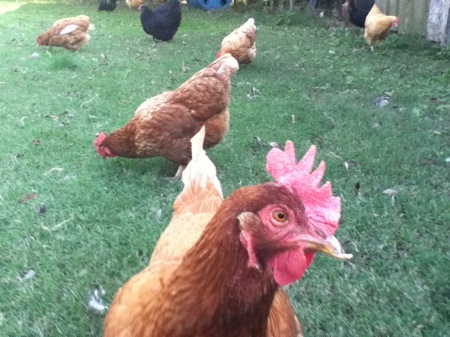 Claudia made some amazing breakfasts during the Deep Rest Retreat at The Stone House, including, one brisk morning, Lemon Buckwheat Pancakes with Berry Sauce. She shares the recipe below.
Pancakes:
Vegetable oil for coating the pan
1 cup buckwheat flour
1 cup all-purpose flour (** or gluten-free flour)
4 tbsp sugar
1 teaspoon salt
1.5 teaspoon baking soda
3 tbsp unsalted butter, melted (eliminate for vegan)
2 egg (eliminate for vegan, also fine to use just egg whites)
2.5 cups almond milk (can use rice milk or regular milk as desired)
Juice and zest of 1/2 lemon
Berry Sauce:
2 cups of mixed berries (can be fresh or frozen; you will need less water and orange juice with frozen berries because they tend to liquify a bit as they thaw)
1/2 cup sugar or honey
1/4 cup water
1/2 cup of orange juice
2-3 tbsp cornstarch
1 tbsp orange juice
can also add 1/4 tsp cinnamon
[Note **modifications to make these vegan and gluten-free!]
Making the pancakes
1) Heat griddle or skillet on medium heat so it's ready for the batter.
2) Mix dry ingredients --flours, sugar, salt, baking soda--in a large bowl. In Pour the melted butter over the dry ingredients and stir. Beat the eggs with a fork and stir in most of the almond milk, maybe 1.5 cups. Add lemon juice and zest. Then add the wet mixture to the dry ingredients. Slowly add in the rest of the milk to get a good consistency for your batter. Don't overmix. A few lumps are good!
3) Put a small bit of vegetable oil on the pan or griddle and spread it around with a paper towel. Use big spoon to ladle the batter onto the hot surface. It's good to make these kind of small because they will be nice and thick! Maybe 2-3 inches wide. Lower the heat to medium-low. Cook on one side for 3-4 minutes, watch for bubbles and light browning. Then flip and cook another 2-3 minutes on the other side.
4) You can keep the pancakes warm in the oven as you cook them.
Making the sauce
I like to start the sauce as the first batch of pancakes are cooking.
1) Combine the berries, water, orange juice and sugar/honey in saucepan. Bring to a boil stirring gently.
2) Mix cornstarch and water in small bowl and add that gently to the berries on the stove. Make sure cornstarch dissolves.
3) Cook over a low heat, simmering lightly until thick, probably 5 minutes. If you're adding cinnamon, do it after removing from heat. And you can always add a bit more water if it's too thick.
4) Let it cool a bit before serving.
Serve pancakes with berry sauce, butter and maple syrup!
(Photo: The sweet Stone House chickens contributed many delicious eggs to our breakfasts! Thank you, ladies.)




by Claudia
---
~Blissed and Blessed in San Francisco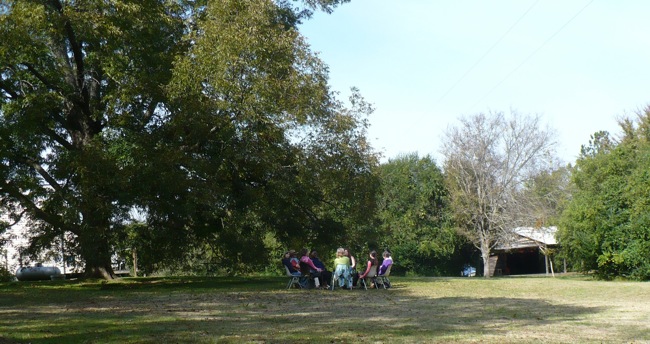 In early November Jaya traveled to San Francisco and met with a group at Bodhi's place.
Bodhi writes: "On a clear and brisk Sunday evening in early-November, a group of 22 gathered in my San Francisco home to sit with, and hear teachings from, Jaya Ashmore. Of those gathered, 10 were meeting Jaya and the OD 'path' for the first time.
People brought their cushions and mats, and set about making themselves comfortable for the 2-hour event. Equal time was spent resting and reflecting on the many inspired morsels Jaya presented.
Excitement and gratitude abounded, inspired by the rare opportunity of having Jaya in our Californian midst. How sweet the reminders were, not only of how supportive connecting with other yogis is, but also of how refreshing quiet time can be, especially for the urbanite. Bonus points accrued when the longing to awaken once again bubbled up as it did for many of us.
Departures were relaxed and fluid, as if no one wanted to leave. Many expressed interest in gathering regularly to companion one another on our journeys and drink together from the silence."

"Will the baby boy allow it?" wondered Bodhi, who is six months pregnant with her first child. "Let's see."
Christina also wrote warmly of the evening together, "It was so sweet and deep and nourishing. So ahhhh...to sit with Jaya and lovely dharma friends that I haven't seen in a while. I sunk in deeply and quickly to a warm, peaceful, grounded, open, allowing, remembering space. It was a pretty joyful meditation for me. I was texting a friend the next day and told her that I sat with Jaya and that I was pretty blissed out, but the iphone predictive text corrected it to say 'blessed out.' Yes. I was blessed out."



by Bodhi & Christina
(Photo: Under the big Chestnut tree at The Stone House.)
---
Note: In the November newsletter there was an error in the Rumi poem that Ellaya sent in--the last line got cut off. It should have read "the beloved will fall in love with you"

instead of "the beloved will fall in love." Sorry, Rumi!



---
~ Upcoming Retreat Dates & Details
6 - 15 January, 2012, 17 - 26 January, and 27 January - 5 February, Silent retreats near Arunachala, Tiruvannamalai, Tamil Nadu, South India

Teachings will be in English

With Ajay, Gemma, and Jaya. Nicole Christin will join us on one retreat.

For information and registration, write to:

opendharmainfo (at) yahoo.com

8 - 18 February, Dharma Gathering in Sarnath, India

Teachings will be in English

With Christopher, Jaya, Zohar, and Jess.

Come any day; leave any day.

On an entirely donation basis.

Teachings will be in English.

For information and registration check:

www.bodhgayaretreats.org

24 - 31 March, and 1 - 11 April, Deep Rest retreats near Rishikesh, India

Teachings will be in English

With Ajay and Jaya

opendharmainfo(at)yahoo.com


March, Weekend deep rest retreat in Catalonia, Spain

With Gemma

retirosopendharma(at)gmail.com


15 April - 5 May, deep rest retreat in the foothills of the Himalayan mountains, India

Teachings will be in English

With Ajay, Gemma and Jaya
opendharmainfo(at)yahoo.com



June, two-week retreat at Dharmaloca, Spain

more information to come
dharmalocaretreat(at) opendharma.org





25 June - 1 July, Deep Rest retreat at Le Moulin, France

Teachings will be in English

With Jaya

mail (at) moulindechaves.org





14 - 21 July, Deep Rest retreat near Ter Apel, Holland

Teachings will be in English

With Jaya

opendharmaholland (at) hotmail.com





August, Deep Rest retreat in Catalonia, Spain.

With Gemma

retirosopendharma (at) gmail.com





September, one-month retreat at Dharmaloca, Spain

more information to come

dharmalocaretreat (at) opendharma.org

~ Welcome to Everyone

We would love to share your inspiration in an upcoming newsletter. Photos! Poems! Drawings! Musings! Reflections on a recent--or not so recent--retreat! (You can even tell us that you'd like to contribute anonymously.) Please feel free to send any contributions to newsletter (at) opencentre.es