~ November Newsletter

The harvest is in full swing--p
lease enjoy these thoughts from all over, collected with much love.
In this newsletter
~ News
~ The Monthly Theme--Thinking for Ourselves
~ News from Dharmaloca
~ Reflections on Gemma's Retreat at Gayles
~ Feeling October's Outbreath
~ Upcoming Events
~ News

Interviews

Jaya will do one-to-one interviews of 10-15 minutes each via skype on Saturday, 12 November, between 4:45 pm and 6pm her time (in Western Europe).

If you would like to schedule a time for an interview, please email Jessica: interviews (at) opendharma.org

Radio Dharma
Jaya will give a radio dharma talk over the free internet radio site blogradio.com on
Saturday, 12 November
at 4pm, in Western Europe. (The site lists the start time as 11:00am, as it's based in the Eastern US.)
Please join in by following this link.
If you don't want to miss it, click on "follow," just under the Open Dharma logo.
---
~ The Monthly Theme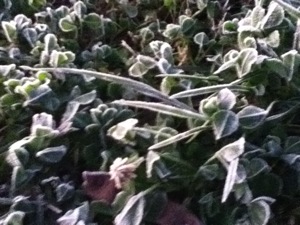 Jaya offers the monthly practice theme for November ~ Thinking for Ourselves.
What are my thoughts? How many of our opinions are genuinely our own?
A few sparks for the exploration:
~Discerning between cultural ideas and one's own sense based on experience or spontaneous wisdom--for example, food, table manners, schedule of the day, care of the body....
~Feeling when thoughts happen in our mind but in the voice of another person, such as a parent or teacher--can we find out what feels more true?
~Is any thought really true?
~Is "I" a thought?
~Where do thoughts come from?
~What makes a thought powerful to motivate us to do something?
~Is there more than one kind of thinking? At the same time?


by Jaya

(Photo: Frost on clover.)
---
~News from Dharmaloca
The horses are getting closer!
Thanks to Flo, one of the most passionate hearts I have ever met and the help of some of the Montsant Natural Reserve workers that kindly offered their time, abilities and powerful tools. Now the space planned to be with the horses is all cleared.
See the big difference and the old car found among the black berries bushes!
Also thanks to the amusing help and beautiful company of Elurtza, we are having a great time seeing many horses in Basque Country. Too bad I'm only allowed to bring 5 of them to Dharmaloca!
Love to all


by Gemma

(Photos: The horses' area before, and, below, the same area after Flo--aka Florian--did his magic. And a photo of Flo.)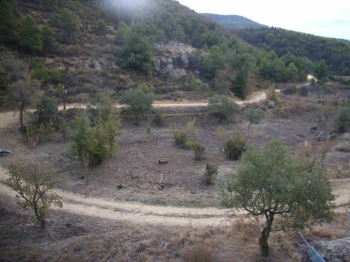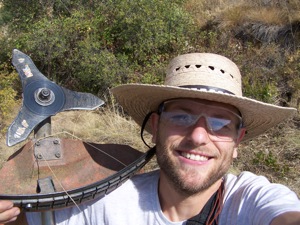 ---
~ Reflections on Gemma's Retreat at Gayles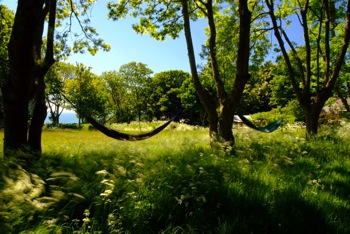 Roz and Derry Robinson welcomed Gemma to Gayles, a retreat center in Eastbourne, England in October for a deep rest weekend. They write:
We appreciate the great number of invitations that Open Dharma receive and so it was an enormous privilege that

Gemma

agreed to hold a retreat at Gayles.

As people began to arrive it was clear that something special was happening; the weather alone was perfect; clear and warm with barely a breath of air through the whole weekend so a sense of light and stillness seemed to permeate everything. It felt to us as if this was what Gayles had been waiting for.

We were struck by the warmth and openness that almost everyone brought to the retreat, the generosity of spirit and the sense of focus -- the tasks undertaken in the Karma Yoga made such a difference and our thanks to you for this too if you were a part of those teams. There was a rare beauty, calm and sense of direction realised in our seeing people walking, standing, sitting, lying in silent meditation in the Old Cowshed (practice area) and around the grounds -- even Frosty, our elderly pony, seemed fascinated (although she may have been drawn by the hope of apples!)

Gayles is a new retreat facility and we felt that it was important to try to encourage a spirituality and desire for learning here; to create some space that would allow people to feel safe and valued enough to gain something and move forward in their lives; this is why we invited Gemma and we hope that those of you who came, and brought so much with you, were also able to take something that was of value and use to both you and the wider world when you left.



(Photos: The hammocks at Gayles.)

---
~Feeling October's Outbreath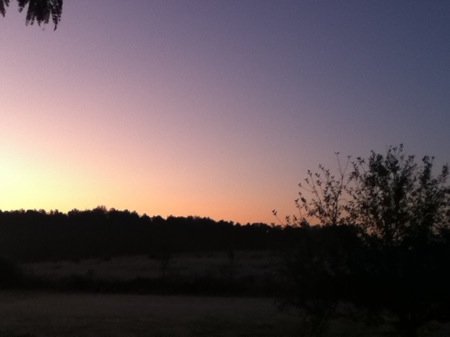 Both Ellaya and LR responded to October's theme--Outbreath.
For Ellaya, the theme brought Rumi to mind. She writes:
These past few days I've been consumed by a most incredibly beautiful Rumi poem I discovered, about breath.
I've been spending these past days translating it to Hebrew, going over it again and again
and again, adjusting a word here a word there,
it's become a complete teaching for me:
"in every breath
if you're the center
of your own desires
you'll lose the grace
of your beloved

but if in every breath
you blow away
your self claim
the ecstasy of love
will soon arrive

in every breath
if you're the center
of your own thoughts
the sadness of autumn
will fall on you

but if in every breath
you strip naked
just like a winter
the joy of spring
will grow from within

all your impatience
comes from the push
for gain of patience
let go of the effort
and peace will arrive

all your unfulfilled desires
are from your greed
for gain of fulfillments
let go of them all
and they will be sent as gifts

fall in love with
the agony of love
not the ecstasy
then the beloved
will fall in love with"
(Translated by Coleman Barks.)
LR writes:
"Scroll down to the October Out Breath segment:
remember life as simple and easy with the breath.
Take a minute - literally to close your eyes and breath out and in.
Love you!"
(Photo: North Carolina dawn.)
---
~ Upcoming Retreat Dates & Details
October 2011 - October 2012, Freedom of Movement Lab

Facilitators: Jaya

For information and registration, write to:

interviews (at) opendharma.org




November 6, 2012

Open Dharma is planning an event in San Francisco, 6:30pm-8:30pm
For more information, write to:
sfbodhi (at) yahoo.com


6 - 15 January, 2012, 17 - 26 January, and 27 January - 5 February, Silent retreats near Arunachala, Tiruvannamalai, Tamil Nadu, South India

Teachings will be in English

With Ajay, Gemma, and Jaya. Nicole Christin will join us on one retreat.

For information and registration, write to:

opendharmainfo (at) yahoo.com

8 - 18 February, Dharma Gathering in Sarnath, India

Teachings will be in English

With Christopher, Jaya, Zohar, and Jess.

Come any day; leave any day.

On an entirely donation basis.

Teachings will be in English.

For information and registration check:

www.bodhgayaretreats.org

24 - 31 March, and 1 - 11 April, Deep Rest retreats near Rishikesh, India

Teachings will be in English

With Ajay and Jaya

opendharmainfo(at)yahoo.com


March, Weekend deep rest retreat in Catalonia, Spain

With Gemma

retirosopendharma(at)gmail.com


15 April - 5 May, deep rest retreat in the foothills of the Himalayan mountains, India

Teachings will be in English

With Ajay, Gemma and Jaya
opendharmainfo(at)yahoo.com



June, two-week retreat at Dharmaloca, Spain

more information to come
dharmalocaretreat(at) opendharma.org





25 June - 1 July, Deep Rest retreat at Le Moulin, France

Teachings will be in English

With Jaya

mail (at) moulindechaves.org





14 - 21 July, Deep Rest retreat near Ter Apel, Holland

Teachings will be in English

With Jaya

opendharmaholland (at) hotmail.com





August, Deep Rest retreat in Catalonia, Spain.

With Gemma

retirosopendharma (at) gmail.com





September, one-month retreat at Dharmaloca, Spain

more information to come

dharmalocaretreat (at) opendharma.org

~ Welcome to Everyone

We would love to share your inspiration in an upcoming newsletter. Photos! Poems! Drawings! Musings! Reflections on a recent--or not so recent--retreat! (You can even tell us that you'd like to contribute anonymously.) Please feel free to send any contributions to newsletter (at) opencentre.es